Red Sox Prospect Josh Ockimey Isn't Missing His Pitches With Paw Sox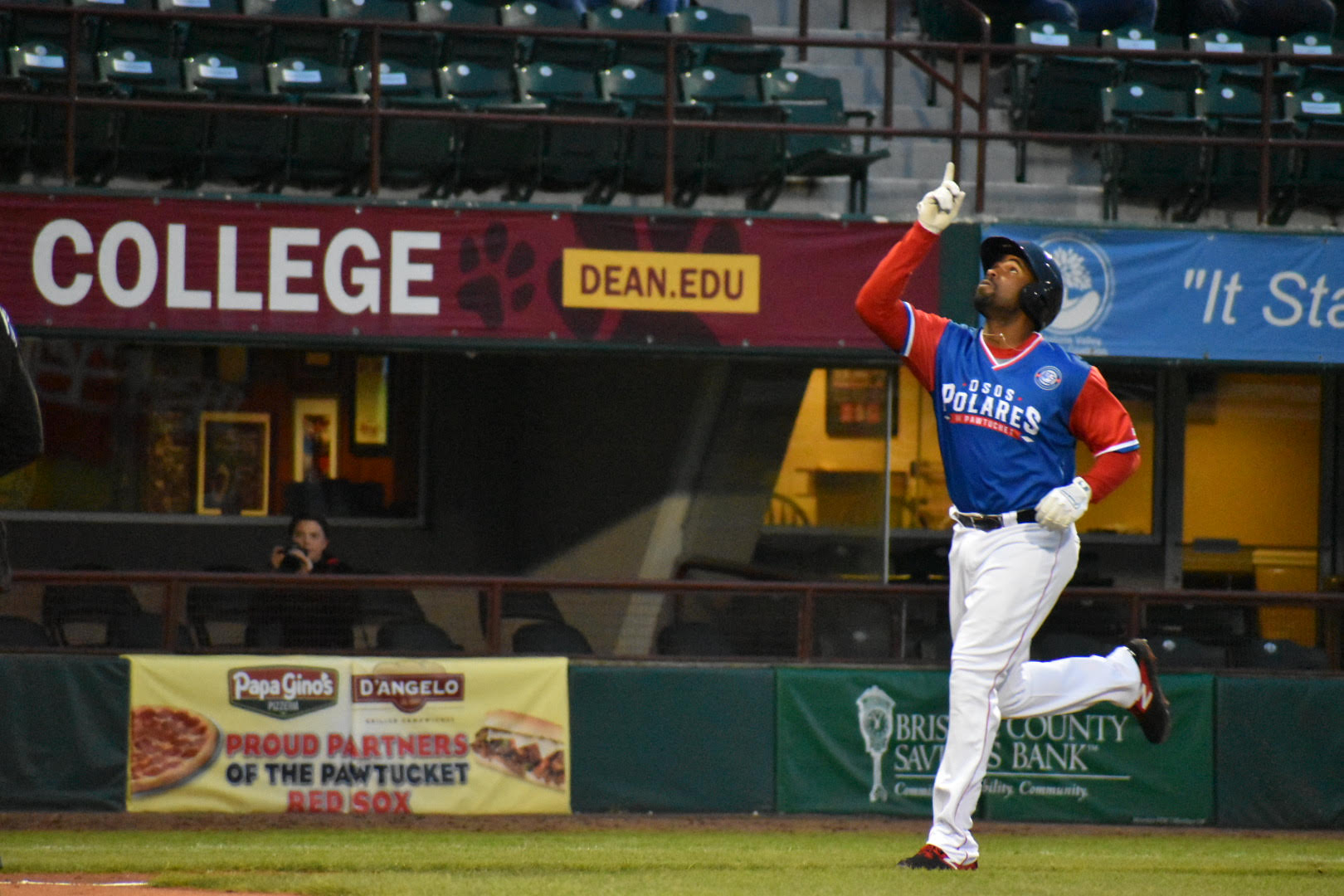 Boston Red Sox Prospect Josh Ockimey Hits Two Home Runs Tuesday Night For The Pawtucket Red Sox On A Raw Night At McCoy Stadium
Boston Red Sox prospect Josh Ockimey is known as a power hitting first basemen who can hit the ball a mile. On a cold, raw Tuesday night at McCoy Stadium, Josh Ockimey hit two home runs to right field. He now has 10 home runs on the season and has hit five home runs in his last four games. Unfortunately, the two home runs by Ockimey were not enough as the Paw Sox went on to lose the game by a score of 5 to 4 in ten innings.
His first home run was off of the wall above the right field bullpen. His second home run landed in the patio out in straight away right field. Both home runs were off of Columbus starting pitcher Asher Wojciechowski.  
It's always been clear what type of player Ockimey has been. A power hitting first basemen who could hit a ton of home runs. Right now, his OPS on the season is a ridiculous 1.013. 
Josh Ockimey Is In The Right Mind Set
Josh Ockimey currently has a .230 batting average on the season. In 100 at-bats, he has 23 hits. Six of those are doubles, one triple, and ten home runs. That means only six of his hits this season are singles. 
"I think he hasn't missed his pitches" said Paw Sox manager Billy McMillon after the game. "Sometimes guys foul balls off, or just out in front of them. He's been on it, timing has been good. He's been able to let balls get deep without using a lot of body" added McMillon. 
Ockimey does have 35 strikeouts on the season which is a lot of K's to have in mid May. But the league leader for strikeouts in the international league Travis Taijeron of the Syracuse Mets with 48 on the year. 
"I would even go as far as to say that on some of his strike outs, they're good pitches, but he's maybe just under them or just a little bit out in front" said McMillon. 
It does make complete sense that he has had some tough luck on his strikeouts this season, because he does have good sense of where his strike zone is. He does 27 walks on the season, which is the second most in the international league. Only one behind Cavan Biggio of the Buffalo Bisons. 
"When he's in this mind frame, he can hit the ball all over the place and drive the ball to all fields" McMillon said when talking about what he's seeing from Ockimey.
"A couple of the balls he hit out in Gwinnett were to center and left center. That's a really positive. He's in a good place mentally. I think his mind is thinking the right thoughts and letting the ball travel" added McMillon. 
Josh Ockimey is showing that he is a very smart hitter at AAA Pawtucket this season. Even though he is only batting .230 on the season, he has a .403 OBP and a 1.013 OPS on the season. So he is making the most of his at-bats. 
It will take some time for him to start hitting at a higher average, but as he develops as a contact hitter, he does have stuff to be a Mo Vaughn type of player. Someone who at the major league level can hit 30 to 40 home runs with a .280 batting average or so. 
PawSox Bullpen Disappoints In Extra Inning Loss To Columbus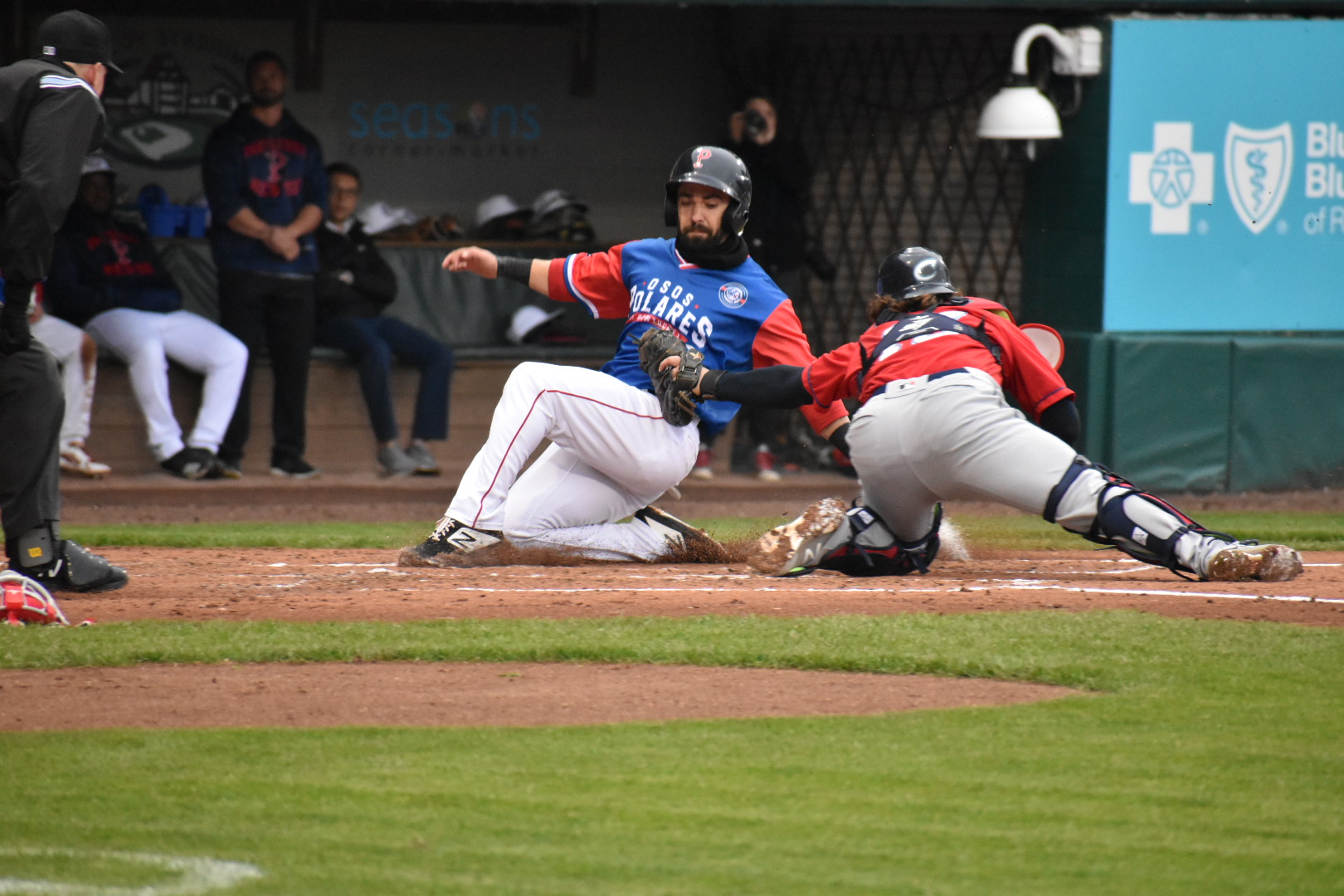 PawSox Bullpen Disappoints In Extra Inning Loss To Columbus On Bitterly Cold Night At McCoy Stadium
On a chilly May night at McCoy Stadium the Pawtucket Red Sox fell 5-4 to the Columbus Clippers in extra innings.
The story of the night for the PawSox was the hard hitting first basemen Josh Ockimey. Ockimey launched two home runs on the night, the third time this season he has recorded a multi home run game.
But outside of Ockimey this is a game of what ifs for Billy McMillon and the PawSox.
"Tough one tonight," said McMillon." We had the lead late in the ballgame but just wasn't able to finish."
Bullpen Has A Rough Night For Pawtucket
After starter Erasmo Ramirez turned in 5.2 innings allowing 2 runs on 3 base hits the PawSox bullpen had a rough go of it. Travis Lakins recorded 2 outs allowing 1 run on 1 base hit but couldn't find the strike one walking 3 batters.
With a one run lead it was Domingo Tapia who came in for the PawSox recording the final two outs in the top of the 7th. Tapia was asked to come out for the 8th inning and ended up giving up a run causing the game to be tied.
"Both Lakins and Tapia gave up a run," said McMillon. "Spoiled a really good opportunity for us."
In the top of the 10th inning Rhode Island Native Trevor Kelley allowed allowed 2 base hits and a run to cross the plate to give the Columbus Clippers a 5-4 lead.
Ockimey And Miller Multi-Hit Games, Little Else
Outside of Ockimey who went 2-2 with 2 home runs and 2 walks the offense only managed 6 total base hits. 2 from Ockimey, 2 from Mike Miller, and one apiece from Rusney Castillo and Jantzen Witte.
Up Next, Looking For Warmer Weather At McCoy
Next up for the PawSox is two more at home against Columbus. Starting pitcher on Wednesday is Mike Shawaryn and Chandler Shepherd to close the series up on Thursday at 11:05 am.
And the going from the warm weather of Gwinnett and Norfolk in 45 degrees and cloudy in Pawtucket, not so fun.
"Not to make an excuse, the other team was in the same elements as we were," said McMillon. "But it is kind of challenging from a mental standpoint where you have such beautiful weather for five or six days in a row and this (alluding to the chilly weather)."
PawSox Hosting IL West Leaders Columbus, Josh Smith Back In Town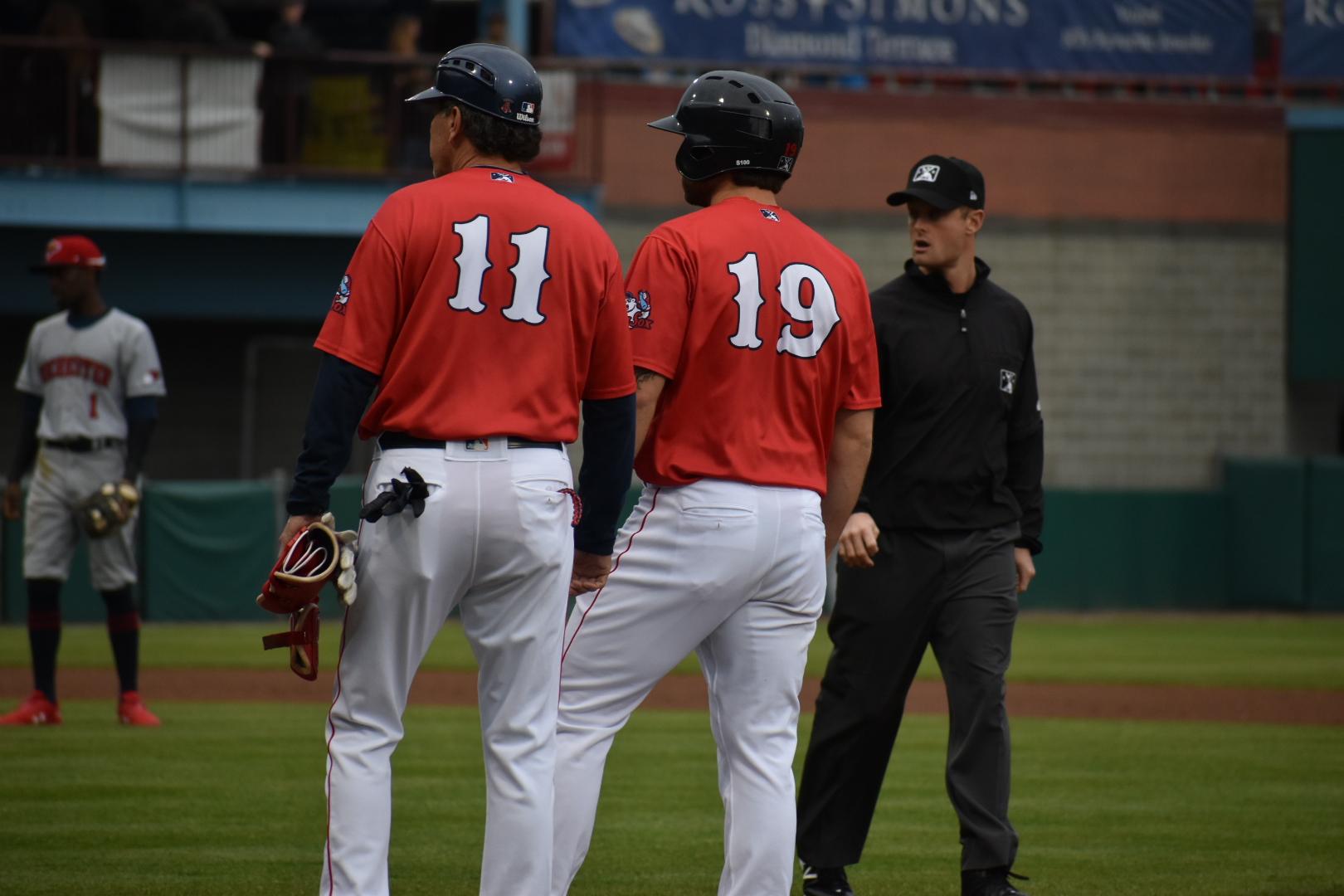 PawSox Hosting IL West Leaders Columbus, Josh Smith, The Lefty, Back In Town With Columbus
The Pawtucket Red Sox return home to McCoy Stadium after going 2-4 on their road trip that took them through Norfolk and Gwinnett. Pawtucket's road trip went well at the Tides taking 2 out of 3 but they could find any luck in Gwinnett. 
The Stripers who actually come into McCoy for a weekend series starting Friday swept the PawSox who have now been swept at Gwinnett for two consecutive seasons. 
On Tuesday the opponents do not get any easier unfortunately as the 20-15 Columbus Clippers come in for a three game weekday set against the 13-21 Pawtucket Red Sox. Columbus is the Triple-A affiliate of the Cleveland Indians. 
Starters are TBD. 
Columbus comes into McCoy with a few familiar faces including Josh D. Smith who actually pitched for the PawSox last season. In addition Red Sox fans might recognize long-time Baltimore Orioles infielder Ryan Flaherty who is now 32-years-old and has over 1,300 big league at-bats to his name. 
Names To Watch Out For
First basemen Bobby Bradley, batting .306 in 119 at-bats. Bradley is the Indians number 6 prospect and a top 10 first base prospect in baseball

 

Starter Michael Peoples who has a 3.13 ERA in 37.1 innings pitched

 

Starter Asher Wojciachowski who has a 1.97 ERA in 32 innings pitched

 

Josh D.Smith, yes him, he has a 1.80 ERA and a 4-0 record in 14 appearances, 20 innings pitched
Three Up
Jantzen Witte: Batting .329 in 73 at-bats this season. Has been a different batter thus far.
Sam Travis: Batting .273 on the season but is batting .375 over his last 10 games after a rough start. 
Mike Shawaryn: Shawaryn has a 2.79 ERA in 7 starts with 42 innings pitched 
Three Down
Gorkys Hernandez: In 103 at-bats the former Major Leaguer is batting .184 
Bryce Brentz: Slugger continues to struggle with a .192 average in 78 at-bats. Brentz has five home runs on the year. 
Jenrry Mejia : Mejia has a 5.06 ERA in 15 appearances, 16 innings pitched. He has three blown saves in 9 opportunities.
Game times are 6:05 for the first two games and a getaway day time of 12:05 pm for the third game on Thursday.