PawSox Pitching Staff Has Rough Night In 9-4 Loss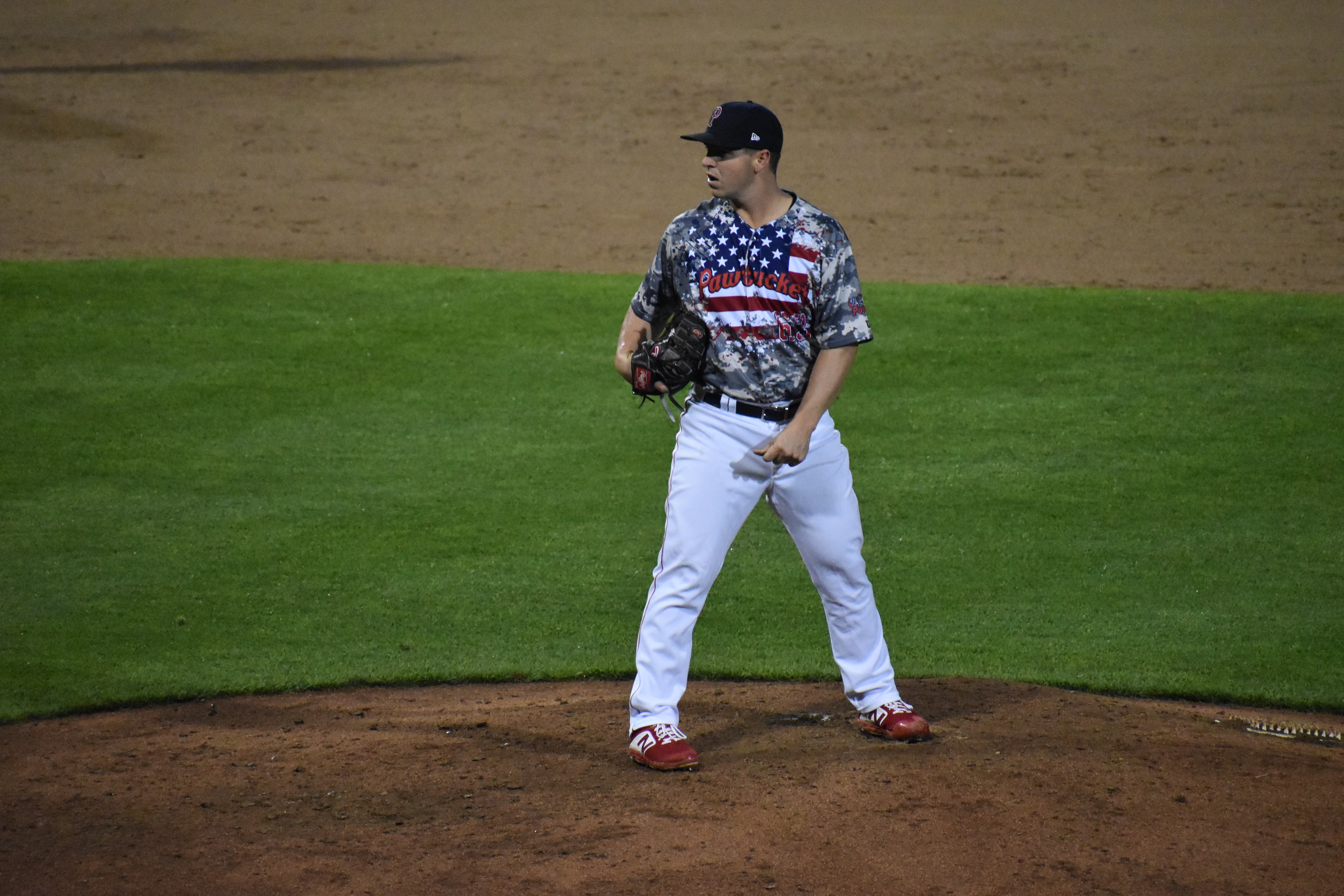 PawSox Pitching Staff Has Rough Night In 9-4 Loss, Two Runs Via Ground Outs, 1 Via Wild Pitch, And The 4th On A Single
Wednesday was not a good day for the PawSox pitching staff. 
Pawtucket's pitching gave up 9 runs, 8 of which were earned on 9 base hits, 6 walks, 4 strikeouts, en route to a 9-4 loss to the Norfolk Tides. 
As a unit the pitching staff gave up three home runs, starter Erasmo Ramirez was one of those pitchers going 5.1 innings allowing 5 earned runs on 4 base hits while walking 3 batters and recording only 1 strikeout. 
Ramirez had a good thing going until the bottom of the 4th inning when DJ Stewart hit a three-run shut to right field making it 3-0.
Behind Ramirez' was Bobby Poyner who got roughed up for 2 runs on 2 base hits whole recording just 2 outs with his ERA ballooning up to 6.55 on the year with Pawtucket. 
Travis Lakins went an inning allowing a solo home run, his only hit allowed while walking 1 and striking out one. The final pitcher out of the bullpen was Domingo Tapia who in his inning of work allowed 1 hit, 1 walk, and 2 strikeouts while giving up a run, but it was unearned. 
Weak Night For PawSox Offense
The PawSox offense managed to collect 9 base hits on the night but went 1-9 with runners in scoring position. The highlights at the plate were Sam Travis (2-for-4, 2 runs) and Oscar Hernandez (2-4, 1 run). 
Pawtucket's first run of the game came in the top of the 5th inning with a Rusney Castillo grounding into a fielders choice scoring Hernandez. 
An inning later it was a ground out by Cole Sturgeon that scored Sam Travis. And then later in the inning a wild pitch by Luis Ysla scored Gorkys Hernandez. The PawSox 4th and final run of the ballgame came in the top of the 8th on a Josh Tobias single up the middle to score Travis. 
The PawSox have a chance to come away with the series win on Thursday with a 12:05 pm getaway day time with Matthew Kent on the hill for his first PawSox start of the season. 
Red Sox Prospect Teddy Stankiewicz Picks Up First Win Of Season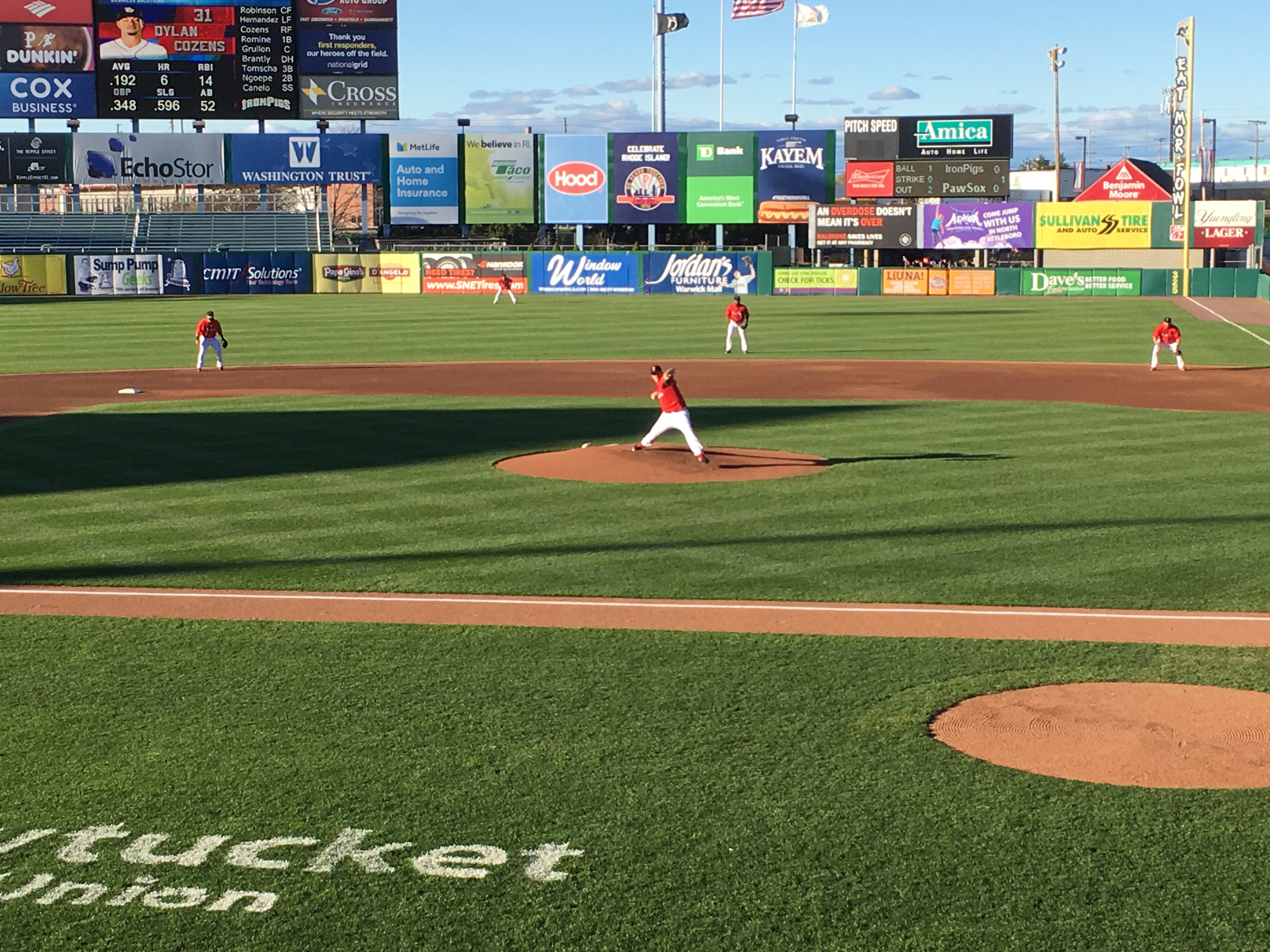 Red Sox Prospect Teddy Stankiewicz Picks Up First Win Of Season As He And Jantzen Witte Propel PawSox To 5-1 Win
On Tuesday the PawSox kicked their road-trip in the IL South in the proper fashion with a 5-1 win over the Norfolk Tides.
With the win the PawSox move to 12-17 on the year.
On the mound for this one was Teddy Stankiewicz who pitched 6 innings allowing 1 run, unearned, on 4 base hits en route to his first win of the season and the first Triple-A win of his career. 
The unearned run came in the bottom of the 5th inning when a throwing error by catcher Juan Centeno scored Mason Williams to make it a 2-1 ball-game at the time. 
Behind Stankiewicz the PawSox bullpen was phenomenal going 3 shutout innings to finish out the game. 
First out of the bullpen was Rhode Island Native Trevor Kelley who allowed 2 hits while striking out two batters in one inning of work picking up his second hold of the season. Then it was Josh Taylor in the 8th inning with a hitless inning allowing one walk while striking out own batter.
To close the door in the bottom of the 9th Jenrry Mejia allowed one base hit and one walk en route to a scoreless inning of work. 
Jantzen Witte Continues To Show A New Side With PawSox 
On the offensive side of things Gorkys Hernandez got things cooking for the PawSox in the top of the 4th with a solo home run to right field. It was Hernandez's second home run of the season. The former San Francisco Giant outfielder went 2-3 on the night with a walk.
The man of the day for the PawSox offense wasn't Hernandez though, it was instead infielder Jantzen Witte. 
Witte had an RBI single in the top of the 5th inning in what proved to be the winning run for Billy McMillon's ballclub. The icing on the cake also came from the Fort Worth, Texas native who hit a double to left field in the top of the 7th inning that scored two runs. 
Witte since being called up to the PawSox after starting the year in Portland is hitting .308 in 52 at-bats with 8 RBIs. In the 20 at-bats with he SeaDogs Witte went 3-20, or a .150 batting average. The third basemen whose career AAA average is only .255 in 756 at-bats, all with Pawtucket, has had a nice showing thus far and is certainly a bright spot. 
Pawtucket's fifth and final run of the night came in the top of the 8th inning when a throwing error by Chance Sisco scoring Sam Travis. 
Another One In Norfolk On Wednesday
The PawSox are back in action on Wednesday at 6:35 p.m. with right-hander Erasmo Ramirez on the hill taking on southpaw Luis Ysla. 
On Thursday in the series finale Matthew Kent is slated to make his first AAA start of 2019 after being called up from Portland. 
Red Sox Prospect Matthew Kent Added To PawSox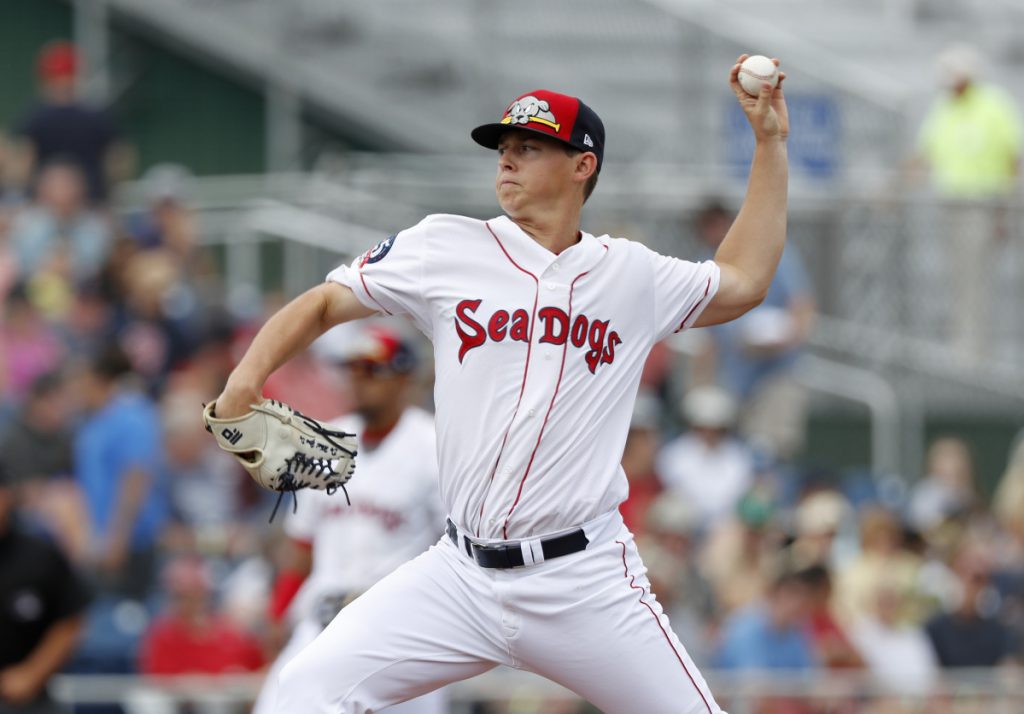 Red Sox Pitching Prospect Matthew Kent Added To PawSox To Fill Empty Spot Left By Ryan Weber
To fill the spot of Ryan Weber who was added to the Boston Red Sox on Monday the PawSox have added Matthew Kent from Double-A Portland. 
Kent,26, is from Waco, Texas and was drafted by Boston in the 13th round of the 2015 draft out of Texas A&M
The lefty has been fairly versatile in his minor league career with 104 appearances, 82 starts, and a total of 555.2 innings pitched with a 3.55 ERA. This season for the Portland Sea Dogs he has a 1.69 ERA in 6 appearances, 2 starts, with 26.2 innings pitched. 
He does have Triple-A experience which came in 2018 with Pawtucket with a start coming on July 26th, his only Triple-A experience. He went 5.1 innings allowing 4 earned runs on 7 base hits while walking one and striking out 6 batters. 
With Weber as the slated starter on Thursday for the PawSox Kent will likely slide into that spot. 
PawSox Flying To Norfolk With Red Hot Mike Miller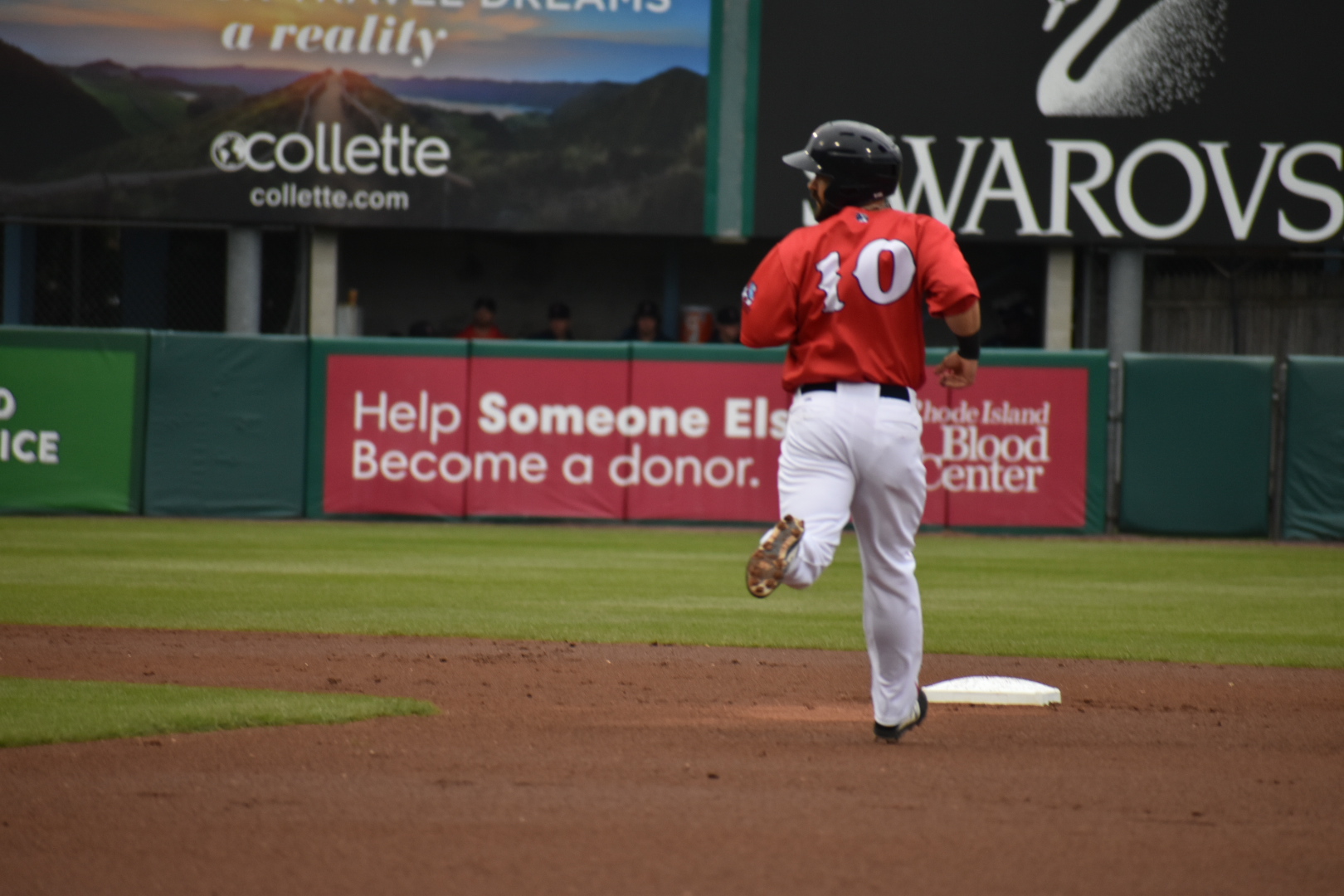 PawSox Notes: Flying To Norfolk With Red Hot Mike Miller Who Continues To Swing A Hot Bat
The PawSox have had rather rough luck with weather to start their 2019 season. Pawtucket's series finale on Sunday with the Rochester RedWings was postponed until June for a Doubleheader.
This marked the third game rained out at McCoy and the 9th postponement for the PawSox this season. To put that into perspective Pawtucket had only five postponements last season.
Pawtucket will now travel down south to Norfolk to take on the Tide for a three-game set starting on Tuesday and then head to Gwinnett to take on the Stripers for a three game set before heading back to McCoy on Tuesday May 14th hosting the Columbus Clippers.
Pawtucket will be flying to Norfolk, the Triple-A affiliate of the Baltimore Orioles.
Tuesday: Erasmo Ramirez (1-1, 3.78) vs Josh Rogers (2-1, 6.75)
Wednesday: Ryan Weber (1-1, 5.04) vs Luis Ysla (1-2, 4.88)
Thursday: Mike Shawaryn (1-2, 2.72) vs Tyler Herb (2-0, .75)
Norfolk has the number 67 prospect in baseball in Ryan Mountcastle. He is batting .345 to start his season with the Tide with 5 home runs and 22 RBIs in 29 games played. Mountcastle is Baltimore's #2 prospect overall and the number 9 third base prospect in baseball.
Three Up
Mike Miller: The infielder continues to swing a hot bat now batting .310 in 87 at-bats for the PawSox with 3 home runs and 14 RBIs. Miller has predominantly hit lead-off in 2019 and has been the primary shortstop with 19 games at short, 2 at third, and 4 games at second base.
Rusney Castillo: Castillo had 5 home runs last season, this year he is already up to 4 homeruns and is batting .290 in 93 at-bats with 22 RBIs. Castillo who has been the primary center fielder in the past has started just 7 gams there this season with 14 in right-field.
Mike Shawaryn: Shawaryn has a 2.72 ERA in 6 starts, 36.1 innings pitched. Shawaryn had an eight inning appearance on Thursday night and has been the ace of the PawSox pitching staff.
Three Down
Gorkys Hernandez: Hernandez who was an everyday player for the Giants the last two seasons is batting .159 in 82 at-bats. He has served as the primary center fielder but has struggled at the plate.
Chandler Shepherd: Shepherd was turned into a starter in 2018 and struggled at the start of that transition. But he had an impressive second half for the PawSox. But he has had a very rough start to 2019. Shepherd has a 10.07 ERA in 6 starts with just 22.1 innings pitched with an 0-4 record.
Bobby Poyner: The left-hander has had a rough go of 2019 thus far, he has a 5.23 ERA with 8 appearances and 10.1 innings pitched.
The 11-17 PawSox series with Norfolk kicks of on Tuesday with a first pitch of 6:35 pm.