Boston Bruins Eastern Conference Finals Schedule Released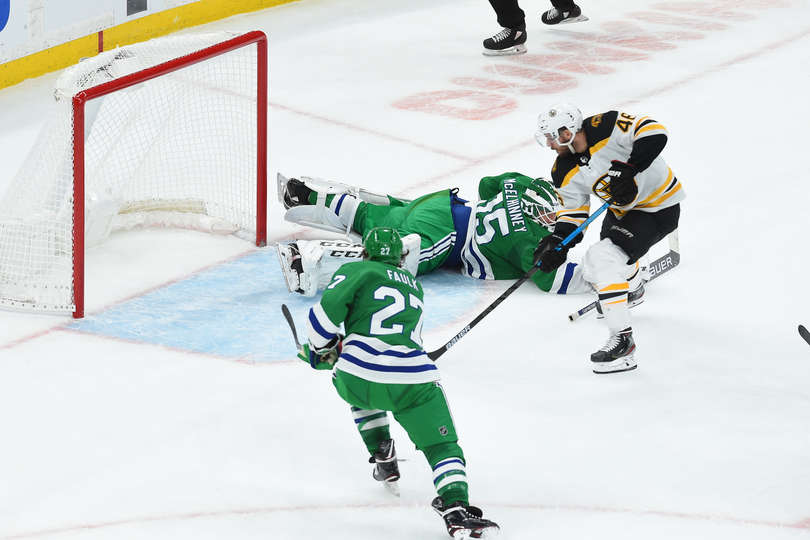 Boston Bruins Versus Carolina Hurricanes Eastern Conference Finals Schedule Released By NHL
Late Wednesday night the National Hockey League announced the full Eastern Conference Finals schedule between the Boston Bruins and the Carolina Hurricanes. 
Locally the games can be heard on 98.5 The Sports Hub.
As for the challenges the Hurricanes present Boston. Here is what General Manager Don Sweeney said during his media availability on Tuesday: "Yeah, I think there are going to be some unique challenges, as I mentioned. They're a strong forechecking team. They get on you, and they get back up on the puck. Their back pressures been good. Their goaltending has been excellent. As I mentioned, their shooting percentage took a big jump from February on being able to score some goals and have some confidence as a result of it. I think they're a reflection of their coach and how he approaches things in his own lifestyle, and they've got some juice. So, we're going to have to be at our best, and I've said that before. It's not going to change going forward."
Boston Bruins Try Continue Dominate Play Against Carolina Hurricanes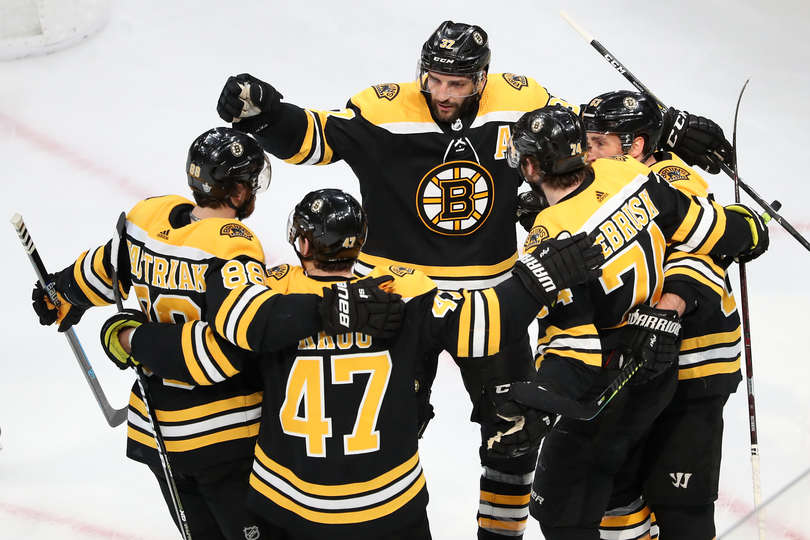 Boston Bruins Look To Take Commanding 3-0 Series lead 
The Boston Bruins look to keep the pressure on in game 3. The Carolina Hurricanes have tried to use speed and grit and failed both times. We saw the grit at the beginning of game 2. Boston showed the Canes that is part of their game and they do not back down.
Carolina clearly did not watch the Columbus series. The Blue Jackets tried there best to beat a loss into the Bruins and Boston was able to withstand the beating and beat back. We saw this in game 2, Carolina came out hitting. Then the B's hit back and just took over the game, scoring six unanswered goals. 
Of the six goals, three of them came from a defenseman. This is a part of their game that has been lacking these playoffs. If Boston can continue to get goals from the back-end then they will be near unstoppable. On top of the back-end goals, only Brandon Carlo has not scored a goal in the playoffs. 
Boston's depth has come through and teams do not how to counter. This has been the Canes biggest issue. The third line seems to be the toughest for them as we have seen Marcus Johanson just skate circles in the offensive zone. Now to their defense, Johanson has come alive this series. He had 2 assists in game 2 and plenty of chances. 
This will be the Bruins go to once again in game three as they look to make it a 3-0 series lead.
Boston Bruins Take 2-0 Series Lead Over Hurricanes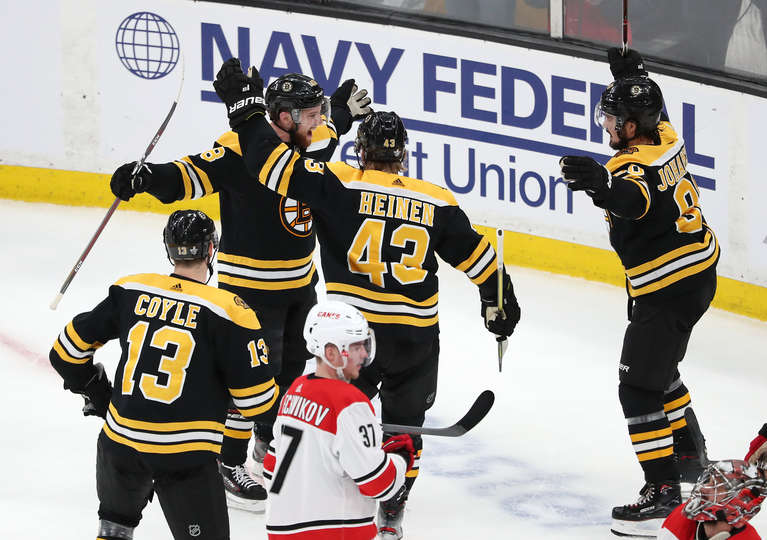 Boston Bruins Take 2-0 Series Lead Over Hurricanes As They Smoke Carolina 6-2 In Game 2
The Boston Bruins are steamrolling the Carolina Hurricanes. 
On Sunday in game 2 of the series the Black and Gold obliterated the Hurricanes 6-2 in the Eastern Conference Finals. 
Boston saw a pair of goals from Matt Grzelcyk, and one from Jake DeBrusk, David Backes, Connor Clifton, and Danton Heinen. 
"I think again it was kind of the importance of taking advantage of home ice and we came out ready to go and that's been a strength of our team throughout the playoffs," said Grzelcyk. 
Goaltender Tuukka Rask saved 21 of 23 shots allowing two third period goals to the Hurricanes with the game already in the bag for Boston. Rask and the B's were perfect on the penalty kill with the Bruins not allowing a Carolina goal on five power play attempts.  
The B's will travel to Carolina now on Monday with a 2-0 series lead looking to make quick work of the Canes to give the weary a little bit of rest ahead of a potential Stanley Cup Final. 
Boston Bruins Looking To Make It 2-0 On Sunday Against Hurricanes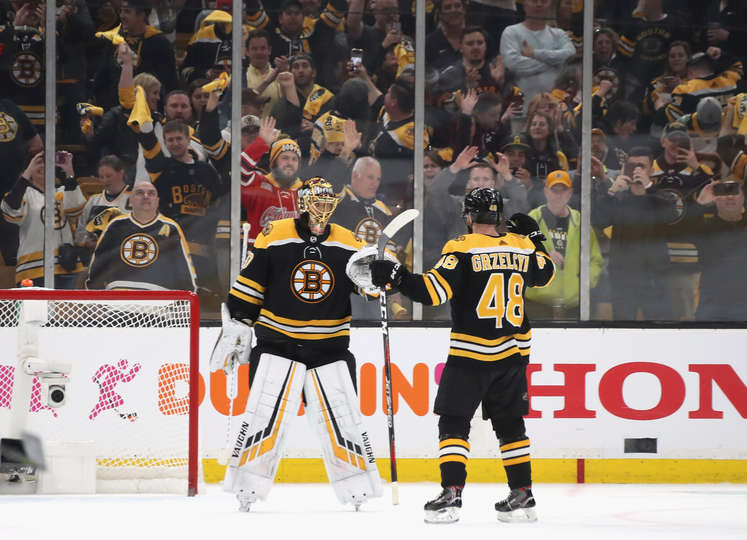 Boston Bruins Looking To Make It 2-0 On Sunday Against Hurricanes Before Heading Down To Carolina
The Boston Bruins kicked off their Eastern Conference Final series with the Carolina Hurricanes with an impressive 5-2 victory.
Boston hosts one more at home for game 2 on Sunday before heading down to Carolina. Game 2 has a rather odd time with the NHL putting the game at a 3 pm face off despite it being Mother's Day.
The Black and Gold are looking to take a 2-0 lead over the Cane's but will have to accomplish it without one of their forwards.
Former Providence College Friar Noel Acciari is rebounding well from his injury and could be available for game 3 but not for Sunday.
"He is doing well," said Bruce Cassidy." Should be a full practice Monday, I am not sure what we are doing that day but he will be ready whatever the case may be for Monday. Hopefully that allows him to play Tuesday."
The B's will get one player back for game 2 tough and that is defenseman Charlie McAvoy who served a one-game suspension during game one for a high hit in the last round of the playoffs.
"I can't wait, very excited," said McAvoy. "It's the Conference Finals and I am looking to make an impact anyway i can and I am just really thrilled for the opportunity."
Despite a reassuring victory in game 1 and making quick work of the Columbus Blue Jackets in the previous series the B's have taken an approach that would likely make Bill Belichick smile. They are always looking to improve.
"Part of that is our group, they want to continue to elevate," said Cassidy. "Bergy talks about it all the time, build your game, build your game. Those are buzz words around our room. Keep building your game."
Boston has gotten superb goaltending from Tuukka Rask throughout this playoff run. Rask who is just over halfway to the promised land of carrying a team to the Stanley Cup has been rather consistent.
"To be as consistent as he has been, that is one of the reasons that four teams advance generally if there goaltender stays consistent the whole way," said Cassidy.
Boston is in a good position to go up 2-0 before heading down to Carolina for game 3. And while it is critical to win home games in the playoff, the B's are looking to win every game they play.
"That's the goal, the goal is to win every game," said McAvoy.
"We are excited to play," said Brad Marchand."It's going to be a big game, they are going to come out hard."