Revolution Ready To Move On, A Few Wins Could Change Everything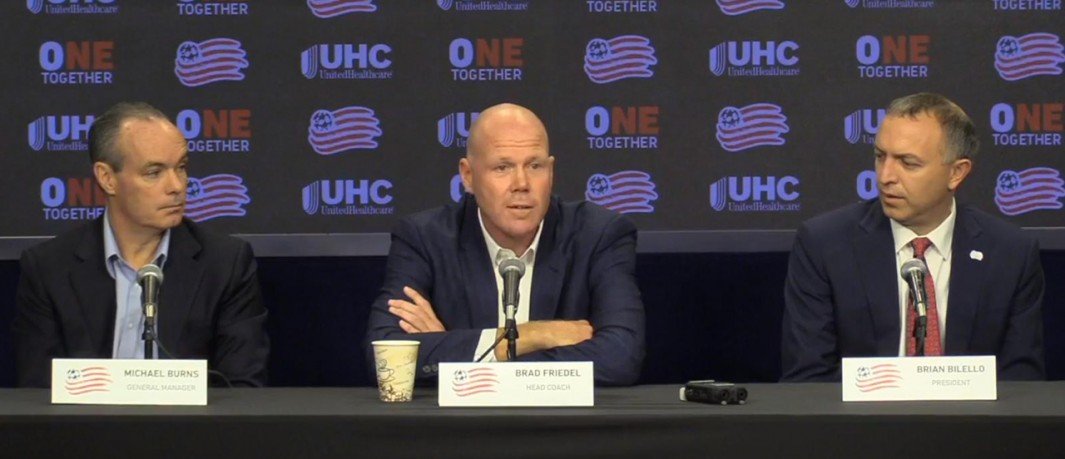 New England Revolution Ready To Move On From Poor Start, A Few Wins Could Change Everything But Need A Full Team Performance
The post Brad Friedel era begins for the New England Revolution, but many of the key faces remain in place. 
On Friday a day after the Revolution relieved Friedel of his coaching duties the team held a media availability at Gillette Stadium. Among the speakers were GM Mike Burns, Interim Head Coach Mike Lapper, and several of the veteran players including Scott Caldwell. 
The most telling person of them all was Burns. Burns has been called out by the fan base who isn't happy with him being tapped to look for his third head coach in his tenure as GM. 
"I think I have a job as general manager that is second guessed," said Burns." Obviously there is both people in the media and fans elsewhere that have opinions. Both positive and negative." 
The former player doesn't look at his tenure as GM as his full body of work with the New England Revolution. Instead he takes an odder approach to his resume. 
"I look at it as a 15-year time here and not necessarily 1, 2, or three years," said Burns. 
Overall a confusing way to look at things and not really how success is defined in sports. Success is how you are doing now and not what you accomplished in the past. Revolution fans have a right to be concerned that Burns may not be the man for the job. 
But the GM will remains for the foreseeable future. 
Revolution Decision To Remove Friedel Came After Loss To Fire 
New England's decision to remove Friedel came after a 5-0 debacle on Wednesday night at the Chicago Fire.
"In Brad's time here he gave everything that he had," said Burns."The decision we made is what we felt was in the best interest of the club going forward and having two thirds of the season left." 
The Revs do believe they can turn things around in just a few games which was partially why they made the change now and not later.
"In this league you lose a few games, you are really down, but you win 1, 2, or 3 and you are really back in the mix," said Burns. "We feel like we have enough time left in the season to resurrect, and that is the goal."
"We feel like we have a better team, a better roster than the results have shown," said Burns. 
The search for the new head coach will start now.
"The timeline is soon as possible, obviously not rushing anything," said Burns. "Ownership will be involved, Brian will be involved, and I will be involved."
Interim Head Coach Mike Lapper plans on being in the mix for the head coaching job as well. But he made sure to note that he never planned on being the head coach of the team. 
"I am going to embrace it," said Lapper. "I am going to do everything that i can to because my loyalty is to this club and to get us to where everyone wants us to be."
Lapper who has known Friedel for over 30 plus years said it was:"Sad, but understanding, and so was he. Results matter in this business and that is the business that we are in. We knew that something had to change and you can't change everybody in the locker room."
The Players Perspective And Next Steps
Revolution Homegrown Player Scott Caldwell started his media session off my making a statement. 
Caldwell who has been a leader on and off the pitch once again showed the right mentality. 
"As players we know we are not performing on the field, and that has to change," said Caldwell. "That is something that has to change, everyone in the locker-room knowns our performances have not been good enough. It starts tomorrow night we have to get results. That is our job."
The Revolution will have a chance to change their fortune on Saturday against the San Jose Earthquakes. 
New England Revolution Let Go General Manager Mike Burns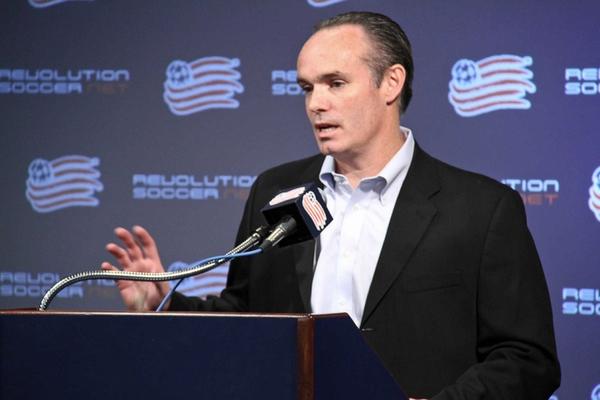 New England Revolution Let Go GM Mike Burns As It Was Time To Go "In A Different Direction"
On Monday the New England Revolution made another major change in the organization with the MLS club announcing that they would be parting ways with General Manager Mike Burns effective immediately.
Burns who has had a storied career with the club as a player and in the front office has had a rough go of it lately with a rather disappointing seven year run as the clubs general manager. 
"As an original Revolution player and throughout his time with the club's front office, Michael has always been a terrific ambassador for the club," said Revolution President Brian Bilello. "His impact on the team and organization has been felt in many ways and we are grateful for his commitment and service to the New England Revolution." 
Burns was made the GM of the club back in November of 2011 after spending the four previous years as the Vice President of player personnel. While the late form has been rather poor when Burns had taken the job he helped take a 5 win team in 2011 to a club that made the MLS Cup Playoffs in three straight seasons including an MLS Cup Final appearance in 2014. 
New England makes this move less than a week after they relieved Head Coach Brad Friedel of his job after a 2-8-2 start. 
"In light of recent results and the team's on-field direction over the last few seasons, we felt it was time to take the soccer side of the organization in a different direction. We expect to make an announcement related to leadership of the soccer organization in the coming days," said Bilello. 
When the club had parted ways with Friedel the former Revs defender and at the time GM Burns spoke with the media for seven minutes on Friday to explain the move and field questions. 
Since that time New England actually came away with a 3-1 win at home over the San Jose Earthquakes.
There is a lot of uncertainty on when upper management made the decision to remove Burns at the moment because on Friday Burns was stated that he would be involved in finding the next head coach of the club. 
"Ownership will be involved, Brian will be involved, and I will be involved," said Burns. 
More to come but this was the right move for the club long-term. 
Revolution Interim Head Coach Mike Lapper Bringing In A Different Attitude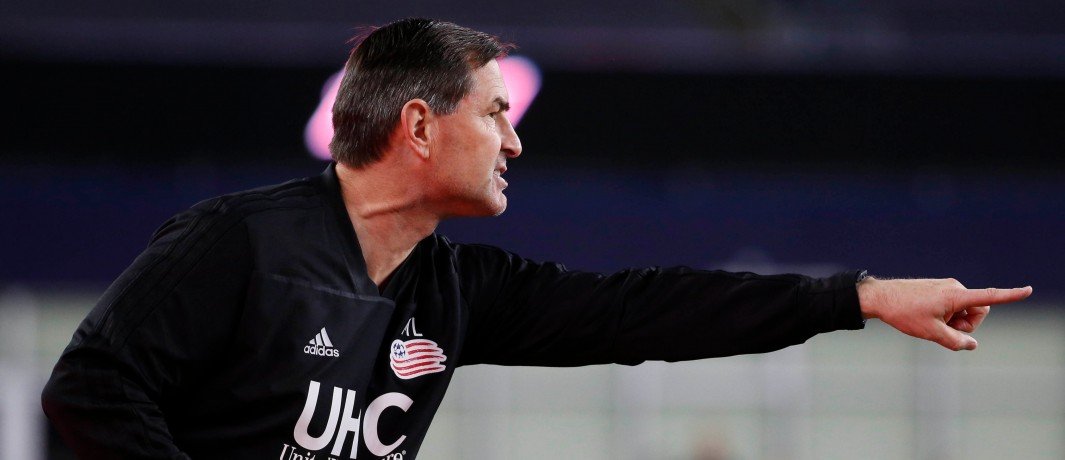 New England Revolution Interim Head Coach Mike Lapper Bringing In A Different Attitude
The Mike Lapper era is one game in as the Interim Head Coach of the New England Revolution was victorious in a 3-1 win over San Jose on Saturday night. 
Lapper who was the teams assistant coach under Brad Friedel has seemingly already put his touch on the locker room with the players walking around with a different attitude.
Here is what we know of Lapper thus far:
He is direct to players as he sat down with 70-80% of the roster to challenge them and gauge where they are at.
Matt Turner is his guy in net, while many hope for a more continuous lineup that is unclear right now. Friedel had tapped Brad Knighton in a similar way at the start of the season. 
He speaks very highly of Christian Penilla who after being off the 18 on Wednesday was in the starting lineup against the Quakes. "When he's on his game and he's in it, he's one of the better players in the league. I mean, that's reality and you can't argue that. The trick is finding the motivation."
Lapper is instituting a "Man of the Match" after wins but had an issue on Saturday night. "I got to be honest with you, I don't know who to give it to because everyone put in an amazing shift."
He seems more relaxed and laid back: He's been great since he's been here. All of the guys like him," said Farrell."He's a guy you can have a conversation with, he tells you what he thinks, he can help you in different areas, and we got the win tonight, so it's good."
It's just one game in but despite being Friedel's Assistant Lapper comes across in a completely different manner and that is a good thing for at least the short term. 
New England is a long ways away from being back being 3-8-2 and still sitting in 12th place despite the win. 
"I take it with a grain of salt," said Lapper on the win. "I'm pleased. Don't get me wrong, but I also know it's just one game and we just got to keep digging and realize what kind of team we are and really find our identity. That's what I'm hopefully starting to establish and see where it goes."
Revolution Tap Matt Turner As Starting Goalkeeper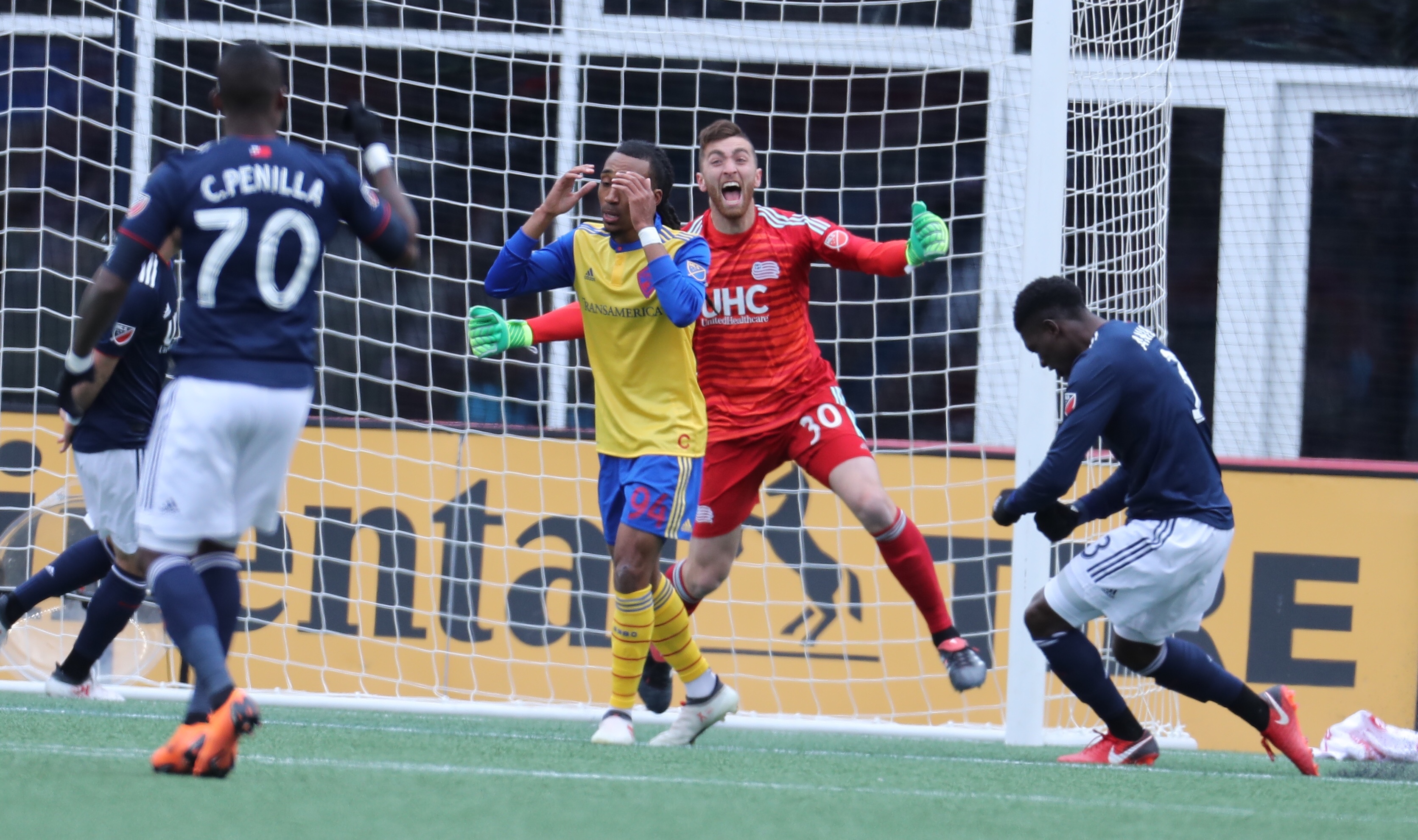 New England Revolution Tap Matt Turner As Starting Goalkeeper As Interim Head Coach Mike Lapper Makes Him His Guy
On Saturday night against the San Jose Earthquakes the New England Revolution started Matt Turner in net. 
Turner first saw action this season on Wednesday against the Chicago Fire and was the third Revs goalkeeper to see action in 2019. The keeper let in 5 goals against the Fire mostly due to a lack of defense in front of him. 
Against the Quakes on Saturday Turner faired much better recording 6 saves and allowing one goal. The six saves were the 24-year-olds highest save total since 5/30/18 against Atlanta. 
After the win over San Jose the Revs Interim Head Coach Mike Lapper said the starting goalkeeper job going forward is Turner's to lose. 
"I talked to Matt Turner, told him he's my guy and that he's going to be the guy until he shows that he's not available," said Lapper. 
Turner Was Confident He Would Be In The Mix 
Turner who was the teams starting goalkeeper out of the gate in 2018 but found himself off the 18 to start the year expected to be in the mix. The Park Ridge, New Jersey native wasn't shocked when Lapper told him it was his job. 
"Absolutely not, I always expected to play," said Turner.
Turner made 27 starts for New England in 2018 and made 83 saves while allowing 42 goals against, or a 1.55 goals against average. 
The Fairfield standout is certainly happy to have Lapper's vote of confidence but wanted to be perfect against San Jose. 
"It's really good to have that. You have a little bit of leeway, but also you hold yourself to a certain standard to be perfect always," said Turner."Disappointed to let in a goal tonight, but overall I think when [the coach says] that they have their confidence in you, you just want to repay that, make the most of that, and fulfill that so that you continue to build that confidence and build consistency within the team."
The disappointment  that Turner felt in allowing the lone goal is due to the fact that the primary goal against the Quakes was getting a clean sheet. 
"We didn't get the clean sheet and that was goal number one for the night, so we failed at that, but we fought until the end, we stayed together, and that was another thing we wanted to make sure of, which we hadn't done in the past two games," said Turner. 
Matt Turner, An Undrafted Rookie Signed With Revolution In 2016, Impressive 2018 Overall Performance 
Turner being the third goalkeeper to start doesn't mean he lacks talent as he was named to the MLS team of the week four times in 2018 and the JetBlue man of the match six times by fans in 2018. At points in 2018 the former head coach Brad Friedel was very high on Turner. 
"As long as he stays grounded, humble, [and] focused, his potential is really high," Friedel said. "There's not too many American goalkeepers that are better than him anywhere in the world. He will have the ability to play at National Team level—if and only if—he continues to work the way that he does."
Now Friedel's word may not go far with Revs fans anymore after a debacle to end last season and a 2-8-2 start before getting canned. But Friedel was one of the best keepers in the game when he was a player and his opinion on keepers should be well received. 
That comment was made on March 31st, 2018 and a lot has changed since then. New England fell apart defensively which resulted in allowing more goals per game which led to Friedel having a keeper battle to start the year. A battle that resulted in Brad Knighton being the starter where he posted a 2 goals against average through 4 games. 
After Knighton Friedel made the decision to go with Cody Cropper due to the 2 goals per game average. Cropper rewarded Friedel with a clean sheet, the only one of the year for the team but ended up averaging 2.42 goals per game in 7 games. 
With Turner and his 1.55 goals against average in 2018 in 27 games the move to go back to him makes the perfect sense and is the right move for Lapper.