Trifecta Gaming: Fortnite Week 2 Of Season 3
Might do more of these, let me know what you guys think.
Overwatch League: 8 More Teams Added to the League for the 2019 Season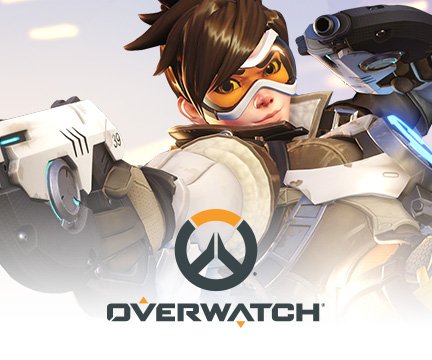 On the Eve of Overwatch World Cup Weekend in Los Angeles, Blizzard Announced 6 more Expansion Teams to the 2 Expansion Teams already mentioned.  So that'll be 8 total Expansion Teams for OWL 2019!  This is really exciting news!  I had a feeling that they would mention it during an Overwatch Event.  I also thought that it'd be only 6 new Teams.  Here is some of the info from the Press Release:
"IRVINE, Calif.—Sep. 7, 2018—The Overwatch LeagueTM is expanding again. Last month, franchises representing Atlanta and Guangzhou joined the Overwatch League, and now six more new teams—Chengdu, Hangzhou, Paris, Toronto, Vancouver, and Washington, D.C.—will compete for the 2019 Overwatch League championship. With a roster of 20 total teams—nine of them outside of the United States—the Overwatch League has further strengthened its position as the premier global city-based esports league."
So now we have 20 Teams to watch in OWL.  10 Teams from each Division: Pacific and Atlantic.  This has got to get the fan base pumped up about it!  I know if fans are like me, then they can't wait for the new Season.  And I just have to say that I miss watching Overwatch League on Wednesdays.  It was something that got me excited each week.  Now with the expanded Teams I expect that there will be an expanded Schedule.  Also how long will next Season last?  All of these questions and more will be explained later in the year.  I expect that Blizzard will reveal the OWL Schedule by Blizzcon, the first week of November.  Also, you can't forget that the Finals of the Overwatch World Cup will be held at Blizzcon this year.  Here is more of the Press Release:
"The Overwatch League's inaugural season was a great success," said Bobby Kotick, CEO of Activision Blizzard. "This past season alone, fans spent 160 million hours watching the leading Overwatch players in the world compete. We are thrilled to add eight new outstanding team owners from Europe, China, and North America to our Overwatch League ownership group. We now have 20 of the very best owners in professional sports."

"We just capped an amazing inaugural Overwatch League season, crowning our first-ever Grand Finals champion in front of a sold-out crowd of dedicated and passionate fans," said Pete Vlastelica, president and CEO of Activision Blizzard Esports Leagues. "Now, as we look forward to the 2019 season and beyond, we're adding eight new teams that will help us grow our league in important regions around the globe. We know that the difference between a good league and a great league is its owners, and we set a high bar for our first season with the caliber of ownership groups. Every one of these expansion franchises cleared that bar and will make our league even better."

"Esports has seen extraordinary success and continues to be one of the fastest growing industries in the world," said Francesco Aquilini, managing director of the Aquilini Group. "The Overwatch League has visionary leadership, strong franchises, and connects with millions of players globally. We're pleased to have the opportunity to expand into esports and we can't wait to launch the team in Vancouver, which will also represent fans across the Pacific Northwest, including Seattle and Portland."
You can find the full Press Release here: https://blizzard.gamespress.com/THE-OVERWATCH-LEAGUE-TM-SIGNS-SIX-MORE-TEAMS
So yeah, I was really excited today when I saw the Overwatch League Twitter feed.  I can't think of any other way to announce it other than during the World Cup.  By the Way, the World Cup Los Angeles Stage begins today, September 7th at 10 am PST.  It continues through to September 9th.  Several Nations are vying for a spot at Blizzcon.  You can catch up with all the action on Twitch.tv or the Blizzard eSports site: https://worldcup.playoverwatch.com/en-us/    I'll be rooting for Switzerland, because of my Mom being Swiss, I always root for them in International Sports.  GL HF Cheers!
Overwatch League: All Star Weekend Wrapped Up Season One On Sunday

It was a fun Series of Summer Games on Saturday before the All Star Game on Sunday.  I think my most favorite of the varied events was the 1v1 Widow Duel.  It was just so close and so interesting to see how the Pros Play.  I mean really these guys are good!  They know all the tricks and situations.  Let's just go over a quick run down of the games:
Lucio Ball - Like soccer/football except everyone is Lucio.  This was fun to watch.  It was an Arcade Game that was on the Overwatch servers this summer.  It is very similar to Rocket League, the game with rocket cars playing soccer/football.  Some of the Pros actually never played it before.  But all in all it was fun to see them shoot and score in a 3v3 match.  Atlantic Won it in OT.
Mystery Heroes - This was fun because we got to see some crazy plays by Players on different Heroes.  Basically you play a Random Spawning Hero from Spawn.  Which means that all 6 Team members play a Random Hero, no matter their designation as Healer/DPS/Tank.  It was, well, strange!  I think that it was just fun to see Tanks on Supports or Supports on Tank.  But these Pro Players can play them all at a very high level.  Atlantic also Won this Game.
Hero Lockdown - This was a Custom Game where each Player would have their previous Hero unavailable if they Won a Map.  It was very strange yet very cerebral.  I mean each Player wants to play their best Hero!  So what the Players did was play their best Hero last, which was smart.  I thought that it was an interesting dynamic.  Pacific Won this Game making it so far overall [2-1].
Talent Take Down - Here was a Match where the Casters played each other.  It was extremely entertaining.  I liked the Comms Call.  It was just fun to see them all play each other.  Puckett on Doom Fist though, wow, watch out!  Pacific Won this Round tying it [2-2].
1v1 Widow Duel - Now this one was really close especially for each Map.  Basically its One Widow verses another where only "Head Shots" count.  Scope only, no automatic Weapons.  Infra-sight after a long period of time.  First to 7 "Head Shots" then first to 10 "Head Shots" in the Final.  We got to see a lot of Carpe as he made it to the Finals.  We got to see some Big Boss Pine against Striker.  Striker Won btw…  We got to see Soon and Surefour.  In fact Surefour went to the Finals against Carpe.  Basically these guys are at such a high level that they go back and forth in Eliminations.  Surefour beat Carpe in the Finals… he just looked so good!  Also he played really relaxed and wasn't bothered by the Game Hype.  So Pacific took the Win which made it [3-2] on the day.
All Star Game - This was on Sunday and it was Pacific verses Atlantic with Subs coming in for each Map.  Best of 5 Maps but they played all 5 Maps anyways, for the fans.  We got to see the OWL Pros play the new Patch, with new Heroes "Wreaking Ball" and new Maps "Rialto".  It was cool to see the new "Meta".  There was a lot of Doom Fist, Wreaking Ball, and Anna.  Wow it was exciting!  My favorite play was Genji "Dashing" "Wall Climbing" off of the Cliff on Route 66 after getting a "Kill" on D. Va.  Impressive!  Atlantic though was just too OP for Pacific to deal with.  They had all of NYXL and the OWL Winners London Spitfire on their Team.  Atlantic took the Series [4-1] in a blaze of glory.
I do want to mention that Micki for the Dallas Fuel got Awarded the Inaugural Dennis Hawelka Award for Positive Community Impact.  Here is the Press Release on that:
"In honor of the accomplished Overwatch player and coach Dennis 'INTERNETHULK' Hawelka, Dallas Fuel player Pongphop "Mickie" Rattanasangchod has been awarded The Dennis Hawelka Award for bringing the most positive impact to the Overwatch League community this season. The award was introduced in November 2017 after the passing of Hawelka who was considered a friend and confident to many in the league. Besides being a former Team Envy player, Hawelka was one the first people to recognize Mickie's skills that led to him to a professional gaming career. Recently, Mickie was selected to Pacific Division All-Star Roster of the Overwatch League.
"Mickie's commitment to the Overwatch League is undeniable. He's honest, outgoing and the fans love him," said Aaron "Aero" Atkins, Head Coach for the Dallas Fuel. "It's no accident that he's captured the hearts of fans, players and the gaming community involved in the first season of the league."
Mickie joined Team Envy Overwatch during the middle of APEX Season 1. His off tank play in game helped deliver the team a win in the inaugural season of APEX with Mickie and Mickie has made a personal mission to build worldwide community and fandom around gaming. Recently, in his off weeks following the end of Stage 4 of the Overwatch League, Mickie vacationed to Japan and hosted fan meet ups.
"You simply can't help being in a good mood when you're around Mickie," said Mat Taylor, general manager of the Dallas Fuel."
So that now officially wraps up Season One of Overwatch League.  I'd like to give a shout out to Greg Miller PR for the Dallas Fuel for reaching out to me to post the Dallas Fuel Press Release.  Thank you!  And also Congratz on Micki's Award, he's just a lovable person, always smiling!  So now what's next?  Well the Overwatch World Cup is coming up and hopefully I'll be covering that.  Until then GL HF fellow Gamers!  Cheers!
Overwatch League: London Spitfire Win The Championship And Profit Gets MVP

It was just another Championship like any other Sport.  There was a packed Stadium.  There was a Concert before hand by DJ Khaled, just like there is a concert before any other Sports Tournament these days.  There were signs made by fans and bracelets that lit up the Arena.  I mean you could say that this was like any other Sporting event, but would you be shocked to know that this was an eSports Championship?  Yep that's right, this was an eSports event and I just have to say, "The Eagle has Landed!"  Finally North America got a taste of the Korean Phenomenon, that is eSports!
So now that we got that out of the way let's talk about Saturday's Overwatch League Grand Finals Day 2…  It was huge, it was epic, and it was in your face non stop heart pounding action.  In fact there was so much action going on that the Observers and the Casters had trouble keeping up with everything happening on screen.  I mean everyone was playing at the top of their game.  Philadelphia Fusion vs London Spitfire will go down in history as one of the most intense Matches.  The Crowd was cheering for their Teams.  There were more Philly Fusion Fans than London Fans and you could hear them cheering on the Players as the action unfolded on screen.  It was so surreal!
Now London had a lot going for them in this one.  They were 1 Match up in the Best of 3 Series.  And also they had the experience with big time Competitions.  The South Korean Squad was made up of the best of two South Korean Overwatch Teams.  And yeah, they looked pretty formidable.  They had Gesture, Nus, Fury, Bdosin, Birdring, and Profit.  Now these guys are really good!  When they have the momentum and they are going on "Kill Streaks" watch out!
Philadelphia came in as the under dog favorites.  They are a solid Team but are very momentum driven in game.  They have what it takes to be a top contender and they showed the world that by beating the New York Excelsior.  This International Squad consists of Players from 9 different Countries.  Their starting line up looked like this: Poko, Boombox, Sado, Neptuno, EQO, and Carpe.  They have a very aggressive play style which relies heavily on their DPS Players EQO and Carpe.  In fact if Carpe is having a disappointing game then the Team's performance goes down.  They rely so much on him getting the first "pick" on an enemy Player with his Widowmaker.  Sometimes the Team has to work around him and get him into position.
Now lets get right into what played out on Saturday, and take it Map by Map:
Philadelphia Fusion vs London Spitfire: Junkertown
This was a really good Map for London.  Philly Fusion had a rough go of it but put up 2 Map Points quickly.  But then they hit the dreaded U-Bend to the final Point Zone, and let me tell you it was a disaster.  Once they lost control of the "Payload" it just snowballed into a solid "hold" by London.  There was one point in particular to mention.  London set up a trap for the Fusion.  They had a Hanzo with an "ULT" to use and they had an Orisa.  Now just before the Philly Fusion Players were about to attack out of the narrow choke point, they were spotted.  Then London fired Orisa's "Halt" projectile and it caught four Players simultaneously in the corridor then Birdring fired his "Dragon Strike" through the wall and got a "Team Kill" on Philly.  Omg!  That was just executed perfectly!  What a play…  That right there took a lot of Philly Fusion's Time off the Clock and it pretty much ended their run with only 2 Map Points.
London would get their turn to run Junkertown on Offense.  They played it really well and you could just tell right away that Profit was going to have a huge Day.  How huge?  Well enough to be recognized as the single most valued Player in the game.  Yeah that's right MVP!  What with all the different Hero Comps that London plays with him it's no surprise that he would be in that discussion.  London took the Map Win 3-2 after Philly Fusion was close to a "hold" on Map Point B.
Philadelphia Fusion vs London Spitfire: LiJiang Tower
Right here this Map was all London.  It was the Profit and Birdring show!  These two guys were in the thick of it battling for London.  They played the Fusion aggressively but not overly aggressive.  What they did was take control of the Point early and then hold it for as long as possible.  They focused their fire on the Fusion's back line and kept their opponent on their heels.  They just won the 6v6 engagements everytime.  Meanwhile Carpe had a body on him the whole game.  He had trouble setting up his sight lines with the Widowmaker.  He was pretty much shut down on this Map, but he did have a moment there of multiple "Head Shots".  London took the Map Win 2-0 into HalfTime and it started to look grim for Fusion Fans.
Philadelphia Fusion vs London Spitfire: King's Row
This Map would be the decider for the OWL Championship.  It was Hybrid so each Team had a go on the "Payload".  What we saw was an instant classic!  It came down to the last few seconds on the Time Clock.  Philly Fusion were up first and they fought tooth and nail to get it all the way to finish the Map with 3 Map Points.  They played it smart and well!  Then it was London's turn and they played out of their minds good!  It was back and forth at times depending on the "ULTs" used but it was just remarkable.  I thought that I had seen the best out of London earlier on but no, this was the best of London this year.  They would not falter or be defeated here.  They pushed the "Payload" down the city streets around the S-Bend and to the Point Zone.  All with over a Minute left on the Clock.  So now it entered OT.  If Fusion held it would be a Draw and another Map would be played.  This was it the last hurrah…  London came out blazing and caught Neptuno out of position then sat on the Point Zone with their Tanks to capture one "tick" to Win the Map 4-3.  That would be it!  All the marbles!  Whoa, talk about a good game!
I have to say that this was a Match Series that captured history.  Philly Fusion you guys played your hearts out.  London you guys played out of your minds to win this.  Congrats on the Win!  Congrats also to Profit for some highlight reel plays and an MVP Award!  I had a lot of fun covering this Inaugural 1st Season of Overwatch League and I hope everyone out there who reads this had some fun along the way with me as well.  Cheers!