Pawtucket Hot Wieners Are Welcomed To McCoy Stadium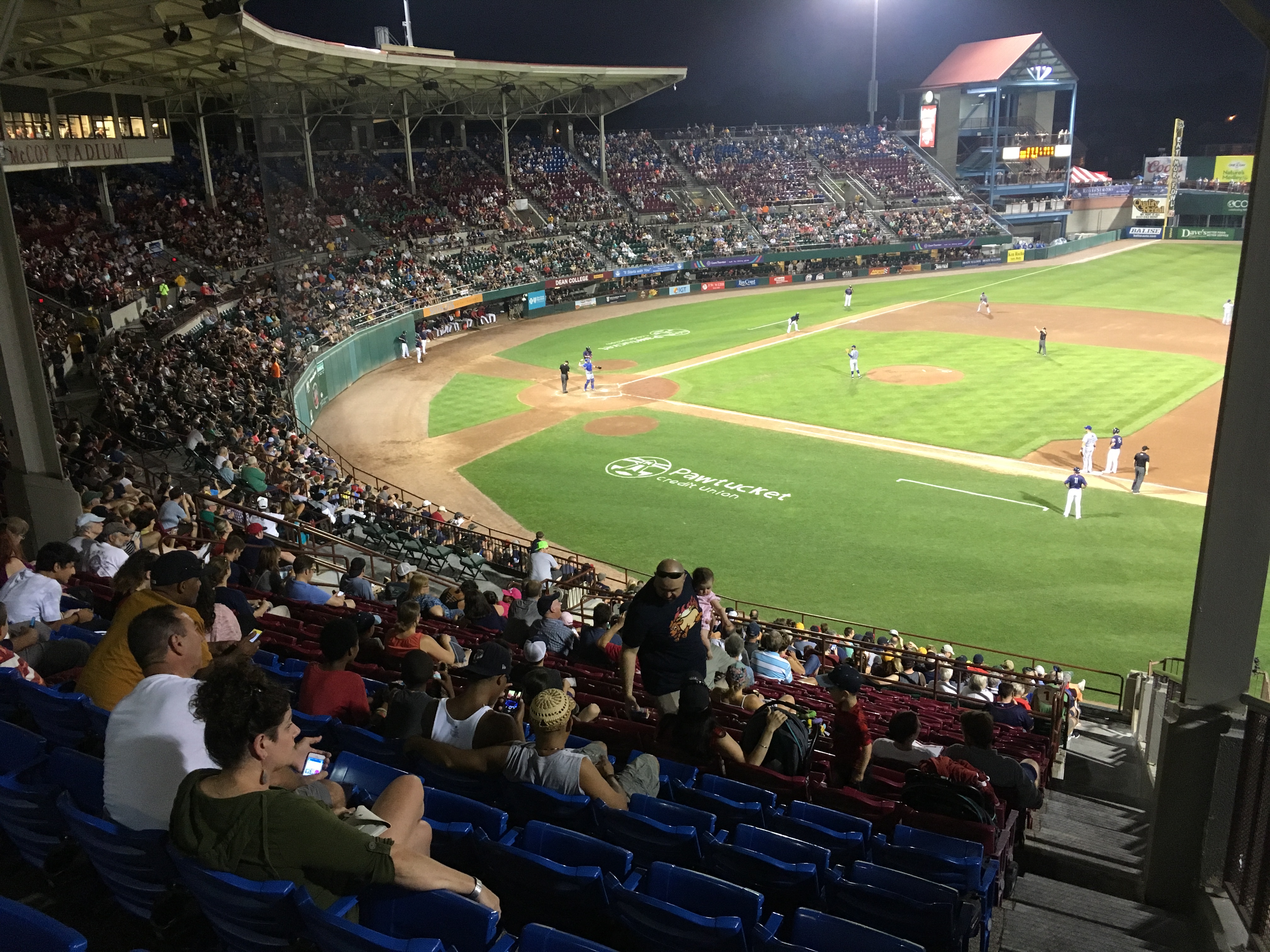 Pawtucket Hot Wieners Are Welcomed To McCoy Stadium On Thursday Night In Front Of 7,309 Fans
Earlier this season, the Pawtucket Red Sox announced that for one night and one night only, the team will change it's name to the Pawtucket Hot Wieners on August 16th. That night was tonight. 
For those who don't know, a Hot Wiener is sold throughout Rhode Island primarily at "New York System" restaurants. But there are a lot of places across the state of Rhode Island that do their own version of the Hot Wiener.
A Hot Wiener is hot dog made from veal and pork, giving it a different taste then the typical hot dog. On the Hot Wiener there is yellow mustard, celery salt, chopped onions and seasoned beef. This all comes with a steamed bun.
"It's pride for Rhode Island" says Paw Sox (now Hot Wieners) manager Kevin Boles.  "I had a buddy of mine text me the other day and said hey this is where I'm eating today, and he had the big sign hot wieners and everything."
"I like the way it looks too. I like the jerseys. The jerseys are pretty neat. We've had fun with it" Boles added. 
The Paw Sox aren't the first team to do a promotion like this. "When we were in Louisville" says Boles, "they were the Mashers, and we've been to different ballparks where they've had this. It's a good little buzz for the community".
These nights where minor league teams change their names to coincide with something that has to do with the community that team is in. The Louisville Bats became the Mashers for a night. The Hartford Yard Goats became the Steamed Cheeseburgers for a game too. So this isn't something new. But it does give the fans in the area to come together for.    
With 7,309 fans coming out for their Thursday night game and Hot Wiener gear flying off of the shelves at McCoy stadium, it looks like the Pawtucket Hot Wieners did create a lot of buzz around the community. This is similar to how the Osos Polares nights have created more buzz for the team and community every Tuesday night. On Tuesday night at McCoy Stadium, it appeared to have a World Baseball Classic atmosphere with fans being really loud and banging on drums  and playing music. 
How The Hot Wieners Played
The Hot Wieners, or Paw Sox, however you want to refer to them, went on to win the game convincingly by a score of  8 to 2 over the Durham Bulls.
The Wieners got off to a hot start in the first inning as they put up six run in the frame. It was all capped off by an Ivan De Jesus Jr. grand slam that hit the advertisements in the back of the Paw Sox bullpen. This was on the first pitch that he saw since being activated off of the disabled list on Thursday afternoon. 
The Lefty Josh Smith was credited with the win on the night as he only gave up one run on two hits in seven innings of work. This was all on 87 pitches (56 strikes). 
Connelly's Top Ten - Bruins Capitalize, Red Sox Hot or Opponents Stink?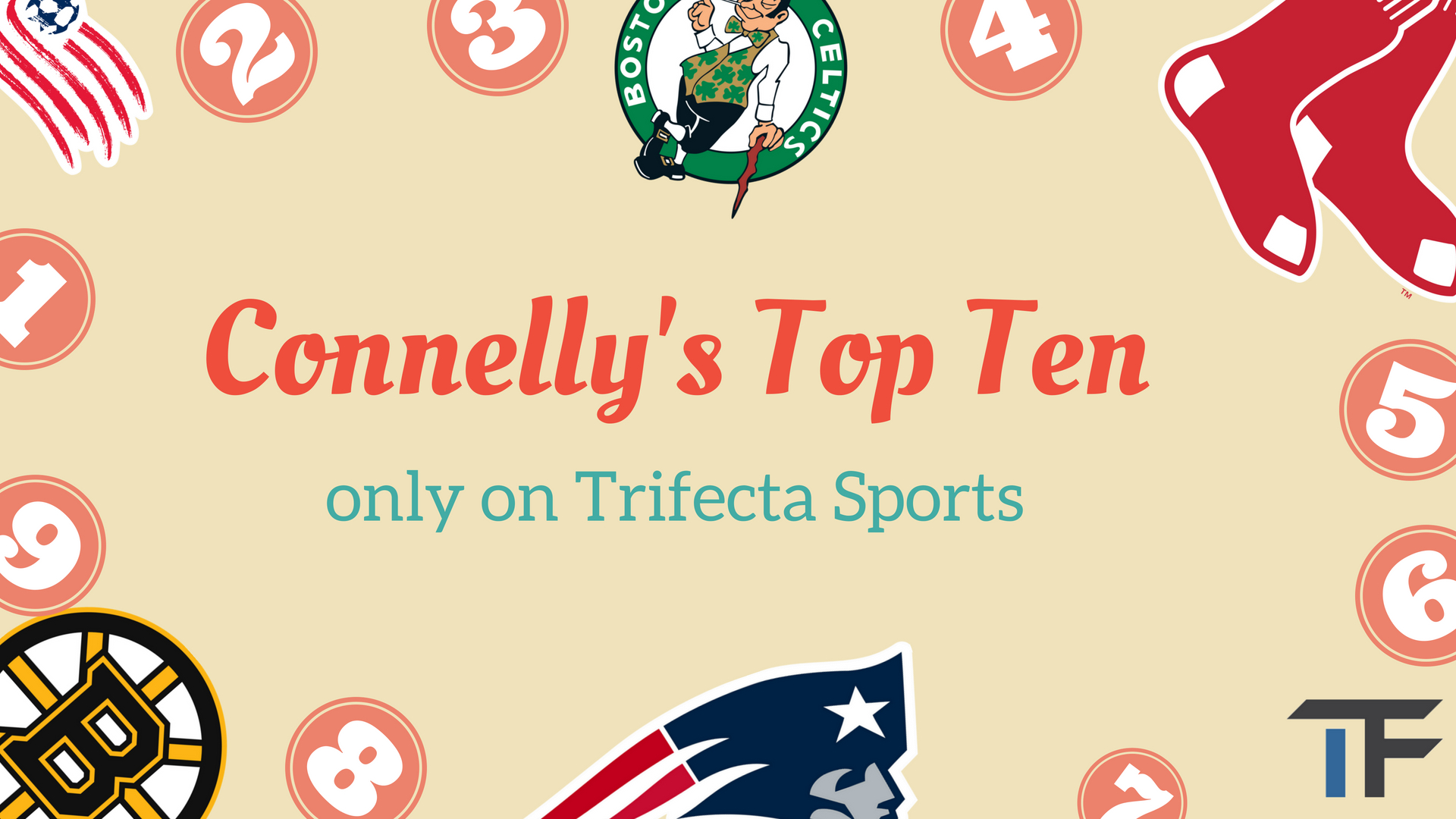 Connelly's Top Ten - Bruins Capitalize, Red Sox Hot or Opponents Stink? 
1. Bruins
* Imagine the level of adrenaline flowing through those hockey players when they are rocking back and forth for the National Anthem
* Chara played 24+ minutes - if the team is up by three or more goals he shouldn't see the ice
* Wow Johansson is looking like Greg Sheppard all of sudden
* Marchand goes from acting like John Ratelle to Eddie Shack
* Rask getting little too confident and being lax handling the puck
* Again didn't love the penalty calls on either team
* NBC has a nice line up of events - Stanley Cup, Premier League, Ryder Cup, Kentucky Derby, Indy 500
2. Red Sox
* Nine Red Sox are on pace to strike out 100 times - 
* Steve Pierce has struck out 24 times in 60 at bats
* David Price and Chris Sale are 2-7 and the Sox are still in this thing
* Sox averaging 7.9 runs last 13 games - that's Boomer Scott 1978 stuff
3. Celtics
* Can you imagine dealing with Tatum and Irving in high school 
* Brad needs a tough lieutenant on the bench with him
* Why not scrap the 40 three pointers and get a low post game and cut to the hoop - do something different
4. You know those idiot coaches that said you were the right size or run a fast enough 40 or threw the ball hard enough - Height of Patriots Top Receivers under Belichick (other than Moss and Tight Ends)
* Welker…..5.9
* Brown…..5.10
* Faulk……5.10
* Patten…..5.9
* Edelman..5.10
* Branch…..5.8
* White……..5.10
* Amendola..5.11
5. Miami Marlins have already had 15 games with under 10,000 bought tickets
6. Merrimack Lacrosse under the radar - 162-41 last twelve years
7. Amazing Stat - English Premier League - Amazing Year:
* Manchester City and Liverpool down to the last day - not counting draws - the two teams were 62-5 this year
* Manchester City wins back to back years with combined record of 64-6
8. Old School - Only one Red Sox had more than 55 strike outs in 1949 - Vern Stephens (73)
9. Just a Little Bit Outside - Hey Putin nice trip see you next fall 
10. Randomocity
* Still can't let this thing go - if Cora and other players didn't want to go to the White House (their right) why didn't they make the trip to Walter Reed Hospital and thank the military for allowing them to play a GAME safely and make collectively each GAME $1,425,925
* Love that the city is offering a $10,000 prize for traffic-solving ideas
* The percentage of sun has to be record lows last six weeks
* Surprised Major League Baseball hasn't commissioned MIT to develop a baseball that is safe in the rain
* Sort of a cool 30 on 30 on Felipe Lopez - resilience, good family, not all about being the best player but being a decent person
Patriots Talk: McDaniels Loves The Demeanor Of Jarrett Stidham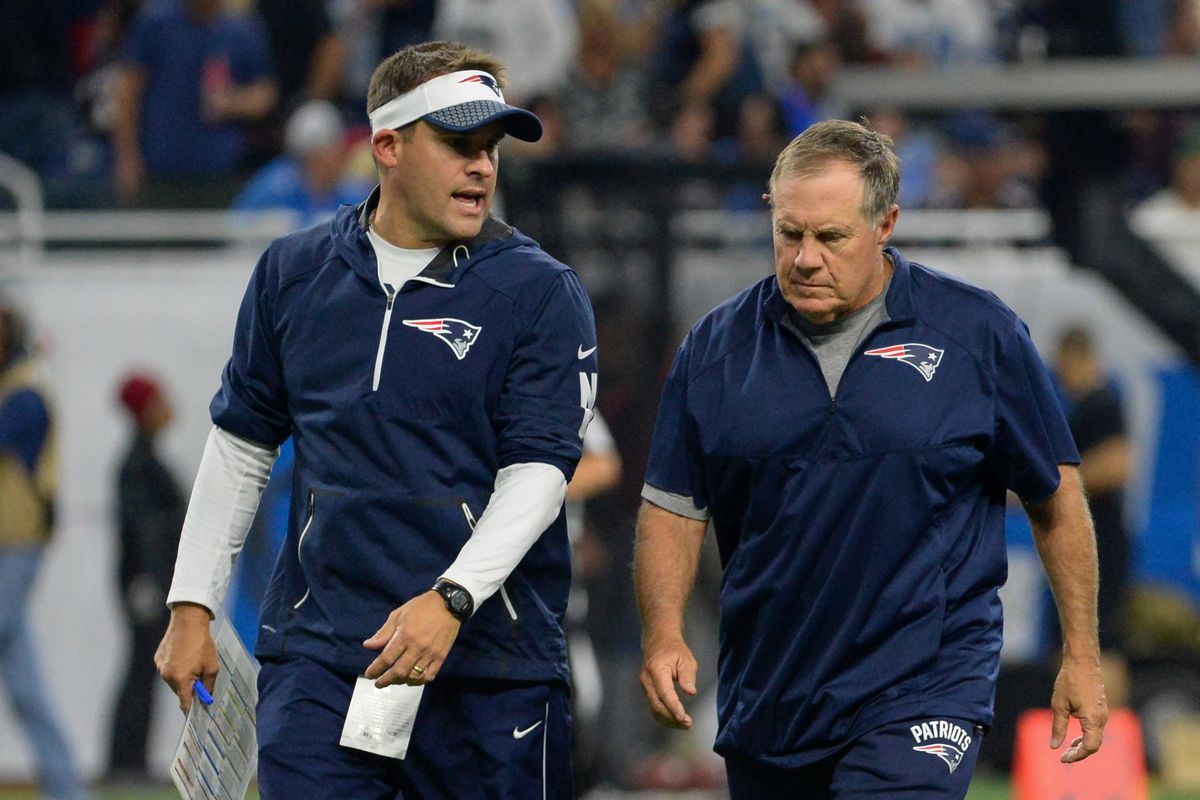 Patriots Talk: McDaniels Loves The Demeanor Of Jarrett Stidham And Jerod Mayo Back In The Mix
It was meet the assistant coaches day at Gillette Stadium on Friday.
A annual day where the media has the chance to speak with the Patriots assistants and learn about what role they may be serving under Head Coach Bill Belichick.
First and foremost is Steve Belichick, son of Bill. He will continue to coach the safeties and said he watched Rodney Harrison with his rookies on Friday morning. The son of the head coach looks up to Harrison quite a bit and called the former Patriot his "favorite football player.
"When we signed him I was in high school, I've idolized him," said Belichick.
Mayo Back In Football
Belichick isn't the only family guy on the roster, Jerod Mayo who is a former player has essentially been apart of the Patriots family his whole career and is now becoming the teams linebacker coach.
"I always had the itch to get back into it, get back into coaching, get back into teaching, and anytime you get an opportunity to learn from the greatest head coach off all time, you've got to kind of jump on that opportunity," said Mayo.
The former standout is liking the rookie class that is coming in saying "I see guys who are hungry, guys who are hungry to learn."
A Young Line For Scar
The legendary Dante Scarnecchia also spoke and when asked about the status of Isaiah Wynn he mentioned he was rehabbing his Achilles.
"We are going to let the process go forward and as soon as he can get out there, we'll get him out there," said Scarnecchia.
As for rookie Yodny Cajuste he likes the player, called him a "smart guy" and they will see how it goes once they get him in the mix.
McDaniels Gives Thoughts On New QB Stidham
Offensive coordinator and heir apparent Josh McDaniels gave some thoughts on rookie QB Jarrett Stidham saying "He's a very consistent guy, smart, good personality. He asks good questions, has a mind for football."
The personality of Stidham continues to be talked up.
"He has a good demeanor and I'm looking forward to getting out there on the field and having an opportunity to work with him actually playing the position today," said McDaniels.
Connelly's Top Ten - Bruins Outlast Whalers (I know Carolina), Celtics Embarrass the City, Shasta Tonic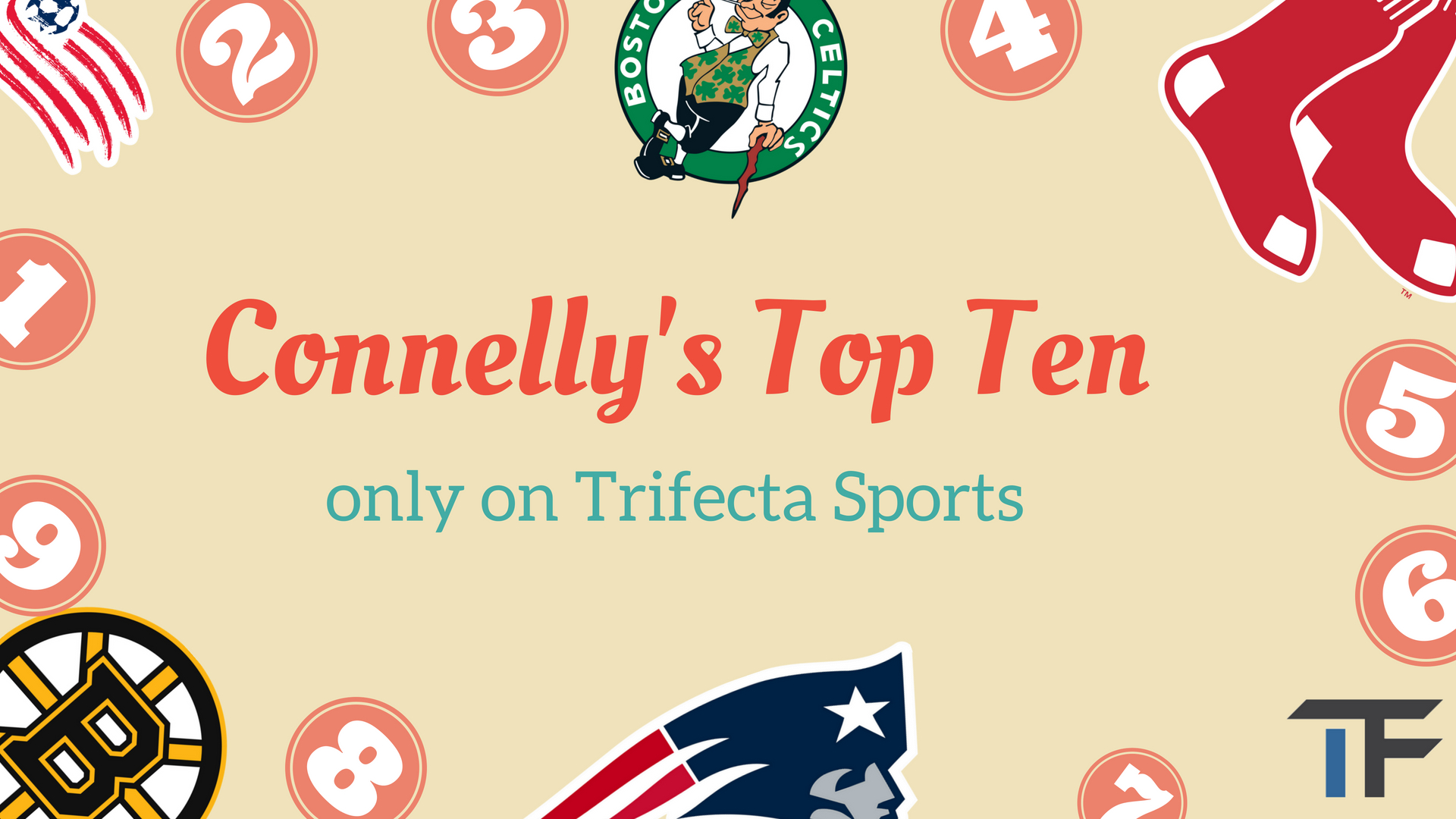 Connelly's Top Ten - Bruins Outlast Whalers (I know Carolina), Celtics Embarrass the City, Shasta Tonic
1. Bruins
* Never seen so many broken sticks - give me my old wooden Christian
* Krug has taken two of the most insane hits in this postseason
* Penalty on Kurlay leading to the goal tickey-tack
* Ice was a disgrace with the pucks jumping in a playoff game
* Bruins look tired
* Amazing assist by DuBrusk on Bergeron goal
* Aho had to be hit - hard and often
* Didn't feel most of the called penalties were appropriate
* Think Cara's foot is hurt - probably shot up for third period
* Carolina pulled goalie too early
2. Revolution lost the last two games by a combined score of 11-1 / coach fired
3. Celtics
* Don't tell me Isaiah Thomas didn't enjoy the Bucks series
* 24 hours later - I hate them even more
* Have you ever seen Jayson Tatum dive on the floor?
* Salary cap strangled and draft picks didn't work out - this thing could go the other way fast
* Kyrie Irving the most detestable local player since Carl Everett?
4. How about this for a Legion team - Leonard Wood Post 125:
* Bobby Doerr - Hall of Famer
* Mickey Owens - Four time all star
* Steve Mesner - 397 career hits
* George McDonald - Pacific Coast League
5. Best "other" players to wear sacred numbers
4 - Carney Lansford, Isaiah Thomas
6 - Bill Buckner, Rico Petrocelli, Joe Thornton
9 - Rajon Rondo, John Bucyk
12 - Adam Oates, Barry Pederson
33 - Dave Ferriss, Zdeno Chara
6. Patriots signed Demaryious Thomas - how about other named-Wide Receivers the Patriots took fliers on the last seven years and Patriot receivers:
* Reggie Wayne……0
* Josh Gordon……..40
* Eric Decker………..0
* Kenny Britt..………2
* Michael Floyd…….4
* Michael Jenkins….0
* Brandon Lloyd……74
* Danny Amendola..230
* Donte Stallworth..47
* Joey Galloway……7
* Jabbar Gaffney….85
7. Amazing Stat - Parks the Braves have played in since Fenway was built
* South End Grounds III….1913-1914
* Fenway Park……………..1913-1914
* Braves Field………………1915-1952
* County Stadium………….1953-1964
* Atlanta Stadium / Fulton…1966-1996
* Turner Stadium…………..1997-2017
* SunTrust…………………..2018-2019
8. Old School - How about a better memory against the Bucks in the playoffs - 1974:
* Celtics win in 7 games
* For the series - 33 year old Havlicek averages 47.1 minutes a game
* Kareem averaged 32.6 points / 12.1 rebounds for series / 49.3 minutes
* Game six double overtime - Havlicek, Kareem and Oscar Robertson all played 58 minutes (Jason Tatum would have filed a complaint with social services)
* Game Seven - a real Celtic competitor Dave Cowens 28 points / 14 rebounds in Milwaukee for the clincher
9. Just a Little Bit Outside - Difficult people that cost themselves awards:

* Ted Williams - 1942 won triple crown lost to Joe Gordon
* Albert Belle - hit 11 more home runs and seventeen points higher in average lost to Mo Vaughn
* David Price 2018 World Series MVP lost to Steve Pierce
10. Randomocity
* Fritos, Fresca, Tab, Tang, Zarex, Kook Aid, Shasta
* Best three months - September, October, June
* Traffic is back
* I Phones include a defective battery to make you buy a new phone every two to three years
* What do I do with my DVD player, treadmill, CD player?