Paw Sox Pitcher Jenrry Mejia Needs To Work On Stuff In Bullpen Sessions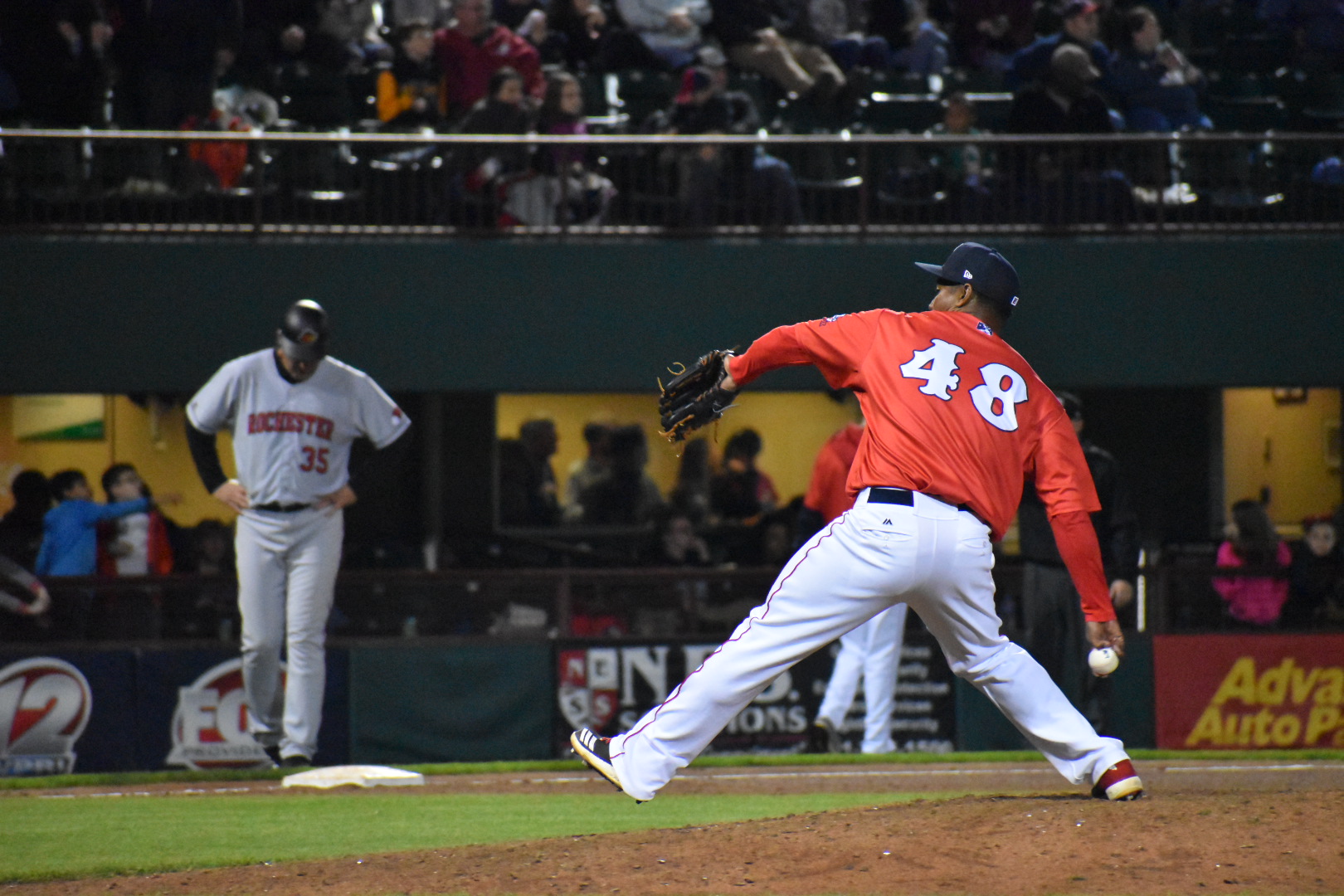 Pawtucket Red Sox Relief Pitcher Jenrry Mejia Needs To Work On Stuff In Bullpen Sessions To Have More Success 
This past off season, the Boston Red Sox took a gamble on Jenrry Mejia. A reliever who was actually banned from baseball for testing positive for PED's three times. However, commissioner Rob Manfred reinstated him back into baseball so he was free to sign with any organization. 
Before Jenrry Mejia was banned from baseball, he was a late inning reliever for the New York Mets and was actually their closer during the 2014 season. In that season, he was 28 for 31 in save opportunities with a 3.65 ERA. 
This past off season, the Red Sox lost two late inning relievers in Joe Kelly and Craig Kimbrel to free agency. This meant that they needed a lot of extra options to possibly plug into their bullpen. Since Mejia has so much success earlier in his carer, it was worth it for the Red Sox to take a gamble on the troubled reliever. 
Jenrry Mejia Need To Put In Work During Bullpen Sessions
Jenrry Mejia has been used as a late inning reliever for the Paw Sox a lot this season, even as a closer. Unfortunately, he has struggled for a big part of the year. In 31 appearances in the 2019 season, he has posted a 2-7 record, with a 6.82 ERA. That includes only being 7 for 13 in save opportunities. 
On Sunday afternoon, Mejia received his 7th loss of the season. In his one inning of work, he gave up one run, one hit, walked one, and hit one batter on 21 pitches, 13 for strikes. 
"The focus will continue to be to work in bullpen sessions, to try and be more consistent around the strike zone and get ahead of hitters" said Paw Sox manager Billy McMillon after the Paw Sox 4 to 3 loss to the Indianapolis Indians on Sunday afternoon. 
"I think he has fallen behind several guy. Hit here, hit batter today. He just hasn't had a lot of luck so try and clean stuff up in the bullpen" added McMillon. 
In his last 10 games, he has suffered the loss in 4 of them. He has posted a 11.42 ERA in 8 and 2/3 innings of work. But over all this season, he is still striking out a lot of batters. In 31 and 2/3 innings of work, he has struck out 34 batters. 
The one positive from Sunday's outing for Mejia is that the contact that has been coming off of the batters he has faces wasn't has solid as it has been in the past. He was able to induce softer contact then he has in the past. His biggest issue however was throwing strikes. Like on June 7th against the Rochester Red Wings, he was too around the plate. He gave up 5 runs on 5 hits while throwing 38 pitches, 27 for strikes. That included 2 home runs that you could tell was gone off of the bat. 
PawSox Win With Trevor Kelley Continuing To Be Nails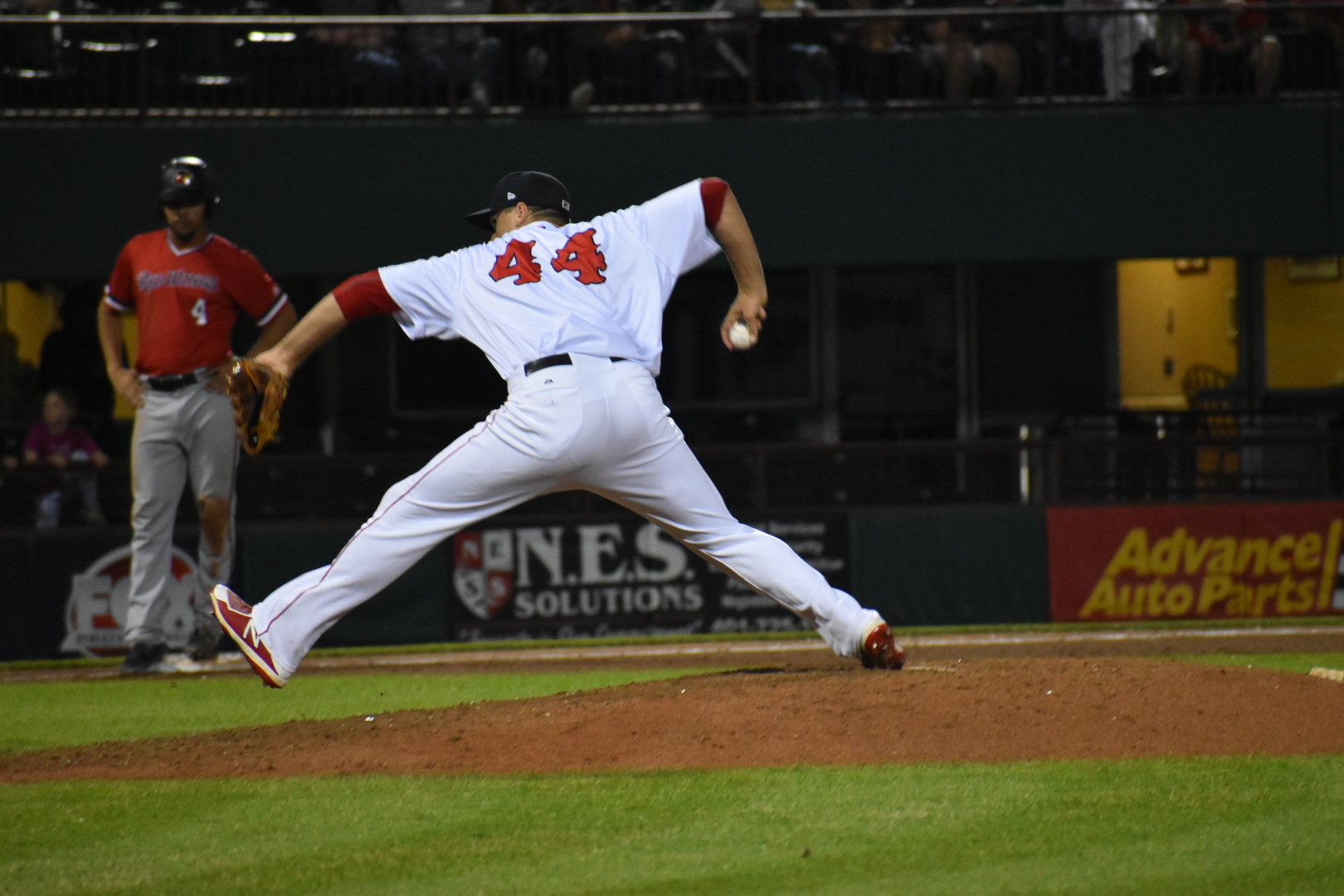 PawSox Win At Rochester With Trevor Kelley Continuing To Be Nails With A 1-2-3 9th After Pitching Back-To-Back Night's
The Pawtucket Red Sox have bounced back and in large part due to relief pitcher Trevor Kelley. 
Friday night's dramatic 7-to-5 victory over the Rochester RedWings had plenty of hero's on the PawSox side of the ball, but Kelley seemingly edges out the rest. 
The Rhode Island native who has already earned an All-Star nod continues to impress as Kelley came on in a 7-5 game and provided Billy McMillon with a 1-2-3 bottom of the 9th to pick up his 4th save of the season as his ERA drops to .96 on the season. Kelley's outing on Friday comes on the heels of a Thursday night outing where he had a similar scoreless effort which has been the standard for the sidearms 2019 season. 
The starter in this one for Pawtucket was Teddy Stankiewicz who battled going 5 innings allowing 5 runs on 9 base hits. With Teddy giving up 2 blasts on the night it was up to the offense to battle. 
It started in the top of the 1st inning with Bryce (Don't Let Him Get Hot) Brentz belted a 2-run shot for his 15th homer of the season. The rehabbing Tzu-Wei Lin had an RBI single in the top of the 2nd to make it 3-0 before Stankiewicz was touched for 3 runs in the 3rd, and 2 in the 4th. 
Pawtucket got one back in the top of the 6th with an RBI double in the top of the 6th, tied the game in the top of the 8th on a wild pitch, and took the lead on a Juan Centeno sacrifice fly in the top of the 9th. The icing on the cake was another wild pitch run in the 9th making it 7-5. 
In order to set up this comeback the PawSox had the solid outing by Kelley, but had two stellar performances to bridge the gap to the newly minted closer. Jenrry Mejia went 2 scoreless and then Bobby Poyner picked up the win with an inning of work bridging tight gap to Kelley's 1-2-3 9th inning. 
There was only 1 rehabber in this one for Pawtucket with Tzu-Wei Lin leading off and playing second base for McMillon. Lin went 3-for-4 with an RBI and struck out once while playing 7 innings in the field. 
A Look Ahead 
With the win the PawSox move to 32-46 on the season and have two more in Rochester before heading home to McCoy Stadium on Monday.
McMillon's probable rotation is as follows: 
Saturday:Ryan Weber
Sunday: Darwinzon Hernandez
Monday: Erasmo Ramirez
Tuesday: Kyle Hart
Wednesday: Teddy Stankiewicz 
PawSox Hosting A Rhode Island Celebration On Monday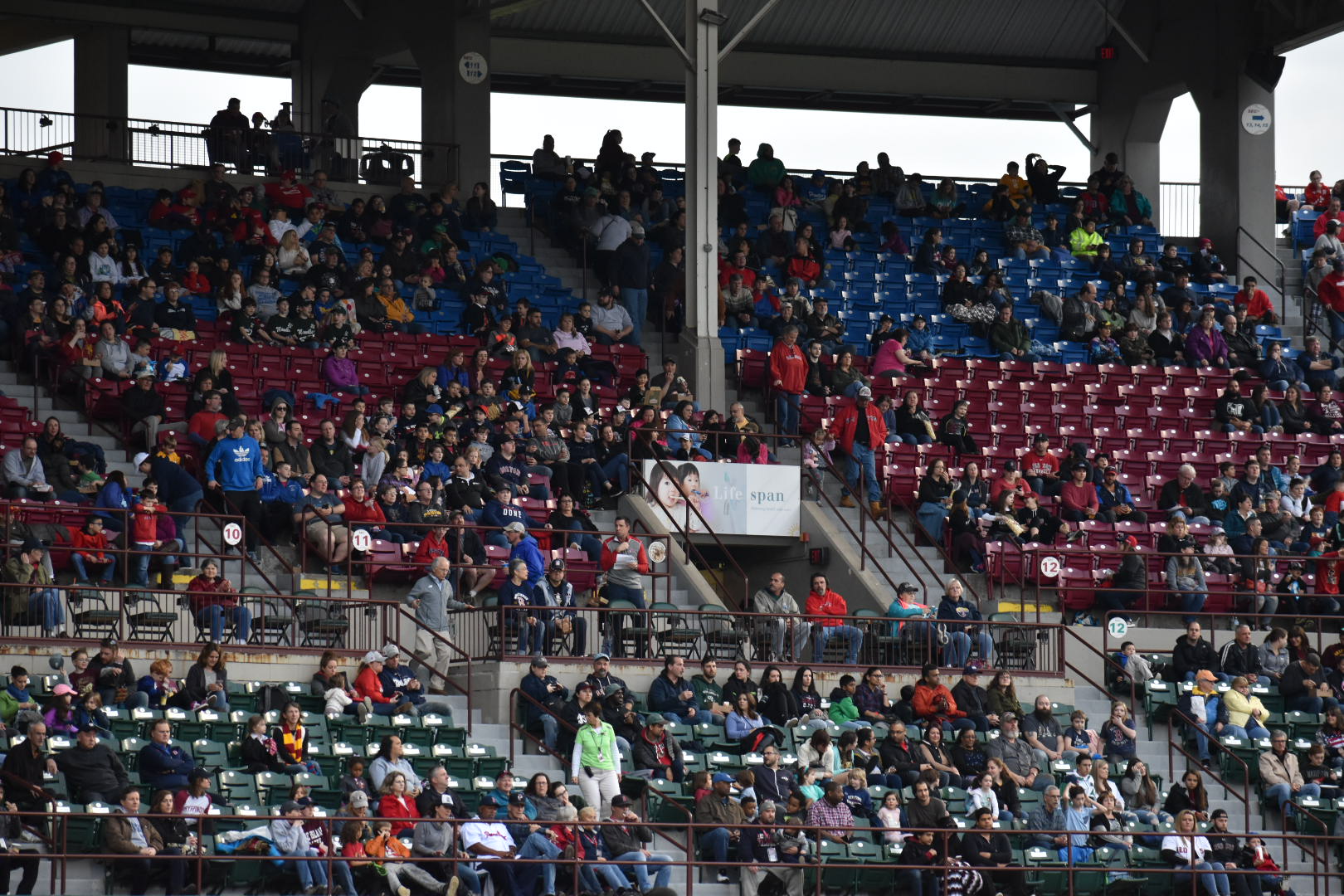 PawSox Hosting A Rhode Island Celebration On Monday With A New One-night Name Change Announcement Also Coming
The Pawtucket Red Sox and the State of Rhode Island have had a partnership that has lasted 50 years and the team continues to celebrate that relationship. 
During their Monday, July 1 game with the Scranton/Wilkes-Barre RailRiders the PawSox plan on holding a number of Rhode Island centric activities. 
For starters the team will don their Pawtucket Hot Wieners during the game marking the second time this season they have worn what was initially a one-off uniform created in the 2018 season. With Pawtucket wearing the Hot Wieners uni the team plans on making an announcement on another one-off name change that will occur at some point in the month of August.
The name is going to have a Rhode Island connection, a look back at some of the name idea's I threw out last year when the Hot Wieners name was announced.
Rhode Island Coffee Milks
Pawtucket Quahogs
The Rhode Islanders
In addition to Monday's Hot Wiener uniforms the ball-club will host a number of their Rhode Island  partners and play video and music tributes throughout the game. There will be an increased Rhode Island flare to the food on hand as well and a beach party out on the LF berm.
The Triple-A franchise's Rhode Island celebration comes on the heels of the organization deciding to move to Worcester, Massachusetts ending the Rhode Island connection at what will be 51 years at the end of next season. A connection that has been around since 1970. 
For now though, the PawSox continue to operate in Pawtucket and will have a firework celebration for the Fourth of July on the 1st, 2nd, and 3rd. 
PawSox Falter Late In Syracuse, Swept In 2-Game Set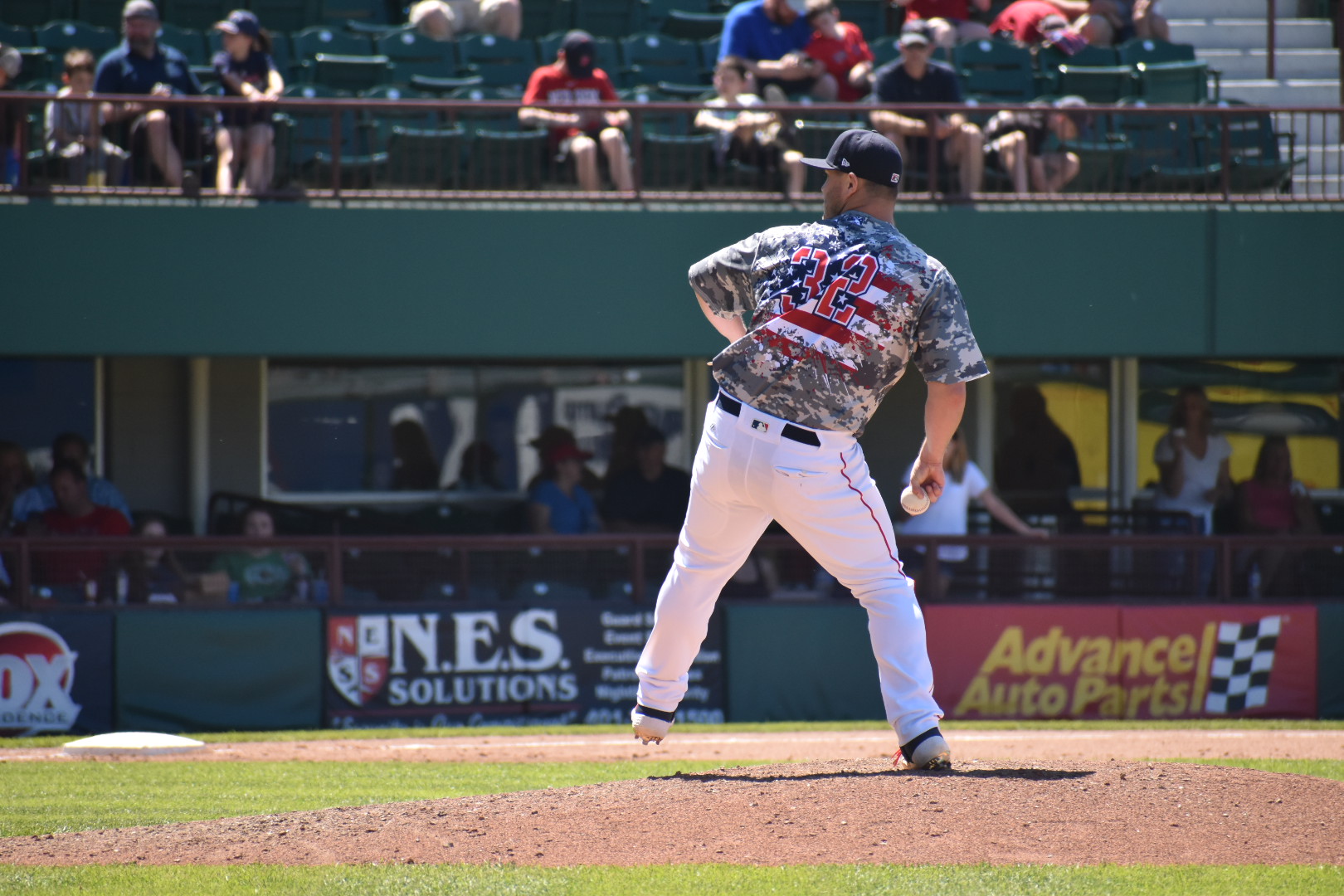 PawSox Falter Late In Syracuse, Swept In 2-Game Set
The Pawtucket Red Sox dropped both games in their two-game set at the Syracuse Mets with a 4-3 loss on Thursday night. 
Pawtucket led for much of this game but a 3-spot by Syracuse in the bottom of the 8th sealed the deal with the PawSox falling to 31-46 on the season. 
Starter Kyle Hart went 4 innings allowing 1 earned run on 3 base hits while walking 1 and striking out 3 batters. Behind Hart Domingo Tapia had to hitless innings of relief bridging the gap to Travis Lakins who faltered. 
Lakins lasted 1 inning but allowed 3 earned runs on 2 base hits and was hit with the loss. 
All of the runs for Pawtucket came in the middle part of this game with Chris Owings getting things started with an RBI single to tie the game at 1-1 in the top of the 4th inning. The rehabbing Steve Pearce hit an RBI double in the top of the 5th to take a 2-1 lead and that was followed up by Chad De La Guerra recording an rbi single making it 3-1. 
Pearce who hit second and played first base went 1-3 with an RBI and a walk. The other Boston Red Sox rehabber Tzu-Wei Lin lead-off and served as Pawtucket's DH and went 0-4 at the plate. 
Triple-A Pawtucket will hope for a better result starting on Friday when they travel to Rochester for a three-game weekend set at the Red Wings. 
Billy McMillon's probable rotation for the series is as follows: Teddy Stankiewicz, Ryan Weber, Darwinzon Hernandez
After the three-game set the PawSox will return home for Fourth of July celebrations with a three-game McCoy Stadium based set hosting the RailRiders.