Revolution Have Critical Game With Dynamo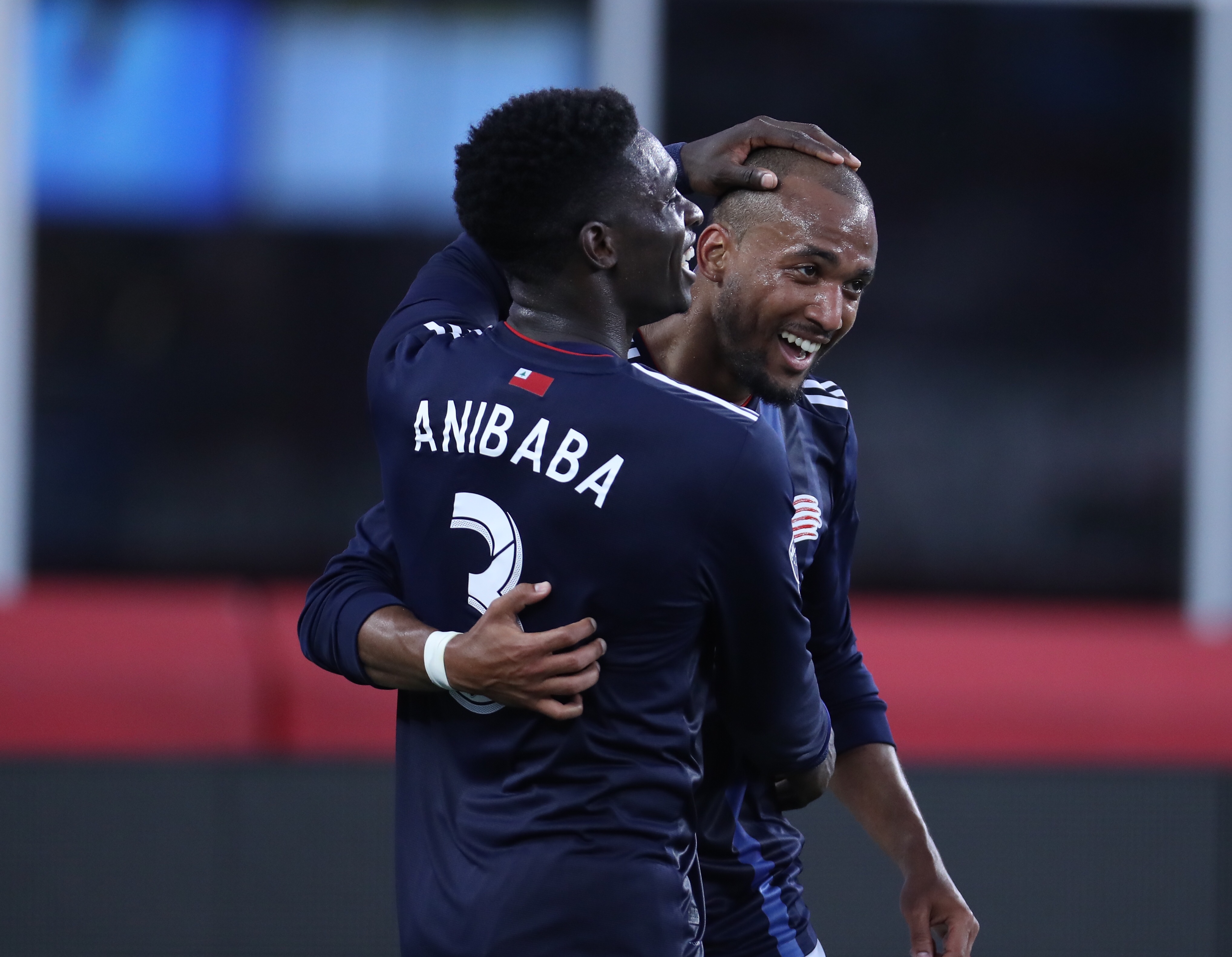 Revolution Have Critical Game With Dynamo, Close To A Must Win For New England
What is a must win game? 
For many people the answer may vary and for the New England Revolution who have 17 games remaining on their MLS schedule those types of games feel like they are already here. 
New England currently sits in 11th place in the Eastern Conference but are just 2 points out of the playoff line and as Head Coach Bruce Arena says, "the second half of the season is the season" in MLS. 
But home games matter and for New England they need to maximize their points in Gillette Stadium. After a draw against the Eastern Conference leaders Philadelphia Union on Wednesday night New England is looking to capture a win on Saturday when they host the Houston Dynamo. 
The Revs are in the midst of a 5-game unbeaten run since the canning of Head Coach Brad Friedel but still have ways to go. 
"We're talking about trying to move up the ladder a little bit," said Bruce Arena. "The way the team has played over the last month would suggest that there's a chance we can get after it and have an opportunity to move up the ladder." 
If history is any indicator the Revolution should come away with a positive result against the Dynamo as they hold a 12-5-7 record against Houston in the all-time series. A bit of a curveball though, New England is 5-2-5 at home against Houston with their road record of 7-3-2 being much better. Houston hasn't come to town since the Jay Heaps era with the last meeting at Gillette Stadium coming in 2017 when the Revs defeated the Dynamo 2-0 on 4/8/17. 
Three Things To Watch Out For 
Juan Fernando Caicedo finding the back of the net, had an impressive weaving run against Philly but couldn't finish. Look for JFC to continue to settle into MLS play. 
Matt Turner's return to the starting lineup. Turner's two-game suspension for sending Wayne Rooney to a Galaxy far far away is over. Brad Knighton was solid but it feels like Turner is the player Arena should focus on building up for the long-term.
Teal Bunbury to continue his recent form. Bunbury historically scores in bunches, with his confidence still high I would expect Bunbury to have a goal on Saturday. 
For the Revs they are coming into this matchup fairly healthy with the only player popping up on the injury report being Michael Mancienne who is listed as questionable with the foot injury that he has been dealing with for the past several months. But coming off the mid-week tilt and the humidity expected for Saturday fitness will be a major question despite this only being the second game back after a month-long MLS break. 
The lack of depth on the back-line could cause some problems on this quick turnaround for New England but don't let that be a crutch, the Revs need 3 points out of this match. 
Revolution Ready For Mile High Showdown On The 4th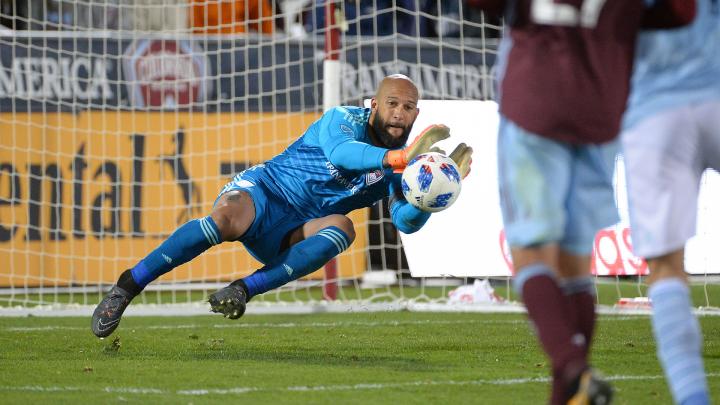 New England Revolution Ready For Mile High Showdown On The 4th Of July Against The Colorado Rapids
On Thursday, the Fourth of July, the New England Revolution will take on the Colorado Rapids at Dicks Sporting Goods Park located in Colorado. 
New England enters the match unbeaten in their last six MLS matches (3-0-3) and face a Western Conference opponent in the Rapids that are unbeaten in their last 7 matches (5-0-2). 
Part of the challenge for the Revs is playing in the high altitude that is Colorado. Part of the plan for New England is to come in well rested and hydrated for the match but they are heading over Tuesday afternoon to allow for more time to get acclimated. 
The Revs have a player that recently played in Colorado in defender Edgar Castillo who admits the altitude is a factor but not a major one. 
"It's a factor, but I don't think it's a big factor,"said Castillo on Monday. "We have to have a very good game, know when we can go forward and not, and get three points." 
The Rapids recent form has taken MLS by surprise including a 1-0 win over LAFC last Friday. New England's Head Coach, Bruce Arena, says that Colorado is just another example of how a bad start can be overcome in MLS. 
"You win three games in this league, and you're the best team in the league for those two weeks," said Arena. 
This trip to Colorado could very well be the last time the Revolution have a chance to play against legendary goalkeeper Tim Howard. Howard is a keeper that everyone in New England respects including Arena.
"His career abroad, his career domestically, his career internationally, is second to none,"said Arena who also hopes he doesn't see the legendary keeper again due to how tough he is to beat. 
Colorado has an attack spearheaded by a former Rev in Kei Kamara. Kamara, now 34-years-old, has scored 8 goals thus far through 17 matches and is a player that New England is certainly watching out for. 
"They have a guy up top (Kamara) who we're pretty familiar with, so he can be dangerous with balls in the air, and they're playing with a lot of confidence as well, and they're playing at home," said Revs Goalkeeper Matt Turner. "Anytime you go on the road, it's a challenge, but it will be interesting to see how it all turns out on Thursday night." 
New England does have one edge, they haven't lost a match against a Western Conference opponent this season with a 4-0-2 record thus far in 2019. 
Revolution HomeGrown Product Justin Rennicks Makes First MLS Start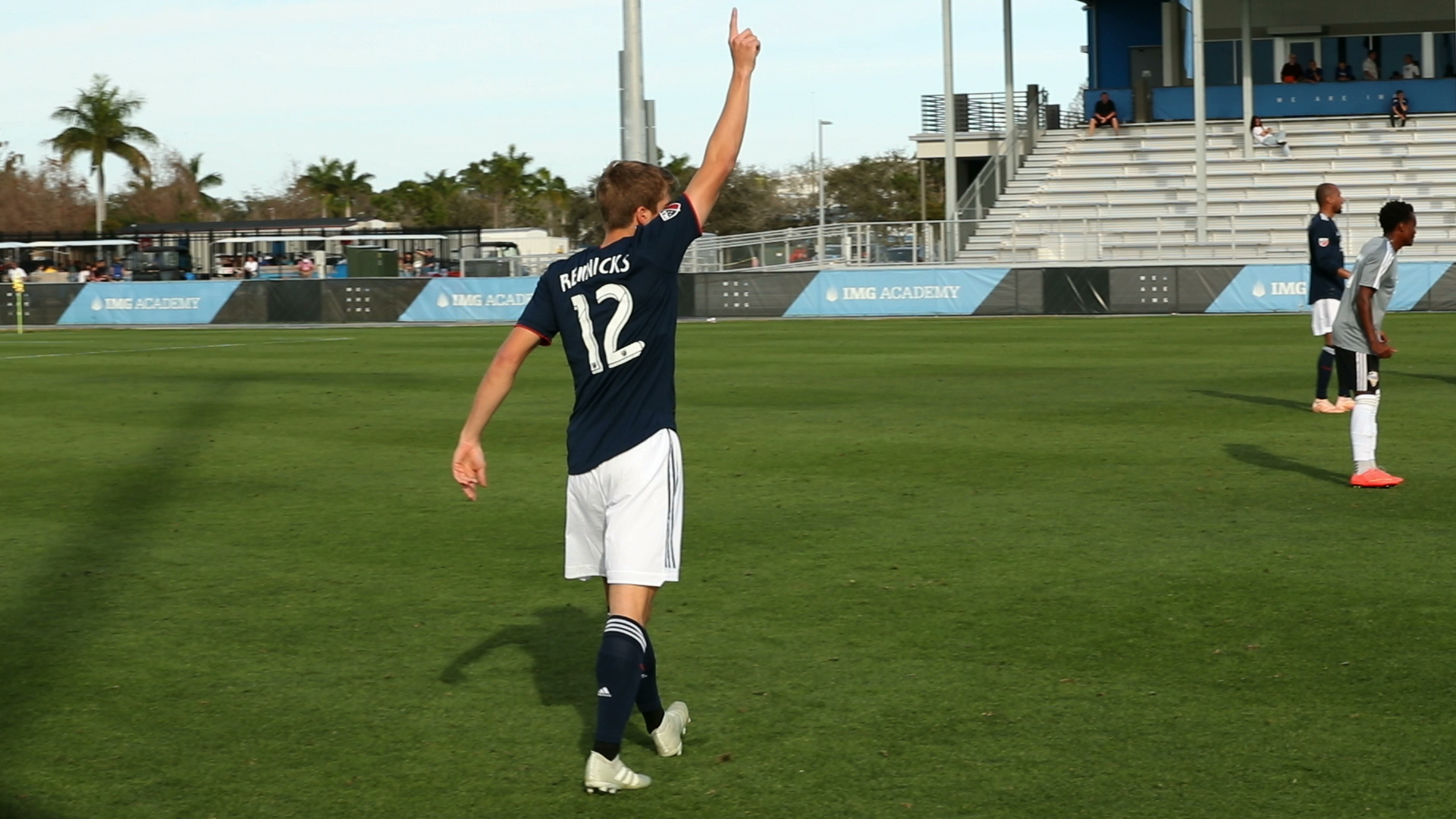 New England Revolution HomeGrown Product Justin Rennicks Makes First MLS Start On Saturday Night Against Houston Dynamo
For any MLS team the heartbeat of their franchise is their youth and the ability to produce HomeGrown players. 
New England is no different with plenty of HomeGrown Players apart of the first team including players like Diego Fagundez and Scott Caldwell. A more recent Academy success story is South Hamilton, Massachusetts native Justin Rennicks. 
Rennicks who signed with the first team this past off-season after playing two seasons with the Indiana Hoosiers made his first MLS start on Saturday against the Houston Dynamo. Rennicks, 20-years-old, has started to make a real name for himself not only in MLS but around the world. 
He scored a sensational game winner in the U-20 World Cup for the U.S. over France and then had a goal in New England's U.S. Open Cup run. Rennicks scored 38 goals and 25 assists in over 100 appearances across all levels in the Academy made one appearance prior to Saturday with a 45 minute performance against the Columbus Crew SC back on March 9th. 
In his first MLS start Rennicks put in a solid shift and appeared very comfortable given the moment and the magnitude of the game. 
"It was good. I had a bunch of nerves, but at the end of the day, it's just another game," said Rennicks. "I'm going out there and playing my game, so that's what I did."
"It all clicks in after practice," said Rennicks. "I mean, that's why we practice. You go out there, you play the game, and you're connecting the lines. You translate it from practice to the game. It's all making sense. You kind of just play along from there."
Solid First Start For Rennicks, Plenty Of Room For Improvement 
His Head Coach, Bruce Arena, liked what he saw from Rennicks as well but pointed out there is a long way to go in his development. 
"Good job. He's a hard worker. He has to get used to playing in games at the senior level, at this pace. His first touch has to get a little bit better, but he gave a good effort. He's a handful and we'll continue to see him throughout the season and, hopefully, he continues to move forward as a player."
The Academy Product also notes he could have played better but given it was his first MLS start it was a solid performance. 
"There's a bunch of things I think I could have done better," said Rennicks. "It was my first game that I got to start in. It was hard going out there, but I think I should have done better in certain situations. I was happy with the result, obviously. Just all good all around."
Rennicks was subbed off after 61 minutes in favor of Cristian Penilla who ended up setting up the Teal Bunbury game winner in stoppage time. Saturday was a great chance for Rennicks to get into the game given the quick turnaround from Wednesday's match with 6 total changes to the starting XI. 
But given all that has occurred for Rennicks in the past month there is a very good chance Revolution fans could see the forward on the pitch with more consistency going forward. 
Revolution's Antonio Delamea With A Special Goal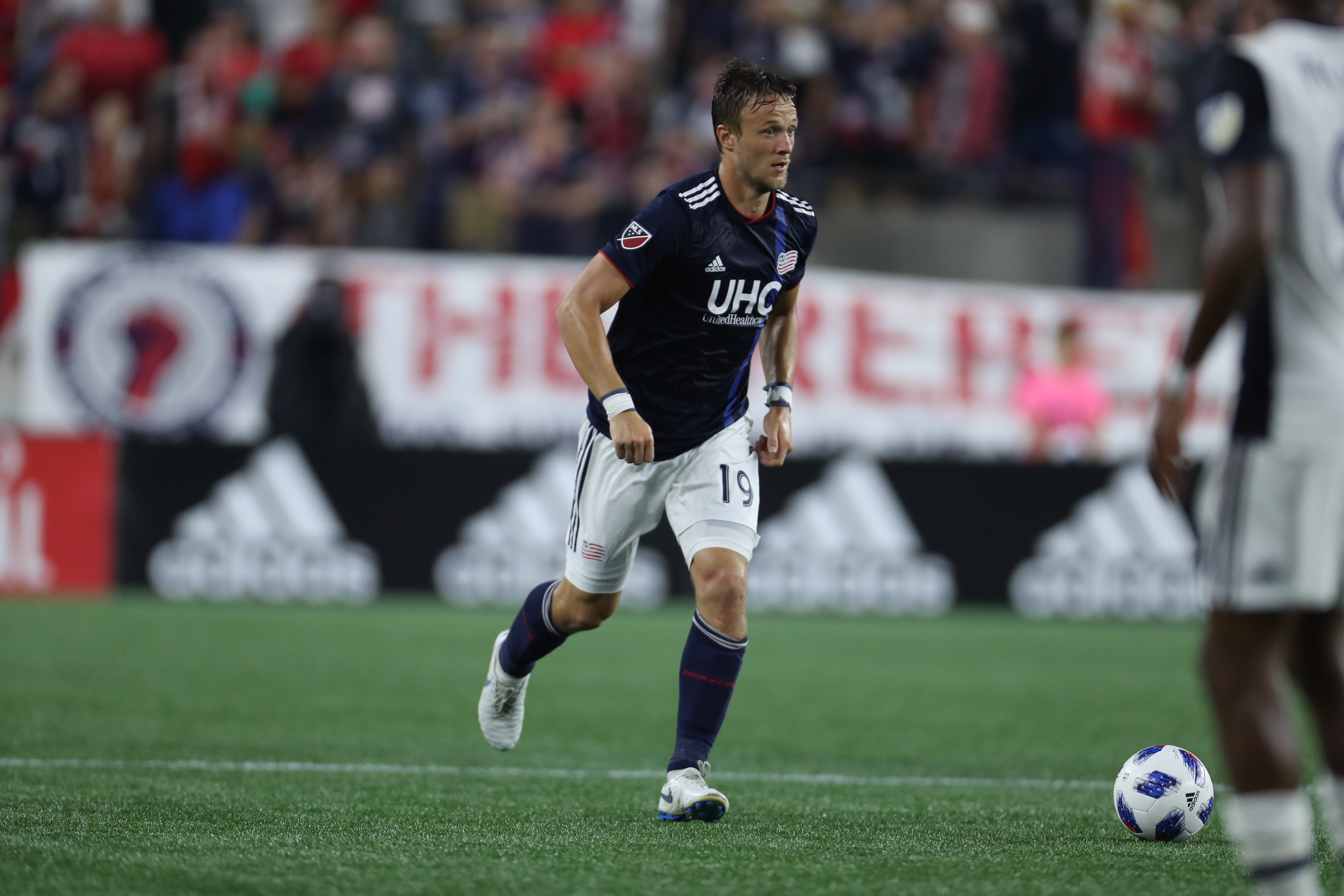 Revolution's Antonio Delamea With A Special Goal Against Houston Dynamo On Saturday, First Goal Since 2017
New England Revolution defenseman Antonio Delamea hadn't played an MLS match since 5/8/19 against the Chicago Fire and hand't scored a goal since June of 2017. But all that changed on Saturday against the Houston Dynamo. 
Delamea, 28-years-old, has had a rough year dealing with various injuries that have kept him sidelined. On Saturday though Delamea was hungry, he was a paying with a purpose. 
"I just played today for my uncle; he passed away on Thursday," said Delamea after the game. "I'm just happy [because] I know he was there with me and that was for him. I wasn't thinking about anything else but him."
His teammate, Diego Fagundez who assisted Delamea on his goal, noticed something extra:"I think he wanted it and you can see he was hungry after, and made sure that he was a solid defender back there. It definitely gave him a boost. We want to keep seeing that from him."
The last few months have certainly been tough for the Slovenian International who has been out of the starting XI, getting him some time was all part of the plan for the Revolution coaching staff.
"We wanted to make sure we could move him along in training," said Head Coach Bruce Arena. " And since I've been here, he hasn't missed a training session. He's played well and at some point we were going to give him a chance. And I thought he did very well tonight."
Delamea couldn't help but feel bad about how it all went down for former Head Coach Brad Friedel but is hoping Saturday is the start of a new beginning for him in New England. 
"It's been pretty tough, especially with the demand that Brad [Friedel] had to leave," said Delamea on working back. "I just wasn't ready to play, but there was no one else and I had to play the game in Chicago, which turned out to be one of the worst games we ever played. After [the game], I kind of felt guilty that I was part of everything that happened to Brad [Friedel]. Bruce [Arena] came; he gave all of us huge confidence. He really made a team of us. Honestly, the last month, it was really a joy to come here training. I knew, every training, what I was working for: working to come back and to start playing like I played my first season. I hope this is a new start for me."