PawSox Drop Opener To Mets With Tim Tebow Hitting Decisive Hit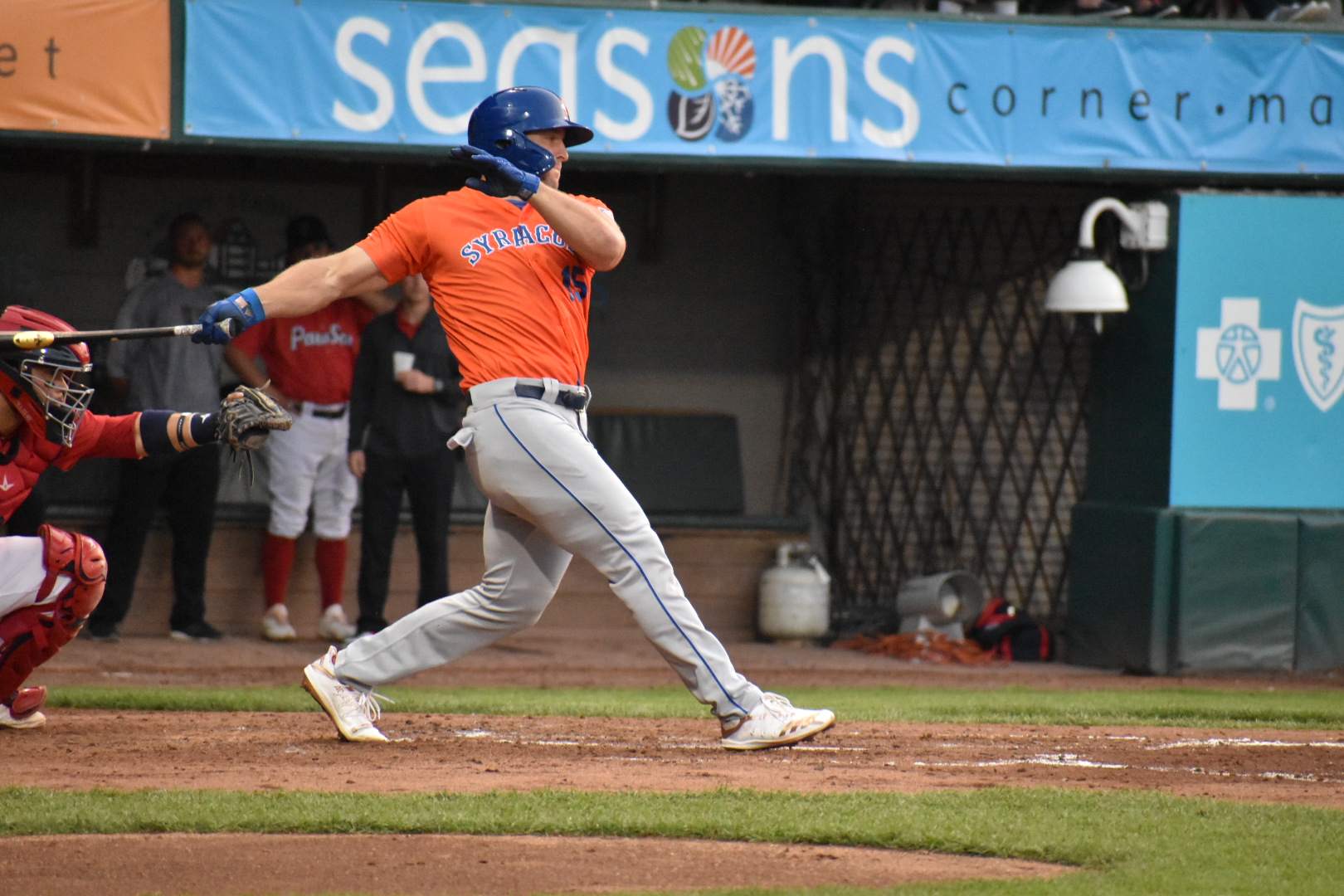 PawSox Drop Opener To Syracuse Mets With Former New England Patriots QB Tim Tebow Hitting Decisive Hit
The Pawtucket Red Sox hit the road on Wednesday and despite a solid start by Erasmo Ramirez dropped the series opener to the Syracuse Mets 6-3.
With the loss the PawSox drop to 31-45 on the season and will return to action on Thursday with Kyle Hart on the bump facing off with Ervin Santana (Yes, that Ervin Santana). 
The Play-By-Play
Wednesday's loss is one that Pawtucket likely could have avoided if Dan Runzler had a smoother go of things. Billy McMillon's starter, Erasmo Ramirez, put in a solid shift tossing 6.1 innings allowing 3 runs on 6 base hits while issuing 1 walk and striking out 4 batters. 
The long-ball is what plagued Ramirez allowing 2-homers and picking up his 4th loss of the season. The 7th inning is what did the most damage for the PawSox with 1 run being allowed by Ramirez and then 3 by Runzler to top off a 4-run 7th by Syracuse. 
Syracuse's game wining hit came from former New England Patriots QB Tim Tebow. Tebow drilled a 2-run double giving the Mets a 4-2 lead at the time. Tebow ended up going 1-2 with a walk for Syracuse. 
Pawtucket's offense did have some pop however with Chad De La Guerra belting his 8th home run of the year, all 8 have come in the last 21 days for the infielder. De La Guerra ended up going 2-4 and is now hitting .313 on the season in 124 at-bats with the PawSox. 
The Triple-A affiliates two other runs game on rather mute plays, a ground ball single by Chris Owings and a double play ball by Jake Romanski that scored a run. 
Rehabber On My Mind
Boston's hyper utility star Tzu-Wei Lin did rehab in this one in his first game of the assignment. He played second base and hit second going 1-for-3 and was pulled in favor of Josh Tobias in the bottom of the 6th inning. 
Also rehabbing in this one was reliever Tyler Thornburg who had a bounce back outing. Thornburg who is rehabbing from a right-hip impingement threw a scoreless bottom of the 8th inning working around 2 hits and striking out 1 batter. 
A Look Ahead 
After this series with Syracuse wraps up on Thursday the PawSox will head to Rochester for a three-game weekend set. 
Probable rotation for Rochester series: 
Friday: Teddy Stankiewicz  vs Lewis Thorpe
Saturday: Ryan Weber vs Sean Poppen
Sunday: Darwinzon Hernandez vs Kohl Stewart.
Red Sox First Basemen Mitch Moreland Looked Solid In Rehab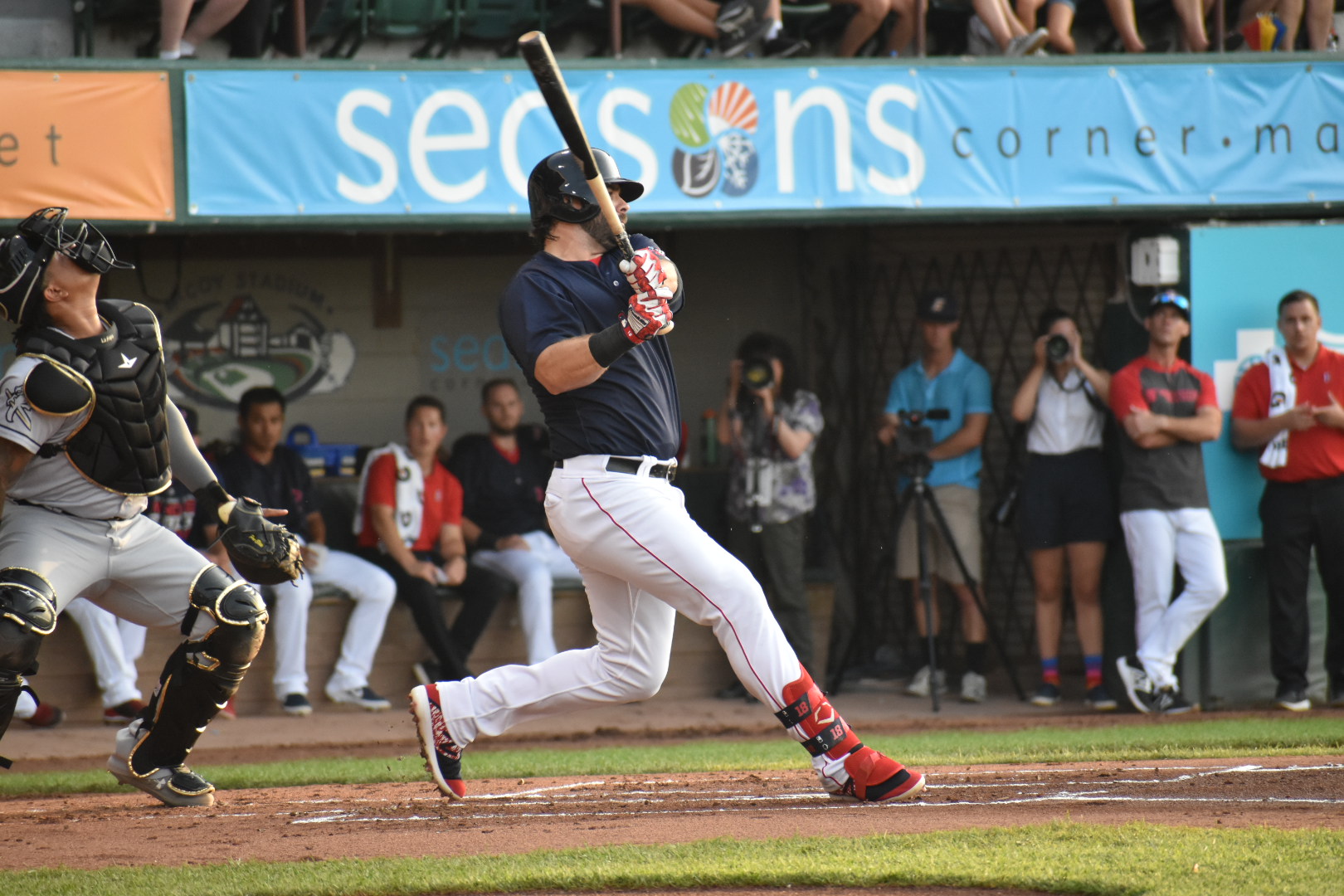 Red Sox First Basemen Mitch Moreland With Solid Rehab Performance With PawSox, Triple-A Pawtucket Wins Narrowly Over Charlotte
On Friday the PawSox took on the Charlotte Knights with a familiar face in the lineup and playing first base.
Mitch Moreland went 0-2 with a walk and played 5 innings on this hot and humid night at McCoy Stadium.
As for the PawSox they defeated the Knights to the tune of 4-3. This game featured top of the line starting pitching, two home runs robbed with over the wall catches, a sketchy relief outing, and a shut down 9th inning. Not to mention the rehab by Moreland.
With the win the PawSox move to 40-57 on the season, 19-31 at home.
Mitch Moreland Plays First In Second Rehab Game
8 days, that is how many days that was between Moreland's first rehab game with the PawSox and his second.
Moreland who went 0-for-4 with a strikeout back on July 11th played first base for the PawSox against the Charlotte Knights and hit out of the three-hole.
The former Mississippi State standout went 0-2 with a walk. In the field Moreland played 5-innings with two balls hit his way, a ground ball he took himself and then a mile high pop-up in foul territory which he handled with ease.
"He looked good," said McMillon. "Just missed that ball he fouled out to the catcher. Saw some pitches, got a walk. He is looking like he is moving around ok."
The 33-year-old has been on the 10-day injured list since June 8th with a quad strain but has been dealing with injuries throughout the 2019 campaign leaving Boston without a true first basemen.
With Boston this season the former Texas Ranger appeared in 41 games with a .225 batting average in 151 at-bats belting 13 home runs and driving in 34 RBIS and possessed an OPS of .859.
Moreland is expected to be back on Saturday with the PawSox looking for him to potentially go 7 innings.
Josh Smith With Dominant Start, Mike Shawaryn Disappoints McCoy Faithful
Smith had something extra in this start going 6 innings of scoreless baseball allowing just 2 base runners, both hits, while striking out 6 batters.
"Really good job,"said McMillon on Smith. "Made some quality pitches when he had to."
The two-hits allowed ties his career low, the last time the 31-year-old achieved that feat was May 1, 2014.
Mike Shawaryn recorded just 1 out allowing 3 earned runs on 2 base hits and 2 walks while striking out 1. "I think he is still working on some mechanical issues, with being converted into the bullpen" said McMillon on Shawaryn.
Bobby Poyner went 1.2 innings allowing 2 base hits and striking out 4 batters . "Can't say enough about how well Poyner pitches," said McMillon. "Pitching out of that jam."
Trevor Kelley had a 1-2-3 9th inning. Kelley has only allowed an earned run in 10 of his 47 Triple-A appearances since being called up from Double-A last June. "That's the Kelley we saw a month and a half ago," said McMillon.
Castillo Making Solid Contact While Brentz Goes Yard
The PawSox offense got things rolling in the bottom of the 5th inning with Rusney Castillo hitting a 2-run single .
Castillo had made solid contact in his previous at-bats and was finally able to break through his third time around.
The 31-year-old outfielder went 2-for-4 with 2 RBIS, had a home run stolen from him, and then he stole one back with a leaping wall-grab of his own later in the game.
"He is really swinging a good bat," said McMillon on Castillo. "When he is looking like this he is a very dangerous hitter."
In the bottom of the 6th inning it was slugger Bryce Brentz who hit a 2-run shot into the left field berm. For Brentz this was the outfielders 16th home run on the season.
Up Next, Two More Against Charlotte
The Pawtucket Red Sox have two-more games against the Chicago White Sox affiliate with the three-game set running through Sunday.
On Saturday, a 6:15 pm first pitch, the PawSox have Kyle Hart on the mound. As for Sunday the slot is currently TBA.
PawSox Notes: Tanner Houck Impressing Early With Funky Delivery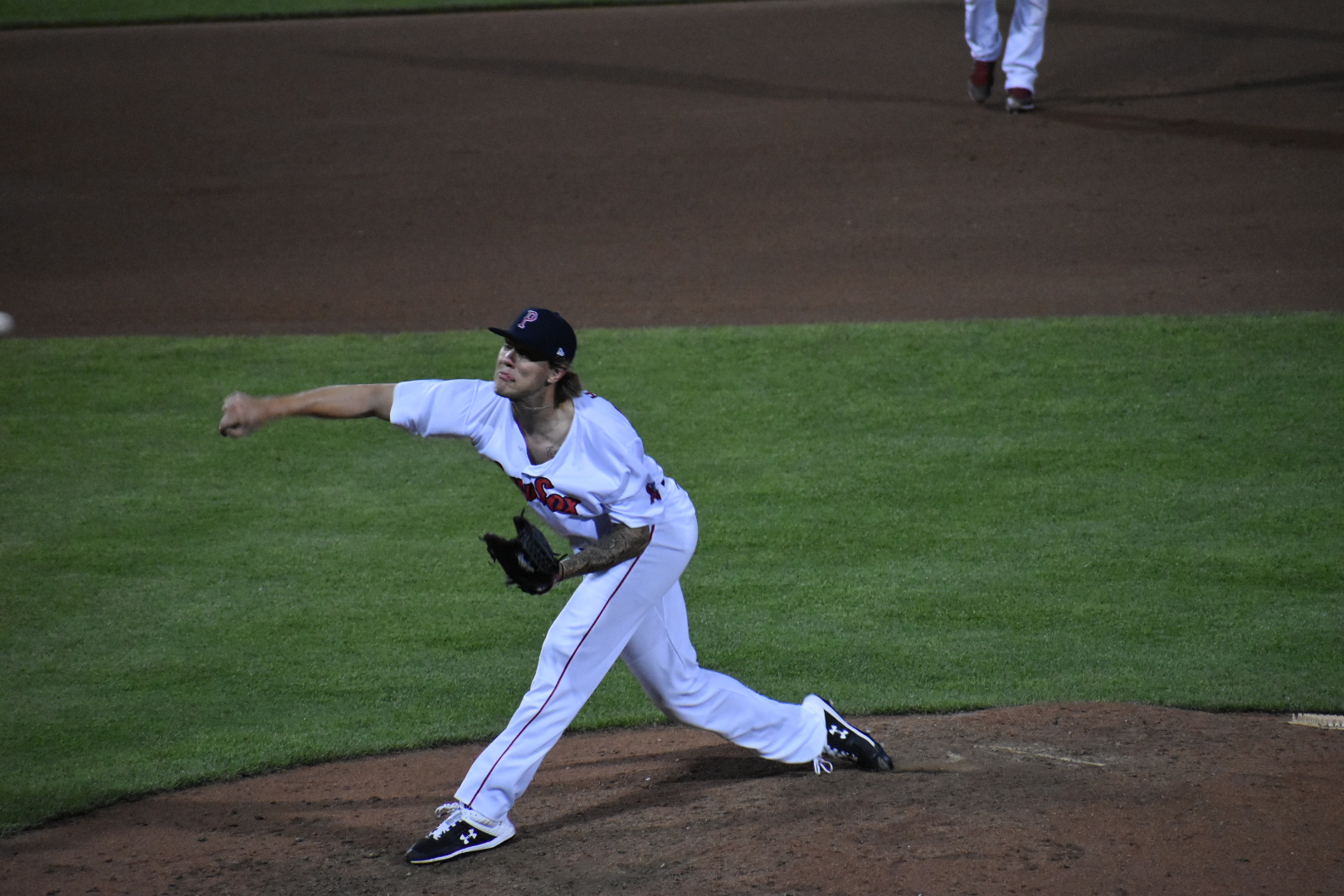 PawSox Notes: Tanner Houck Impressing Early With Funky Delivery, Plans For Brasier And Velazquez Revealed
Boston Red Sox pitching prospect Tanner Houck has only made two relief outings for Triple-A Pawtucket since being called up on July 13th but the righty has already impressed.
Houck, a 23-year-old who was Boston's 1st round pick in the 2017 June Draft started the 2019 season in Double-A Portland as a starter, but with Boston looking for immediate bullpen help he has obliged making the temporary shift into a relief role.
Through 2 appearances with the PawSox Houck has 3 scoreless innings of work allowing 1 base hit, 2 walks, and 1 strikeout.
"He plays to his strengths," said PawSox Manager Billy McMillon on Tanner Houck. "I think he understands the funk that he has."
That funk that McMillon is talking about is the delivery that Houck has. It's not over the top, not three-quarters, more of an in-between type motion that Boston currently lacks in their bullpen. Houck has a mid 90s fastball, a slider, and a change up.
His delivery which sometimes resembles someone throwing a frisbee has been a factor in his success.
"He is going to ride it as long as he can before guys can make adjustments to what he is doing,"said McMillon.
That different type of motion has been an advantage for him but with all of the video that opposing teams watch in today's game it is only a matter of time that an adjustment will be made. At that point Tanner Houck would have to adjust.
"I think anytime you have something different, at least initially, there is an advantage to a pitcher," said McMillon. "Guys are going to eventually try to figure out holes in that delivery or cues that he might be giving. The funk only goes so far, still have to execute pitches and change the sequence and that kind of thing. As long as he is aware of that I think he will be fine."
A Little On Ryan Brasier And Hector Velazquez
On Thursday the PawSox added both Ryan Brasier and Hector Velazquez to their roster, and in conjunction their bullpen.
Brasier who was critical to Boston's World Series run last season has been accustomed to pitching in high leverage situations.
With Pawtucket it is about having him make adjustments to eventually get back up to the big leagues.
"We are going to try and limit him and some of our other guys to 1 inning," said McMillon. "I don't know what the situation is going to be."
Part of the problem for the PawSox it is tough to put Brasier in a high leverage spot given that they have been on the losing end of a lot of ball-games. But they are hoping they can use the veteran in a clean inning to get his feet underneath him.
As for Velazquez the tentative plan right now is to use him in 2 to 3 inning stint.
Nathan Eovaldi Strikes Out The Side In Rehab With Pawtucket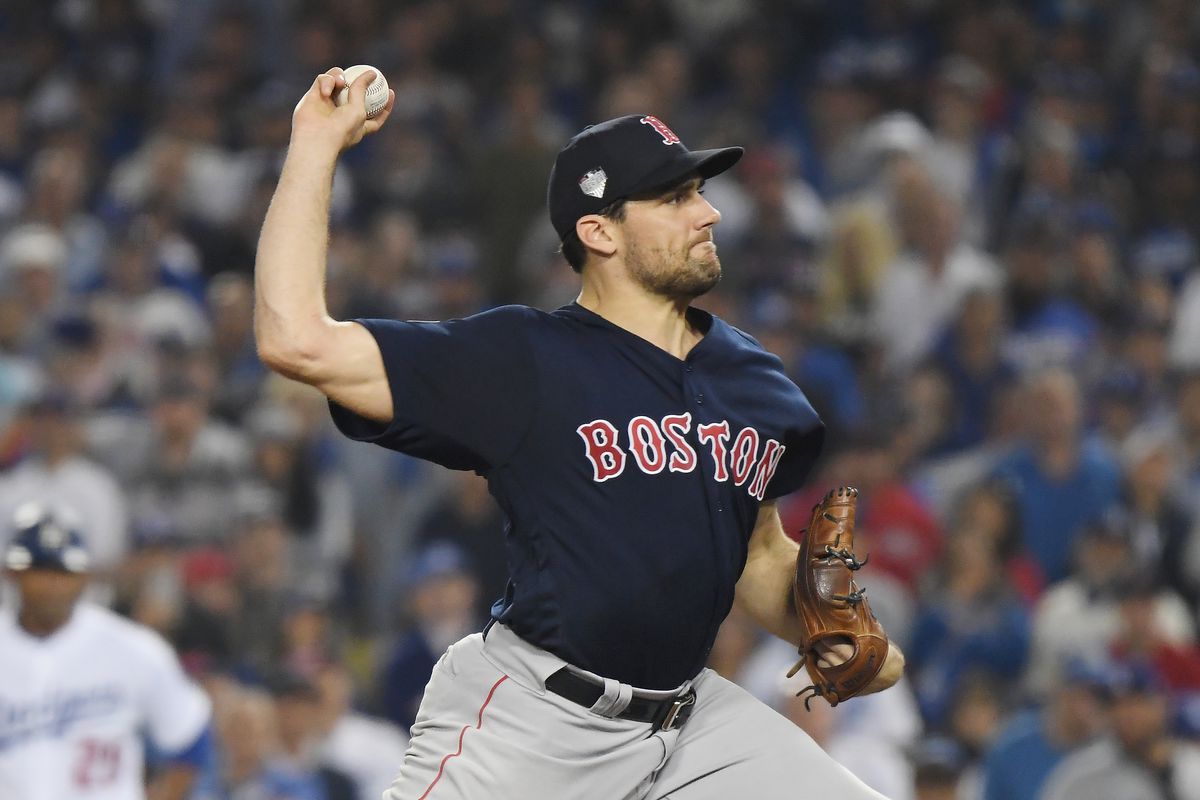 Nathan Eovaldi Strikes Out The Side In Rehab With Pawtucket, PawSox Still Fall To Bats However With Lack Of Offense Present
With the Boston Red Sox looking for bullpen help the rehabbing Nathan Eovaldi has been tasked to transition into a relief role. 
On Thursday Eovaldi who has been out with a loose body in his right elbow since mid-april threw an inning of relief with Triple-A Pawtucket at McCoy Stadium. Eovaldi pitched the second inning recording three strikeouts and issuing 1 walk on 19 pitches, 11 for strikes. 
The 29-year-old's fastball topped out a 98 mph, cutter at 94 mph, and two of his strikeouts came on the curveball. 
Eovaldi was not made available to the McCoy Stadium media after the game but per Boston Red Sox Manager Alex Cora Eovaldi will travel with the big league club to Baltimore. Expected activation from IL coming on either Saturday or Sunday.
With Boston this season Eovaldi has appeared in just 4 games allowing 14 earned runs in 21 innings pitched.
PawSox Fall To Bats In Series Finale
Despite having Eovaldi pitch the PawSox fell to the Louisville Bats to the tune of 4-2. 
Teddy Stankiewicz who was initially slated to start came in for the PawSox in the top of the 3rd inning and ended up going 5 innings allowing 4 runs on just 3 base hits. All three hits off Stankiewicz were home runs. 
After Stankiewicz departed Red Sox prospect Tanner Houck threw two scorless innings of relief to close out the game. Houck has now started his Triple-A career with a pair of scoreless outings. 
Pawtucket's offense struggled mightily scoring 2 runs despite only recording three base hits. 
With the loss the PawSox fall to 39-57 on the season and will remain home starting a three-game set with the Charlotte Knights starting on Friday. 
Red Sox rehabbing first basemen Mitch Moreland is expected to be in the PawSox lineup on Friday. 
Triple-A Pawtucket's tentative rotation is Josh Smith, Kyle Hart, and TBA (Matthew Kent Pitched In This Spot Last). All three games will be on broadcast television. Both Hector Velazquez and Ryan Brasier were added to the PawSox after their respective options from Boston earlier in the week.