Connelly's Top Ten - Blown Saves Travels to England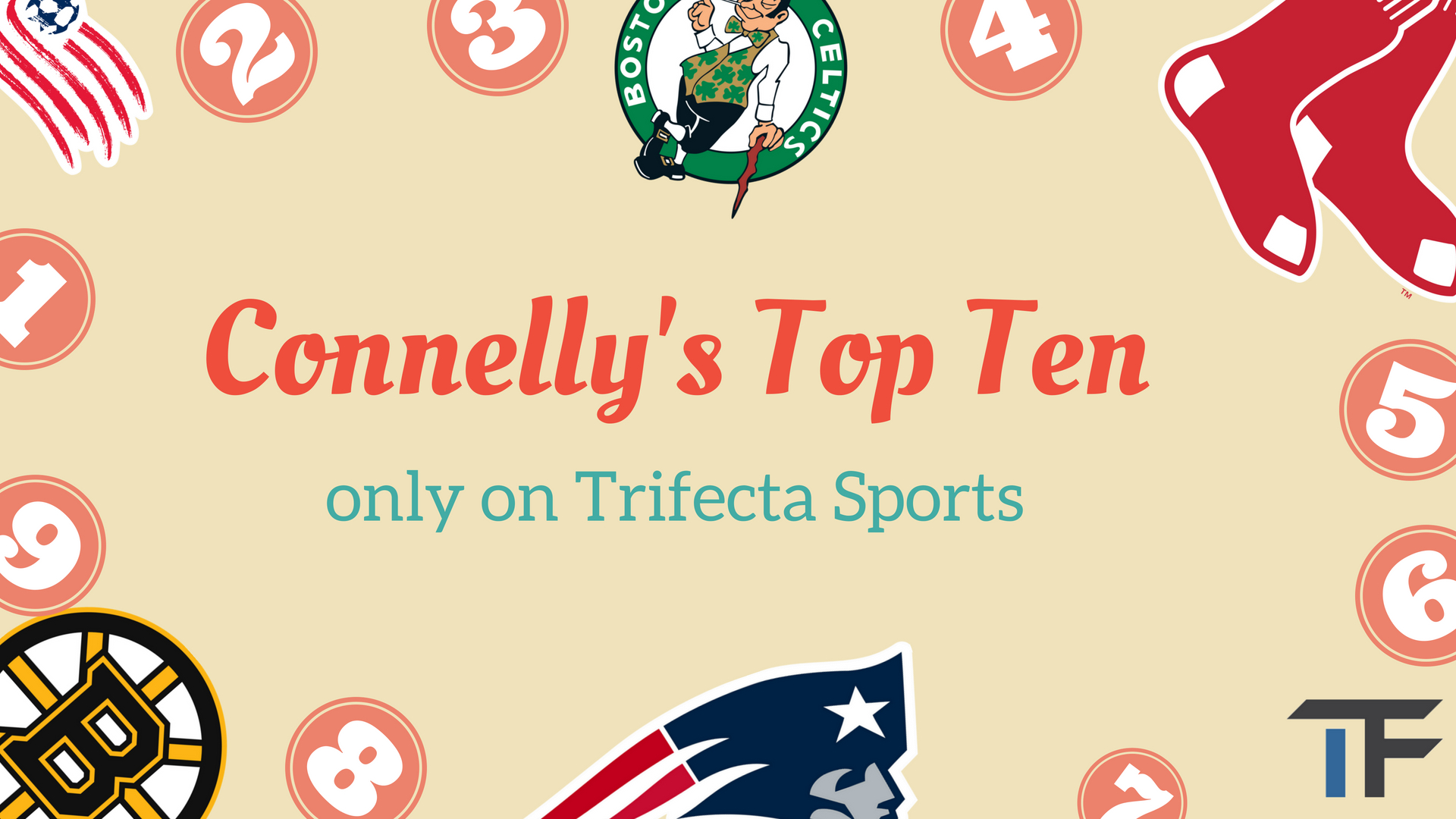 Connelly's Top Ten - Blown Saves Travels to England
1. Things that could happen in London to this team:
* Steve Wright could be asked to pinch run and forget that the bullpen cart drives on the other side of the road
* Matt Barnes could give up a home run and the ball hit the Eye and knock it into the Thames
* David Price could hurt his throwing hand playing video games on the flight over and call in sick
* Drug users Michael Chavis and Steven Wright could sneak out past curfew and make their way to Amsterdam
2. Kemba Walker vs. Kyrie Irving last year
Walker…82 games / 43.4% FG / 25.6 points / 35.6% 3 pt shooting / 5.9 assists
Irving…..67 games / 48.7% FG / 23.8 points / 40.1% 3 pt shooting / 6.9 assists
3. Patriot 1,000 yard rushers
* 13 Patriots have run for a 1,000+ yards
* Curtis Martin - three -1,000+ years
* Jim Nance - two
4. OJ Simpson has 49 career postseason rushing yards 
5. Top twenty-five individual rushing seasons in NFL history (does prolific back lead to success?)
* Their teams combined record in playoffs: 7-18
* Terrell Davis Denver / Emmitt Smith's Cowboys won Super Bowls
* Shaun Alexander's team won NFC Championship
6. Do you think Marchand thinks of that line change every day?
7. Amazing Stat - The height of the Vanderbilt pitching staff:
6'4″ - four pitchers
6'5″ - four pitchers
6'6″ - three pitchers
8. Old School - Chris Sale three years versus Luis Tiant (1973-1975) - starts over 7 innings:

* Sale - 15 starts over seven innings out of 80 (18.7%)
* Tiant - 74 starts over seven innings out of 108 (68.5%)
9. Just a Little Bit Outside - Boston Pops getting ready for 4th of July - history of Pops conductors in their 134th season 
* Conductors years: Arthur Fiedler 50 years / Harry Ellis Dickson 40 years / Keith Lockhart 25 years
10. Randomocity
* By the way pitcher Kumar Rocker on the Vanderbilt staff (son of Auburn football player - Tracy) is a Major League pitcher right now
* Red Sox 16 blown saves - Kimbrel is enjoying everyone of them 
* 4th of July coming which means dogs barking at fireworks
* USA Soccer spends tens of millions of dollars and both the Mens and Women's teams are unlikeable 
Connelly Top Ten - English Toast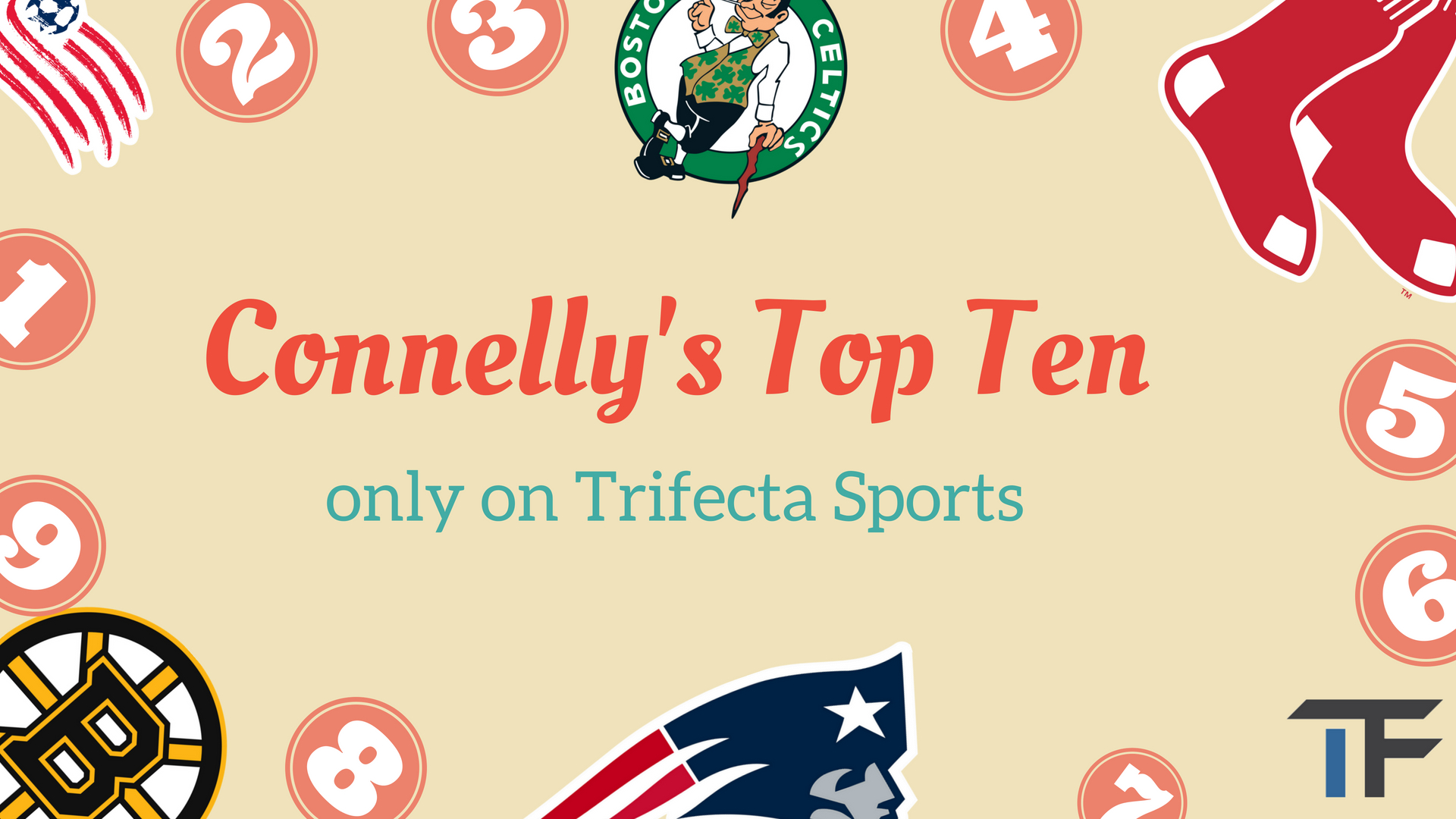 Connelly Top Ten - English Toast
1. Red Sox - Yankees
* The two games took a total of 9:06 which is enough time to bus to Logan, go through security, get on a plane, fly to London, black cab to your hotel and go get a pint
* 30 pitchers in two games
* 816 pitches 
* Frank Rodriguez threw 115 pitches in 5.1 innings 
* Chavis had the most adventurous series in first baseman history
* 0 Stolen bases / 50 runs scored - not your father's game
* Yankees were bullying the Red Sox
* Porcello looks like the most hittable former Cy Young winner in baseball history - no movement on his fast ball and a flat "hit me" slider
* The top of the 7th inning took 26 minutes on Sunday
2. Combined draft positions of QB and primary wide receiver in the Patriots last two Super Bowl championships
* Vs. Rams…….Brady and Edelman = 435 / Goff and Woods = 42
* Vs. Falcons - Brady and Edelman = 435 / Ryan and Julio Jones = 9
3. Jackie Bradley is an international star:
* In United States this year……….211 average
* Out of United States this year…444 average
4. Edelman documentary on Showtime
* A reminder for every coach with a stopwatch - can't measure heart
* His father stole the show (great scene with father play piano)
* A justification for every parent that "guided" and made their child better (thanks Boots)
5. After Red Auerbach compromised on Larry Bird's rookie contract - Bob Wolfe came back in and wanted to add a bonus for making the All Star team. Red flipped out and ripped up the contract and yelled "I'm going to pay him this much money - he better make the All Star team!" Bryce Harper and Manny Machado paid $650,000,000 and they didn't make All Stars this year
6. Hats off to women's soccer player Megan Rapinoe - she wouldn't play for my team - but she has come up big with ton's of pressure on her - 5 goals 
7. Old School - From ESPN - Sunday was the first time the Red Sox hit three home runs in the first home runs since 1979 - Lynn, Yaz and Fisk
8. Amazing Stat - From MLB Network - In Juan Marichael's first game as a rookie he retired the first 19 hitters he faced on his way to a one hit / 12 strikeout 2-0 shutout
9. Just a Little Bit Outside - That wasn't baseball this weekend but a recreational event - in honor of the terrible baseball - Massachusetts amusement parks:
* Paragon Park - Hull……………………..1905-1984
* Riverside Park - Agawam……………..1870-1999
* Whalom Park - Lunenberg……………1893-2000
* Wonderland - Revere………………….1906-1911
* Lincoln Park - Dartmouth……………..1894-1987
* Pleasure Island - Wakefield………….1959-1969
* Norumbega Park - Newton…………..1897-9963
10. Randomocity
* Victor Hugo Gomez arrested as mastermind (that's poetic license) of Ortiz shooting - what are Vegas odds - death comes before trial?
* Should the Red Sox let BioFreeze be a sponsor of the series - seeing their greatest hitter is frozen?
* Is it me on does Benintendi look indifferent?
* Colorado Rockie - Charlie Blackmon is hitting an insane .461 at home (59-128)
Connelly's Top Ten - Red Sox Don't Seem to Care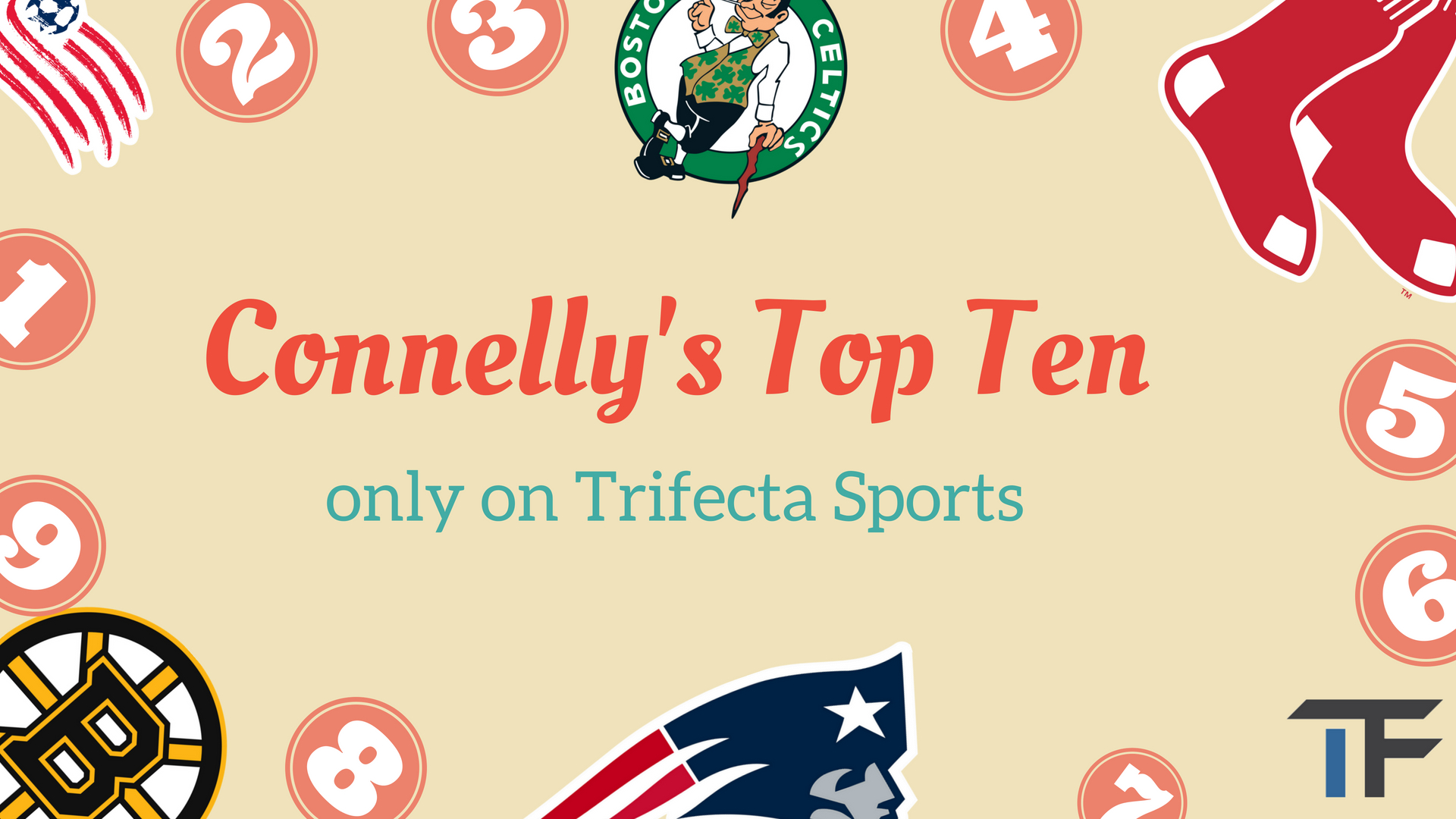 Connelly's Top Ten - Red Sox Don't Seem to Care
1. Red Sox
* Stroman yelling at the Red Sox dugout after just six innings of pitching and getting no response - reminded me of John Wensink embarrassing the North Stars bench
* Interesting to see Porcello stare down Nunez for his below average effort on a ground ball with bases loaded
* A line in the Boston Globe about Mookie Betts not running out ground balls - interesting - Yaz used to get booed for that
* 15 blown saves before the half way mark 
* The top of the sixth inning took 18 minutes for three outs of bad baseball (nappy time)
* 36,495 watch an an over three hour game - ticket, parking, ice cream, hot dog and drink and the team doesn't care
* Red Sox are eight games out of first place and just got this thing in neutral - glad Varitek didn't feel that way when A Rod was talking crap to Arroyo 
2. The annual list of median house prices from the towns in were the champions of the E Mass boys lacrosse:
* Winchester…$1.1mm
* Dover………..$1.2mm
* Lincoln………$1.2mm
3. Yastrzemski is the most distinct name in baseball history - its nostalgic to hear announcers say his grandson's name with the Giants
4. None of the highest paid players from their sport led their team to a championship
* Mike Trout……$36mm
* John Tavares..$16mm
* Steph Curry….$36mm
* Aaron Rogers..$35mm
5. Why kids don't want to watch baseball - the average game times of University of Michigan in the College World Series - 3:26
6. Officials in the Dominican have determined that Kevin McHale was not trying to clothesline Kurt Rambis
7. Amazing Stat - Ups and Downs of Celtics draft / player acquisition:
* Tremont Waters……5'11"
* Taco Fall……………..7'6"
8. Old School - Officials think fans come to see them - When Ted Williams went 4-5 in the first game of a double header on his way to hitting .406 - the official score keeper stole a hit from him (reminds me of Bird's 60 point game when ref waved on a Bird three pointer in front of Hawks bench)
9. Just a Little Bit Outside - Gambling and Casino
* Shocked the state didn't demand that the casino pay for a monorail over the water to Assembly Square train station and parking
* 50,000 people on RT 99 is the most insane thing the state has done - that almost double Fenway and they have the Green Line and multiple sources of egress
* interesting that Theo Epstein has applied for sports gambling at Wrigley Field - bold
10. Randomocity
* Ray Bourque had an estate sale this weekend that included selling used shoes - is he ok?
* You see Louisville pitcher Luke Smith pitch the game of his life against Vanderbilt only to walk off the mound in the 8th f-bombing the other team - then Vanderbilt came out in the 9th and beat him
* Summer is here!
Connelly's Top Ten - Boston Sports Trending Down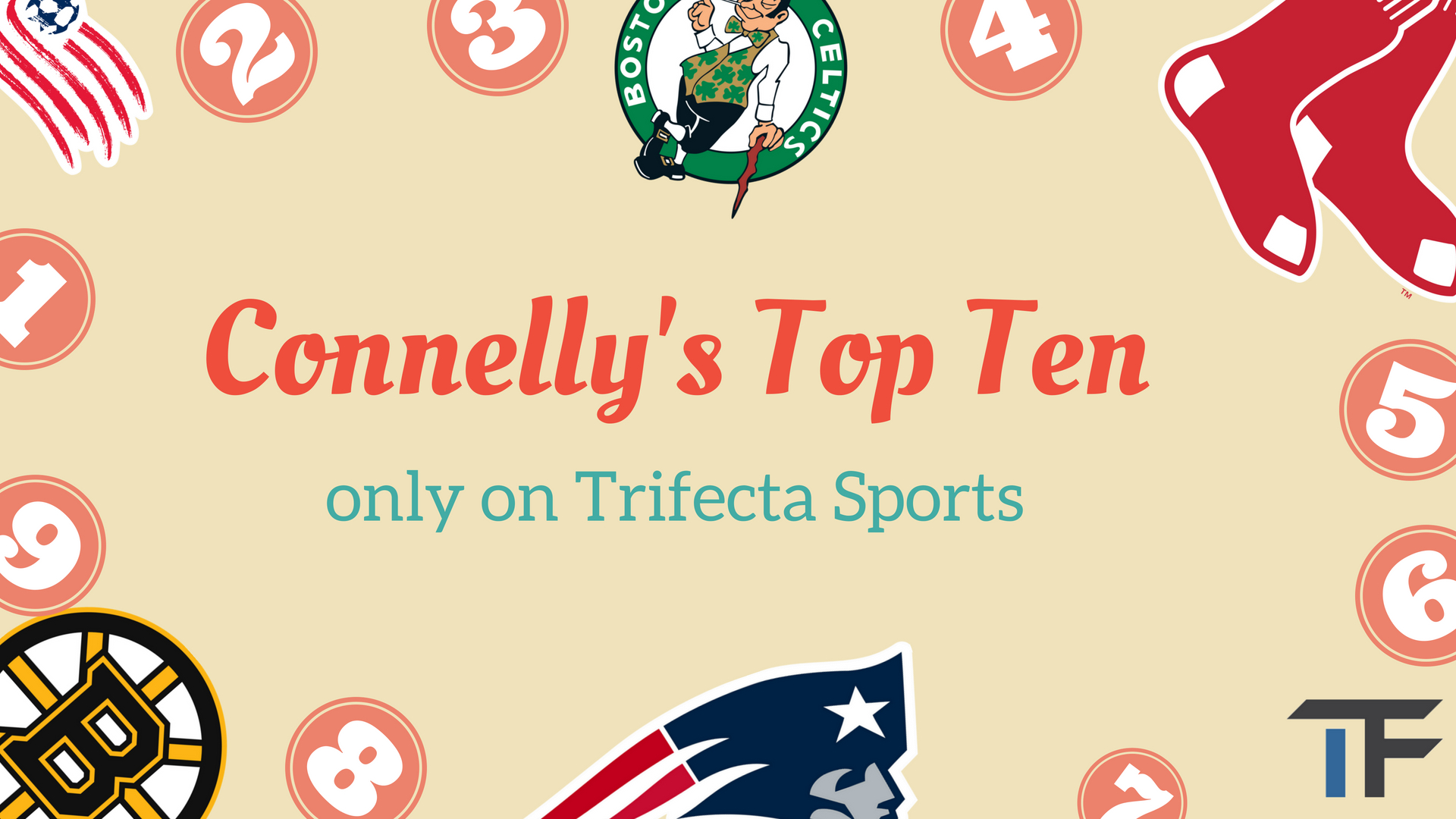 Connelly's Top Ten - Boston Sports Trending Down
1. Red Sox by month
April…..13-17
May……16-10
June…..12-8
2. NBA Draft - Celtics More Wing Man than any team in NBA history
3. Who's reputation has fallen faster - Pedroia's or Brad Stevens?
4. GM Runs:
* Don Sweeny - 4 years……….one conference championship
* Danny Ainge - 16 years……..two conference championships / one championship
* Dave Dombrowski 3 years….one conference championship / one championship
* Bill (19 years)………………..nine conference championships / six championships
5. Talk about getting a pass by a fanbase:
* Celtics championships since 1986 (33 years) - ONE 
* Bruins championships since 1972 (47 years) - ONE (that's almost half a century)
6. Boston since the Super Bowl
* First line of Bruins decides to not show up for Game 7
* Gronk retires (I will say he comes back)
* Bob Kraft stars in a movie
* Celtics embarrassed by Bucks
* Celtics blow up - Irving and Horford don't want to be here 
* Ortiz gets shot - which is uglier than a gun shot
* Red Sox left their game in Los Angeles last October
* Sign an oft injured Evoldi after abusing him October
* Celtics lose all three coin tosses in draft
* Danny Ainge has a heart attack
* Boston College Women's Lacrosse loses again in finals
7. Hit over 100 home runs for three teams
A Rod……………..Seattle 189 / Texas 156 / Yankees 351
Reggie Jackson…Oak 264 / NY 144  / Angels 123
Jim Thome……….Cleveland 337 / Phillies 101 / White Sox 134
Adrian Beltre…….Texas 199 / LA 147 / Seattle / 103
Darrell Evans…….Atlanta 131 / Giants 142 / Detroit 141
8. Old School - Bobby Orr in 74 playoff games:
* 92 points - 1.24 a game
* Points in 55 of them
* Was a PLUS five in a game against Blackhawks
* Had at least three points in 10 games
* Multi-points 26 games
* Had 12 shots in a game against Toronto
* Ten minutes or more of penalty minutes in a game three times
9. Just a Little Bit Outside - Top Comedies of Century
1. Wedding Crashers
2. Hangover
3. Sideways
4. Old School
5. Meet the Parents
6. Superbad
7. Elf
8. Super TrooperS
10. Randomocity
* Don Sweeney Executive of the Year (does that irritate Cam?)
* Could Josh Gordon - at his size - run Gronk's routes
* Scherzer pitches with a broken nose / Price misses starts because too much video games
* Ortiz not the target - hah - and they missed Clint Hill and hit JFK by mistake
* Great move by Norwood High sports hiring Kristin McDonnell from Braintree to coach boys team