Boston Cannons Lose In Thriller To Denver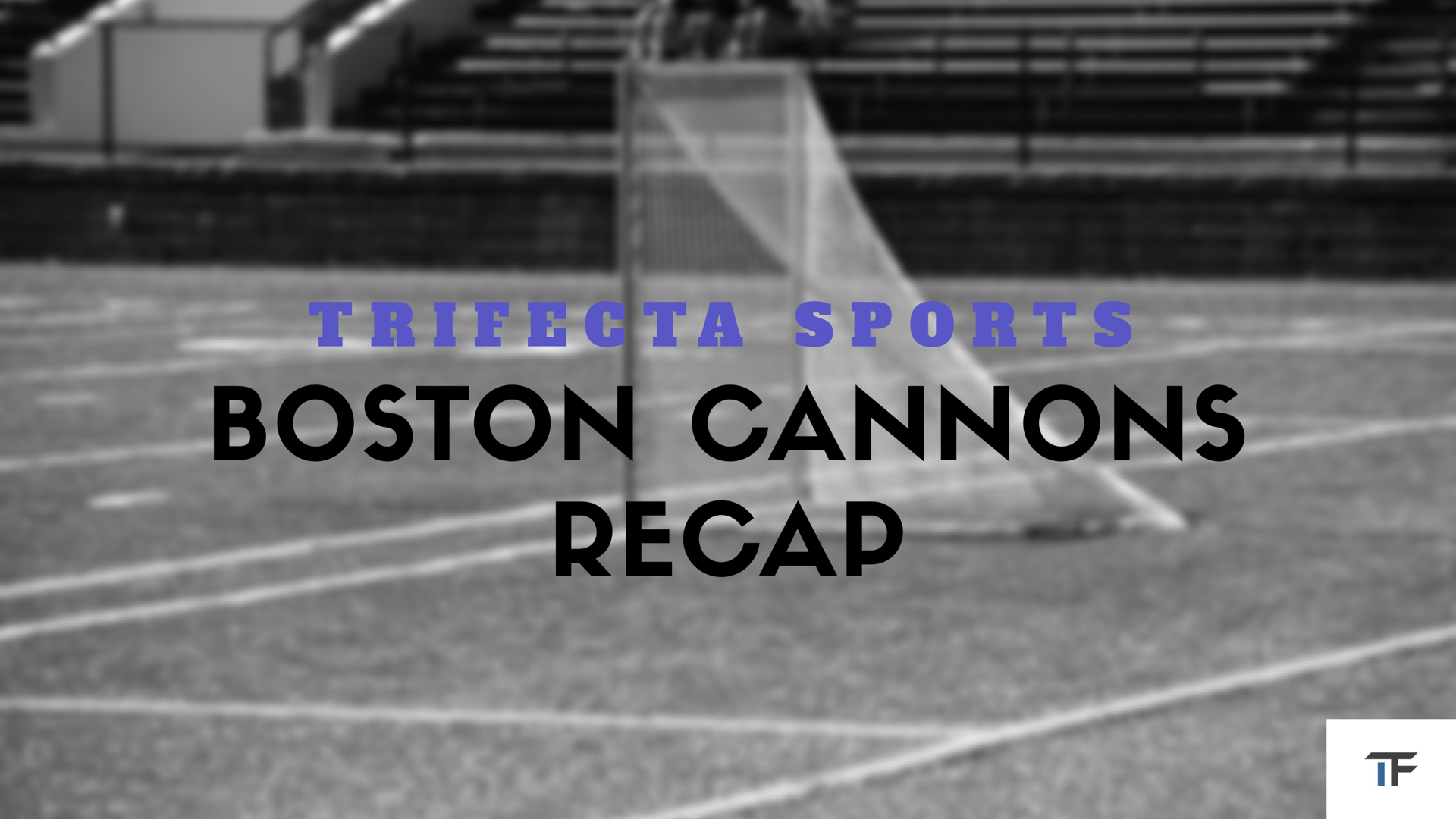 Boston Cannons Lose In Thriller To Denver Outlaws At Veterans Memorial Stadium, Drop First Game Of Season
The Boston Cannons have lost their first game of the MLL season. 
On Saturday the Cannons hosted the Denver Outlaws and ultimately fell 17-16 in what was a back-and-forth thriller at Veterans Memorial Stadium 
For the Cannons this was their first loss of the MLL season as they drop to 3-1 on the 2019 season. 
Boston was battling with Denver up until the very end with the game winning goal coming by Zach Runberg who scored with 20 seconds left in the game. 
Two Boston players scored 4 goals with Mark Cockerton and Kyle Jackson both tallying four scores. In net, Nicolas Marrocco made 12 saves on 29 shots and was under immense pressure by a talented Denver team that moves to 4-1 on the season and first place in Major League Lacrosse.
The Cannons next game will be on 7/7 when they travel to Dallas to take on the Rattlers for the second time this season. 
Boston Cannons Fall To Atlanta Amidst The Blazing Heat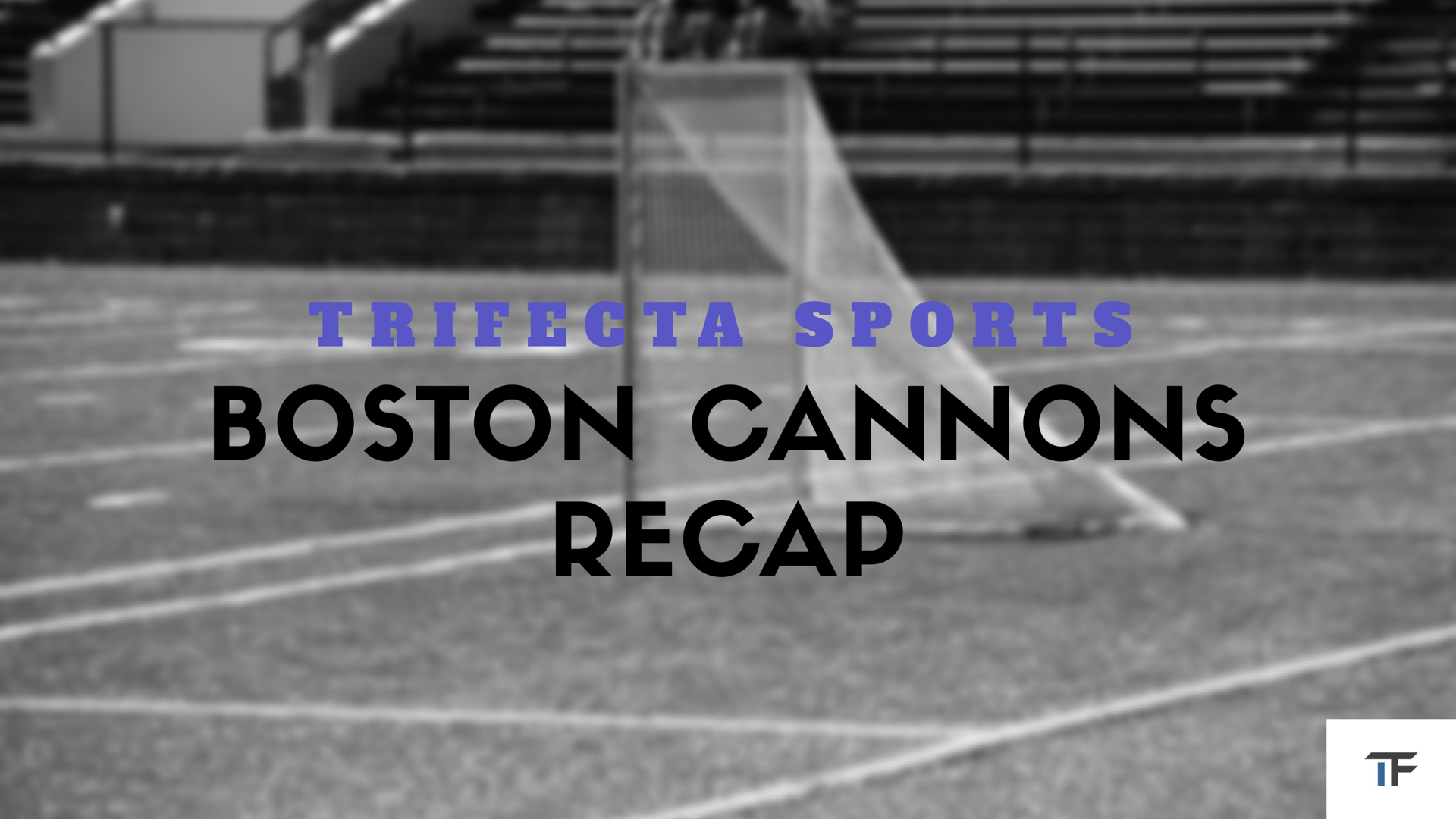 Boston Cannons Fall To Atlanta Amidst The Blazing Heat At Veterans Memorial Stadium, Now Onto The MLL All-Star Game
In a Saturday night scorcher at Veterans Memorial Stadium the Boston Cannons of Major League Lacrosse (MLL) fell to the Atlanta Blaze 15-12 in a disappointing home loss.
With the loss the Cannons fall to 5-3 on the season as they head into the MLL All-Star break and are 1-1 in 2019 against Atlanta. 
The score at the half was 7-7 but Atlanta jumped to end the third with a 4-goal run which ultimately led them to victory. 
"I think a big thing [in] this game was unforced turnovers. We had quite a few of those," said Cannons Head Coach Sean Quirk. "Giving them those possessions, Atlanta's got a great offense, so they capitalized off that. And then groundball opportunities. Groundballs are possessions, possessions are goals, and goals are wins. We just didn't win that battle today. We got to play a little bit tougher and bounce back from this one."
Will Sands was the leading goal scorer for Boston with 3 on the night while their goal leader Mark Cockerton was held to just one tally, his 25th on the season. 
In net MLL All-Star Nicolas Marracco made 21 saves on 34 shots
"We knew they were a good team," said Marrocco. "We tried to play more of a full game, offensively and defensively, but obviously it's a game of runs. We had a run at one point, and we knew they were going to go on a run, and they did. It's lacrosse. That's what happens. They got a couple lucky bounces. Unfortunately, we didn't come out on top."
With the all-star break coming up the Cannons will have the chance to take a breather from a game perspective, but plenty of them are headed to the All-Star festivities. 
"Going into the All-Star Break, you get some rest," said Quirk. "You regroup a little bit and refocus. The last two weeks, playing four games, it's a grind. We just got to be ready to go come the second half of the season for sure."
Cannons Trade Shawn Evans To Dallas For Draft Capital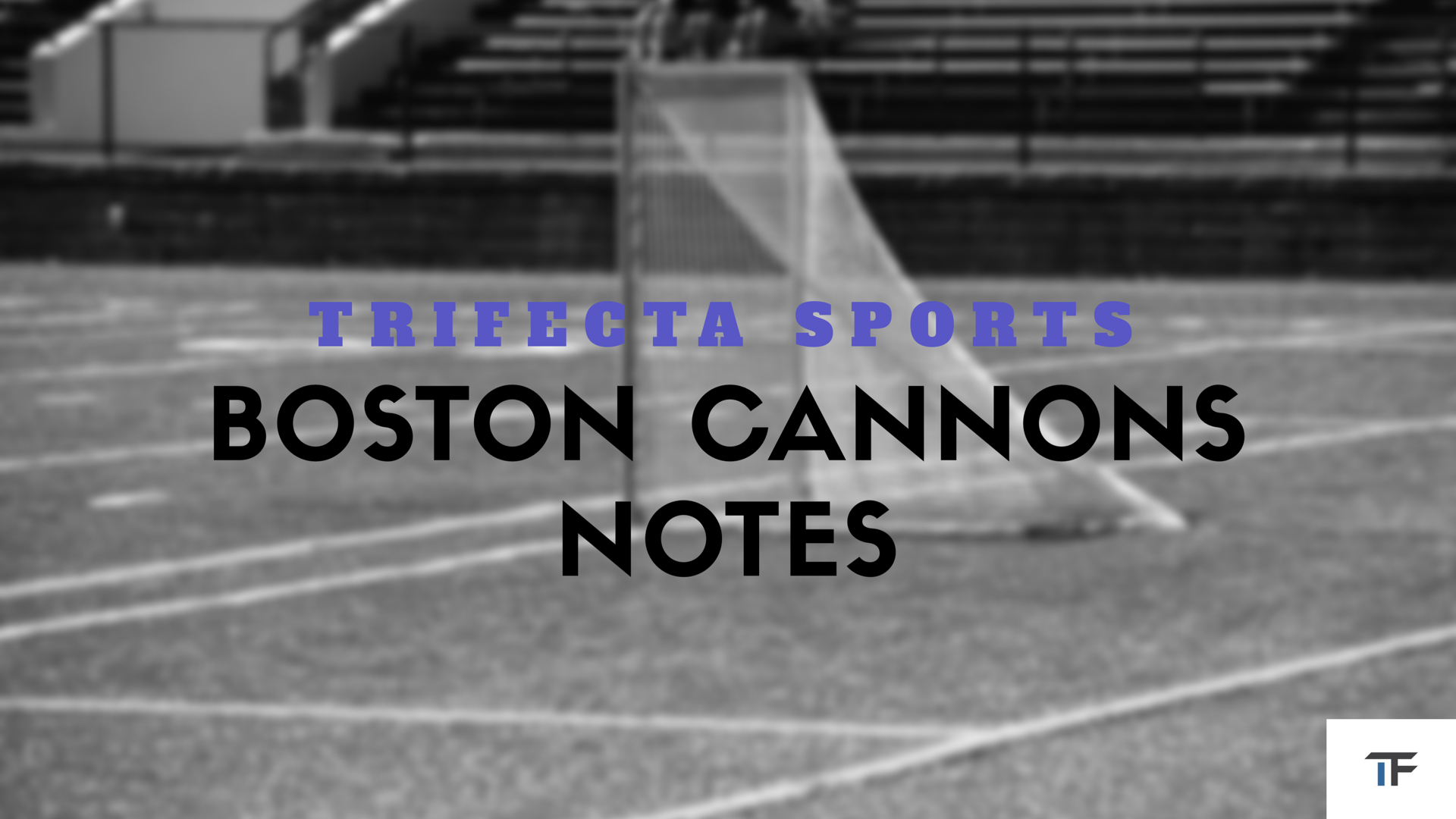 Boston Cannons Trade Attackman Shawn Evans To Dallas Rattlers For Draft Capital In The 2020 Draft
The Boston Cannons are looking to pile up draft assets for the 2020 MLL Draft. 
On Friday the Cannons of Major League Lacrosse announced that they have traded attackman Shawn Evans to the Dallas Rattlers. 
Evans, 33-years-old, has played in two games this season for Boston scoring 1 goal and recording 2 assists. 
In exchange for Evans the Cannons have received a 3rd round pick in the 2020 MLL draft. 
Evans had come to Boston via the 2019 MLL Relocation Draft after the ceasing of operation of the Ohio Machine. 
Cannons To Battle Each Other At MLL All-Star Game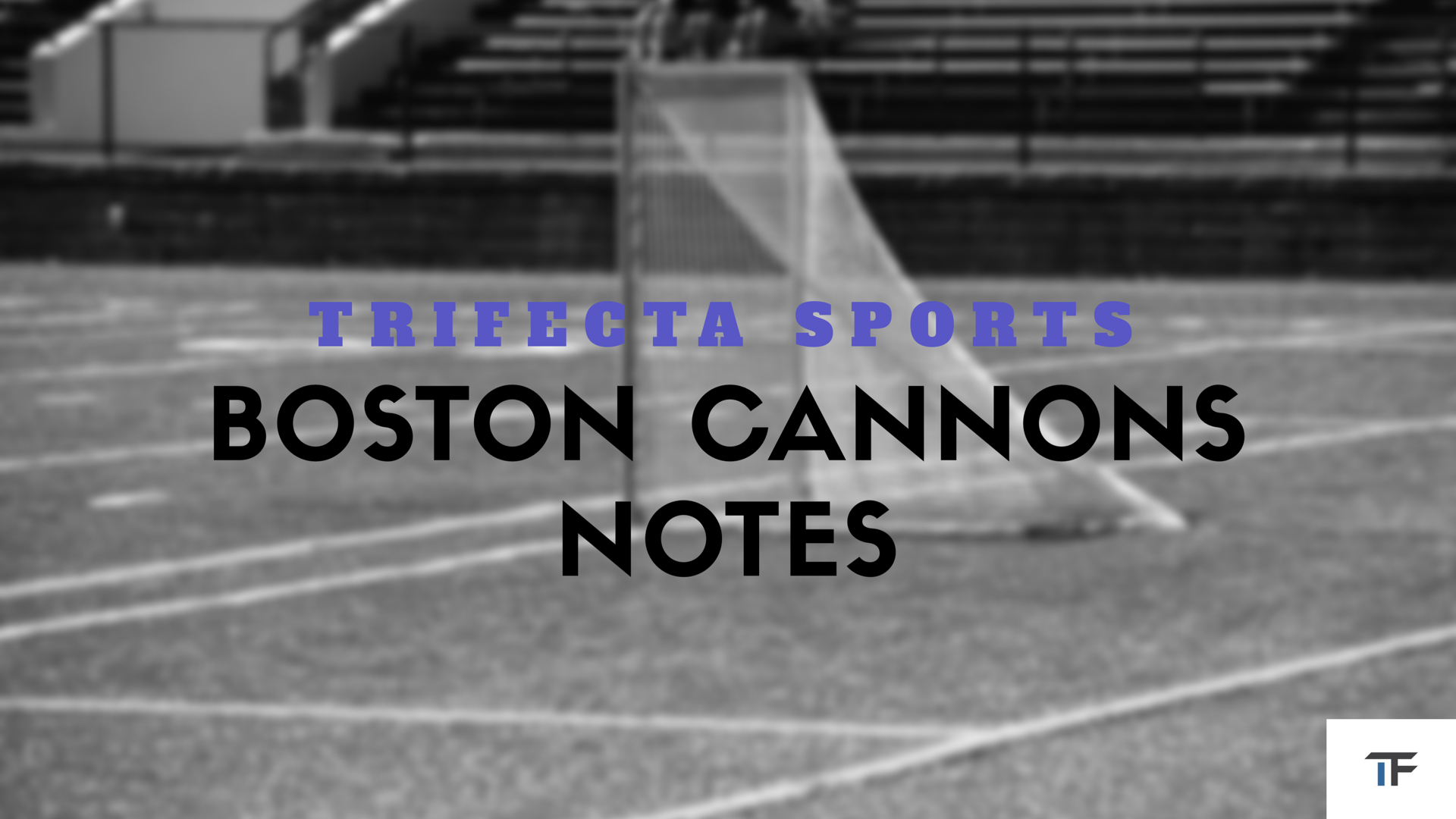 Boston Cannons To Battle Each Other At MLL All-Star Game In A Fight Between Fire And Ice
On July 27th 8 Boston Cannons players will be dueling off with each other at the 2019 MLL All-Star game. 
On Monday Major League Lacrosse announced the two teams rosters for the All-Star game. 
Boston has 8 representatives, 5 playing for Fire, and 3 playing for Ice. 
Cannons On Ice
Zach Goodrich SSDM
Kevin Reisman FO
Justin Pugal D
Cannons On Fire 
Mark Cockerton A
Kyle Denhoff M
Ryland Rees LSM 
James Fahey D
Nick Marrocco G
The 2019 MLL All-Star game will take place on July 27th at Navy Marines Corps. Stadium located in Annapolis, MD. ESPN2 will broadcast the game. 
Full Rosters:
| | | |
| --- | --- | --- |
| POS | Team FIRE | Team ICE |
| A | Rob Pannell (Lizards) | Lyle Thompson (Bayhawks) |
| A | Mark Cockerton (Cannons) | Colin Heacock (Bayhawks) |
| A | Steele Stanwick (Bayhawks) | Bryce Wasserman (Rattlers) |
| A | Dylan Molloy (Lizards) | John Grant Jr. (Outlaws) |
| A | Shayne Jackson (Blaze) | Randy Staats (Blaze) |
| M | Kyle Denhoff (Cannons) | Brendan Kavanagh (Outlaws) |
| M | Nick Mariano (Bayhawks) | Bryan Cole (Blaze) |
| M | Jack Curran (Rattlers) | Brendan Sunday (Blaze) |
| M | Zach Currier (Outlaws) | Isaiah Davis-Allen (Bayhawks) |
| M | Mike Schlosser (Outlaws) |  Brendan Bomberry (Bayhawks) |
| M | Kevin Crowley (Lizards) | Matt Abbott (Bayhawks) |
| D | James Fahey (Cannons) | Craig Chick (Rattlers)* |
| D | Jake Pulver (Rattlers) | Jesse Bernhardt (Bayhawks) |
| D | Jack Carrigan (Lizards) | Justin Pugal (Cannons) |
| D | Ben Randall (Lizards) | Finn Sullivan (Outlaws) |
| FO | Alex Woodall (Blaze) | Max Adler (Outlaws) |
| FO | Greg Puskuldjian (Lizards) | Kevin Reisman (Cannons) |
| LSM | LSM Ryland Rees (Cannons) | LSM CJ Costabile (Bayhawks) |
| SSDM | TJ Comizio (Blaze) | Zach Goodrich (Cannons) |
| G | Chris Madalon (Blaze) | Dillon Ward (Outlaws) |
| G | Nick Marrocco (Cannons) | Niko Amato (Bayhawks) |