Paw Sox Starting Pitcher Ryan Weber Extremely Efficient Sunday Afternoon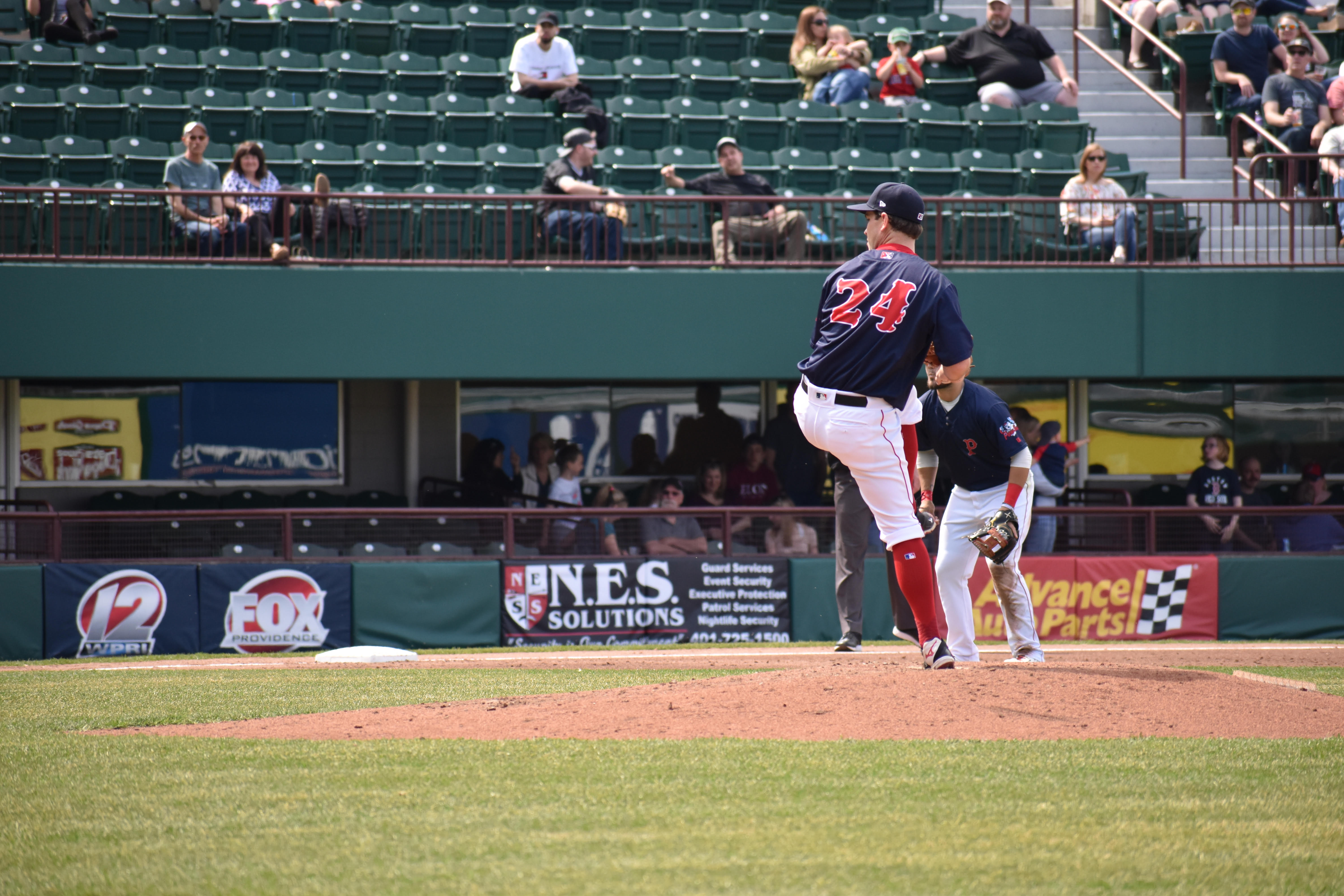 Pawtucket Red Sox Starting Pitcher Ryan Weber Extremely Efficient Sunday Afternoon At McCoy Stadium Against Indianapolis Indians 
On Sunday afternoon, the Paw Sox sent out Ryan Weber to start his third game game at AAA since he was optioned down from Boston on June 7th. It was by far his best start of the season at the AAA level. In 6 innings of work, he only gave up 1 run on 2 hits. He was able to do this on 70 pitches, 42 for strikes. 
The Paw Sox were able to get a couple of home runs on the afternoon from Gorkys Hernandez and Bryce Brentz. Hernandez got it started in the third inning with his 10th home run of the season into the right field bullpen to give the Paw Sox a 1-0 lead.
Number 10 for Gorkys@Supercuts #SuperPlay pic.twitter.com/GtAX2qrTW6

— PawSox (@PawSox) June 23, 2019
Then in the 6th inning, Bryce Brentz hits his 13 home run of the season, his second home run in as many days. A towering shot that went into the right field berm. He is now only two home runs behind Josh Ockimey for the team lead in home runs. 
Two big flies for Bryce Brentz in back-to-back days. pic.twitter.com/cQBtY7yJn3

— PawSox (@PawSox) June 23, 2019
Then in the 9th inning with the score tied at 3, Paw Sox manager Billy McMillon brought in Jenrry Mejia for the inning. With one out in the inning, Christian Kelley hit a single to right field to bring in the go ahead run for the Indians to give them a 4 to 3 lead. 
In the bottom of the 9th inning, the Paw Sox were able to load the bases with 2 outs in the inning. But Cole Sturgeon grounded out to the second basemen on a 3-2 count to end the game. The Paw Sox went on to lose the game by a score of 4 to 3. There were were four full counts on Paw Sox batters in the inning.  
"I think that has a lot to say about the character of those guys. Grind at-bats. Not giving up. Not coinciding" said Paw Sox manager Billy McMillon after the game. "The law of averages say that it's going to start turning our way. We lost a ton of one run ballgames where we had chances. The message would be to continue to grind and compete and battle up there" said an optimistic McMillon.   
Ryan Weber Was Painting Sunday Afternoon
In Ryan Weber's last start for the Paw Sox on Wednesday night, Weber only went 3 innings, giving up 4 runs on 7 hits while throwing 69 pitches, 44 for strikes. 
"In his last outing, we cut him a little bit. So he came out after 2 or 3 innings or so because we were lining him up to start today. So he was going to give us as much as he could today" said manager Billy McMillon after the game. 
On Sunday afternoon, Ryan Weber was working extremely quick in his eighth start for the Paw Sox. That included 13 straight batters that were retired between the first and the fifth inning. While Ryan was able to work extremely efficiently, he was pitching on short rest. His previous start was on June 19th in the second game of the Paw Sox doubleheader against the Durham Bulls. 
"What he did today is what he's done in his career. His ball was moving, he was locating, he was keeping the batters off balance. If he does that, he has a chance to go deep into ballgames and keep us in games" said McMillon when talking about Ryan Weber's start on Sunday afternoon. 
For a pitcher who is not going to over power you, what he did on Sunday afternoon is exactly what you want form a pitcher like Weber. If he is spotting his pitches, he is going to go deep. The only mistake he made on the mound was in the 6th inning. Cole Tucker hit a home run down the right field line that hit the foul pole. That tied the game at 1 at the time. That ended up being Weber's last inning. 
Next For The Paw Sox
The Paw Sox will begin a 2 game series with the Buffalo Bisons on Monday night at McCoy Stadium. The Paw Sox will pitch Darwinzon Hernandez against Thomas Pannone for Buffalo. On Tuesday, Erasmo Ramirez will be up against Ryan Feieraband for Buffalo. 
PawSox Allow 6 Runs In 8th Inning In Loss
PawSox Allow 6 Runs In 8th Inning In Loss To Rochester RedWings
Everything was going according to plan for the Pawtucket Red Sox in Rochester, until the bottom of the 8th hit. 
In the bottom of the 8th IL All-Star Dan Runzler allowed 6 runs on 5 base hits while only recording one out causing the PawSox to lose 9-6. 
For Pawtucket this has to be a frustrating loss with starter Ryan Weber giving 5 quality innings allowing 2 runs on 7 base hits while fanning 7 batters. 
Even the rehabbing Tyler Thornburg had a scoreless inning of relief followed up by a scoreless inning by Jordan Weems. 
Offensively Pawtucket scored two runs in the third, but broke out in the top of the 5th with both Chris Owings and Gorkys Hernandez hitting home runs to make it a 5-2 game. 
Hernandez came back in the top of the 7th with another RBI making it 6-2.
Runzler spoiled the road party with just one out recorded and 6 runs allowed in the bottom of the 8th inning. This makes back-to-back outings that Runzler has struggled with the veteran allowing 3 runs and just 2 outs recorded last time out. Tough for Runzler who was just named to the IL mid-season all-star team with his ERA now ballooned to 5.96 on the season. 
Rehabbers Update And A Quick Look Ahead 
The rehabbing Tzu-Wei Lin played in this one going 0-2 with 2 walks serving as the DH. Infielder Steve Pearce was once again out of the lineup for Pawtucket. 
As for Thornburg he continues to make strides on the mound has he rehabs from a right-hip impingement. 
With the loss the PawSox fall to 32-47 on the season and have one more game with Rochester on Sunday with Darwinzon Hernandez on the mound. 
Chris Owings Looking Like A Viable Option For Boston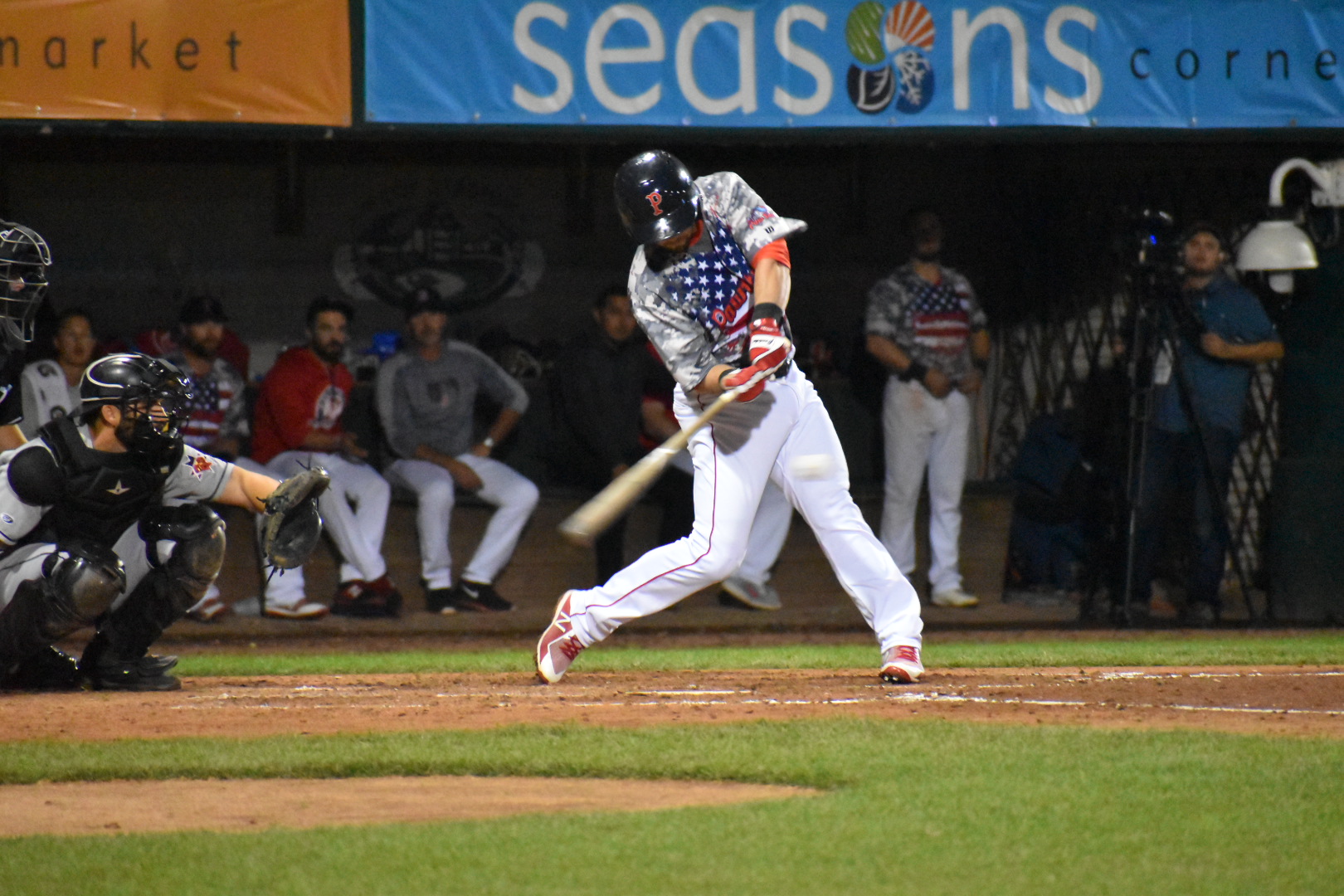 Chris Owings Looking Like A Viable Option For Boston With Utility Player Proving He Still Has It With Pawtucket
Back on June 17th the Boston Red Sox made a move to add some roster depth to their infield.
That move was the signing of infielder Chris Owings to a minor league deal where he was then stashed in Triple-A Pawtucket for safe keeping. Boston has had a number of injuries to their infield in 2019 with Dustin Pedroia out indefinitely, Tzu-Wei Lin and Steve Pearce on rehab, and the injury list stint Brock Holt had earlier this season.
With Owings came a boatload of Major League Experience with the former Compensation A pick in 2009 by Arizona having just over 2000 at-bats in the big leagues in over 600 career games. Owings who is now 27-years-old worked his way up to being an everyday player for the Diamondbacks before signing as a free agent with the Kanas City Royals this past off-season.
Owings, a Gilbert, South Carolina native played in just 40 games with Kansas City getting 135 at-bats before they designated him for assignment which resulted in an outright release on June 4th. His time with the Royals was a rather lack-luster one batting .133 and driving in 9 runs with an OPS of .415.
But if history is any indicator Owings is a solid big league option with a career batting average of .242 with 33 home runs and 205 RBIS with a respectable OPS of .653. So on June 20th when he was assigned to the PawSox, it was time for a fresh start.
Owings has only appeared in 7-games with Pawtucket but his impact has already been felt on the team. He has gone 9-for-28 with 3 RBIS and an OPS of .738.
Owings comes from a baseball family with two of his brothers playing professional baseball in the past and for Boston he brings versatility defensively with the ability to play 3B, SS, and 2B in addition to being able to play in the outfield with considerable amount of time spent in right and center field.
Thus far through 7 games with Pawtucket Owings has spent time in right, shortstop, and second base with no errors committed.
PawSox Win With Trevor Kelley Continuing To Be Nails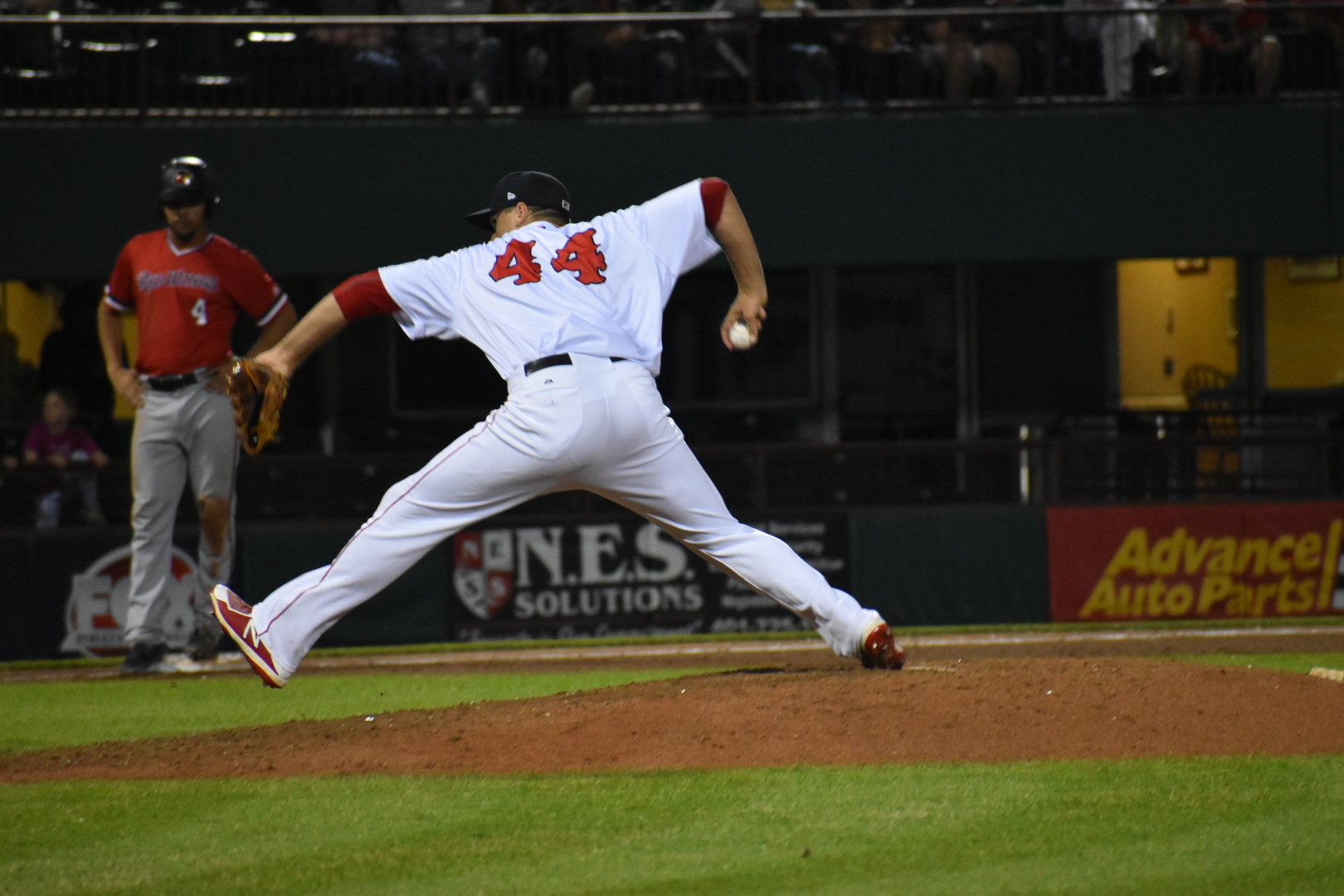 PawSox Win At Rochester With Trevor Kelley Continuing To Be Nails With A 1-2-3 9th After Pitching Back-To-Back Night's
The Pawtucket Red Sox have bounced back and in large part due to relief pitcher Trevor Kelley. 
Friday night's dramatic 7-to-5 victory over the Rochester RedWings had plenty of hero's on the PawSox side of the ball, but Kelley seemingly edges out the rest. 
The Rhode Island native who has already earned an All-Star nod continues to impress as Kelley came on in a 7-5 game and provided Billy McMillon with a 1-2-3 bottom of the 9th to pick up his 4th save of the season as his ERA drops to .96 on the season. Kelley's outing on Friday comes on the heels of a Thursday night outing where he had a similar scoreless effort which has been the standard for the sidearms 2019 season. 
The starter in this one for Pawtucket was Teddy Stankiewicz who battled going 5 innings allowing 5 runs on 9 base hits. With Teddy giving up 2 blasts on the night it was up to the offense to battle. 
It started in the top of the 1st inning with Bryce (Don't Let Him Get Hot) Brentz belted a 2-run shot for his 15th homer of the season. The rehabbing Tzu-Wei Lin had an RBI single in the top of the 2nd to make it 3-0 before Stankiewicz was touched for 3 runs in the 3rd, and 2 in the 4th. 
Pawtucket got one back in the top of the 6th with an RBI double in the top of the 6th, tied the game in the top of the 8th on a wild pitch, and took the lead on a Juan Centeno sacrifice fly in the top of the 9th. The icing on the cake was another wild pitch run in the 9th making it 7-5. 
In order to set up this comeback the PawSox had the solid outing by Kelley, but had two stellar performances to bridge the gap to the newly minted closer. Jenrry Mejia went 2 scoreless and then Bobby Poyner picked up the win with an inning of work bridging tight gap to Kelley's 1-2-3 9th inning. 
There was only 1 rehabber in this one for Pawtucket with Tzu-Wei Lin leading off and playing second base for McMillon. Lin went 3-for-4 with an RBI and struck out once while playing 7 innings in the field. 
A Look Ahead 
With the win the PawSox move to 32-46 on the season and have two more in Rochester before heading home to McCoy Stadium on Monday.
McMillon's probable rotation is as follows: 
Saturday:Ryan Weber
Sunday: Darwinzon Hernandez
Monday: Erasmo Ramirez
Tuesday: Kyle Hart
Wednesday: Teddy Stankiewicz