Cody Cropper Doing What He "Was Born To Do" In First Start Since 2017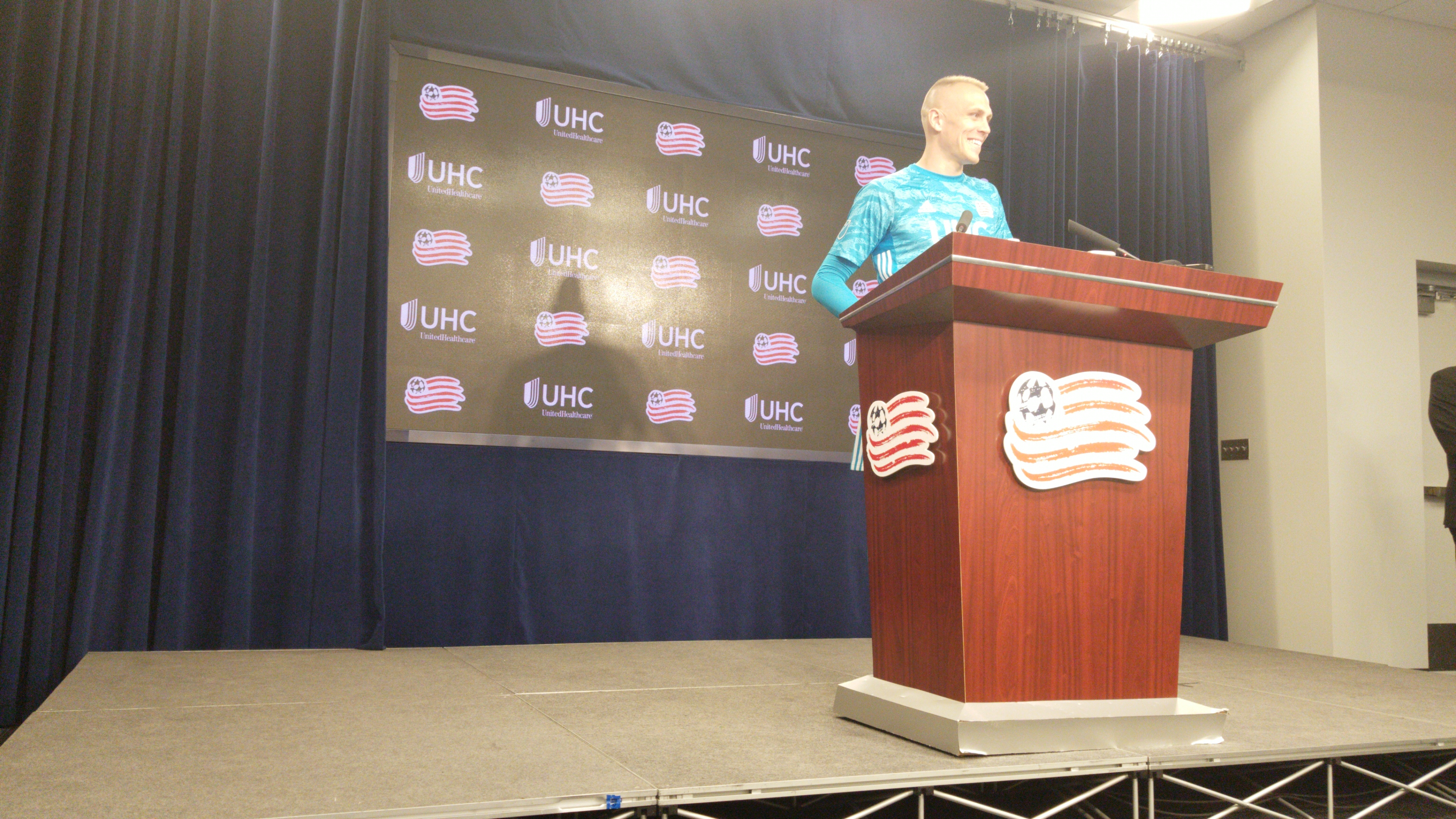 Revolution Goalkeeper Cody Cropper Doing What He "Was Born To Do" In First Start Since 2017
Saturday was a special day for New England Revolution goalkeeper Cody Cropper.
Cropper did something he hadn't done since 2017.
Start in net for the Revolution in an MLS regular season game.
"It's been a grind; mentally, physically, emotionally. There's been ups and downs, and that part of professional sports, that's part of this business.
Every player at some stage in their career has gone through that, but to go out there today (Saturday) and to put a 90-minute performance together for the first time since 2017 — over a year, nearly a year and six months — I can't even describe the feeling right now.
Every time I talk about it, I'm just getting goosebumps. It's what I was born to do, I've played this game since I was three years old and it's what I love." said Cody Cropper after playing his first MLS match in over a year
Cropper's Hard Work In Training Paid Off 
Cropper against Minnesota United FC played the full 90 minutes saving two balls with a 66.7% save percentage with 2 crosses claimed and 1 punch.
For the first four matches it was Brad Knighton's job to be in net for the Revolution. The sudden change? Training performance and a 2 goals against average.
"Again, every week that starts, every player can get their name in the hat to start. Cody, in the last two or three weeks, has trained very, very well, better than we've seen him train since we've been at the club." said Head Coach Brad Friedel.
As for Cropper, he knew the starting job is always up for grabs as "everybody went into this week knowing we would be fighting for our jobs".
Cropper came off of his line on multiple occasions against Minnesota and was able to stop Minnesota's attack dead in his tracks. Cropper calls the decisions a "gut instinct" with the coaching staff telling him prior to the game to trust his instincts.
"I trusted myself." Cropper said."In the past, when you don't play games for a very long time you sometimes tend to second guess yourself. Today, I just went out there and I trusted my ability."
Revolution Fall In Columbus As Team "Didn't Deserve To Lose"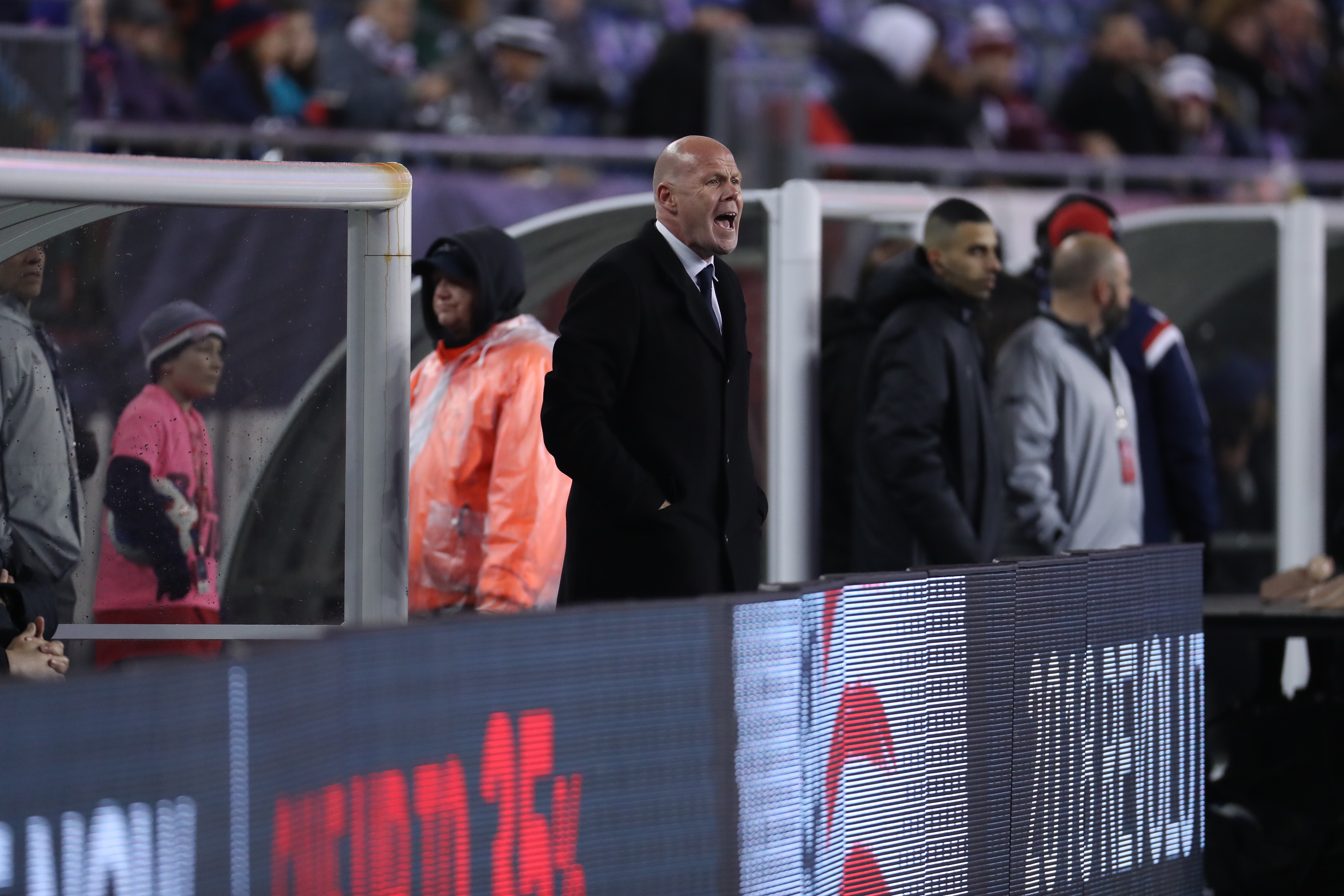 New England Revolution Missing Finishing Touch In Loss To Columbus Crew SC, Only Goal Might Have Been Offsides
The New England Revolution haven't won a match in Columbus since the 2014 MLS Playoffs and that trend continued on Saturday with a 1-0 loss. 
After pressing Columbus for much of the first half the Revolution conceded a closing half goal on a pitch perfect set piece to Josh Williams who was able to catch goalkeeper Cody Cropper by surprise at the near post. 
New England overall showcased a full 90 minute performance and played a man down for 26 minutes and were still able to play the majority of the game in the Columbus third of the pitch. 
"I'm really proud of the players, the way they performed tonight. We did not deserve to lose" said Head Coach Brad Friedel. 
Another Off-sides Goal On The Road?
The Revolution may have a claim that the goal by Williams may have been off-sides however.  
Many fans of the Revs will remember the match in Toronto when  was able to score a goal that many would consider an off-sides position. 
The goal by Columbus is a tad different of course as Williams may have been in an off-sides position by a shoulder.
If you take a look at the screen grab below you can see the shoulder of Williams showing an off-sides position. 
New England Head Coach Brad Friedel who has been a vocal critic of the leagues VAR was critical of the non-call after the match. 
"The free kick is off-side. I know who was doing the VAR, I've had issues with him in the past. I don't understand how you can't see that he's a shoulder offside." said Friedel after the match."It's another one. It seems that we're on the opposite end of a lot of VAR decisions."
Finishing Continues To Be New England's Main Problem, But Playing A Man Down Doesn't Help 
New England started off in the high press early on against Columbus and caused the Crew to adjust rather quickly despite being at home. 
"We want to play, to keep the ball. They want to go direct. Again, credit to them. I thought Brad and his staff did an excellent job, they were up for it mentally and they gave us some problems, by pressing us." said Columbus HC Caleb Porter.
The Revs did run into some serious trouble in the early stages of the second half with Michael Mancienne being issued two yellow cards following in a red card causing the Revolution to play a man down for the final 26 or so minutes in the match trailing by 1 goal.
"We obviously knew down a man we had to give up something." said Andrew Farrell. "They obviously had the ball a little bit more in the second half when we went down a man. But we had our chances."
As a whole it is hard to look at the New England Revolution performance and really find something to hate. For a team that played a man down for the majority of the second half they finished the night with 7 shots, 2 on target, compared to Columbus's 8 shots, 3 on target.
"I thought the effort of the players was outstanding tonight." said Friedel." I think we bossed the game from start to finish."
Pass accuracy as a team was 78% and held a 63% passing accuracy in the final third. But once again it was a match that the Revolution lacked the finishing touch. Part of it was Crew SC goalkeeper Zack Steffen who made a number of saves including one on a blast from defender Jalil Anibaba. 
Carles Gil who has been the focal point of the Revs offense so far this season once again led the team in touches with 94, but the talented Spaniard was a 79.2% in passing accuracy, below his 82.2% average he holds through 6 matches this season. 
Looking at the possession numbers, the Crew edged the Revs by 5.6% which given being a man down it is hard to look at that is an area of issue.
New England had their fair share of chances in this match, but the one thing that has consistently been their problem this season to date has been their struggles at finishing. 
"I think at times we were maybe rushing it." said Teal Bunbury. "Maybe we weren't as dynamic as we should have been. Sometimes maybe, I think we were forcing it. We could have taken our time. And times we could have gone quick but we weren't. So maybe, it's a little bit off here and there."
They are a club that plays a large percent of their time in their opponents half of the field but fails to finish. As a whole 42% of the match was played in the final third of the pitch, 42% in the middle third, and just 17% in the Revs third of the field. 
"I thought we had our chances." said Andrew Farrell. "Obviously we could be better in the final third and created more chances. But at the end of the day, with how we played, I thought we deserved a point, or three." 
Friedel Only Makes One Change To Starting XI 
After a week that saw 6 changes to the starting XI Friedel only made one for the match against the Crew. 
Juan Fernando Caicedo was in for the first time this season and the odd man out was Edgar Castillo who was off the 18 with an injury. 
"I thought he put in a good shift." said Friedel on Caicedo." He will get better and better as he gets matches under his belt of course."
Onto the 18 for the first time this season was Gabriel Somi who returned to the Revs after an International stint with the Syrian National Team. 
In net for the second consecutive match was Cody Cropper who did not record a save but was able to step up on a number of occasions stopping the Columbus attack in its tracks and allowing the Revs to press back up the pitch. 
The Road Ahead
After Saturdays loss the Revolution fall to 1-4-1 on the MLS season and will return home next Saturday to take on the defending MLS Champs Atlanta United at 7:30 pm in Gillette Stadium.
Revolution Game Notes: Last Win At Columbus? 2014 MLS Playoffs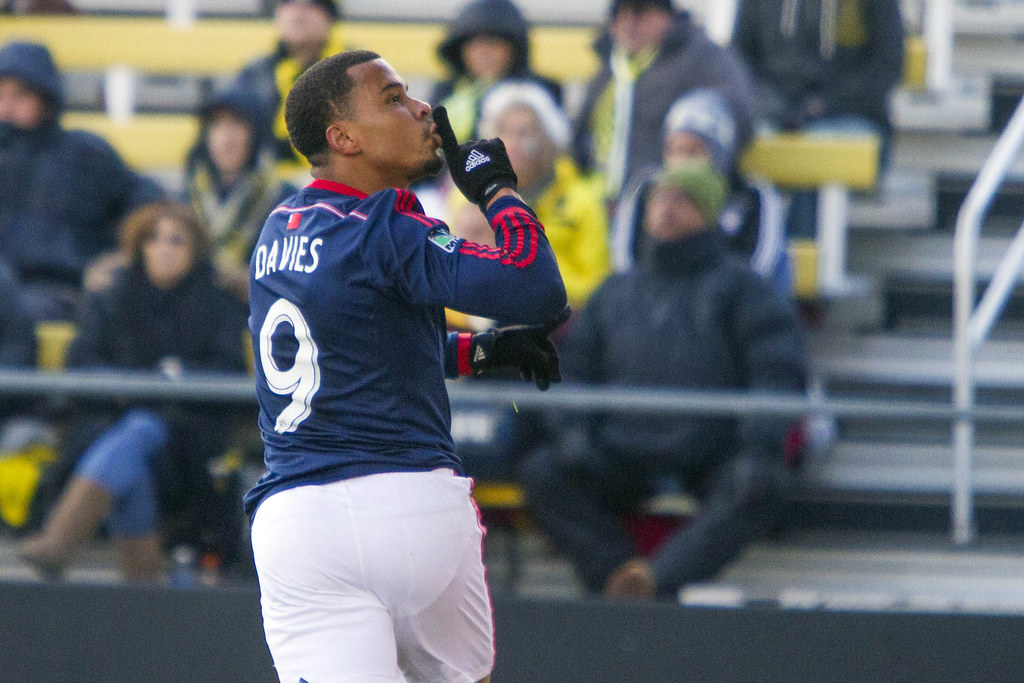 New England Revolution Are "Looking Forward" To Playing The Crew, Last Time Team Won In Columbus? 2014 MLS Playoffs
The New England Revolution are taking on the Columbus Crew SC this Saturday. 
Does that sound familiar?
Well that is a because the two teams faced off less than a month ago at Gillette Stadium in a game that the Revs lost 2-0 in their 2019 home opener. 
This time around the Revolution will have a tougher task facing Caleb Porters club in Columbus. Porter in his first year at the helm of the Crew has his club at a 3-1-1 record which is good enough for second place in the Eastern Conference.
As for Brad Friedel's Revolution? Well, after capturing their first win of the season this past weekend against Minnesota they are 10th in the East with a 1-3-1 record. 
It's Not About The Name On The Back Of Your Jersey, Or How Big Your Paycheck Is
In their last time out against Columbus on March 9th, Friedel sent out the following Starting XI.
Edgar Castillo, Michael Mancienne, Antonio Delamea, Brandon Bye
Teal Bunbury, Scott Caldwell, Carles Gil, Cristian Penilla
Friedel didn't stick with his full starting group too long though as he sent in Justin Rennicks and Diego Fagundez at the 1/2 in exchange for Agudelo and Penilla.
Since that match the Revolution have taken a bit of a different approach in grabbing their first win. 
Take a look at the starting XI in a 4-4-2 this past Saturday against Minnesota.
Andrew Farrell, Jalil Anibaba, Mancienne, Edgar Castillo
Bye, Gil, Caldwell, DeJuan Jones
Bunbury, Agudelo 
Between this lineup and the one against Columbus a month prior there are 5 changes to the starting XI and a formation shift. It is highly likely that Brad Friedel changes this up however as he is not afraid to play the hot hand from whoever performed well in training the week heading into a match. 
Between New England's loss against FC Cincinnati and their win against Minnesota Friedel made 6 changes to his starting XI including a switch at the goalkeeper position.  
And Head Coach Brad Friedel was very open about the fact about changing up their strategy this time around against Columbus given that they have already seen them once this season.
"Now that we've seen them once, we'll make a couple of adjustments our- selves and hopefully we can get the three points." Said Friedel on Columbus.
Columbus Showcases Immense Talent
The Crew are an impressively talented team, from 2018 MLS goalkeeper of the year in Zack Steffen, to defensive midfielder Wil Trapp, all the way to Gyasi Zardes who is playing some of the best soccer he has ever displayed at the pro level. 
New England's record all-time against the Crew is 23-37-13 and at Columbus their record only gets worse. The Revs at the Crew are 8-20-7 and their last win at Columbus was back in the MLS playoffs of 2014 when the Revs defeated Columbus 4-2 on November 1st. New England's last regular season win at the Crew however was a year prior in October of 2013.
"Personally, it's one of the teams that we want to beat the most out of anybody in the league, because they just always come out on top against us. We don't know why, but it's a good opportunity this weekend to change that, so looking forward to it." Said Revs forward Juan Agudelo on taking on Columbus. 
The Revs are going to have to stop the services into the dangerous Zardes who already has 3 goals on the season and leads the Crew in shots with 8, 4 on target.
"Denying him service is important, but just being tight to him is really, really important, because he's been finishing everything. If we can do that, we'll have a really good chance" said Revs defender Andrew Farrell on denying Zardes service. 
The Revolution at Crew kicks off at 7:30 pm on Saturday April 6, 2019. 
Revolution Academy: U19s Continue To Roll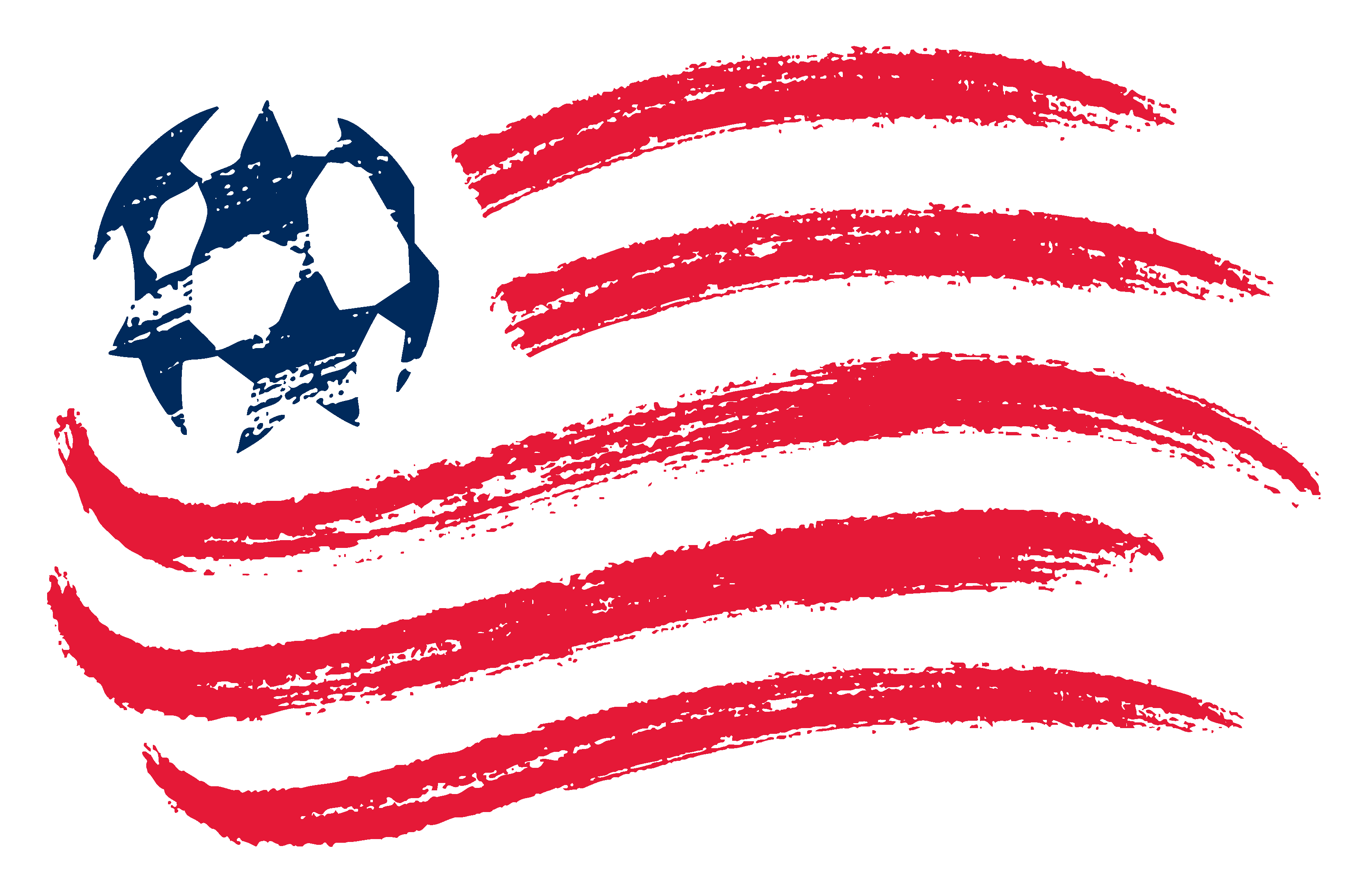 New England Revolution Academy: U19s Continue To Roll
The New England Revolution Academy teams played in a total of 5 matches this past weekend across all age groups. 
Collectively the teams went 1-1-3 with all teams playing New York City FC at St.Johns University on Sunday. 
Season To Date Record And Standings
Under-19's: 9-4-1, 2nd place, Playoff Spot Clinched
Under-17's: 5-8-3
Under-15's: 4-5-4
Revolution Academy Goalscorer's
Under-19s at NYFC, Revs win 2-1
Trevor Burns (Son of Revs GM Mike Burns, three matches in a row with a goal)
Nathan Metsack
Under 17s at NYFC, Revs draw 0-0
Under 15s at NYFC, Revs draw 2-2
Under 14s at NYFC, Revs draw 2-2
Malcolm Fry
Malcom Fry (Brace)
Under-13's vs NYFC, Revs loss 2-1
Upcoming Revolution Academy Matches
All academy teams will play at Gillette Stadium on April 6th against Beachside Soccer club
The U/15 and U/16-17's will also play on Sunday, April 7th against Oakwood Soccer Club also at Gillette.