Revolution Talk: Andrew Farrell "Feel's Great" After Good Injury News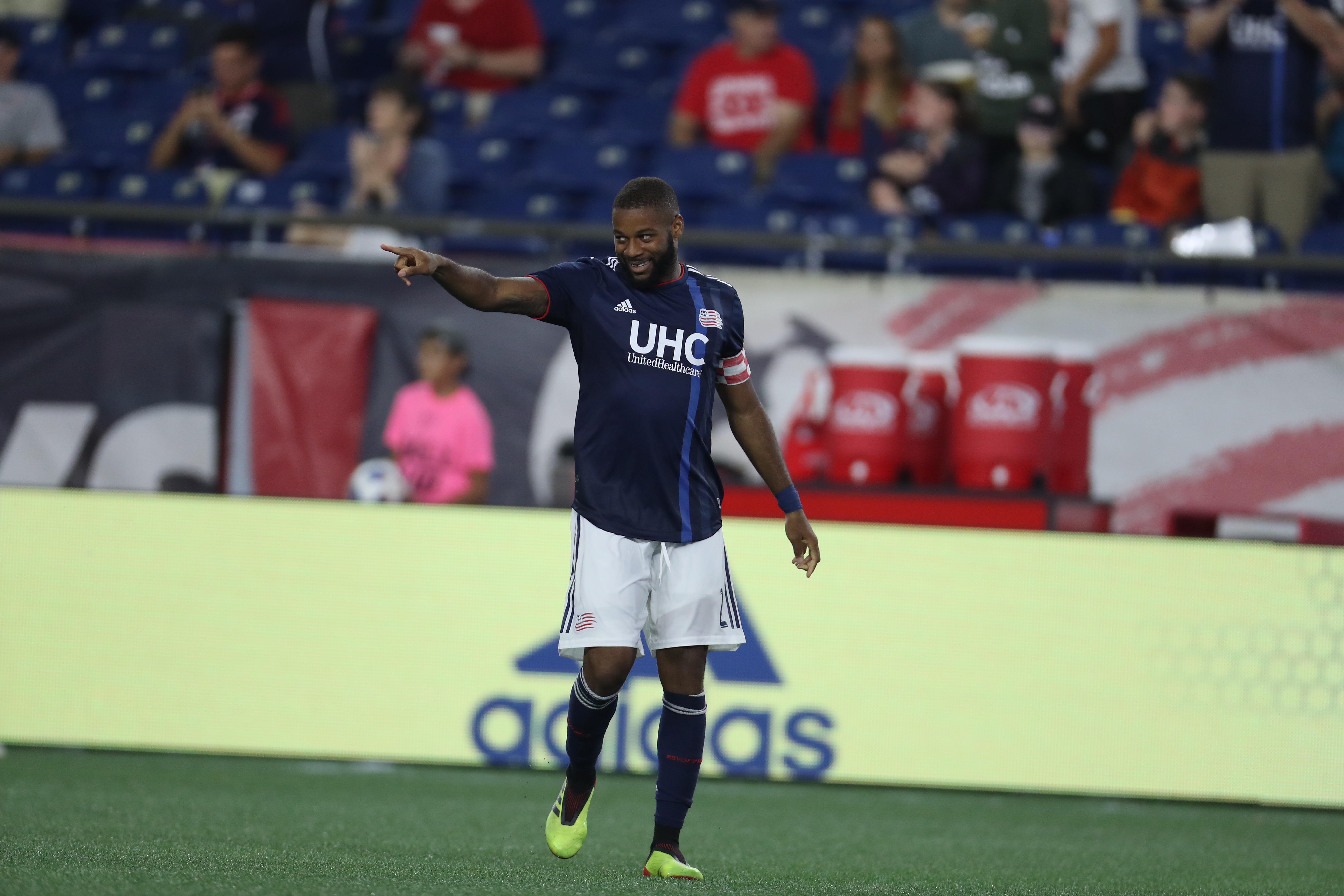 New England Revolution Talk: Defender Andrew Farrell "Feel's Great" After Good Injury News With Farrell Returning Earlier Than Expected
The New England Revolution on Tuesday provided a few key injury updates including the earlier than expected return of Andrew Farrell.
Farrell who has been out since early in preseason with a rupture in his eye after an inadvertent ricochet hit him in his unprotected eye during a training session.
When the Revs started the season the 26-year-old wasn't expected back until April so being part of the starting 18 against Toronto was a bit of a shock to most.
"It was crazy, because the doctor first said April 7 was the date. So, we were just going in for a check up to see how it was progressing. They said the eye was looking great. They couldn't see the rupture anymore and there was limited-to-no bleeding or blood spots left. They were, like, yeah we don't see why you wouldn't be able to join the group. That was obviously great news that Friday, and then came back, packed, and got ready to go to Toronto." said Farrell.
As for where Farrell is at in terms of fitness he was able to get ~3 weeks of preseason under his belt before going down and was then able to maintain his fitness throughout the injury with the one thing he wasn't allowed to do being game action.
"He was able to do a lot of fitness, so I think it's just some match fitness, if you like, and training with the players and being able to go into contact. I think the first few times he had to head a ball was a bit unnerving for him, but he'll be fine. We'll check him out this week, but I don't think there should be any really big issues, because he did get about three, three-and-a-half weeks of preseason under his belt before he had this injury." said Head Coach Brad Friedel.
As for how Farrell is feeling he was fairly update during his Tuesday media availability and is looking forward towards this Sunday's match against FC Cincinnati.
"It's good, all clear – 100 percent. I feel great, happy to be back in full training with the team and being involved with the guys. Looking forward to this weekend." said Farrell.
Despite not playing this past Sunday against Toronto FC, being apart of the 18 was a big step for Farrell.
"I think it was important for me, just because I've been out of it. First, when the team was down in Florida, I missed the whole second half of preseason. And then, when they were out [at training], I was either riding the bike or I was doing running on my own. Just being incorporated with the team and getting to know the guys even more – the newer guys – it was great this weekend. I'm looking forward to continuing to work towards full fitness for this weekend."
Farrell and the New England Revolution will take on FC Cincinnati who is traveling to Gillette Stadium for the first time in the expansions team young MLS life.
Revolution Desperately Need 3 Points Against Minnesota United FC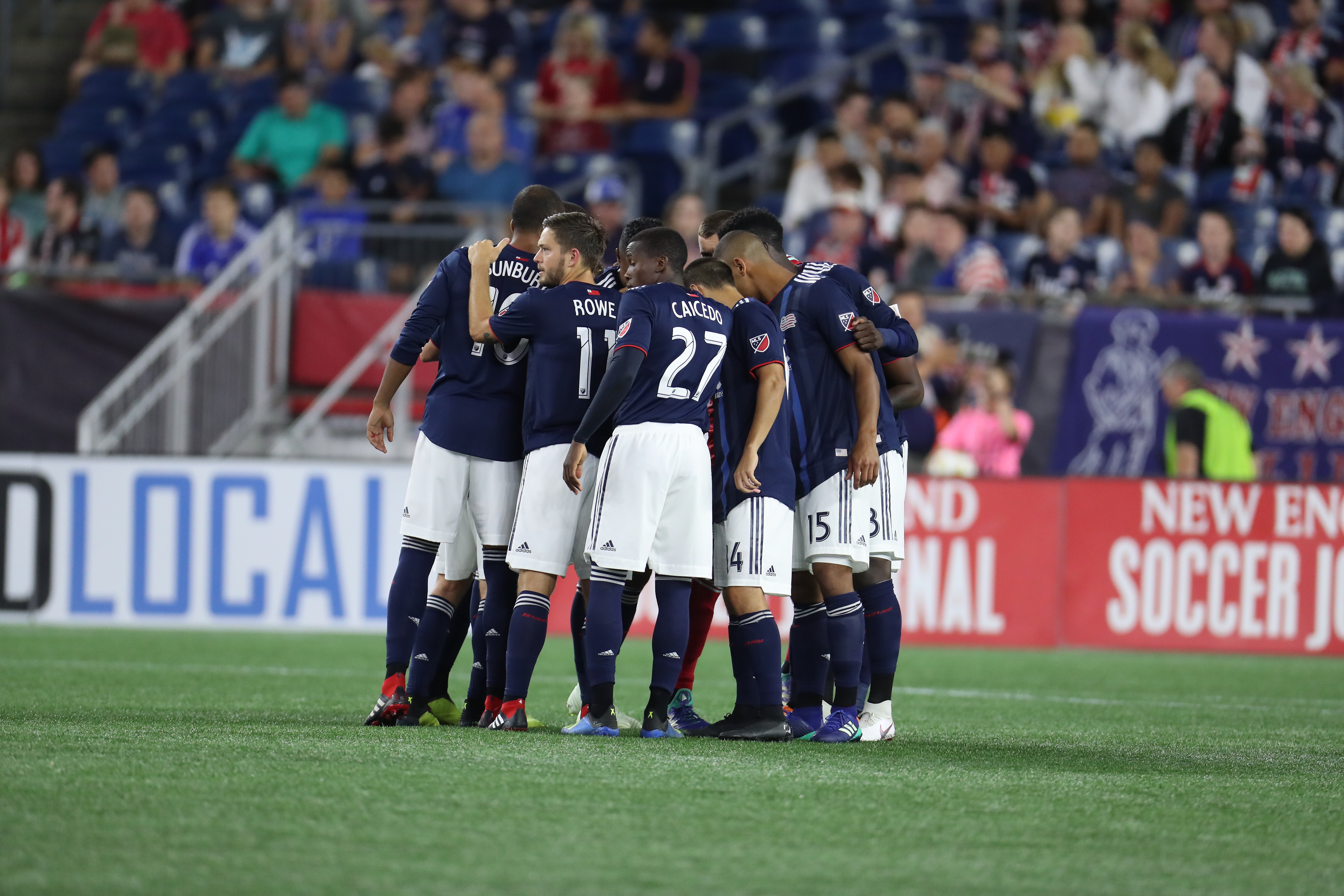 New England Revolution Desperately Need 3 Points Against Minnesota United FC Or Else Things Could Get Ugly Rather Quickly
On Saturday, March 30th, the desperate New England Revolution will take on Minnesota United FC at home in the increasingly anxious Gillette Stadium.
New England enters the match 0-2 in their first two home matches of the year and 0-3-1 overall through 4 games. The Revs biggest challenge has been showing up to games in the first half with New England quickly falling behind with lackadaisical first half play setting them up for big time failure.
"It's massively important. We can't wait to go a goal down before we realize, 'Oh, we need to start playing now.' We need to come out from the first whistle and make sure that we're on it." said Captain Michael Mancienne at training.
Surprisingly enough the Revs have been able to turn on the jets and look like professionals in essentially every second half performance which has kept them in games and given the overall impression that they have been able to compete despite their embarrassing record to start the young MLS season.
So entering Saturday's match with a positive attitude and a 100% effort will be critical to their success against a Minnesota team that enters the match with a 2-1-0 record despite having played every match on the road to start their MLS campaign.
The Revs will have their hands full with Minnesota having a solid start to their season and have a very dangerous player in Darwin Quintero. Quintero, an MLS All-Star in 2019 already has 2 goals and 3 assists through just 3 games.
"He [Darwin Quintero] is a fantastic player. We played against him in preseason down in Orlando, and we saw glimpses of what they were looking to do in the season. So, we'll try and pull some things from that game that we had seen and see how they've done throughout their results so far this season. But the game plan, like I said, comes down to us and how we take it to an opponent here at home." said goalkeeper Brad Knighton.
New England is 1-0-0 at home against Minnesota and 1-1-0 all-time.
Brad Friedel's club will be without Isaac Angking and Justin Rennicks due to injuries and Zachery Herivaux and Brian Wright on loans with Birmingham Legion FC.
United FC lineup last time out against LA Galaxy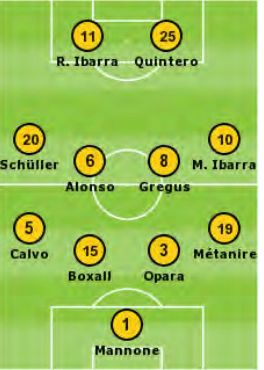 Revolution Lineup Last Time Out Against FC Cincinnati
The New England Revolution will take on Minnesota United FC at 2 pm on NBC Sports Boston and on 98.5 The Sports Hub.
New England Revolution Smartly Lock Up Scott Caldwell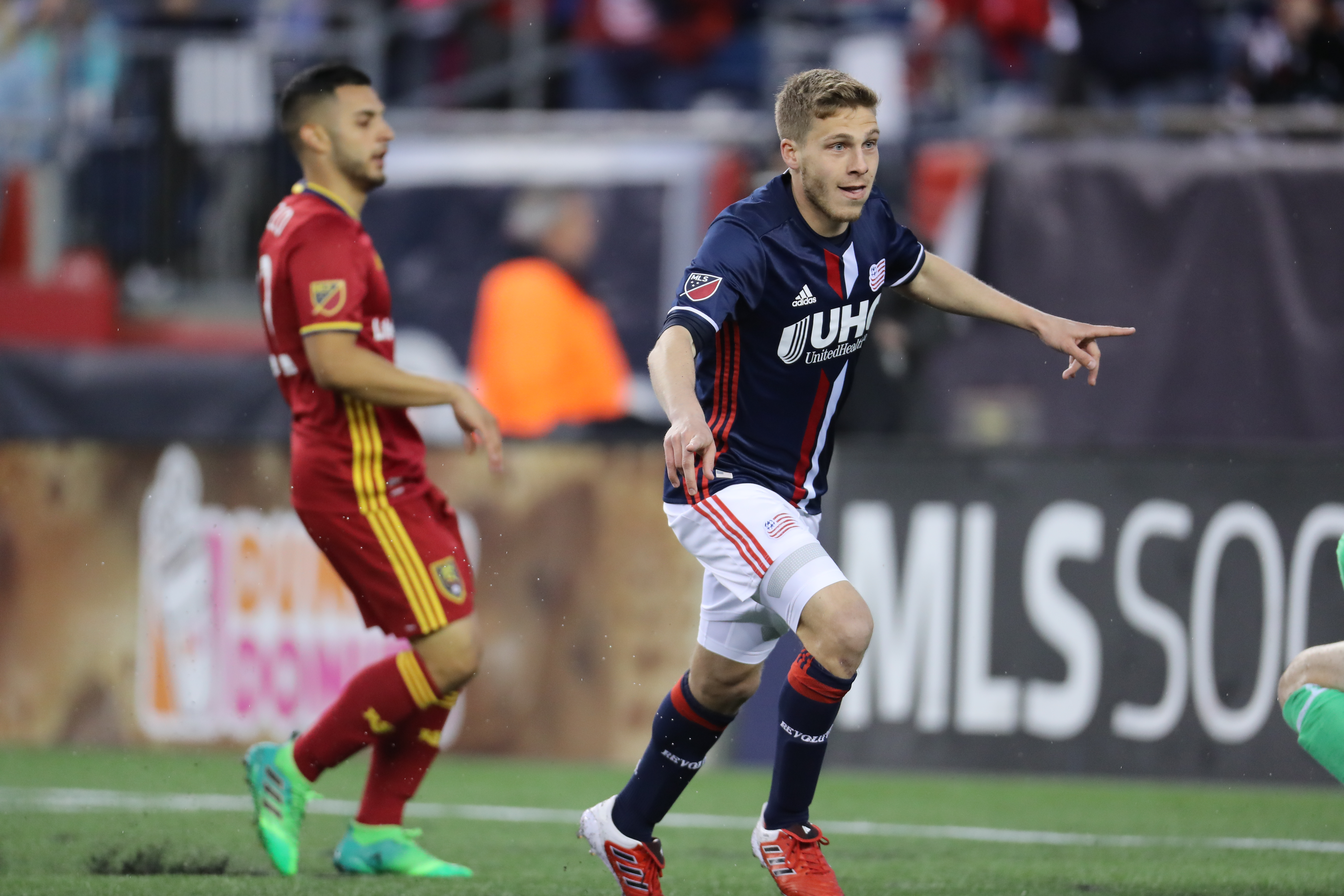 New England Revolution Smartly Lock Up Homegrown Midfielder Scott Caldwell To A Multi-year Deal
On Thursday the New England Revolution announced that they had signed midfielder Scott Caldwell to a multi-year contract extension.
Caldwell, now 28-years-old, is the midst of his seventh professional season after signing with the club as the second ever Homegrown Player in franchise history.
The Braintree native has appeared in 182 regular season games, 149 of them starts, with more than 13,000 minutes played for the Revs.
In MLS play Caldwell has recorded 5 goals and 17 assists but his contribution to the Revolution goes way beyond that.
"Scott is such a valuable part of our team and organization, and he has set the perfect example for what it means to represent New England and this club." Revolution General Manager Michael Burns said. "Whether it was setting the foundation for our Academy back in 2008, leading the first team over these last seven seasons, or the countless hours he commits to his work in the community, Scott's contributions to the Revolution cannot be overstated. I look forward to seeing him continue to lead this club both on and off the field."
Currently Caldwell has 149 starts, 10th best in club history and one shy of the 150 mark.
The terms of the contract where not released but locking up Caldwell makes all the sense in the world. Caldwell puts in the work and is one of the leaders on the team and a mainstay to the fanbase and in the community
Caldwell and the Revolution will take on Minnesota United FC this Saturday at Gillette looking for their first win of the MLS season.
New England Revolution Know A Win "Can Change Everything"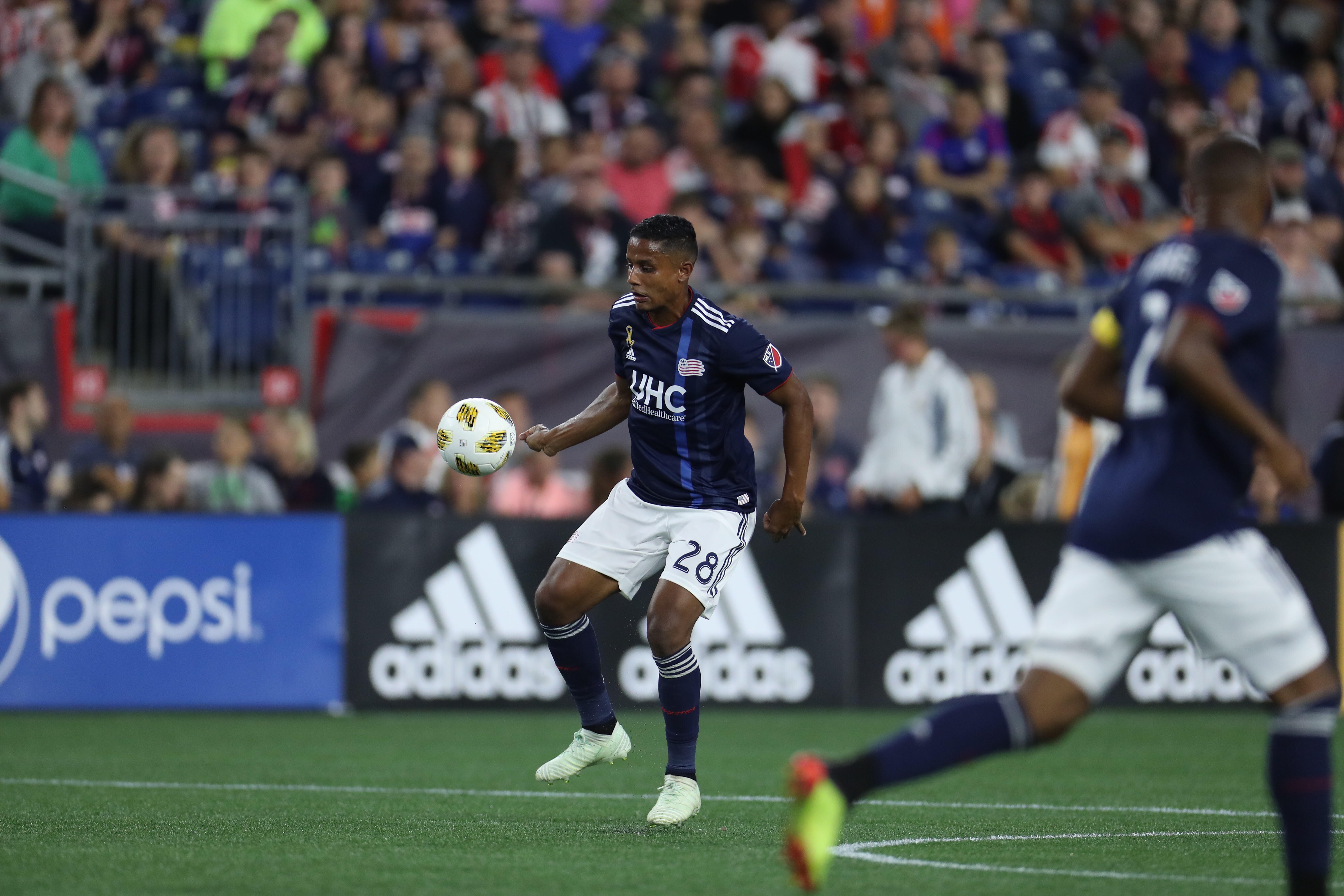 New England Revolution Know A Win "Can Change Everything" As They Look To Turn It All Around On Sunday Against Minnesota United FC
The New England Revolution are currently 0-3-1 on the young MLS season after posting an embarrassing 2-0 performance against FC Cincinnati last Sunday on their home pitch of Gillette. 
New England understands the need to bounce back with Captain Michael Mancienne saying: "Just got to pick everyone up. Obviously, we're on a bit of a low at the minute. It's never nice losing games. Everyone wants to win. It's a part of being a sportsman. You want to win everything that you do. It's tough at the moment, but just got to pick the boys up. We've just got to focus on the next game, because we can't change the past at the moment."
For the Revs all it takes is one win, one win to turn it all around and stop an early season skid. 
"It can change everything. One win can turn a whole season around. You can go on a little run after one win, and confidence comes back, confidence is high. You can go on a string of games and win a lot of games. One win is vital." said Mancienne at training.
New England does have a rather tough task on their hands though against Minnesota United FC on Saturday. Despite having home field that might not be that much of an advantage for the Revs this time around. 
So far this season the Revolution are 0-2 at home and Minnesota who hasn't played at home yet has a 2-0-1 record. 
Nothing comes easy, but failing to win on Saturday could make the Revolution hole unsurmountable and might be enough to put Brad Friedel and others on the hot seat rather quickly.