Patriots Talk: Steelers Are Opponent on Season Opener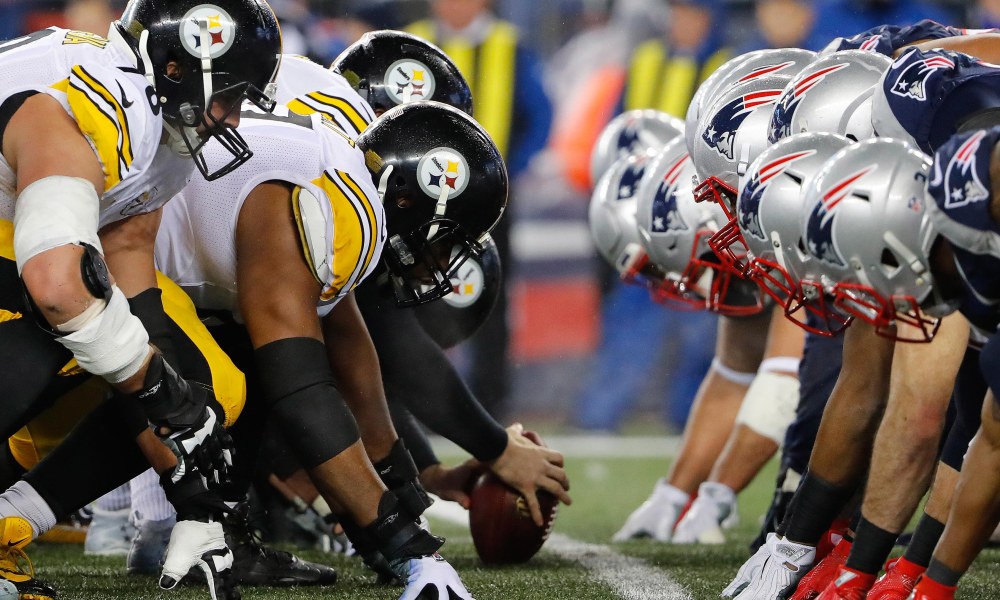 Looking forward to seeing many of you along the way… pic.twitter.com/2gcOAgWfKt

— Mike Reiss (@MikeReiss) April 18, 2019
The Patriots 2019 season schedule was released just yesterday, along with all NFL teams. (for furth info, see our article on the 2019 schedule) Like most expected, the schedule appears to be pretty standard for the most part. The onyl exception is that the Super Bowl champions will be facing their long-heated rival; The Pittsburgh Steelers. 
The reason why this game is so important is because of the significance between both teams. The Pittsbugh Steelers for the last decade have been the sole team to have six Super Bowl Championships…until the Patriots won their sixth ring this year. And to unveil their sixth banner, in front of their hated rivals, who now have to share their title 'of most rings for an NFL team', on Sunday Night Football, at the start of the season, is the definition of "must watch." 
Let's not pretend Roger Goodell is bewildering idiot, because he is far from it. While this game will be entertaining, it's not a coincidence why this game is happening on prime time TV. On top of this, it's the NFL's 100th anniversary since it's creation. The timing and just sheer tension, is a definite markdown on your calendars. The NFL wants to make money, and this for sure, will be one of those games. 
A Heated Rivalry
Last time the Patriots opened with the Steelers was in September 2015. That's when Mike Tomlin complained about having to listen to @scottzolak https://t.co/Htmo0ocmMl during the game. https://t.co/kIAPMTDAIB

— Tom E. Curran (@tomecurran) April 17, 2019
It's not secret that the Patriots and Steelers have history. Since the start of the Bleichick and Brady era, the Patriots have dominated the AFC for almost 20 years. The Steelers are the only team that has managed to make multiple Super Bowls within that era alongside the Indianapolis Colts and Denver Broncos (both led by Peyton Manning). 
The Patriots started out with no rings before 2001, and the Steelers had four rings from the 70s Steelers who were led by coach Chuck Noll, Terry Bradshaw and the Steel Curtain Defense. Then the Patriots won three rings within 4 years. The the Steelers won two rings in 2005 and 2008. And for nearly a decade the Steelers were the lone team that had that record. Until this season. 
The fact this game is happening on the same night of the Pats sixth Super Bowl banner being unveiled is just rubbing it in the face of the Pittsbugh organization. And it's going to be televised nationally. This game will be a ugly to see as the Steelers have had a very tough off-season. Losing Anotnio Brown in one of the most over dramatic (and pathetic) sabotages that the NFL has possibly seen, was bad. Losing Le'Veon Bell in free agency was too. Then the locker room becoming involved just made things worse. 
Bottom line, the Steelers didn't have a good off-season and Coach Mike Tomlin and Quarterback Ben Roethlisburger looked like incompetent leaders (both on and off-the field). This game is just begging for these teams to beat the crap out of each other. And I honestly, can't wait. NFL season can;t come soon enough. 
The Patriots had lost last year in the regular season, 10-17 to the Steelers. But this year, it will be the season opener, not Week 10. This one will be for the books. The opener will be on Sunday, Sept. 8th at 8:20 PM EST on NBC.   
New England Patriots 2019 Schedule Officially Released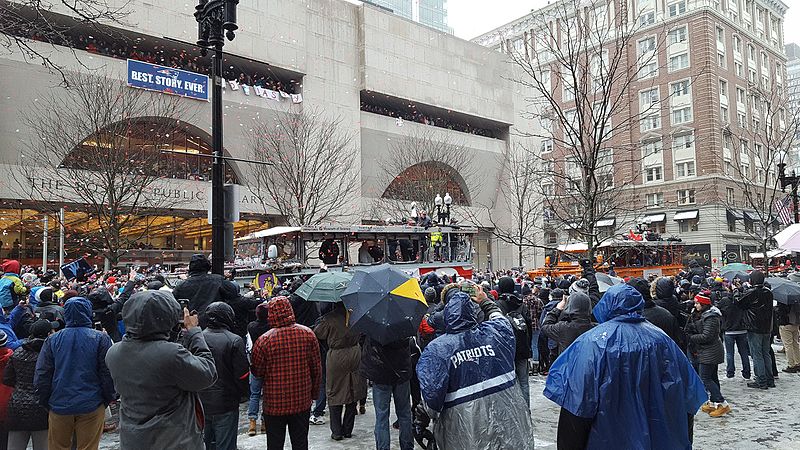 New England Patriots 2019 Schedule Officially Released, Season Opener Hosting Pittsburgh Steelers
At 8 pm a gift was presented to all New England Patriots fans. 
The official 2019 NFL schedule. 
New England will kick off their season on NBC Sunday Night Football against the Pittsburgh Steelers where the Patriots are anticipated to raise their another Super Bowl banner. 
Historically the Patriots have hosted the Steelers three other times for the season opener, two of the three times, 2002 and 2015, the Patriots also happened to be the defending Super Bowl Champions. 
All in all, New England will have 5 prime time games in the 2019 season with the other four being against the New York Giants, New York Jets, Baltimore Ravens, and the Houston Texans. The 5 games matches the 2018 total for New England. 
Following their season opener hosting Pittsburgh the Patriots will jump right into AFC East play with their next three opponents being the Dolphins, Jets, and Bills. 
See below for the full 2019 Patriots regular season schedule as well as their preseason slate. 
Patriots Announce Signing Of Demaryius Thomas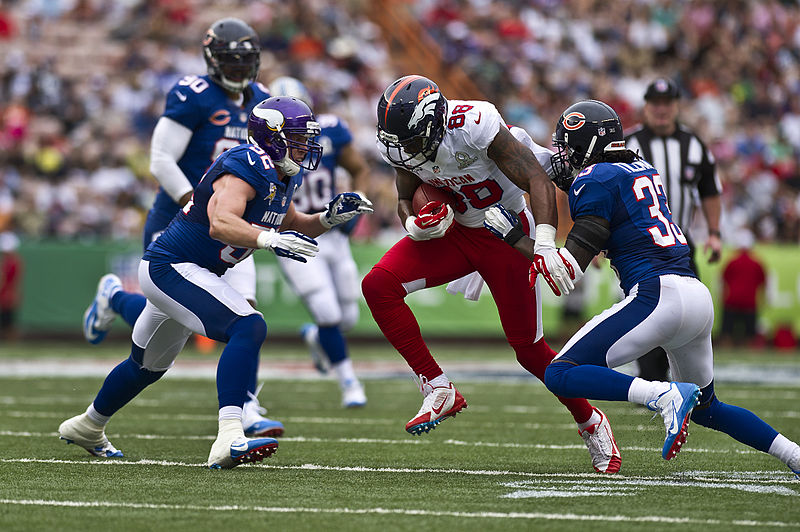 On Tuesday the New England Patriots announced that they had signed free agent wide receiver Demaryius Thomas and re-signed restricted free agent defensive back Jonathan Jones.
The terms of both deals were not announced.
Thomas, now 31-years-old, has played nine NFL seasons with the majority of his career coming with the Denver Broncos from 2010-18 and then last season with the Houston Texans.
The former first round pick has played in 132 career NFL regular season games with 118 starts totaling 688 receptions for 9,930 yards and 62 touchdowns.
In addition he has 10 postseason starts logging 53 receptions for 759 yards and six touchdowns and helped the Denver Bronco's to their Super Bowl 50 win. The former Bronco had a five years treat he where he logged 1,000 yards or more and he set the Bronco's single-season yards record with 1,619 receiving yards in 2014.
Thomas is one of three NFL players that include Marvin Harrison and Jerry Rice to log three consecutive seasons of 1,400+ yards and 10+ touchdowns.
Peyton Manning's former weapon started the first 8 games of last season with Denver before being traded to Houston. He was injured in the regular season finale and placed on IR for the playoffs.
As for Jones, he is 25-years-old and has logged three NFL seasons all with the Patriots.
He signed as a rookie free agent out of Auburn back in 2016 and has played in 48 regular season games with 10 starts and has 92 total tackles, 2 1/2 sacks, four interceptions, 16 passes defense, and 18 special teams tackles.
He has also played in seven postseason games with two starts.
Patriots Talk: Patriots Draft Needs Following Free Agency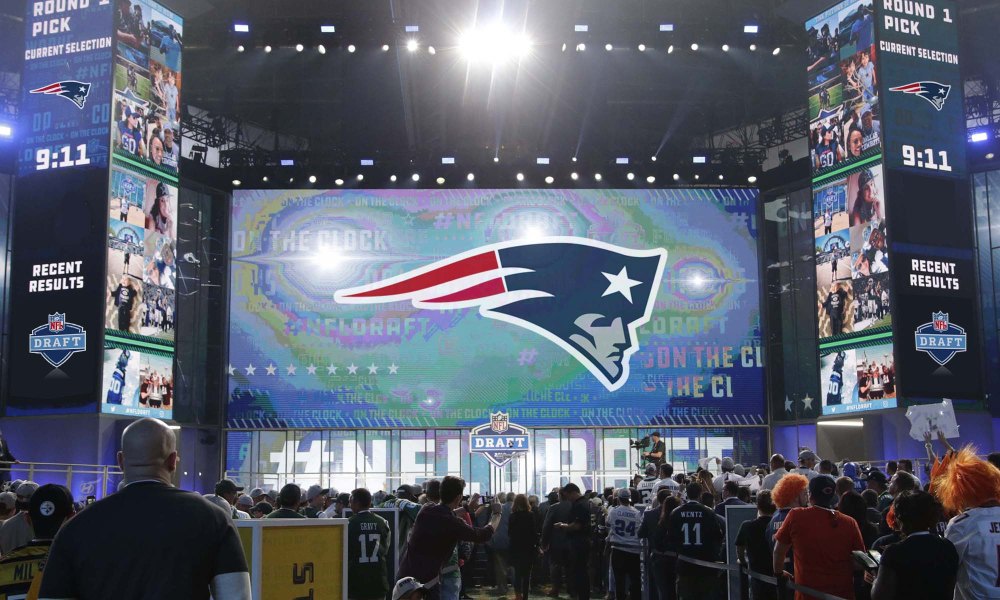 Draft Day Is Closing in as Free Agency Slows Down
Source: Pats retain Gostkowski with 2-year deal https://t.co/qZWebu2gyh pic.twitter.com/zyLyzA6QaL

— ESPNBoston (@ESPNBoston) April 9, 2019
Once again, draft season is in full swing as the annual NFL draft looms ever closer. This year as the Patriots are Super Bowl Champions, they will be picking last in the first round (something they have now done six times in almost 20 years. It's still quite remarkable but at the same time, the worries are that the team will be having difficulties making up for the lost talent in key positions. Especially on the defensive side as Belichick is likely to be taking over the defense as it's coordinator in 2019. This came with the news that Greg Schiano, former head coach for Rudgers and theTampa Bay Buccaneers, turned down the opportunity to work as the defensive coordinator for 2019. 
While the Patriots are still currently favorites to win Super Bowl 54 this season, it's way too soon to be certain that is possible. Right now, the Patriots have to reload on many key positions for the 2019 season. They currently have 12 picks (six of them being in the top 101 of this draft), which is tied with the New York Giants, for the most amount of picks. The last time Belichick picked with that amount was in 2009. (Same draft where Patrick Chung and Julian Edelman were selected) 
The Patriots will need to think heavily on how much they can gain from this year's class it is loaded with defensive linemen and plenty of depth players for both WR and TE. It is ideal that the Patriots looking into possibly double dipping at several of these positions as most of the current free agency signings don't spell guaranteed success on opening day. 
---
Patriots Free Agency Is Likely Over
Updated #Patriots offseason activity after re-signing Gostkowski. Pats can now attack WR, TE, OT, DL in the draft with kicker secured. pic.twitter.com/uY1mb4DRmf

— Evan Lazar (@ezlazar) April 9, 2019
With the news of Kicker Stephen Gostkowski being resigned, the Patriots special teams is seemingly set for the next few years. Now, its only a matter of how much can their free agent signing really contribute once roster cuts begin following training camp. 
With the way things are now, the Patriots have an opportunity to add plenty of youth to this team. But there are a number of issues that still need to be recognized. The team has signed multiple free agents this offseason. The lastest is former Jaguars TE Austin Seferian-Jenkins to a one year deal. While this means he is the replacement for Gronk, he is not the future. A lot of free agents are not always like that. Belichick's method has always been: use free agency to fill needs, use the NFL Draft to build up depth and potential future starters. As of now, the Patriots are still stuck with glaring holes in key positions. The Primary needs are clearly WR, TE, and EDGE. Those are clearly issues that will need the most attention. 
Patriots Draft Targets: Wide Receiver
The Patriots had longtime Broncos WR Demaryius Thomas and former Jaguars RB T.J. Yeldon in for a free agent visit today, per source. They continue to look for more offensive weapons.

— Field Yates (@FieldYates) April 10, 2019
Right now, the Patriots most glaring weakness is in their receiving core. If Belichick has looked normal to some when it comes to his drafting it;s clearly at wide receiver. It's been pretty bad in terms of track records such as with Chad Jackson or Aaron Dobson. The current receiving core consists of: Julian Edelman, Philip Dorsett, Braxton Berrios, Bruce Elington, Maurice Harris, Damoun Patterson and Special Teams Captain Matthew Slater. That's quite alarming especially since roster cuts haven't even begun. 
The Patriots haven't slept on this though, it's very obvious to anybody this squad needs youth. So far these are the wide receivers the team has scouted out: 
Miles Boykin (Notre Dame)
A.J. Brown (Ole Miss) 
Marquise Brown (Oklahoma)
Mecole Hardman (Georgia)
N'Keal Harry (Arizona State) 
Gary Jennings (West Virginia) 
David Sills V (West Virginia) 
Nsimba Webster (Eastern Washington) 
The shocking thing is that A.J. Brown, Marquise 'Hollywood' Brown and N'Keal Harry are projected to be 1st round picks or at the very least early second round. The Patriots have scouted out several late round sleepers such as Miles Boykin (who according to SPARQ| Three Sigma Athlete for the 2019 combine, he scored the highest score possible on their data sheet). David Sills V was a former QB who transitioned to WR, so there is little doubt he is a very likely a target in the 3rd or 4th round.
But the oddest outlier is that Clemson WR Hunter Renfrow or even Nebraska's Stanley Morgan Jr. (Not related to the Patriots legend of the same name) have yet to be interviewed. Typically, the Patriots have only a hand full of players they interview. A lot of players that the Patriots don't interview, go through the players teammates. It's very tough to say which of these players the Patriots will go after but it's comforting to know the team has a very vested interest in this class. 
---
Patriots Targets: Tight End
The #Patriots are reportedly set to meet with another top tight end from the 2019 NFL Draft.

Could Jace Sternberger help fill the void left behind by Rob Gronkowski?https://t.co/ArfGdUt2m9

— NBC Sports Boston (@NBCSBoston) March 31, 2019
The tight end position is likely never to be filled fully. Rob Gronkowski is likely to go down as the greatest TE the Patriots have ever had, and quite possibly of his generation. Gronk's shoes are very hard to see being filled. But the NFL is a cruel business, its just the nature of things. As of now though, the Patriots have shown some interest in this TE class. 
Irv Smith Jr. (Alabama)
Noah Fant (Iowa)
Jace Sternberger (Texas A&M)
Not as vast as the WR interviews, but it's understandable. The Patriots have signed plenty of TEs, it's just that there is no clear #1 starting TE. The current roster consists of: Stephen Anderson, Jacob Hollister, Ryan Izzo, Matt LaCosse and Austin Seferian-Jenkins. 
Going into training camp, if the Patriots chose to go with either Irv Smith or Sternberger in the early 2nd or 3rd round, it would make sense. Hoping for Noah or his teammate, TJ Hockenson to fall into the 20s would be a dream but it would be too much capital to risk unless they can move up (which is very possible). Only time will tell as we get closer to draft night. 
---
Patriots Draft Target: EDGE
This thread from @PFF_AustinGayle should interest #Patriots fans.

Jaylon Ferguson set the Division-1 Sack record this season and was tied for 4th in total pressures among edge defenders this season according to @PFF with 64.

The #Patriots have 5 picks in rounds 2 and 3. https://t.co/eXvFLjdebS

— PFF NE Patriots (@PFF_Patriots) February 2, 2019
The thing about the Patriots defense is that it has managed fine with many players. But a huge consistent presence was with Trey Flowers. Who is now in Detroit after signing his 90 million dollar deal. He deserves every dime of that contract, but the Patriots had no chance at matching that. 
So now the team had to focus on the draft to find a worthy successor. So far, the Patriots have seen only a handful of players: 
Ben Banogu (TCU)
Jaylon Ferguson (Louisiana Tech)
Jalen Jelks (Oregon)
Kingsley Keke (Texas A&M)
While the Patriots have shown serious interest in these players, its none of the high end talent that this class has been known for all year. While this means that Patriots will be selecting the scraps they will make the most of it regardless. The team currently has Deatrich Wise Jr, John Simon and Derek Rivers signed to the EDGE position. 
It's a tough place to be in but the Patriots know they need to increase the pressure at getting to the QB. Getting some serious talent at that position is hard especially since Trey fell into the 4th round in 2015. Which was a blessing for the team but looking at the chances of that happening again are very slim. All the Patriots fans can do is look onward and believe in the Patriots organization to do what they always have: Do Their Job.