Red Sox Prospect Michael Chavis Second Base Work Errorless Thus Far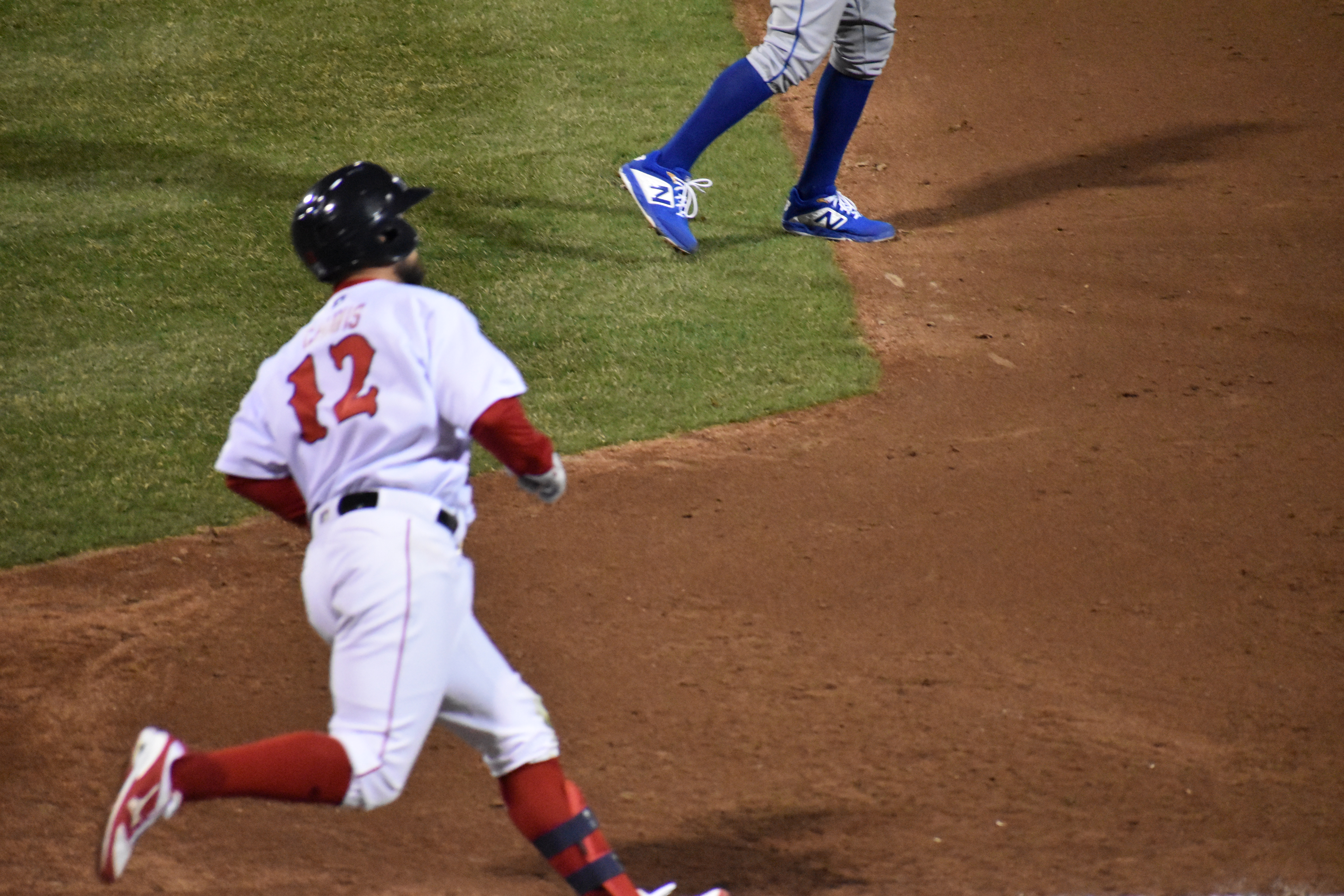 Boston Red Sox Prospect Michael Chavis Second Base Work Errorless Thus Far As He Try's To Provide Defensive Versatility To Organization
Boston Red Sox number 2 prospect Michael Chavis is in the midst of a defensive conundrum.
Chavis throughout his professional career has predominantly played third base, but has seen time at shortstop early on and most recently at first base to create defensive versatility out of the 23-year-old.
Most recently however Chavis has been tasked to work at a completely new position, second base.
"So far so good." Said PawSox Manager Billy McMillon.
So far this season the former 2014 first round pick has logged 35 innings at second base.
"There has been one play that I can think of that there was a little bit confusion on. But, he moves around a lot better than I had originally thought." Said Manager McMillon
That one play hasn't come back to bite Chavis however as he has had an errorless start to his second base life. The Georgia native has had 18 total chances, 7 put outs, and 11 assists while helping to turn 3 double plays.
But with only 35 professional innings across 4 games there is still plenty of work to be done to develop Chavis into an everyday second basemen.
"Certainly has plenty of arm strength over there. I think he just needs more experience over there." Said McMillon.
For now Chavis will continue to see time at third, second, and first base throughout the 2019 season. His main asset is his bat with a .257 minor league average entering the 2019 season with 63 home runs and 231 RBIs in 401 games.
With the log jam in the majors at third base and Bobby Dalbec sitting in Portland Chavis is trying to do all that he can to offer the organization versatility to earn his first major league call-up.
PawSox After Trailing By 7 In The 1st, Defeat Bisons 11-8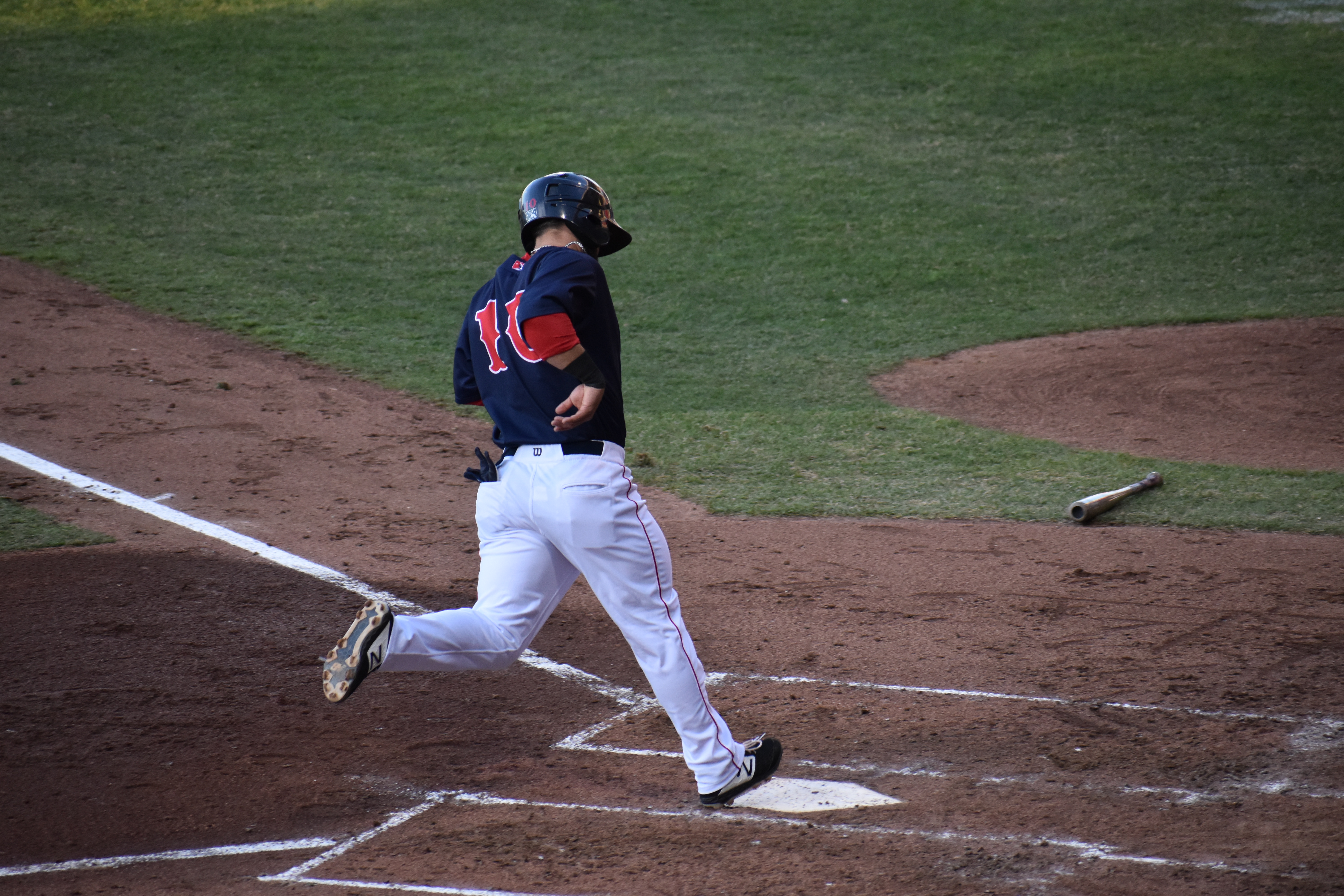 PawSox After Trailing By 7 In The 1st, Defeat Buffalo Bisons 11-8 After "Scratching and Clawing" Their Way Back Into The Game
On Wednesday in the series finale against the Buffalo Bisons the PawSox overcame a 7 run first inning to win 11-8. 
Pawtucket with the win avoids the series sweep and move to 7-6 on the season. 
"I think throughout the organization we always preach 27-outs, and guys didn't give up. It was really good to see the moxie that these guys showed." Said Manager Billy McMillon. 
Shepherd Removed After Recording Two Outs On 39 Pitches 
Chandler Shepherd's outing for the PawSox on Wednesday did not go according to plan.
Shepherd who was tasked to pitch the series finale against the Buffalo Bisons only lasted .2 innings before being lifted with what ultimately became a 7-run deficit on the board.
The second-year starter's troubles started right out of the gate but for a second it looked like the PawSox could escape the top of the 1st unscathed.
With two-outs Shepherd was able to get the inning ending ground ball out off the bat of Anthony Alford. But with the sun blasting down onto first base first basemen Josh Ockimey wasn't able to snag the throw in allowing the inning to continue.
This was ruled a catching error on Ockimey and was immediately capitalized by the next batter Richard Urena who tripled to right field to quickly make it a 3-0 game.
Buffalo would go on to score 7 runs in the first with Shepherd being lifted after throwing 39 pitches in favor of Dan Runzler.
Shepherd of course allowed 7 runs, all unearned due to the error by Ockimey over at first base.
The sun proved quite difficult for the big man early on with a throw in the 2nd inning by Michael Chavis also causing Ockimey a lot of trouble.
Baseball's top prospect Vladimir Guerrero Jr. joined in on his teammates fun in the top of the 4th inning with a 441 foot solo shot clearing the signage in left field to make it an 8-4 ball-game at the time.
"I knew Shep was battling" said Runzler after the game."He was competing making pitches and it just wasn't going his way. My whole goal was to just get us through that inning and keep going till they wanted to get me out of the game." 
Runzler ended up going 2.1 innings allowing 3 base hits and no runs. Including Runzler the PawSox bullpen allowed just 1 run in 8.1 innings allowing Pawtucket to battle right back into the game. 
"Wasn't looking good there, starter didn't get out of the first" said PawSox Manager Billy McMillon. "7 unearned runs, bullpen did a really good job. Kept us in the game for us, cannot say enough about their efforts."
PawSox Offense Battled Back, Run By Run, They Won The Game 
The PawSox offense got things going in the bottom of the 2nd when catcher Juan Centeno doubled to the right-centerfield wall to make it 7-2
With the PawSox pressing Mike Miller was able to follow up Centeno with a double of his own to make it 7-3. With the doubles coming Tzu-Wei Lin hopped on the train to make it 7-4.
Pawtucket's offense wasn't done at 4 runs however, in the bottom of the 7th inning it was Boston's Number 1 prospect Michael Chavis who hit a 2-run shot clearing the left field wall to make it 8-6. 
This was the third home run of the home stand for Chavis, his first 470 ft, 2nd 467 ft, and his final on Wednesday traveled 434 feet coming off the bat at 112 mph. 
An inning later, it was a Gorkys Hernandez single that made it a 8-7 ballgame before Tzu-Wei Lin belted a double to left-center field driving in two runs and giving the PawSox a 9-8 led. 
Pawtucket looking to cushion their lead did just that with a 2-run single from Sam Travis to make it 11-8. 
"Big win for us." Said PawSox infielder Mike Miller. "Especially after dropping the doubleheader yesterday. They kind of did the same thing to us yesterday, came back int he 9th and scored 3 or 4. So to be down early, fight back, scratch  and claw our way back into that game was huge to us. Especially that we have an off day now and feeling good going to Syracuse and hopefully keep it rolling up there." 
Onto To Roadtrip To Syracuse
Pawtucket will have their first scheduled off-day of the season on Thursday as they travel to Syracuse to take on the Mets. 
For the PawSox it is much easier to now mike the trip with a win in their back pocket than being swept in the series. 
"It's a long bus ride to Syracuse" said McMillon. "It would have been even longer, second guessing would have happened. Got the W, so it will be a livelier bus." 
The three-game set kicks off on Friday with Josh Smith on the hill for a 6;35 pm first pitch. Saturday and Sunday are both 1:05 pm starts with Ryan Weber and Mike Shawaryn going in the order. 
Syracuse's starters are TBA at time of post. 
Pawtucket will return home to McCoy on Monday for a week-day set against the Lehigh Valley IronPigs. 
Red Sox Prospect Mike Shawaryn Battles As Paw Sox Swept In Doubleheader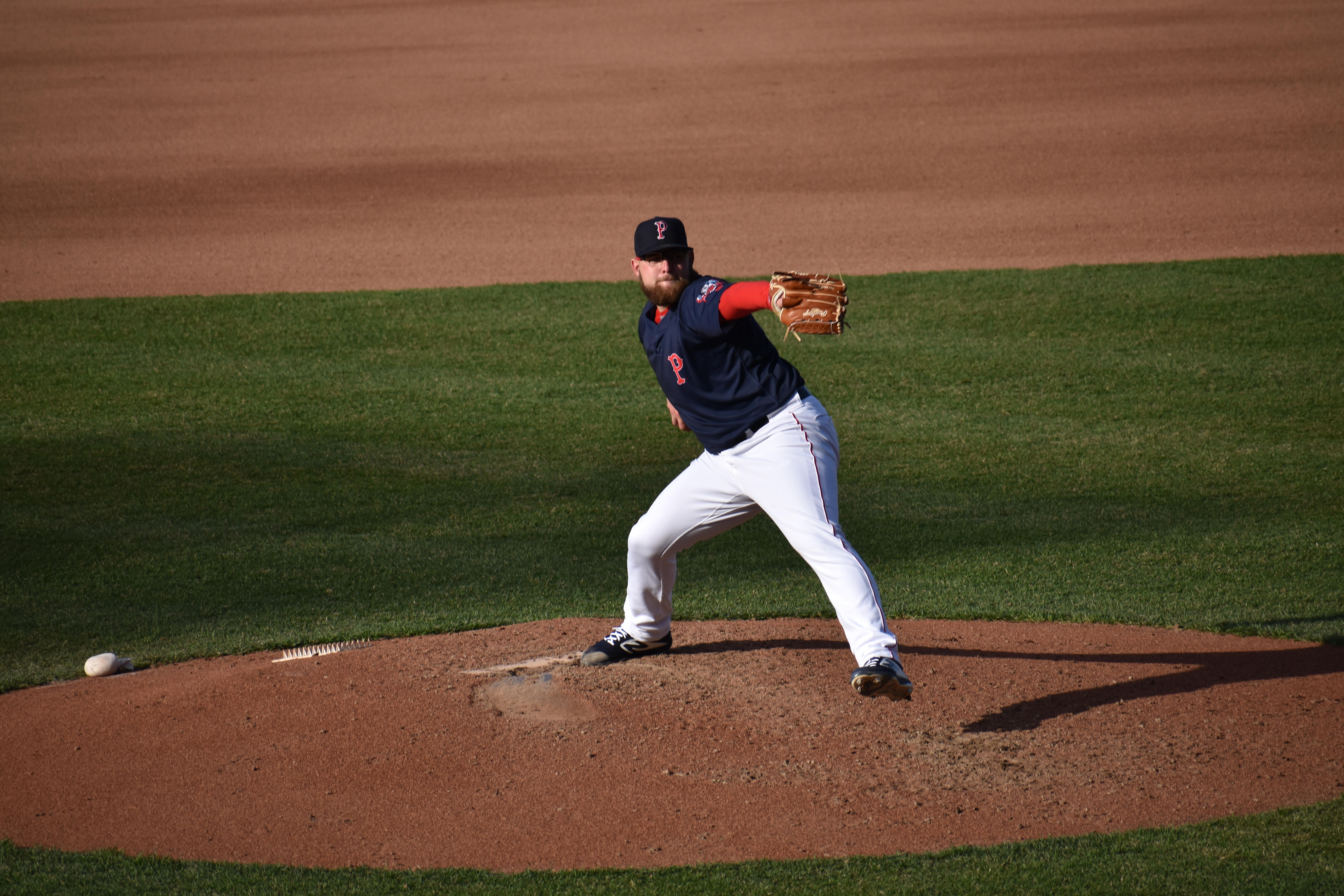 Pawtucket Red Sox Drop Both Ends Of Doubleheader With Buffalo Bisons, With Brock Holt Rehabbing In Game One
The Pawtucket Red Sox were rained out on Monday night when they were supposed to face off against the Buffalo Bisons in game one of their three game series. Due to the rain out, there was a doubleheader at McCoy Stadium on Tuesday. In game one, the Paw Sox fell to the Bisons by a score of 2 to 1. 
The Paw Sox went on to lose game two of their doubleheader too by a score of 5 to 4. Domingo Tapia started the game as an emergency starting pitcher, and pitched pretty well in three scoreless innings. But the Paw Sox blew it in the 9th inning by giving up four runs to the Bisons. 
Paw Sox Game One Loss To Bisons
The Paw Sox loss game one of their doubleheader against the Bisons by a score of 2 to 1. Mike Shawaryn started the game for the Paw Sox, going 6 innings, giving up two runs on six hits on 95 pitches (61 strikes). 
"First inning was a grind. But he was able to get through 6. Tough way to give up that second run" said McMillion after game two of the doubleheader. "[Shawaryn] battled, he competed, he kept us in the game, and we were one swing away from tying the game or possibly taking the lead". 
In the bottom of the seventh inning, with two outs, Tzu-Wei Lin hit a ball into the left-center field gap. It would have been an easy double, but Lin tried to stretch it into a triple but was thrown out at third base with Brock Holt on deck. That ended the ball game.
Brock Holt was making a rehab start in game one as well. He started the game at shortstop and batting second for the Paw Sox. In three at-bats for Holt, he went 0 for 2 with two strikeouts and a walk. He had a few good plays at shortstop as well.
Major league baseball's top prospect, Vladimir Guerrero Jr. played in game one of today's doubleheader too. He did not play in game two. The Paw Sox were able to keep Guerrero hit-less in three at-bats. He would have had a fourth at-bat in the seventh inning, but Lourdes Gurriel Jr. lined into a double play to end the inning. 
Paw Sox Drop Game Two As Jenrry Mejia Blows Save
Domingo Tapia started in an emergency for the Paw Sox in game two. That's because the original scheduled starting pitcher Erasmo Ramirez was called up to Boston earlier in the day. Tapia pitched well as a spot starter for McMillon in 3 innings of work. He only allowed only one batter to reach and he struck out three on 29 pitches (21 strikes). 
"Really good job. He came out gave us way more then we were hoping for. He looked really good. Probably the best I've seen him all year" said manager Billy McMillon when talking about Tapia after the game. 
The Paw Sox got the scoring stared in the second inning of this game as they put four runs on the board quickly. It started when Jake Romanski, who was activated off of the injured list earlier in the day, hit a two run double to make it two to nothing ballgame.
Then one the hottest guy in the Paw Sox lineup, Mike Miller who's hitting .379 on the season, hit his second home run of the season to make it a four to nothing ball game.
The Paw Sox were leading 4 to 1 heading into the top of the 7th inning, but Jenrry Mejia blew the save as he gave up four runs while only recording one out on 30 pitches. 
The Paw Sox close out their three game series on Wednesday night at 6:05pm. Chandler Shepherd is scheduled to be the starting pitcher for the Paw Sox. Brock Holt 
Red Sox Hyper Utility Star Brock Holt Solid In Field, 0-2 At The Plate But Looked Good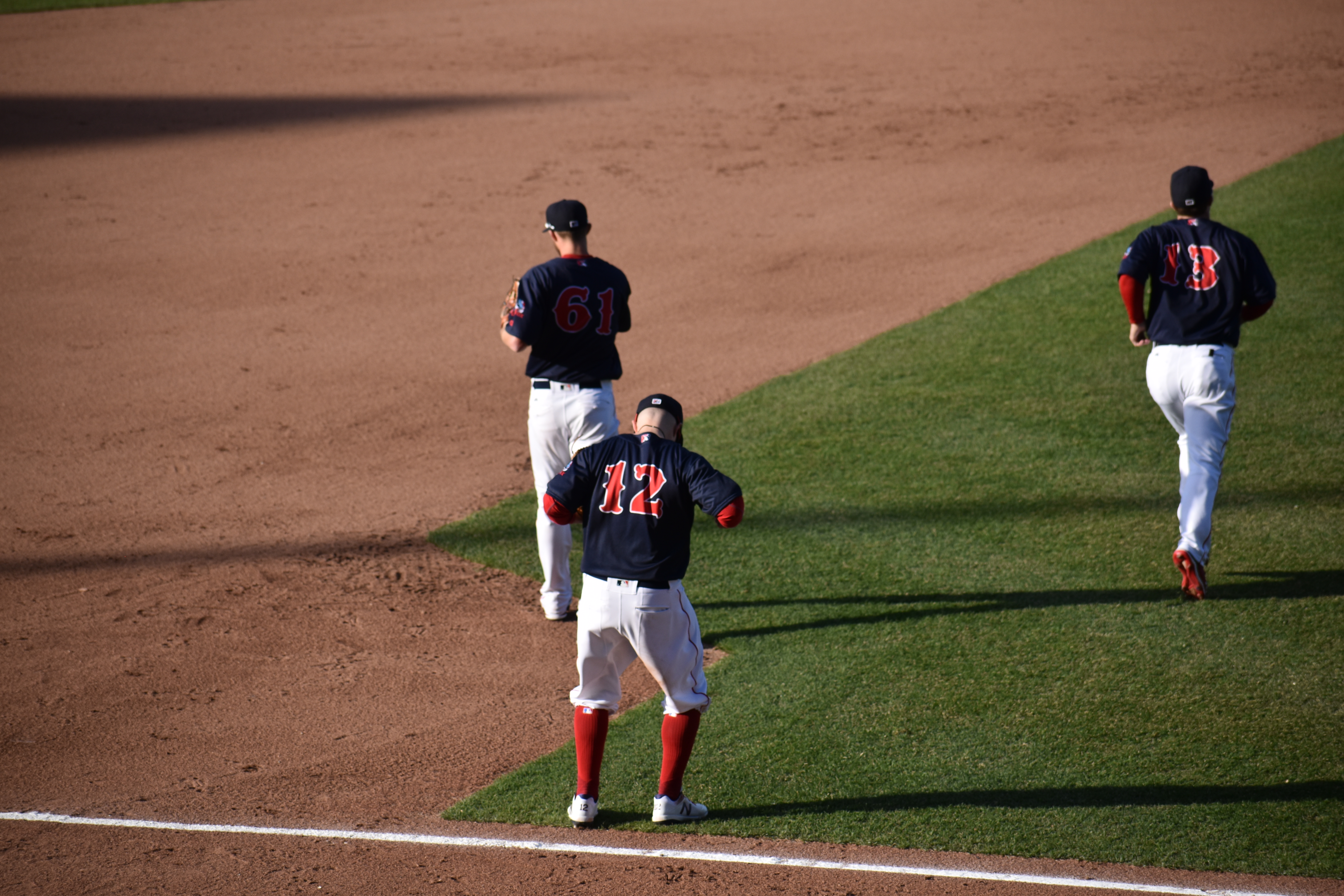 Boston Red Sox Hyper Utility Star Brock Holt Solid In Field, O-2 At The Plate With Two Strikeouts And A Walk, Back In Pawtucket On Wednesday
On Tuesday with the Pawtucket Red Sox Brock Holt played in a 7 inning rehab assignment. 
The 7 inning game was due to the Triple-A franchise playing in a double header against the Buffalo Bisons.
Holt who is the only Red Sox player in history to start at 1B, 2B, 3B, SS, LF, RF, and CF in a single season started at a position where he has only 41 career ML starts at, shortstop. 
Holt batted second in the lineup and played shortstop for the full 7 inning affair that resulted in a 2-1 PawSox loss. Boston's hyper utility star is on rehab after being placed on the 10-day IL with a right eye scratched cornea. 
The former Pittsburgh Pirate 2009 9th round pick went 0-2 at the plate with 2 strikeouts and a walk. Holt was on deck in the bottom of the 7th but Tzu-Wei Lin was thrown out trying to stretch a double into a triple in a play that ended the game. 
"First strikeout was a close pitch, but he battled." Said PawSox manager Billy McMillon."Got a walk, and had another kind of long at-bat before he struck out in his final at-bat. But he looked good out there."
In the field the 30-year-old had 6 total chances, 1 put out, and 5 assists. 3 of the 5 assists came in the top of the 1st inning with Holt assisting on all three of the outs recorded by Pawtucket in the 1st. 
"He did well" said PawSox Manager Billy McMillon after the game."He played well in the field, and had a couple of good at-bats. Struck out, but good at-bats. He seemed to be doing ok with his injury."
The only Major League Player to ever hit the cycle in a postseason game was not  available for comment after the game but the plan for him going forward is to be back in Pawtucket for Wednesday's series finale with Buffalo. 
"Plan as of now is for him to play again tomorrow." Said PawSox Manager Billy McMillon.