The 10's have come to a close with New Years celebrations and 2020 looming in on Wednesday. Over the past ten years a lot has happened both on and off the field for the Pawtucket Red Sox.
Seemingly the off the field business cast a fairly large shadow as the past decade has been one of signaling change for Triple-A Pawtucket. The past decade showed a change in ownership and a push for a new stadium which has led the ball-club to decide to take their franchise to Worcester following the 2020 season.
On the field has been a mixed bag with plenty of the organizations top prospects coming through the doors of McCoy Stadium. Here are some of the marquee names that came through Mondor Way in the past decade either on assignment or as an up and comer.
Please note that big names are only called out in the first year they appeared significantly on the roster.
2010: 66-78 record, 4th Place
Reddick led the PawSox in hits that year with 120 followed by Lars Anderson with 107. Reddick also hit a team high 18 home runs and drove in a team high 65 RBIs. He has gone on to have a rather nice MLB career with a .263 big league average in over 4,000 at-bats.
Kris Johnson led Pawtucket in innings pitched with 132.2 IP followed closely by Adam Mills at 131.2. The strikeout leader was Fabio Castro who wrung up 102 k's in just 104.0 IP.
2011: 81-61 record, 1st place, loss to Lehigh Valley IronPigs In Semifinals
This was the breakout season for Lars Anderson who had a team high 130 hits, 31 doubles, and 78 RBIs. Pawtucket's leader in home runs was Ryan Lavarnway who belted 18 homer runs to go along with his sweet .295 batting average.
Matt Fox led Pawtucket in IP with 129.2 while posting a 3.96 ERA and a team best 10-4 record in 21 starts. Kyle Welland was right behind him with 128.1 IP and a 3.58 ERA while striking out a team high 128 batters.
2012: 79-65 record, 2nd place, defeated Charlotte Knights to win IL Crown
Plenty of big names saw significant time with Pawtucket in 2012 with Mauro Gomez leading all hitters with 120 hits and belted a team high 24 home runs and drove in 74 RBIs.
On the mound it was Brandon Duckworth who led the staff with 110.2 innings pitched while posting a 3.17 ERA and a 9-2 record. Duckworth also led the staff in strikeouts with 93.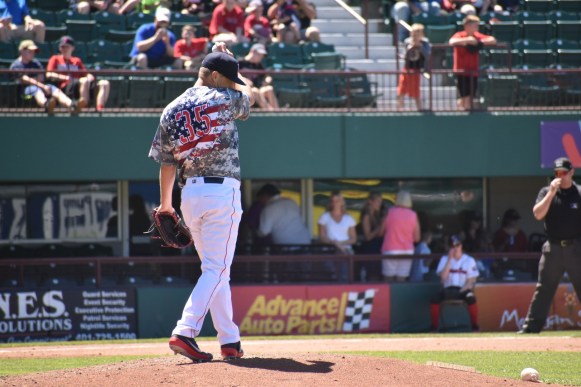 2013: 80-63, 1st Place, loss to Durham Bulls in IL Finals
A number of big leagues came out of this 2013 PawSox team including JBJ and Xander Bogaerts. But they didn't lead the team in hits. The team leader was Jeremy Hazelbaker who recorded 110 base hits. Pawtucket's power leader was none other than Bryce Brentz who belted 17 home runs while driving in 17 RBIs. He was followed in the power column by long-time PawSox catcher Dan Butler who smashed 14 dingers.
As for JBJ, he recorded 88 base hits and had a team high 26 doubles all while flashing the glove in center field building his case to become a full-time big leaguer. Bogaerts on the other hand had 64 hits in 225 at-bats.
On the bump Steven Wright led the staff with 135.1 IP and a 3.46 ERA with his knuckler. He was followed by Allen Webster who owned a 3.60 ERA in 105.0 IP.
2014: 79-65 record, 2nd place, defeated Durham Bulls to win IL crown
Mookie Betts was the clear highlight of 2014 appearing in 45 games and posting a superstar .335 batting average in 185 at-bats. The hit leader for Pawtucket was Alex Hassan with 117 and the power leader was Corey Brown who hit 17 long-balls.
On the bump it was Anthon Ranaudo who twirled a sensational season with a 138.0 innings pitched, a 2.61 ERA, and a 14-4 record in 24 starts. Behind him was a starter by the name of Matt Barnes. Barnes who has since turned into a big league reliever posted a 3.95 ERA in 127.2 IP in 22 starts.
2015: 59-85 record, last place
The hit leader for Pawtucket was the ever versatile Devan Marrero who had 96 hits in 2015. From a home run perspective this was a soft year with JBJ leading the club with 9 home runs.
On the mound Keith Couch recorded a team high 124.2 innings pitched but did so with a 6.14 ERA and a 4-10 record. The real leader of the staff was Henry Owens who posted a 3.16 ERA in 122.1 IP and a team high 103 strikeouts.
2016: 74-68 record, 4th place in IL North
New year different Marrero. This year Chris Marrero lead Pawtucket in hits with 139 while also posting a team high 23 home runs whole driving in 71 RBIs.
Henry Owens led the pitching staff with a 137.2 IP while posting a 3.53 ERA and a 10-7 record and striking out 135 batters.
2017: 67-75 record, 4th place
The hit leader in 2017 was Brentz, he mashed with 122 base hits to go along with 21 doubles, 31 home runs, and 85 RBIS while posting a respectable .271 batting average.
Shawn Haviland led all pitchers with 126.2 innings pitched and a 4.33 ERA. Hector Velazquez broke out as well with a 2.21 ERA in 102.0 IP.
2018: 66-73, 3rd place
Rusney Castillo led the team in base hits with 151 while also posting a. .319 batting average en route to winning a batting title. Another down year for power with Mike Olt's 11 home runs leading the team.
In the rotation it was William Cuevas leading the staff with 135.1 IP, 3.39 ERA and a 10-7 record. Jalen Beeks was also dynamite prior to being traded to Tampa posting a 2.89 ERA in 87.1 IP while striking out 117 batters.
2019: 59-81 record, last place in IL North
Castillo led the team in base hits once again with 128 while also belting 17 home runs and driving in 64 RBIS. Josh Ockimey led the team in home runs belting 25 home runs.
Teddy Stankiewicz led the team in IP with 131.1 and posted a 3.85 ERA.
Coaching Staff:
Managers:
2010: Torey Lovullo, 66-78
2011-12: Arnie Beyeler, 160-126
2013: Gary DiSarcina, 80-63
2014-18: Kevin Boles, 345-366
2019-Present: Billy McMillon, 59-81
Bench Coach:
2014-Present: Bruce Crabbe
Hitting Coach:
2010: Gerald Perry
2011: Chili Davis
2012: Gerald Perry
2013-14: David Joppie
2015-Present: Rich Gedman
Pitching Coach:
2008-14: Rich Sauveur
2015-17: Bob Kipper
2018-19: Kevin Walker
Newsletter Signup
Sign Up!