It is Monday, December 9th. The PawSox roster for 2020 remains very cloudy. Since our last update, a few things have changed but mostly resulted in who will not be on the roster instead of additions.
For starters reliever, Trevor Kelley is gone. Kelley posted a 1.79 ERA for Triple-A Pawtucket in 2019 but was placed on waivers carelessly by Boston and was claimed by the Phillies last week. Other than that, not much has changed. Teddy Stankiewicz remains a free agent among others including Jordan Weems and Bryce Brentz. Chances are the free agency solutions/additions to the roster won't occur until the Spring.
Overall the roster is going to lean heavy on the prospect Bobby Dalbec. Of course, Dalbec could very well start the year as Boston's starting first basemen.
As of right now, the official PawSox roster has 14 players.
Pitchers
Tanner Houck (Reliever)
Brian Johnson (Likely to start)
Kevin Lenik (Reliever)
Austin Maddox (Reliever)
Daniel McGrath (Likely to start)
Domingo Tapia (Reliever)
Likely to add from within the organization: Kyle Hart, Mike Shawaryn, Denyi Reyes, Ryan Weber, Travis Lakins, Matthew Gorst
Catchers
Likely to add from within the organization: Maybe Austin Rei, Red Sox will have to re-sign 2-3 MLB experienced players at this position.
Infielders
Chad De La Guerra (Starting 2B)
Josh Ockimey (Starting 1B)
Micahel Osinski (Infield Depth)
Jantzen Witte (Starting 3B)
Likely to add from within the organization: Bobby Dalbec, C.J. Chatham, Tzu-Wei Lin, and Josh Tobias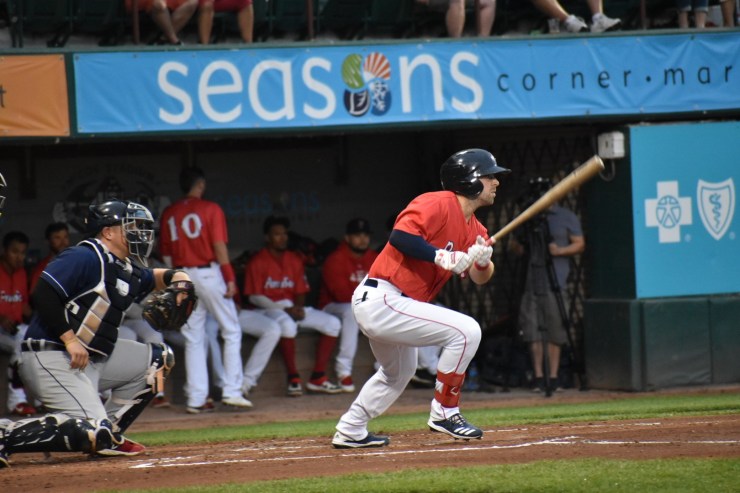 Outfielders
Rusney Castillo (Starting LF)
Tate Matheny (Outfield Depth)
Cole Sturgeon (Starting RF)
Likely to add from within the organization: Marcus Wilson
Newsletter Signup
Sign Up!