PawSox Set To Host League Leading Durham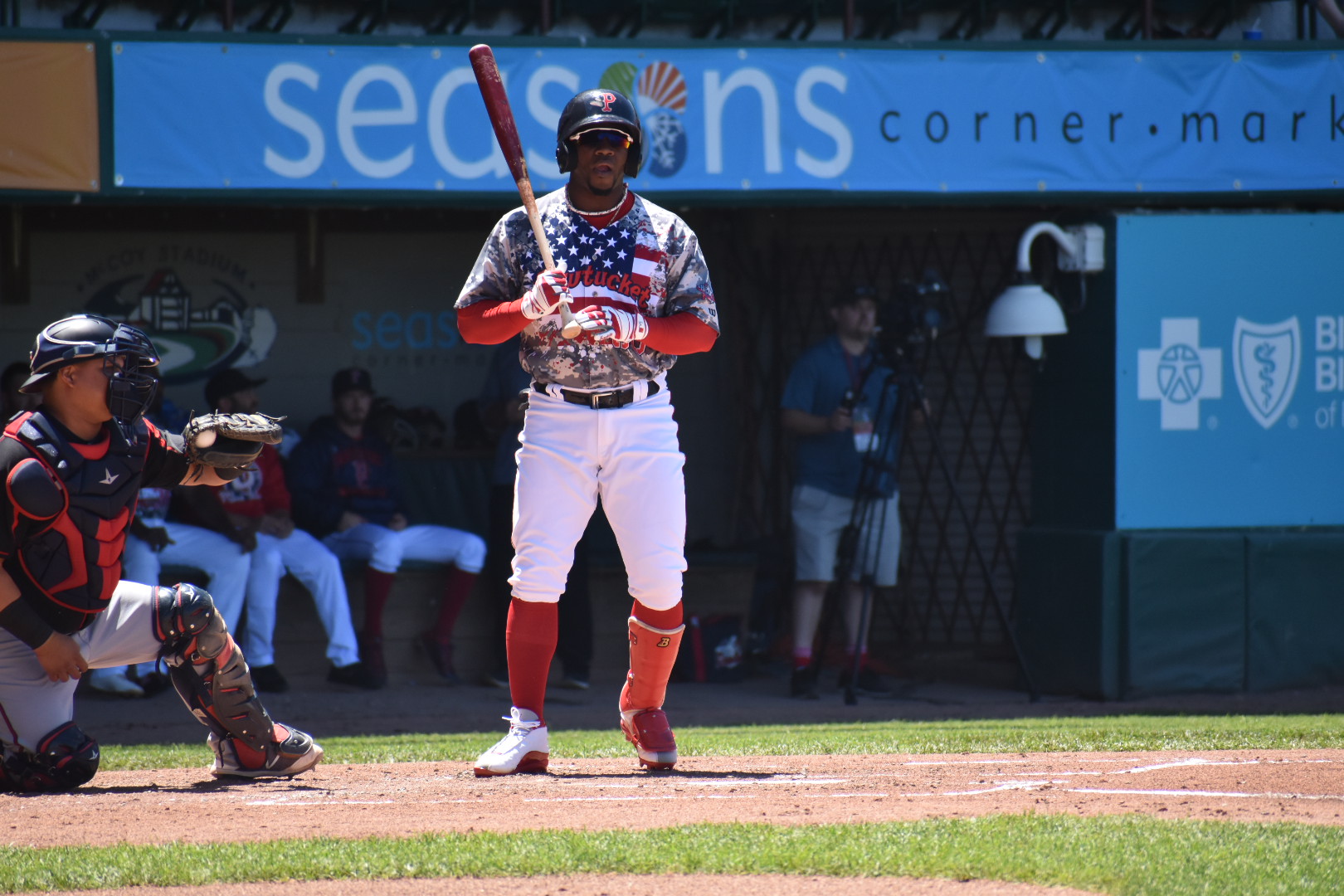 PawSox Set To Host League Leading Durham With Incredibly Compelling Matchups With Darwinzon Hernandez Set To Make Triple-A Debut
The Pawtucket Red Sox return home to McCoy Stadium on Tuesday after a 4-2 road trip where they were victorious in both series they played in. 
Triple-A Pawtucket's record is now 30-38 as they are set to host the 42-27 Durham Bulls for a three-game set. Durham for those of you who remember last season was the International League champions and are on pace to do it all again as they currently hold the best record in the entire IL. 
While Pawtucket doesn't have the worst record in the IL, they do hold the worst in their division as they currently sit 9.5 games back of first place Scranton. 
The starting rotations for the series is not yet known but it is highly expected that Boston's top prospect Darwinzon Hernandez makes his Triple-A debut on Tuesday. 
Last Season Durham Helped Draw Record Crowds, Hot Bats Expected For This Mid-week Series
Last season the PawSox owned a 3-4 record against the Bulls, 2-2 at McCoy, 1-2 in Durham. Durham came into McCoy in 2018 in mid August and posted a season high for a 4-game series attendance with 35,289 including the highest attended game of the season with 11,803 in attendance on August 18th which ranks 3 all-time in franchise history. 
Durham is coming into McCoy with a few familiar faces with the likes of Austin Pruitt and Emilio Bonifacio on the roster for Tampa Bay's Triple-A Affiliate. Bonifiacio, an infielder, has played in 831 big league games coming with several franchises with the latest in Atlanta back in 2017. 
While Bonifiacio is batting a cool .283 in 99 at-bats he is not even close to being the leader of this Bulls lineup. 
In fact, Durham has a number of red hot hitters on their roster with the team as a whole batting a league high .279 average, 376 RBIS, 633 base hits, .839 OPS, 399 runs, .360 OBP:
Shortstop Jake Cronenworth batting .357 in 221 at-bats 
Kean Wong, second basemen, .349 batting average in 212 at-bats
Michael Brosseau, .307 batting average in 228 at-bats with 13 home runs and 56 RBIS
On the pitching side of things the Bulls have a reliever in Andrew Kittredge who has been lights out with a 1.93 ERA in 37.1 innings across 27 appearances. Durham's pitching staff owns the second lowest ERA in the IL with a 4.49 while posting the highest strikeout total in the league with 678 strikeouts in 586.2 innings pitched. 
Top Prospect Can Hit And Pitch….
Durham does bring with it some top prospects such as Brendan McKay, currently the 25th ranked prospect in baseball. 
McKay is the Rays number 3 overall prospect and the third ranked left handed prospect in all of baseball. The 23-year-old is considered the best two-way prospect since Dave Winfield in 1973. 
Tampa has continued to develop the Louisville standout as a two-way ballplayer and was the fourth overall pick in the 2017 draft. Keep an eye out for him to DH on non-pitching days but with limited action with Tampa trying to keep his workload overall light in 2019. 
PawSox Three Up, Castillo Of Course Makes The List, But How About Josh Tobias's Week?
Rusney Castillo: IL Player of the week, brought his average up 30 points in the last week batting over .600. 
Josh Tobias: The infielder has bounced between Portland and Pawtucket in 2019 but is 10 for his last 25 in his last 10 games and is making it awfully difficult for Billy McMillon to leave him out of the PawSox lineup. Overall Tobias is hitting .309 this season in 165 at-bats between the two levels with 4 home runs and 19 RBIS. On July 13th he recorded 4 base hits for the first time since high-a in 2016. 
Trevor Kelly: Kelly continues to be nails in 2019 with a 1.10 ERA in 32.2 innings pitched as he starts to run away with the IL All-Star game nod. 
PawSox Three Down, Weber Hasn't Been Good
Ryan Weber: Hasn't been very good this season with Pawtucket or Boston. Has allowed 20 earned runs in 26.1 innings pitched for Pawtucket this season including 6 runs in 1.1 innings in his last start on 6/12.
Brian Ellington: Has ML experience but recorded just 1 out in his last outing with Pawtucket on 6/12 with major control issues issuing 3 walks en route to 2 earned runs allowed. Overall a solid year with Portland but 18 walks in 17.1 innings pitched is sort of a problem. 
Josh Ockimey: The slugger has a team high 15 home runs this season but is batting .212, .200 in his last 10 games. Have to wonder when the bat will come around for the .243 career hitter. 
PawSox Lose Both Ends Of Doubleheader With Bulls Despite Added Muscle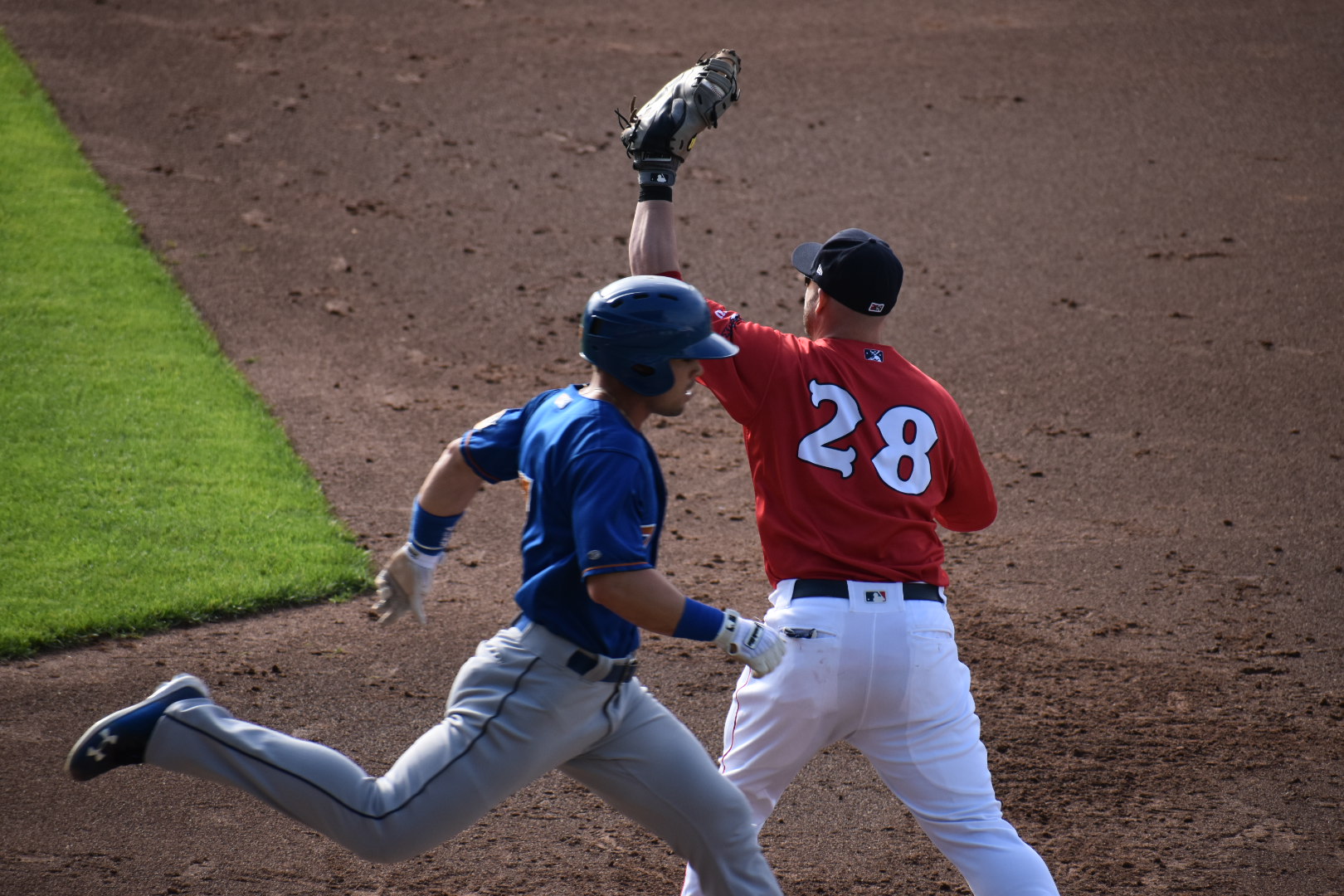 PawSox Lose Both Ends Of Doubleheader With Durham Despite Darwinzon Hernandez Making Debut And Rehabbers In Pearce, Thornburg, and Wright Making Appearances
Pawtucket, R.I. - The Pawtucket Red Sox played in their 10th doubleheader of the season on Wednesday hosting the league leading Durham Bulls at McCoy Stadium.
Wednesday was not a dull affair in game 1 for Pawtucket who had Red Sox top pitching prospect Darwinzon Hernandez on the bump for his Triple-A Debut. In addition to Hernandez the PawSox had a trio of rehabbers in World Series MVP Steve Pearce, Tyler Thornburg, and knuckleballer Steven Wright. 
Despite the added big league muscle the PawSox fell 3-2 to Durham. 
For more on the rehabbers click here, as for the PawSox debut of Darwinzon Hernandez, click here. 
In game 2 the PawSox fought the Bulls to extra inning but ultimately fell 5-4 in 8 innings of play. 
With the losses the PawSox fall to 30-40 on the season as they once again find themselves 10 games under .500 on the season. 
Game 1 Saw Hernandez Make A Solid Debut, But Offense Fell Flat
The hard throwing Hernandez went 5 innings in his debut allowing just 1 earned run on 2 base hits while issuing 7 walks and recording 2 strikeouts. 
"Would like to see him cut down on his walks," said McMillon. "But kept us in the ball-game, 5 innings, and that was by designed with Thornburg and Wright getting in there with the 7-inning game."
When Hernandez left the game he was in-line for the win but that was spoiled by Tyler Thornburg. 
Thornburg recorded just 2 outs en route to allowing 2 earned runs on 2 base hits while issuing one walk and striking out one batter. 
"He is still coming back," said Billy McMillon on Thornburg. "There is still rust or something. I don't think he was as crisp as he has been."
Jenrry Mejia recorded the final out of that inning cleaning up Thornburg's mess. Wright had the 7th inning and walked around a walk with a scoreless inning of work. 
The offense for the PawSox in this one struggled with an RBI single in the first by Rusney Castillo and a solo home run by Chad De La Guerra being the only two runs in a 6-hit effort for the home team. 
Game 2 Went Into Extra's, Didn't Go Pawtucket's Way
Pawtucket had Ryan Weber on the bump for game 2 of the doubleheader and was able to spin 3 solid innings of work. 
But the vet ran into some trouble in the top of the 4th inning not being able to record an out. 
Weber's night was finished after 3 innings of work allowing 4 earned runs on 7 base hits while issuing 1 walk and striking out 2 batters. 
Very much like the 1st game the PawSox were able to score the games first run, this time in the bottom of the third on a Sam Travis RBI double. An inning later however the PawSox found themselves trailing 4-1 before Nick Lovullo blasted his first home run of the year on a solo shot to left field making it 4-2. 
Red Sox lefty Bobby Poyner came in for Weber and worked a solid 2 innings of work. Poyner allowed just 1 base hit while walking 2 batters but recorded 4 strikeouts. 
Castillo Continues To Be Red Hot
Pawtucket's offense was able to claw one more back in the bottom of the 5th inning with outfielder Rusney Castillo hitting a missile to dead-center field to make it a 4-3 ball-game. 
Castillo's home run traveled 445 feet and came off the bat at 105 mph. This was the 31-year-old's 7th home run of the season, he hit 5 all of last season.
"When we went to Louisville seems like a switch was flipped," said McMillon. "He did well on the road trip and so far this homestand, he's continuing that. This is the Castillo that people are used to seeing the last couple of years."  
With Poyner out of the game the PawSox called upon Rhode Island Native Trevor Kelley. The shoe in for the mid-season all-star nod went 1 inning going 1-2-3 and recording 2 strikeouts. 
Kelley's ERA continues to drop to a 1.07 across 24 appearances, 33.2 innings pitched. Behind Kelley it was the hard throwing Brian Ellington who came into the game for the top of the 7th inning. 
Ellington's whose fastball topped out at 99 mph worked 1 inning allowing 1 base hit and striking out 2 batters.
In the bottom of the 7th inning a ball that dropped in left field paired with an E-4 on a grounder by Sturgeon allowed Pawtucket to tie the game at 4-4 and force extra innings. 
For extras Domingo Tapia got the call. Tapia recorded the first out of the inning but a rocket by Nate Lowe who came on as a pinch hitter brought across Durham's 5th run of the game making it 5-4. 
In the top of the 4th inning the PawSox made a defensive substitution with center fielder Gorkys Hernandez exiting the game.
Bryce Brentz came into the game in left, Cole Sturgeon shifted to right, with Rusney Castillo coming into center.
At the time Hernandez was 0-1 with a walk and played 3 innings in the field. The 31-year-old had played the full game 1 going 1-2 with 2 walks. 
In the top of the 3rd inning Hernandez was involved in a fly ball that fell in short left-center between De La Guerra, Hernandez, and Sturgeon and ended up going down as a triple. 
Hernandez left the game with a cramp per McMillon post-game and is expected back on Thursday. 
One More With Durham On NESN, Then On To Hosting Indianapolis 
On Thursday at 7:05 pm the PawSox will close their four-game set with Durham with Erasmo Ramirez on the bump against Austin Pruitt with the game being broadcasted on NESN. 
Starting on Friday the PawSox will host the Indians for a three-game weekend set. 
Friday will be the induction of Roger Clemens into the PawSox hall of fame with Kyle Hart serving as Pawtucket's starter on The Rockets Big Day. 
Behind Hart the PawSox plan on using Teddy Stankiewicz for Saturday's game but are currently leaving Sunday afternoons finale as TBA. 
Red Sox Prospect Darwinzon Hernandez Lacks Control In Paw Sox Debut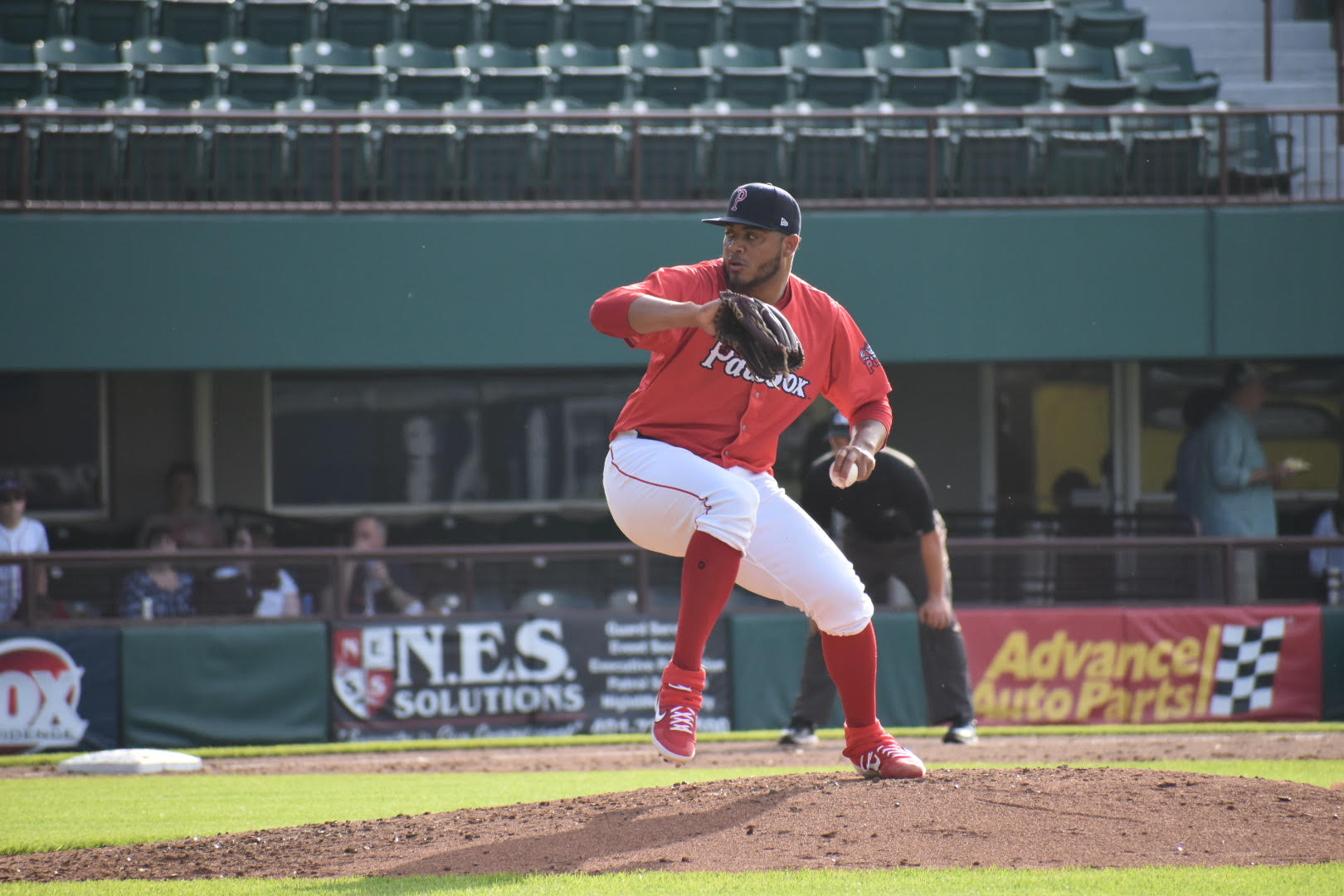 Top Red Sox Pitching Prospect Darwinzon Hernandez Lacks Control In Paw Sox Debut Wednesday Night Against Durham Bulls
The top pitching prospect in the Red Sox organization, Darwinzon Hernandez, made his AAA debut Wednesday night at McCoy Stadium in game one of a double header against the Durham Bulls. Very quickly into his start it became very clear that his inability to throw strikes was going to haunt him tonight. However, he was able pitch himself out of jams and turned in a pretty good performance. 
In five innings of work for Hernandez, he only gave up 1 run on two hits. The part that should be concerning is that he had 7 walks and 2 strikeouts on 95 pitches (49 for strikes). 
What helped out Hernandez as his outing went on is that he was able to get help from his defense. His defense was able to turn four double plays in his outing. Three of them in the first three innings, all of which ended the threat from the Durham Bulls. Unfortunately for the Paw Sox, they went on to drop the game to the Bulls by a score of 3 to 2.  
Darwinzon Hernandez Needs To Work On His Control 
One thing that is clear with Darwinzon Hernandez is that he has great stuff. He has a swing and a miss curve ball. He is also able to blow people away with his fastball. In his first major league start for the Boston Red Sox on June 11th, he was touching 98 MPH with his fastball regularly.
On Wednesday night, he wasn't touching 98 MPH on the McCoy Stadium radar gun. His fastball was consistently between 94 and 95 MPH on the radar gun. Definitely lower then what we were seeing in his start with the Boston Red Sox. 
Darwinzon Hernandez gives up a single to Nick Solak here in the 2nd. His fastball has been sitting around 94-95 MPH #PawSox #RedSox pic.twitter.com/K2tDV6dSZl

— Evan Cook (@ecook_trifecta) June 19, 2019
What really saved Hernandez on on Wednesday night was his ability to get the double play when he needed it. His control issues will plague him at the major league level.  Major league hitters will be able to put up runs when you walk 7 batters in 5 innings of work.  
Red Sox Rehabbers: Pearce, Thornburg, And Wright All See Action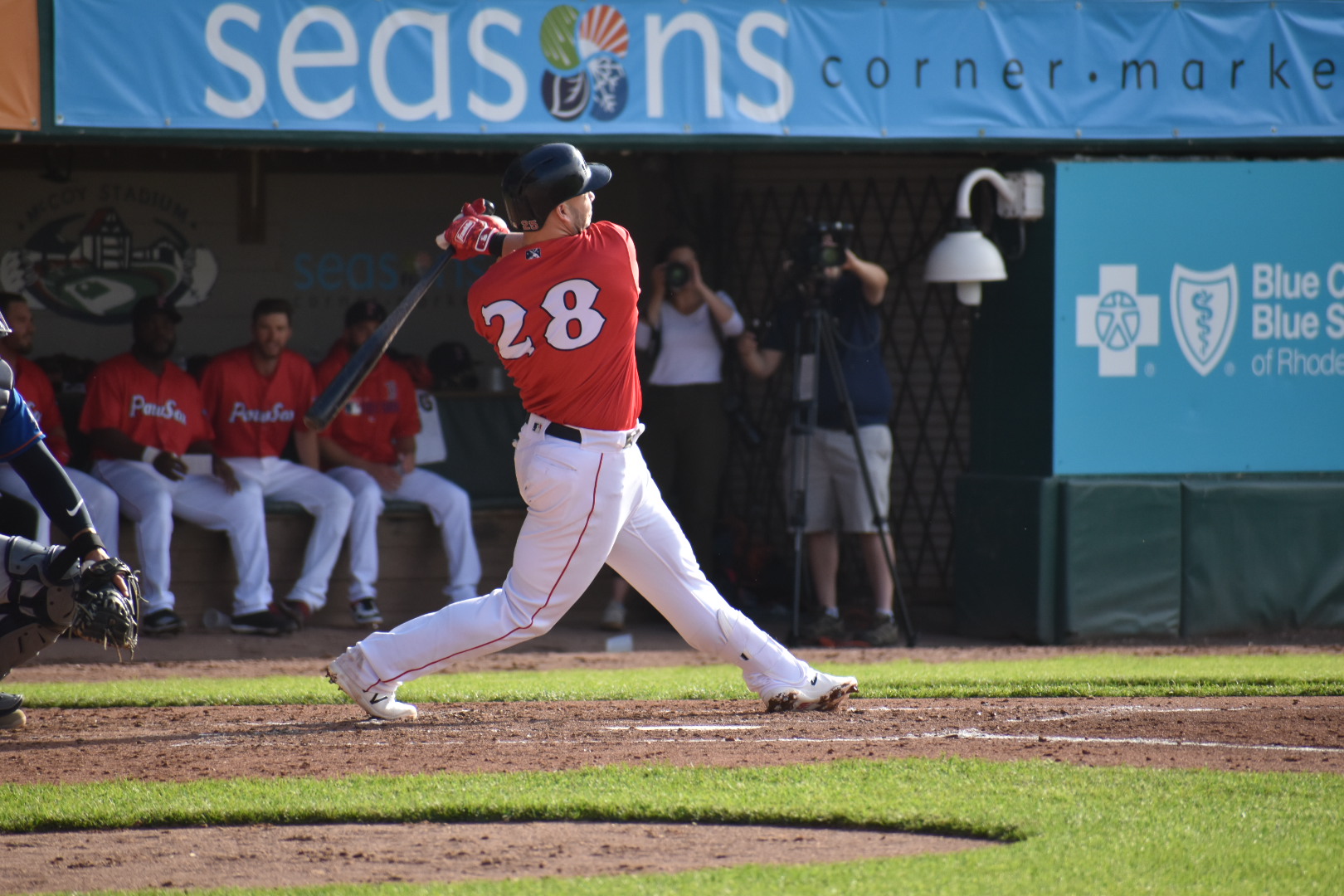 It was another rehabbing three-some for Triple-A Pawtucket who had Steve Pearce, Tyler Thornburg, And Steven Wright all at McCoy Stadium. 
Pearce, last years World Series MVP played 5 innings in the field and went 0-3 at the plate with 1 strikeout and left 3 runners on base. 
The infielder has been on the injured list since June 1st dealing with a low back strain and is hitting just .180 in 29 games for the Red Sox this season. 
Steve Pearce hits a ball to left field in the 5th inning. The left fielder makes a nice play to steal a base hit. #PawSox are up 2-1 in the 5th. #RedSox pic.twitter.com/ndCUtq0088

— Evan Cook (@ecook_trifecta) June 19, 2019
Pearce was lifted in the top of the 6th inning in favor of Josh Ockimey at first base. This was his third rehab game with his previous two coming with Single-A Lowell this past weekend. 
Thornburg Remaining Consistent With PawSox 
As for Thornburg, the disappointing reliever came in for relief in the top of the 6th inning with a 2-1 lead.
Unfortunately for both Thornburg and Pawtucket he got touched pretty bad by the league-leading Durham Bulls. 
The former Milwaukee Brewer recorded just 2 outs for the PawSox allowing 2 earned runs on 2 base hits while issuing 1 walk and striking out 1 batter. 
Thornburg picked up the loss, his second of the rehab stint with Pawtucket, and a blown save, his first of the stint. 
Nate Lowe hits a hard hit single to left off of Thornburg in the 6th. His fastball had reached 94. #PawSox #RedSox pic.twitter.com/Te5wPVWsnv

— Evan Cook (@ecook_trifecta) June 19, 2019
Thorny has been on the IL since May 23rd with a "right hip impingement". In 2018 for Boston Wright appeared in 25 games with a 5.63 ERA. 
Wright's Knuckleball Dancing For 14 Pitch Inning
The knuckleballer Steven Wright had the top of the 7th inning for Pawtucket and was very efficient. 
Wright who is serving an 80-game suspension for violating Major League Baseball's performance enchanting drugs this past March worked around a walk with a 14 pitch, 6 for strikes scoreless inning. 
There's a lot of movement on Steven Wrights knuckleball this afternoon #RedSox pic.twitter.com/i4efaihlO0

— Evan Cook (@ecook_trifecta) June 19, 2019
The knuckler has missed considerable time the past two seasons weather it be due to the knee troubles that have lingered since 2017 or the suspensions he has had to serve. 
More to come post-game after game 2 of the doubleheader completes with locker room reactions….