Connelly's Top Ten - Can't Wait For Patriot Camp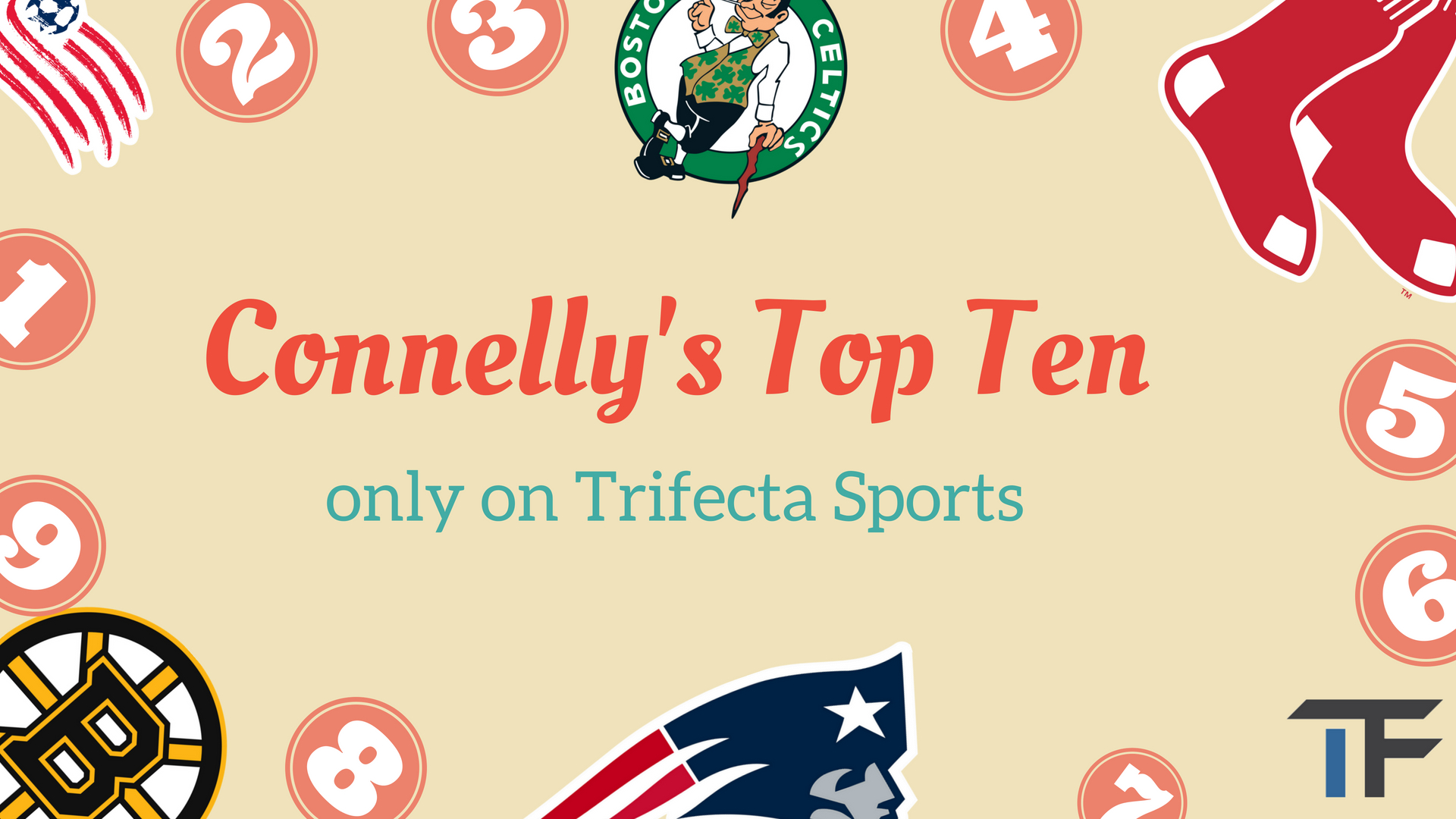 Connelly's Top Ten - Can't Wait For Patriot Camp
1. Red Sox 
* The Red Sox game was almost five hours on Sunday which was 21% of all of Father' Day 
* 51 games over over three hours / five games OVER four hours / 
* Games under 2:30 - Two
* 15 pitchers used ridiculous
2. The Anthony Davis Trade
* The Celtics will be thankful in a year that they didn't make that trade
* Pelicans made a killing - two of the top four
* Lakers just traded for Ricky Williams
3. Dave Dombroski got a World Series but the minor leagues are gutted:
* Pawtucket last place….29-37
* Portland last place…….23-40 
* Salem last place……….25-42 
4. Holy crap the head of Massachusetts high school sports get paid $291,000 - wow.
5. I don't like that the Bruins release their injuries at the end of the year - sort of excuse making but Acciari played with a broken sternum - these guys are animals. 
6. I laugh at stories of Horford thinking about whether to pick up his $31,000,000 option - think some other team is going to give a guy who averages 13.6 points / 6.7 rebounds more than that
7. Amazing Stat - In 1978, Jim Rice led American League - in hits, RBI, Home Runs, Total bases, Triples
8. Old School - Only in 1978, did the Bruins return to the Stanley Cup the next year after losing the previous year
9. Just a little bit outside - So Megan Rapinoe uses the national anthem to voice her displeasure with the way the established treat those who are in a minority or inferior position and then she proceeds to do cartwheels in front of her opponent despite being up 13-0 
10. Randomocity
* Cool cleats for Woodland - but can you have the Stars and Stripes on the ground? 
* I hate that ESPN has the scores on the bottom of the screen when I'm taping games 
* I love prime time golf 
* Jack Nicklaus must count down these non-Tiger major losses - its human nature
Connelly's Top Ten - Red Sox Don't Seem to Care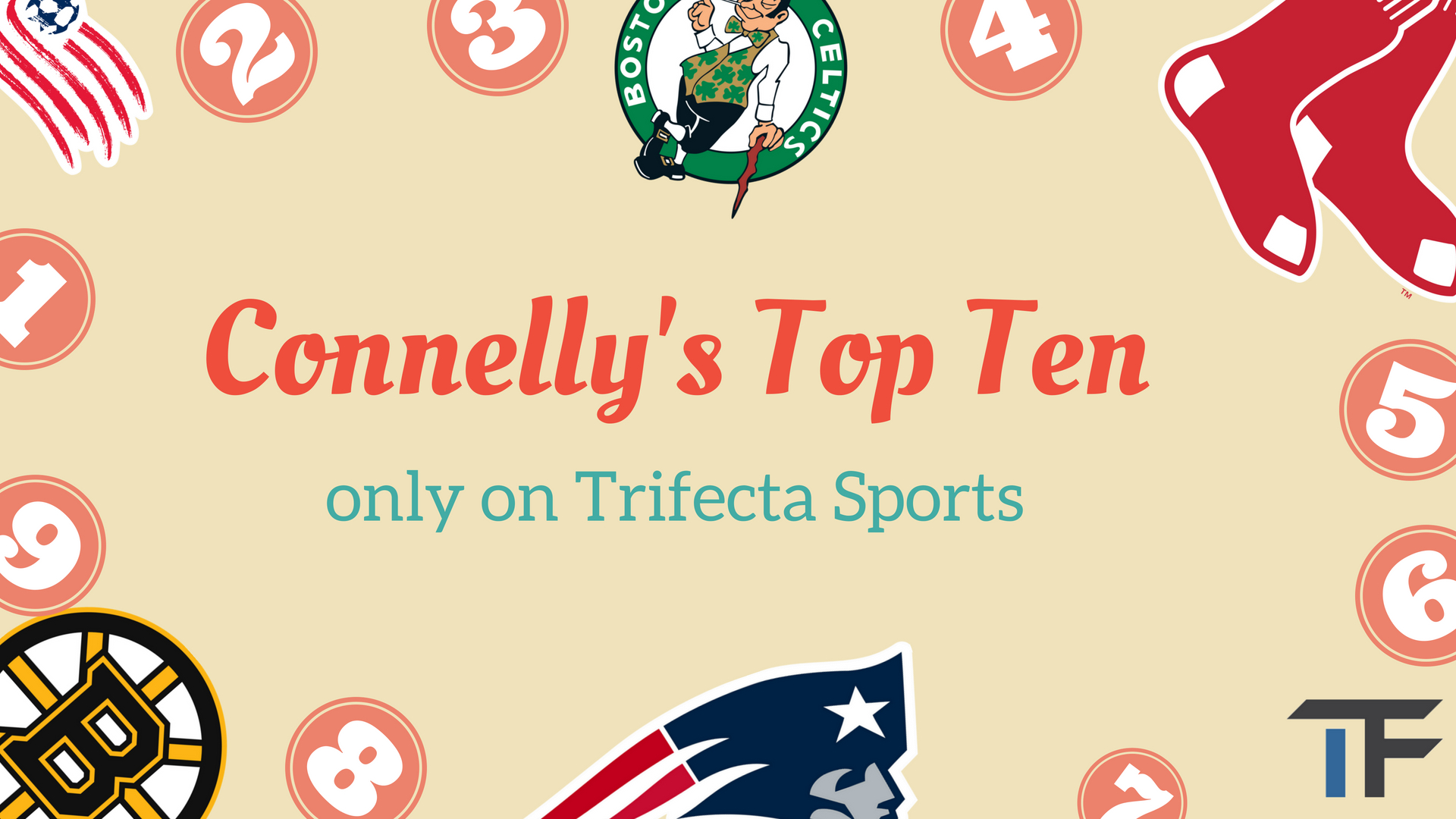 Connelly's Top Ten - Red Sox Don't Seem to Care
1. Red Sox
* Stroman yelling at the Red Sox dugout after just six innings of pitching and getting no response - reminded me of John Wensink embarrassing the North Stars bench
* Interesting to see Porcello stare down Nunez for his below average effort on a ground ball with bases loaded
* A line in the Boston Globe about Mookie Betts not running out ground balls - interesting - Yaz used to get booed for that
* 15 blown saves before the half way mark 
* The top of the sixth inning took 18 minutes for three outs of bad baseball (nappy time)
* 36,495 watch an an over three hour game - ticket, parking, ice cream, hot dog and drink and the team doesn't care
* Red Sox are eight games out of first place and just got this thing in neutral - glad Varitek didn't feel that way when A Rod was talking crap to Arroyo 
2. The annual list of median house prices from the towns in were the champions of the E Mass boys lacrosse:
* Winchester…$1.1mm
* Dover………..$1.2mm
* Lincoln………$1.2mm
3. Yastrzemski is the most distinct name in baseball history - its nostalgic to hear announcers say his grandson's name with the Giants
4. None of the highest paid players from their sport led their team to a championship
* Mike Trout……$36mm
* John Tavares..$16mm
* Steph Curry….$36mm
* Aaron Rogers..$35mm
5. Why kids don't want to watch baseball - the average game times of University of Michigan in the College World Series - 3:26
6. Officials in the Dominican have determined that Kevin McHale was not trying to clothesline Kurt Rambis
7. Amazing Stat - Ups and Downs of Celtics draft / player acquisition:
* Tremont Waters……5'11"
* Taco Fall……………..7'6"
8. Old School - Officials think fans come to see them - When Ted Williams went 4-5 in the first game of a double header on his way to hitting .406 - the official score keeper stole a hit from him (reminds me of Bird's 60 point game when ref waved on a Bird three pointer in front of Hawks bench)
9. Just a Little Bit Outside - Gambling and Casino
* Shocked the state didn't demand that the casino pay for a monorail over the water to Assembly Square train station and parking
* 50,000 people on RT 99 is the most insane thing the state has done - that almost double Fenway and they have the Green Line and multiple sources of egress
* interesting that Theo Epstein has applied for sports gambling at Wrigley Field - bold
10. Randomocity
* Ray Bourque had an estate sale this weekend that included selling used shoes - is he ok?
* You see Louisville pitcher Luke Smith pitch the game of his life against Vanderbilt only to walk off the mound in the 8th f-bombing the other team - then Vanderbilt came out in the 9th and beat him
* Summer is here!
Connelly's Top Ten - Boston Sports Trending Down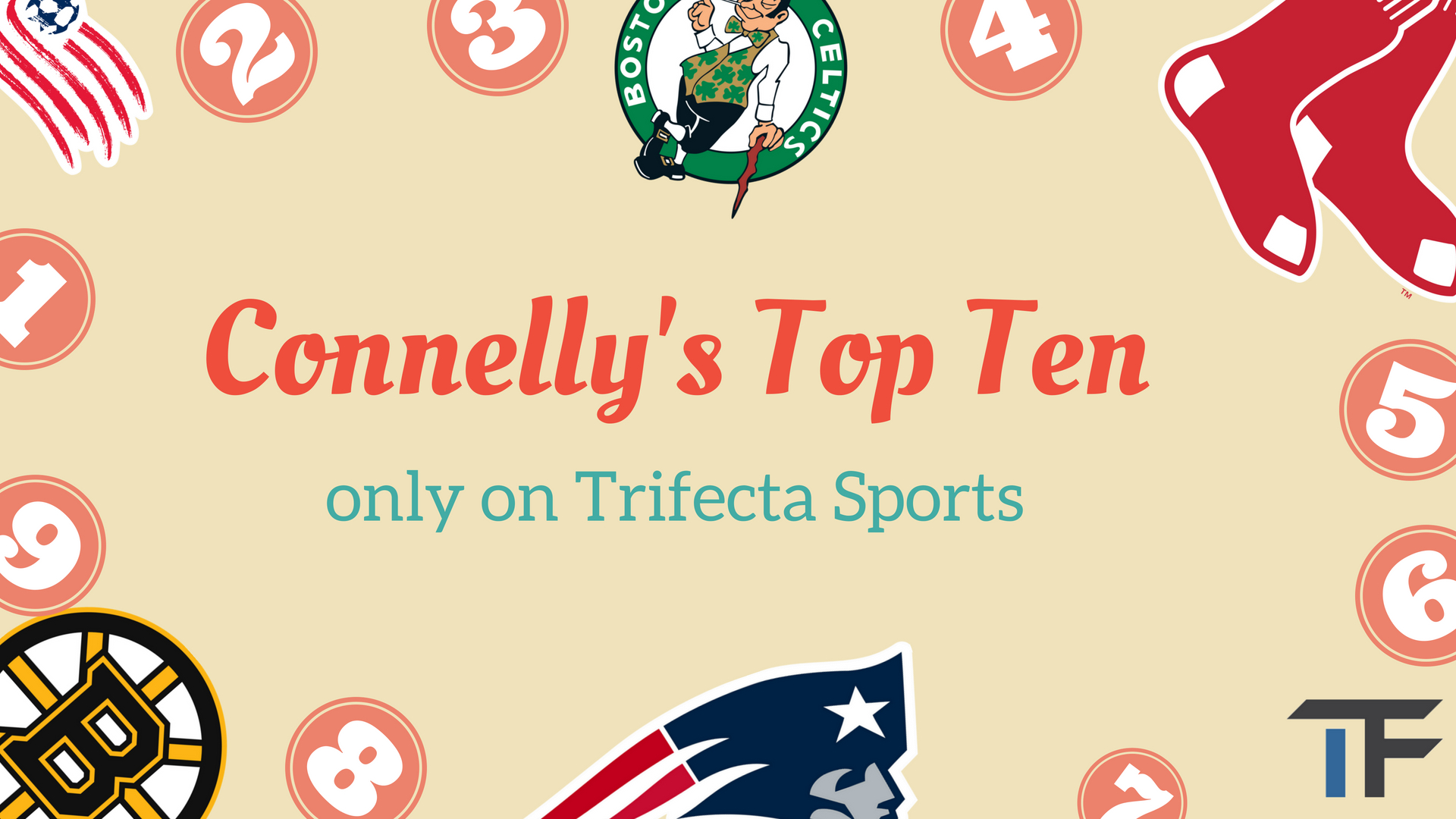 Connelly's Top Ten - Boston Sports Trending Down
1. Red Sox by month
April…..13-17
May……16-10
June…..12-8
2. NBA Draft - Celtics More Wing Man than any team in NBA history
3. Who's reputation has fallen faster - Pedroia's or Brad Stevens?
4. GM Runs:
* Don Sweeny - 4 years……….one conference championship
* Danny Ainge - 16 years……..two conference championships / one championship
* Dave Dombrowski 3 years….one conference championship / one championship
* Bill (19 years)………………..nine conference championships / six championships
5. Talk about getting a pass by a fanbase:
* Celtics championships since 1986 (33 years) - ONE 
* Bruins championships since 1972 (47 years) - ONE (that's almost half a century)
6. Boston since the Super Bowl
* First line of Bruins decides to not show up for Game 7
* Gronk retires (I will say he comes back)
* Bob Kraft stars in a movie
* Celtics embarrassed by Bucks
* Celtics blow up - Irving and Horford don't want to be here 
* Ortiz gets shot - which is uglier than a gun shot
* Red Sox left their game in Los Angeles last October
* Sign an oft injured Evoldi after abusing him October
* Celtics lose all three coin tosses in draft
* Danny Ainge has a heart attack
* Boston College Women's Lacrosse loses again in finals
7. Hit over 100 home runs for three teams
A Rod……………..Seattle 189 / Texas 156 / Yankees 351
Reggie Jackson…Oak 264 / NY 144  / Angels 123
Jim Thome……….Cleveland 337 / Phillies 101 / White Sox 134
Adrian Beltre…….Texas 199 / LA 147 / Seattle / 103
Darrell Evans…….Atlanta 131 / Giants 142 / Detroit 141
8. Old School - Bobby Orr in 74 playoff games:
* 92 points - 1.24 a game
* Points in 55 of them
* Was a PLUS five in a game against Blackhawks
* Had at least three points in 10 games
* Multi-points 26 games
* Had 12 shots in a game against Toronto
* Ten minutes or more of penalty minutes in a game three times
9. Just a Little Bit Outside - Top Comedies of Century
1. Wedding Crashers
2. Hangover
3. Sideways
4. Old School
5. Meet the Parents
6. Superbad
7. Elf
8. Super TrooperS
10. Randomocity
* Don Sweeney Executive of the Year (does that irritate Cam?)
* Could Josh Gordon - at his size - run Gronk's routes
* Scherzer pitches with a broken nose / Price misses starts because too much video games
* Ortiz not the target - hah - and they missed Clint Hill and hit JFK by mistake
* Great move by Norwood High sports hiring Kristin McDonnell from Braintree to coach boys team
Connelly's Top Ten - One Day After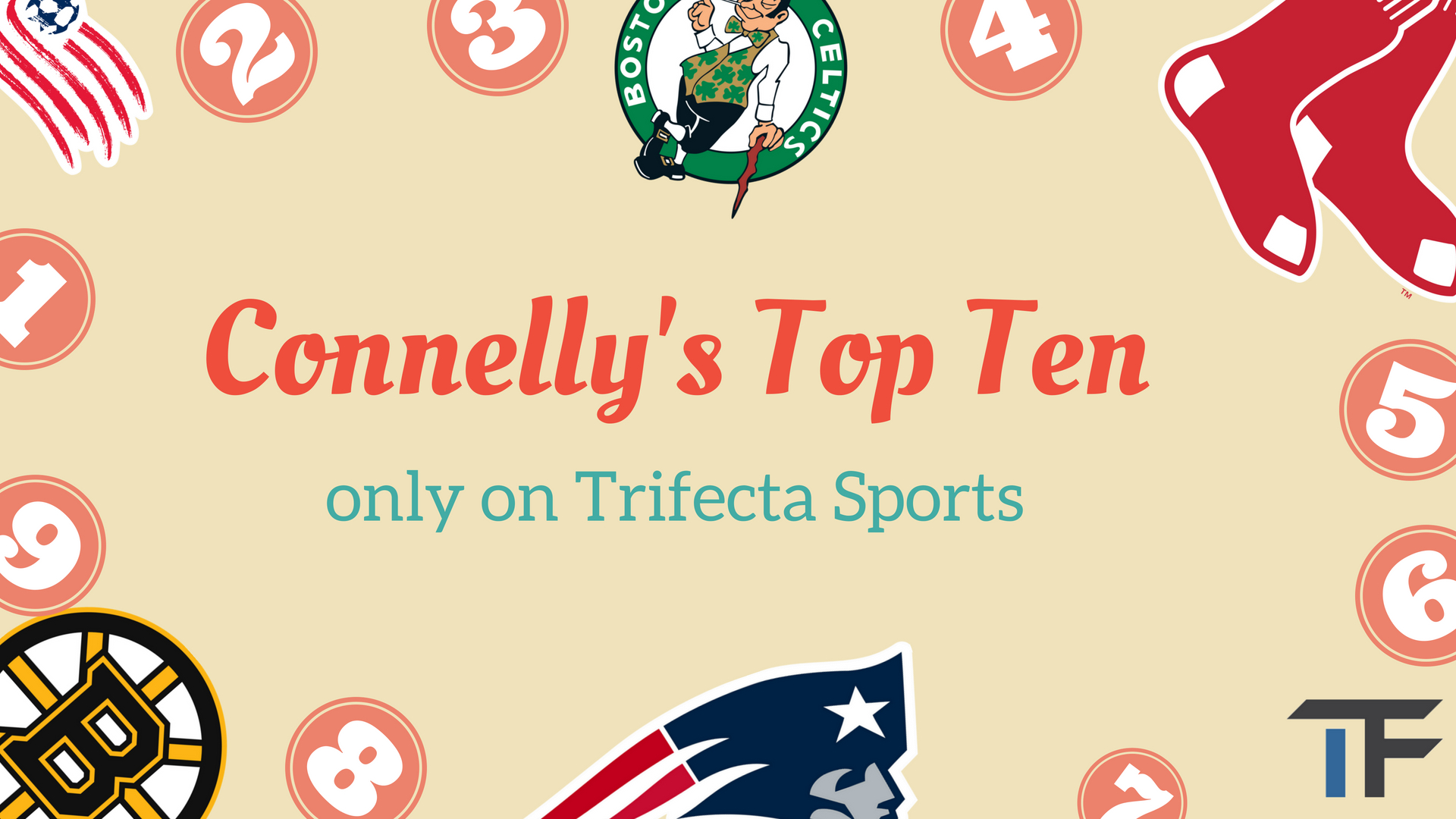 Connelly's Top Ten - One Day After 
1. Bruins
* In retrospect Bruins were better short handed than 5 on 5 / As soon as Binngton showed he was hot - he should have been run twice
* Did Cassidy make enough adjustments?
* Don Sweeney has the worst Plus/Minus in recorded Bruins playoff history MINUS 27
* Crazy MINUS 13 for the front line
* Chara is 41 / McAvoy 21
* First goal was everything
* Heiden 8 shots / 0 goals /// Khulman 1 shot / 1 goal
2. Lady Bing and not Lady Bing
Jay Miller……………..14 games / 141 penalty minutes 
Patrice Bergeron…136 games / 82 penalty minutes
3. Dombrowski offseason
* Extend Sales…..2 Wins
* Sign Evoldi……..0 Wins
* Sign Pierce………180 average / 1 HR
4. Bruins playoff stats:
Bergeron…….103 points / 136 playoff games
Krecji………….103 points / 132 playoff games 
Bergeron…….137 games / PLUS 42
Chara…………136 games / PLUS 42
Bergeron…….136 games / 40 goals
Bucyk…………104 games / 40 goals 
5. Cam Neely 1990 Stanley Cup - 24 shots / 0 goals 
6. In retrospect Marchand's play - both the lack of effort (literally reached his hand out) and leaving the ice (I get it end of a shift but that reminds me of General Patton quote - "Fatigue Makes Cowards of all of us"). So that play goes on  Boston's Worst Plays list:
* Assante Samuel drops interception to end Giants Super Bowl
* Buckner - but wasn't series ender
* McHale doesn't hold on to rebound leading to Magic's baby hook
* Grady Little going to Wakefield a home run pitcher against Yankees
* Patriots Special Teams let Desmond Howard return kickoff for TD
* Referees give Eagles three illegal touchdowns in same game
* Pesky holds the ball
* Jimmy Williams brings in fastball pitcher Schiraldi to face fast ball hitters Ray Knight / Kevin Mitchell
* Too Many Men on Ice
* Glen Wesley misses open net
7. Amazing Stats - Tuukka has played in 89 playoff games - Game 7 was his second lowest save percentage at 80% - four goals on 20 shots (which would have been five goals if Chara didn't make that save)
8. Just a Little Bit Outside - Dominican Republic Tourism
* Dominican represents 21% of all Caribbean tourism
* $6.2 billion in tourist money which is 8% of Dominican GDP
* 2.1 million visitors from USA
* I'm saying the Ortiz bullet will be a $1,000,000,000 shot 
9. Just a Little Bit Outside - From the magazine The Week - Quote - Television has changed the American child from an irrisistable force into an immovable object
10. Randomocity
* Bruins are so likeable - look at their leaders compared to Celtics leaders - Bergeron and Chara versus Kyrie Irving
* Jiffy Pop a fire hazard
* Barney Miller over-rated / Taxi Under-rated
* With the sharks in Cape Cod - Jaws could be real life this year