Paw Sox Starting Pitcher Ryan Weber Gave Exactly What Was Needed Sunday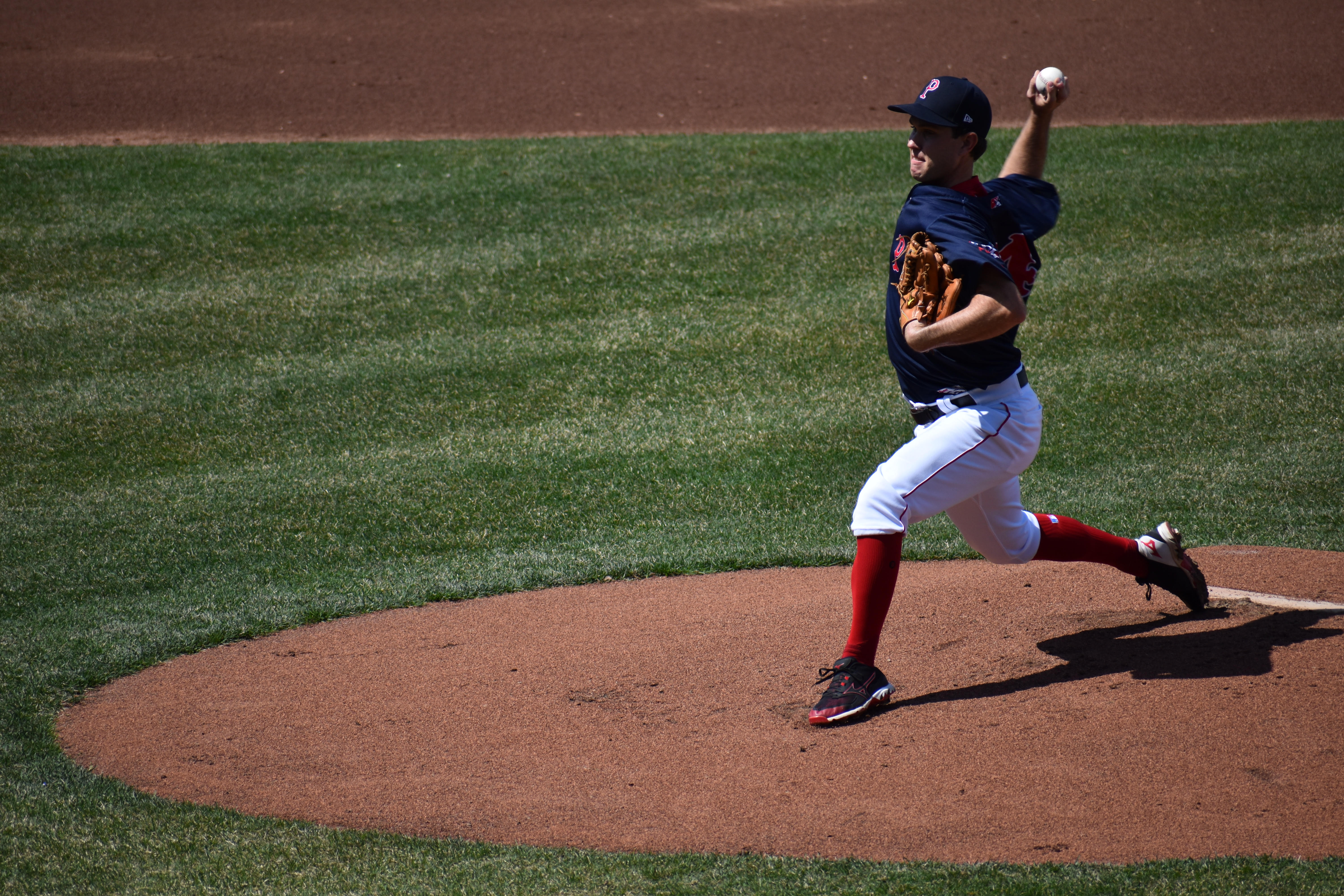 Paw Sox Starting Pitcher Ryan Weber Gave Exactly What Was Needed Sunday Afternoon In Win
This past off season, the Red Sox signed journeyman pitcher Ryan Weber to a minor league contract with an invite to spring training. He didn't have a great chance to make the major league roster, but for a guy who's been around the game professionally since 2009, it was a big pickup for the for depth in the organization. 
On Sunday afternoon, he made his second start of the season, first at McCoy Stadium. In five innings of work, he gave up two runs on six hits while walking one batter on 79 pitches (51 strikes). This was enough as the Paw Sox went on to win the game by a score of five to four. 
Ryan Weber Gave What Was Asked
Ryan Weber is not an overpowering pitcher. He sits around 88 mph with his fastball. He throws some off speed pitches. But when he's on his game, he's getting a lot of ground ball outs and getting out of innings quickly. In his minor league career, he has struck out 566 batters in 789 and 1/3 innings. 
Prior to Sunday's game, Paw Sox Manager said that "Hopefully [Weber] gives us five innings of good baseball". 
In his first outing of the year, Weber went four innings, giving up four hits and two runs as the Paw Sox went on to beat the Buffalo Bison's by a score of five to two.  
"It was kind of tough there in the second inning but he grinned through it, and limited them to just one run" said McMillon after the game. "Set us up good for the bullpen". 
Ryan Weber is probably not going to be a flashy name that you will see up in Boston at one point this season. But he is a guy who does have major league experience. In fact, he has made major league appearances the last four season with the Atlanta Braves, Seattle Mariners, and the Tampa Bay Rays. 
In those four seasons, he has posted a 5.01 ERA in 73 and 2/3 innings. That is in 24 appearances, 8 of which were starts. 
So that experience could play in his favor as we get latter on in the year. If not with Boston, here in Pawtucket. Especially since there are so many pitching prospects that are with the team at the moment like Travis Lakins and Mike Shawaryn, he could be more of a role model for those guys. 
Boston Red Sox Option Marcus Walden To PawSox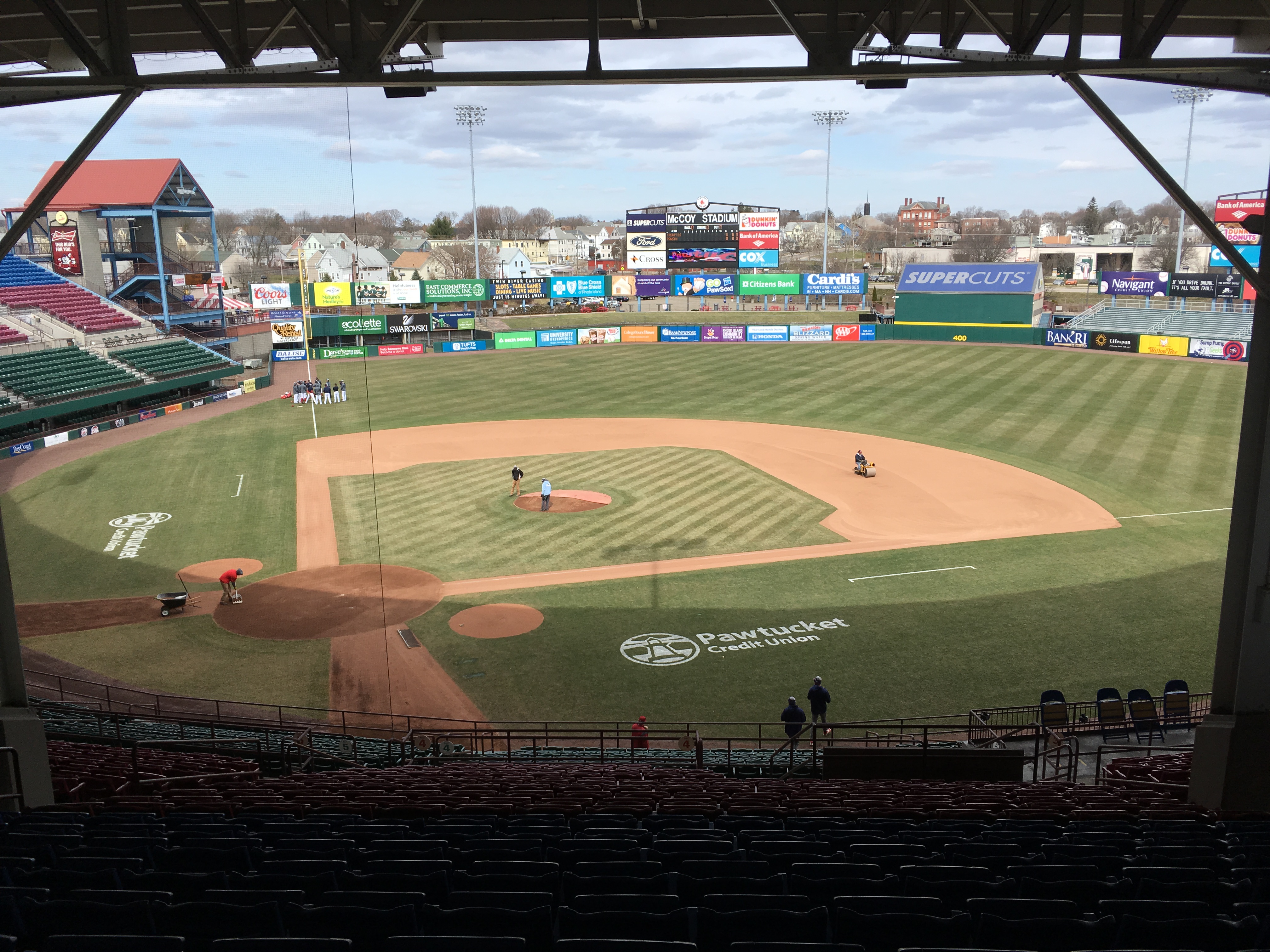 Boston Red Sox Option Pitcher Marcus Walden To PawSox No Corresponding Move Yet With Plenty Of Options
Following Monday's 8-1 Patriots Day loss to the Baltimore Orioles the Boston Red Sox optioned pitcher Marcus Walden to Triple-A Pawtucket.
The corresponding move was not announced, Boston is expected to make the move on Tuesday. 
Walden has appeared in 5 games for Boston this season going 8 innings with a 3.38 ERA striking out 11 batters and allowing 4 walks. 
Currently Boston has 3 spots open on their 40-man roster giving them some roster flexibility. It is unclear what the move might be with it unlikely the Red Sox would go an extended period of time being a man down on their pitching staff but at the same time they are battered in their outfield depth chart. 
If it is a pitcher they are looking for, there is Travis Lakins, Bobby Poyner, Josh Taylor, and Chandler Shepherd who are all currently on Boston's 40-man roster. 
But with 3 spots open Boston could very well add a player like Jenrry Mejia who has seen late inning action in Pawtucket and has been very effective for PawSox Manager Billy McMillon. 
PawSox Game With Vlad Jr.'s Buffalo Bisons Postponed Until Tuesday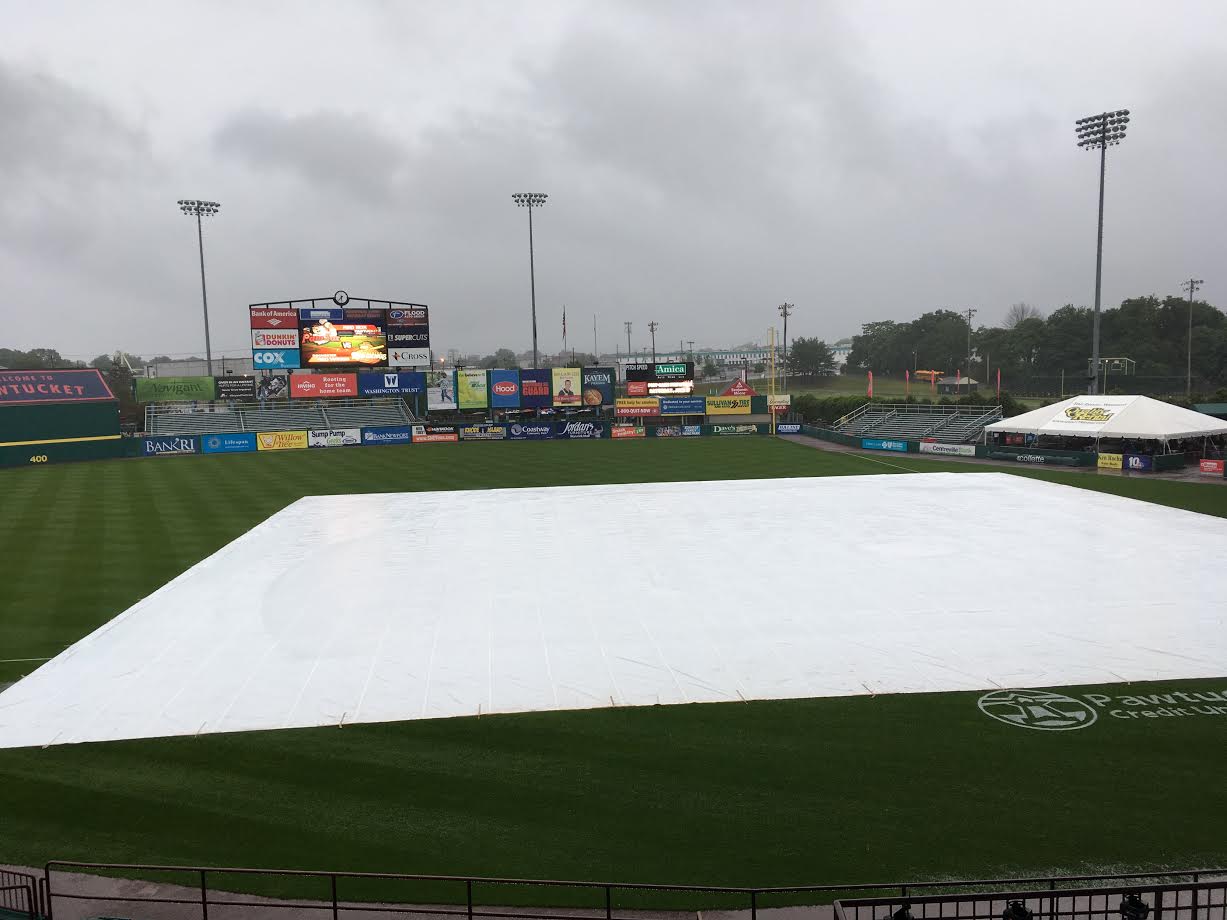 PawSox Game With Vlad Jr.'s Buffalo Bisons Postponed Until Tuesday With A Single Admission Doubleheader On Deck
On Monday the Pawtucket Red Sox announced that their 6:05 pm International League game with the Buffalo Bisons will be postponed until Tuesday.
The postponed game will be played as single admission doubleheader starting at 4:05 pm at McCoy with gates opening at 3:30 pm.
Weather in the area of the last 24 hrs lead to poor field conditions at the ballpark thus causing the postponement of the game.
The starters Mike Shawaryn and Jacob Waguespack are now penciled in for game 1 at 4:05 and Erasmo Ramirez and Shawn Morimando as slated for game 2.
With Buffalo comes the number 1 prospect in Vladimir Guerrero Jr. who is 5 for his first 10 at-bats with 5 RBIs. The 20-year-old went down with an injury in Spring Training and joined the Bisons last Thursday attributing to his low at-bat total.
In addition to Vladdy Jr. the Bisons have Cavan Biggio, son of Major League Hall of Famer Craig Biggio who is batting .394 to start his season. Buffalo also has Bo Bichette who is the 11th ranked prospect in baseball.
PawSox Offense With Impressive Series Against Syracuse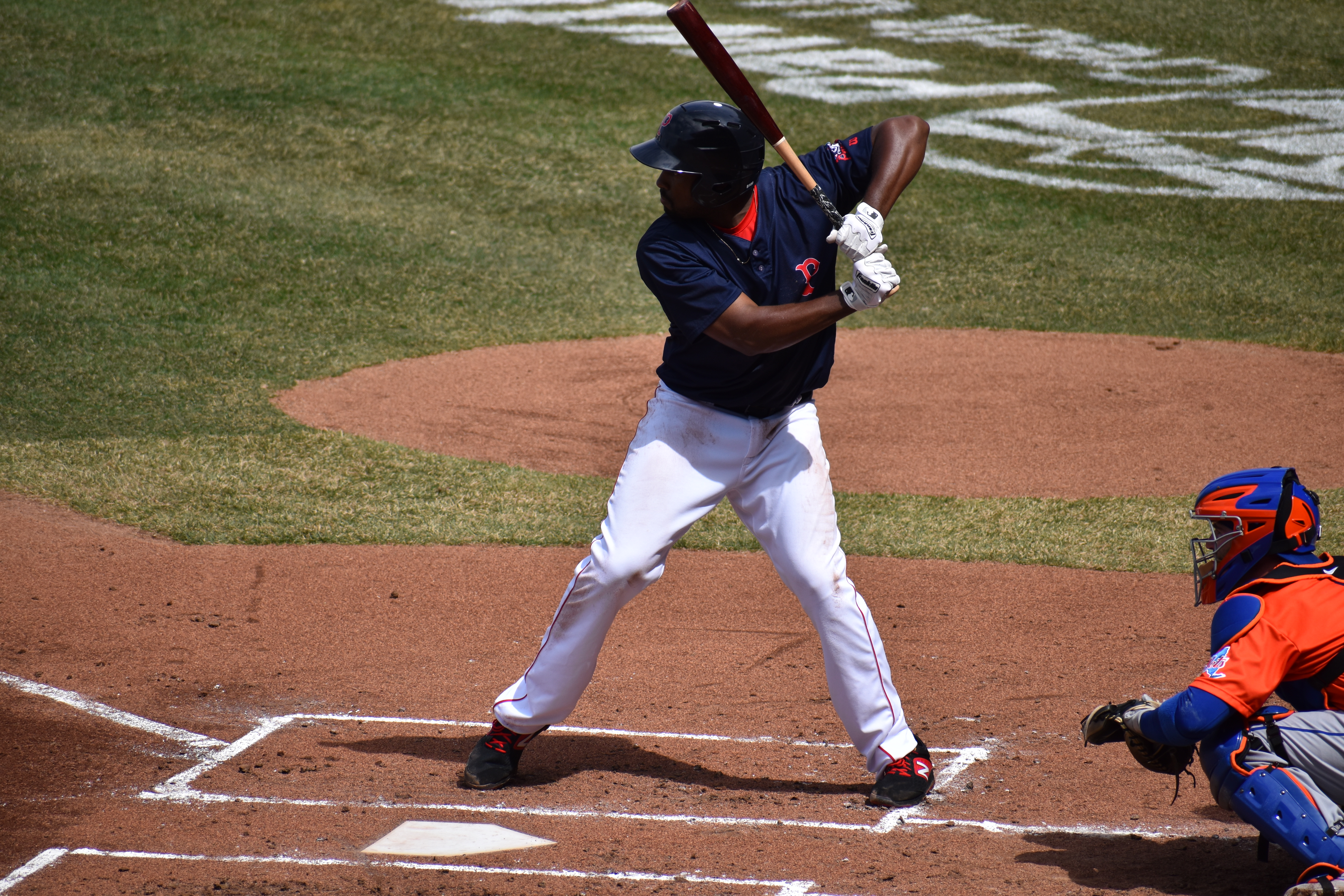 PawSox Offense With Impressive Series Against Syracuse, Buffalo Comes In With Vladimir Guerrero Jr., Chavis's Arm An Asset At Second Base
On Sunday the Pawtucket Red Sox defeated Tim Tebow's Syracuse Mets 5-4 at home in the friendly confines of McCoy Stadium. 
With the win the PawSox take 3 of 4 in their first home series of the season and move to 6-4 on the year and sit 2 games in back of the red hot Lehigh Valley IronPigs who have started their year with an 8-2 record. 
Pawtucket had started their season winning 1 of 4 in Syracuse and have returned the favor in part due to scoring 12 runs in their past two games. 
Triple-A Pawtucket's lineup is one that could be mistaken for a major league club on most nights. The first six batters in the lineup, Tzu-Wei Lin, Rusney Castillo, Michael Chavis, Sam Travis, Josh Ockimey, and Bryce Brentz are all players who either have Major League experience with Boston or are in the organizations top 10 or so prospects in the cases of Chavis and Ockimey. 
It's early in the season, but the work in the off-season for these players are starting to pay off at the plate. 
"Yeah, guys have put in a lot of work in the offseason. Geddy (Rich Gedman) gets them ready." said Billy McMillon.
As for what is clicking in the PawSox lineup it is really simple. Players are sticking in themselves and not trying to do too much with the ball. 
"Guys are executing their plans, they are not going out too much of their comfort zones." said McMillon
One of the guys that are starting to execute their plans are Josh Ockimey and Michael Chavis. 
The pair who have come up the Red Sox farm system both had home runs in Sunday's win over Syracuse. Chavis had the team lead in home runs for two batters before Ockimey hit one out. 
The organization's top prospect hopes to see that continue throughout the season. 
"Hopefully we just keep on going back and forth that will be fun this year." said Chavis. 
Michael Chavis's Arm An Asset At Second Base
Chavis, the organization's number 2 prospect, has seen 4 games at second base this season in an effort to bring defensive versatility within the organization. 
The 23-year-old, being a natural third basemen, has quite the arm as anyone playing third has to have in order to throw across the diamond. 
Chavis's arm is one he envisions being an asset at second base. 
"That's one of the good things I think of me playing second base. I think I have a better arm than most second basemen would profile at. So I think playing second base with my arm is definitely going to help me over there." Chavis said on Sunday. 
Through 4 games at second the 2017 Red Sox Minor League Offensive Player of the Year has logged 35 errorless innings with 18 total chances, 7 put outs, 11 assists, and has helped turn 3 doubleplays. 
Good Series Winning 3 out of 4, Buffalo Bisons Coming Into Town 
No rest for the weary as the PawSox have the Buffalo Bisons coming into town on Monday for a three-game week-day set at McCoy Stadium before departing for a 3-game roadtrip to Syracuse. 
Buffalo brings with it one of the top prospects in baseball, Vladimir Guerrero Jr.
Pawtucket doesn't plan on doing any extra prep for Guerrero anymore than they would do for any other player in the Buffalo lineup. 
But it is worth mentioning that he has started his season 5-for-10 with a home run and 5 RBIs. For those at home, that is 1 RBI per hit the 20-year-old phenom is averaging through 3 games with Buffalo. 
"We are going to look and see what information we have on him and try and get a gameplan." Said Manager Billy McMillon. "But I don't think there is anything special we are going to try and do. We are going to see if there is anything we can pick up. Just like we would do for anyone else."
Toronto's top prospect started his season on a rehab stint in Dunedin but was added to Buffalo back on April 11th.
The son of Hall of Famer Vladimir Guerrero Sr., will only be in Buffalo until he can be called up without burning a year of eligibility with the Blue Jays milking the free agent system as many teams before them have done. 
For baseball fans in the area it might be worth the trip to McCoy to see a true 5-tool player in person. 
The expected PawSox rotation for the series? 
Monday: Mike Shawaryn (1-0, 3.18) vs Jacob Waguespack (1-1, 5.23)
Tuesday: Erasmo Ramirez (1-0, 1.13) vs Shawn Morimando (0-1, 9.82)
Wednesday: Chandler Shepherd (0-2, 5.23) vs Sean Reid-Foley (0-1, 20.25)
All three games are 6:05 pm first pitches.