Patriots Talk: They Aren't Losing, They Are Beating Themselves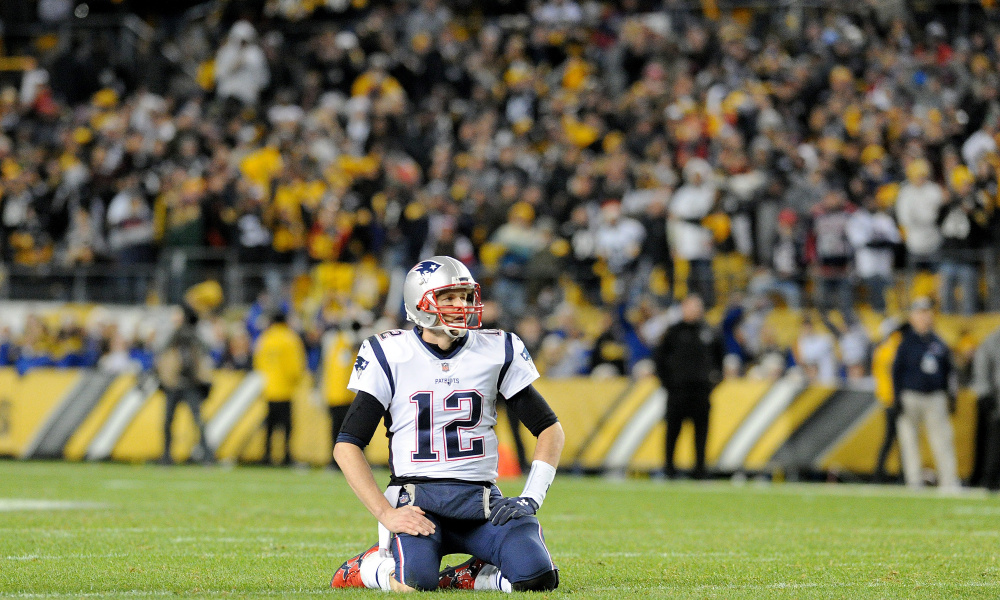 Patriots are Making 'Un-Patriot' Like Mistakes
Here's Bill Belichick's full quote on Tom Brady not checking down to James White on the final drive. As strong a defense of Brady we've heard from Belichick in quite some time. pic.twitter.com/BZK6myvPVR

— Zack Cox (@ZackCoxNESN) December 18, 2018
So it has been a rough couple of weeks for Patriots fans everywhere. The team seems to be coming up short in key match-ups, media pundits everywhere are pretty much riding the 'Pats dynasty is over!' train and it seems like nobody has a clue what is going on. Understand this, the Patriots are still projected to be favorites at home against the Buffalo Bills and New York Jets (who both are already eliminated from playoff contention and will be fighting for a higher spot in the 2019 draft).
However, the team has had a lot of issues this season which is not unusual. The Patriots have always been a team that has relied on it's coaching staff to further the talent of their roster. It's mainly because the Patriots have never picked within the top 10 of the NFL draft for the last 18 years now since Bill Belichick became the Head Coach. (Last pick in the top 10 was DE Richard Seymour in the 2001 draft)
This also in some ways, means that Belichick needs to take responsibility for each of their five brutal losses this year. Not just with key situations like with Rob Gronkowski being put at safety in the final seconds of the game that resulted in a loss at Miami. But also, with how games have played out where he was straight up out coached by others like Mike Vrabel, Mike Tomlin and Matt Patricia.
Is Belichick being Figured Out?
Everyone teaches you something. You listen to everyone, and bit by bit, you figure things out. – Bill Belichick

— Coach Quotes (@CoachMotto) December 15, 2018
Let's not get it twisted: Belichick is the best in the NFL, and it ain't close. But he has been out done by several coaches this year. All five losses have been horrible. The Jacksonville game was a complete beat down from Blake Bortles at QB. They were without RB Leonard Fornette as well. Since Week 2, Blake Bortles became so bad, he was benched for backup Cody Kessler. Doug Marrone has been on the hot seat as the Jaguars have gone from being Super Bowl contenders to bottom of the AFC South.
The next loss was against Matt Patricia, former defensive coordinator under Belchick. The game was at Ford Field and it was a total shutdown as the Lions won 26-10. Not only was Brady playing bad but the defense got heavily exposed as well. Since the, the Lions only won 4 games and are at the bottom of the NFC North.
The next key loss was against the Tennessee Titans, who are now coached by former Patriot, Mike Vrabel. His win against the team was arguably the most brutal. He had former Patriots, Dion Lewis and Malcolm Butler join the team during the 2018 off-season. They had the personnel and experience within the Patriots system to game plan around them. But what was most shocking of all, was it was possibly one of the best performances by QB Marcus Mariota this season. As of Week 15, they are 8-6 but are 3rd in the AFC South.
Not So Good December
Great nugget from Bill Cowher on the CBS pregame show: Patriots haven't lost back to back December games since 2002

— Ben Volin (@BenVolin) December 16, 2018
The Miracle in Miami…yes the less said, the better. This was a game that was very close but the ending was nothing short of incredible. It's up there as one of the biggest upsets of the Belichick era. The team traditionally has never done well in Miami (they lost last year against Jay Cutler at QB!) Miami currently sitting at 7-7 and are still in the playoff hunt.
And finally the Pittsburgh Steelers. Mike Tomlin has been well-known to be an emotionally charged head coach. He is incredible at talent evaluation and can bring out the best in his players. However, he along with his defensive coordinator, Keith Butler, did as good a job as you can imagine. This was the first win they have had against the Patriots since 2011.
For seven years the Patriots seemed to have their number till this past week. Right now, the Steelers seem to be in control of their own destiny with AFC North. In addition, not having RBs Le'Veon Bell (who has held out all year) and James Conner doesn't matter. Their offensive line is capable of making any half back look good, so expect to see them again come playoff time with an even better roster.
The Best Ability is Availability
"The one positive is guys are healthy," Tom Brady, to @MutCallahan, on the offense and what has taken it so long to find a consistent rhythm. Brady goes on to say that good health gives the unit the best chance to get it turned around.

— Mike Reiss (@MikeReiss) December 17, 2018
But this is not all Belichick. Brady also has his share of the blame in this regard. We all get it. He is 41 years old and will be turning 42 after this season. It's not hard to process, Brady has been playing bad in big time games this season. But his state line would not seem to suggest that as he has 24 TDs to 9 INTs, for over 3979 yards passing.  That stat line is no different from Texans' starting QB, Deshaun Watson. (24 TDs, 9 INTs for 3592 passing yards) That is an average season for Tom Brady, but it most defiantly isn't the worst. Considering he is coming off a season where he was the NFL MVP, I would have been shocked if he could make a repeat at that level of performance.
But this season, Brady has bailed on certain plays instead of taking major hits. It's no secret: Brady wants to play till he is 45, but that ain't easy. No QB has played into their mid-40s and remained above average. (Brady is still, by and large, a Top 10 QB this season, at least within the AFC) But the fact is, he can't afford to get anymore injuries. It only takes one injury to officially end it all, and everyone knows it.
Minimize The Penalties At All Cost
On holding penalties against the Patriots, center David Andrews said it has nothing to do with officials calling it tight. "We have to block better," he said. "You can't sit there and hope and pray they don't call something, or call something. It's not anyone's fault but ours."

— Mike Reiss (@MikeReiss) December 17, 2018
But Brady isn't so much feeling his age, as much as teams are starting to understand their game plan. What they need to do to beat Brady is pressure him using only the front 4 at the Line of Scrimmage. Then focus the rest in locking up the secondary with man converge. (Zone defense has NEVER worked out well for our opponents) Any team can try to do this but Brady has been known to carve up defenses once they stick to a certain formula.
But that formula can fall apart if you decide to get penalized. The Patriots had the most holding penalties in this Steelers game then at any point this season or even this decade. 14 accepted penalties for well over 106 yards is not acceptable. Doesn't matter if they are questionable calls, the NFL has been doing this for as long as it has existed. In terms of where the Patriots are, they need to clean up their act to avoid this again. If we didn't get those calls, the Patriots would have tied the game for certain. At the end of the day, you move forward.
The Patriots will finish their final two games of the season at home. They will be facing the Buffalo Bills at Foxoboro at 1:00 PM EST on CBS.
Patriots Talk: Tom Brady Told Officials Were Calling Holds "Tighter"
Patriots Talk: Tom Brady Told Officials Were Calling Holds "Tighter" As New England Loses  Back-to-Back Games In The Month Of December
On Sunday the New England Patriots fell to the Pittsburgh Steelers on an afternoon that saw the New England offense get tagged for 13 penalty calls by the officiating crew.
As for why that number was so high it appears the officiating crew came into the game with the goal of calling a "tighter" game and that was confirmed in QB Tom Brady's postgame press conference.
According to Brady he was told by a referee who "said they are trying to call those tighter". But ultimately for the most part offensive holding is almost a judgement call by the referee unless they see something blatant and as Brady puts it, "there is holding on every play in the NFL. That's what we do, we hold, it's just whether you get called or not. If they are calling it, then you just have to do a little bit less of it. That's how you block, you hold. If they are holding, we are holding. Sometimes they call them, sometimes they don't. If they are calling them tight, then they're calling them tight. I haven't seen them. What do you guys think? Hard to tell? That's how I felt.".
Clearly something that affected the outcome of the game but that being said the Patriots had a chance to tie the game at the very end and the offense let the defense down. But it appears that this New England Patriots team really isn't that good.
Right now the Patriots have lost back-to-back games in the month of December, something that is a relative unknown in the Bill Belichick era.
"You know, we are in a tough spot obviously. We put ourselves in a tough spot, but at the same time, we haven't lost our belief in each other and we still have a lot to play for. There's really no time for us to feel sorry for ourselves. We need to figure it out and keep competing and keep trying to improve." Said Tight End Rob Gronkowski.
New England has 5 losses for the first time since the 2009 Matt Cassel led Patriots team that went 11-5. As for what is next for New England, well they are "Getting ready for Buffalo this week" said Head Coach Bill Belichick.
New England Patriots Playing A Must Win Game Against Steelers
New England Patriots Playing A Must Win Game Against The Pittsburgh Steelers On Sunday
On Sunday the New England Patriots look to get things back on track after a disappointing loss last week in Miami. But for the Patriots getting back on track won't be that easy, the team is set to take on a Pittsburg Steelers team that despite being rather lackluster, still has Ben Roethlisberger and a solid supporting cast backing him up.
The coaching staff in New England is fully aware of what the Steelers offense is capable of.
"Yeah, it's very, very dangerous. Yeah, they do a great job. They do a great job of passing the ball, protecting the quarterback and getting the ball to all of their multiple receivers with, I would say, very good variety of schemes. They get it to them different ways, so not only do they get everybody the ball, but they make you cover them vertically on catch-and-run plays, tear screens and things like that. They just do a good job. They're very well-coached. They've got a great guy pulling the trigger and they have great players. They're extremely talented and they're a very explosive offense team as we know by the amount of production that they have." Said Bill Belichick on Tuesday. 
But Pittsburgh is a well rounded team though and has been for a long time. Their defense is almost as good as their offense with players like T.J. Watt rushing the passer with Belichick calling their defense  a "disruptive team" and went on to say." They have a real good scheme, a lot of pressures so a lot of fumbles and strip sacks. They pursue very well so they get plays from behind where they knock the ball out and they've used multiple coverages so man, zone, blitz zone, some blitz man, different combinations of split and post-safety coverages. It's easy for the offense to make a mistake and stop when they should keep going, go when they should throttle down, convert when they shouldn't convert, not convert when they should convert based on the rotation or the corner and safety alignments. If you make a mistake then you just throw it right to them. They're very multiple on defense and probably one of the most multiple teams we've seen all year. It's going to, again, take good team execution offensively up front from our skill players and just everybody working together to do a good job in all of those areas."
New England takes on Pittsburgh on Sunday at 4:25 pm with the Patriots heading into the game at a 9-4 record and the Steelers holding a 7-5-1. Pittsburgh has had a rough go of things in 2018 much like the Patriots with their main issue being the inconsistency in play from Roethlisberger who has seemingly turned the ball over at the worst times for the Steelers.
In addition Mike Tomlin's team has seen multiple tight losses and a tie against the Cleveland Browns so it is safe to say despite their record the Steelers are still a very good football team presenting a very difficult matchup for a New England team coming on the heels of losing to Miami.
Certainly going to be a tough week considering it is on the road, a loss here could really put the Patriots in a tough spot that may be insurmountable heading into the final weeks of the NFL season.
Patriots Talk: Bill Belichick Takes Full Ownership Of Team's Failures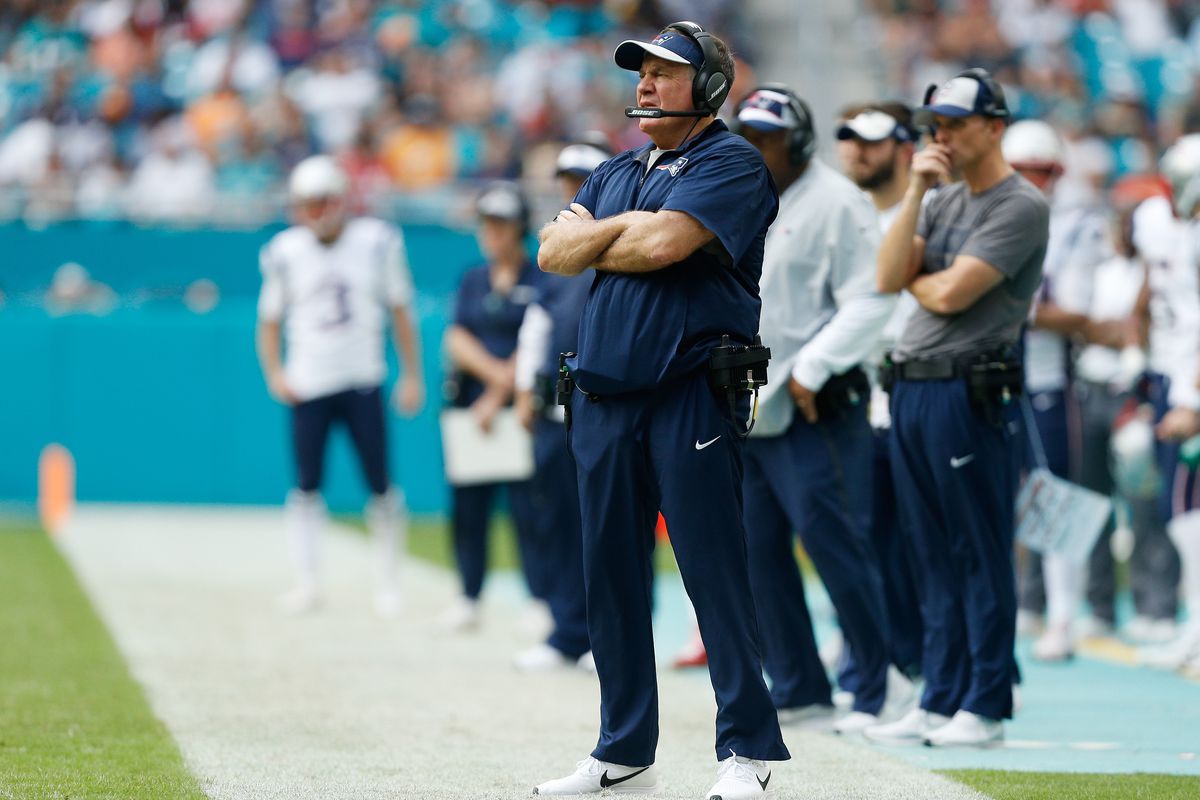 Patriots Talk: Head Coach Bill Belichick Takes Full Ownership Of Team's Executional Failures In Loss Against Miami
The New England Patriots fell to the Miami Dolphins with Miami running a play that is now dubbed "Miami Miracle" at the end of Sundays game to defeat the New England Patriots in walk-off fashion.
As a whole the game was a brutal disappointment and one that is clearly not sitting well with the coaching staff or the players. The question many fans and talking heads are asking is who is to blame for the Patriots loss to Miami? And while many will speculate the answer but if you ask Head Coach Bill Belichick, it is his fault that the Patriots couldn't find a way to beat Miami in certain situations on Sunday.
"We have to do a better job of that. It starts with me. We've got to play better situational football. We'll work to try to achieve that." said Belichick on Monday.
Belichick didn't stop there though in shouldering the blame, when asked if situational football is a combination of personnel or if the personnel out there just needs to execute better the coach deflected the blame away from his players and once again took ownership for Sunday's failures.
"Well, first of all, it's understanding the situation. That's the number one thing, and then what specifically you would call in that situation. That could have a lot of variability depending on what, as you said, personnel they have in the game and various other factors. Understanding what are the critical parts of each situation and then applying the specific call that's made to that. It's a combination of a lot of things. As I said, I've got to do a better job with it." Said Belichick.
Definitely a tough loss to bounce back from but if anyone can do it it's Bill Belichick and the New England Patriots. It is always nice to see a humanized Belichick who ultimately is still just a mortal coach. That being said the Patriots will have a tough time battling back as they are now in the 3rd spot in the conference and only a few games to go.