Top 5 Players To Watch For From The Pawtucket Red Sox In 2019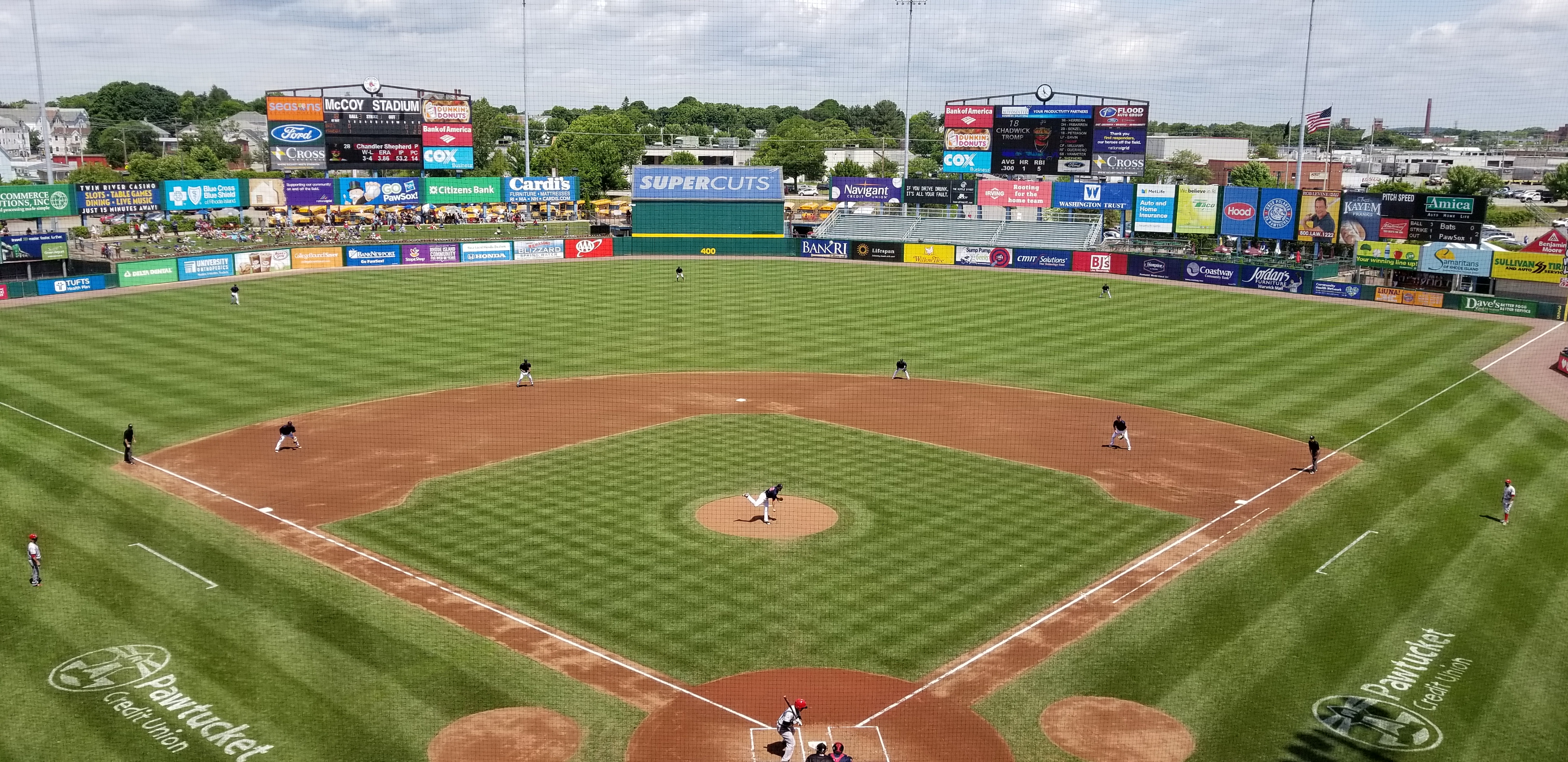 Top 5 Players To Watch For From The Pawtucket Red Sox During The 2019 Season
Coming into the 2019 season for the Pawtucket Red Sox, there is a lot of uncertainty of who on the team may have a chance to help out the Boston Red Sox at one point during the 2019 season. This is especially true since many of the "experts" view the Red Sox minor league system as one of the worst in baseball. However, there are a few players that will be at AAA Pawtucket this season who could easily help out the Boston Red Sox are one point this season.
5) Bryce Brentz
Bryce Brentz was originally drafted by the Boston Red Sox in the 2010 draft. In 2017, he hit 31 home runs with the Pawtucket Red Sox which led the organization as a whole. During spring training last year, he was traded to the Pittsburgh Pirates, and towards the end of spring training, he was claimed off waivers by the New York Mets. He spent the 2018 season with the Mets at AAA Las Vegas where he hit .264 with 15 home runs and 47 RBI's. This past January, Brentz signed a minor league contract with the Boston Red Sox.
The reason why he is a name you have to watch out for, is because in his short time he has spent in Boston in the past, he has shown that he can hit pretty well. In 34 major league games, he has a .287 career batting average. If he can hit the long ball at AAA like he did back during the 2017 season, he could easily get a call up to Boston. This is especially true if one of the starting outfielders in Boston goes down with a serious injury and misses an extended period of time.
The only issue for him possibly getting a call up to Boston is that he isn't currently on the 40-man roster for the Red Sox. But as of right now, he has a better chance of getting the call up to Boston over Rusney Castillo because Rusney's contract is too big and would cost the Red Sox a lot of money because of the tax threshold with their payroll.
4) Mike Shawaryn
Mike Shawaryn was given a call up to AAA Pawtucket last August from AA Portland. Once he was called up to AAA Pawtucket, he pitched very well for the Paw Sox as a starting pitcher. In 6 starts (7 appearances), he posted a 3.93 ERA in 36 and 2/3rd innings. The big thing about Shawaryn is that he pitches quickly and he gets guys out. He does this all efficiently which is something that you love to see from your starting pitcher.
The spot that you may see Shawaryn in if he gets called up to Boston is one like Justin Haley or William Cuevas had with the club last year. The only difference is that the Red Sox will keep Shawaryn for an extended period of time as he is a prospect in the organization. Come September, he could be a reliever for the Red Sox who is able to throw multiple innings. Something that could come in handy for the Red Sox as they will try to help elevate innings for guys like Chris Sale later in the year.
3) Chandler Shepherd
Chandler Shepherd was a reliever for the Paw Sox during the 2017 season. Going into the 2018 season, the Paw Sox didn't really have enough starting pitchers, he was moved to the starting rotation. Shepherd has four pitchers. For a reliever, that isn't really necessary which was part of the reason why he was moved to the starting rotation for the Paw Sox. In the starting rotation for the Paw Sox last season, he posted a 3.89 ERA in 129 and 2/3 innings.
He currently is on the 40-man roster for the Red Sox, which would give him a better position to make it to Boston over Mike Shawaryn. But like Shawaryn, the position he may take in Boston is one like Justin Haley or William Cuevas had with the Red Sox in 2018. If he does get the call up to Boston, he could be in the position to start a few games for Boston. This is especially come September if they are costing into the playoffs like they did last season.
2) Michael Chavis
Michael Chavis, who was ranked as the number 1 prospect in the Red Sox organization in 2018 according to mlb.com, played 8 games with Pawtucket last season. The biggest upside for Chavis at the moment is his bat. His defense is very suspect at the moment. He does need a lot of development defensively.
Michael Chavis hits a ball to the 3rd basemen but it just gets by him to drive in the #PawSox 1st run. They lead 1-0 after 1 inning from McCoy #RedSox pic.twitter.com/BKqgdBMvkk

— Evan Cook (@ecook_trifecta) August 28, 2018
But based on the past, it is almost certain that he will get a shot in Boston at one point in 2018. Back in 2017, the Red Sox called up Rafael Devers after he hit well at AAA Pawtucket over 9 games. But like Chavis, the biggest issue with Devers when he was called up was his defense. Chavis will need to work on his defense this season. But at the end of the season, you will see Chavis play in Boston at one point.
1) Travis Lakins
Travis Lakins is a reliever who actually may have a chance to make the Red Sox 25-man roster coming out of camp. The Red Sox have been very high on the reliever. He strikes about 1 batter per inning. As a reliever who throws in the mid 90's, he could be an option for the Red Sox out of their bullpen in the late innings. He could especially be a big piece for the Red Sox bullpen at one point during the year if he shows that he can be a late inning reliever for Paw Sox, if he doesn't make the team coming out of camp
If he continues the track that we started to see from Ty Buttrey to start 2018, he could be a nice addition to the Red Sox bullpen later on in the season. If he shows what Ty Buttrey did in 2018, he could be in a spot to help the Red Sox in the late innings. Something that they will need, especially if they don't end up resigning Craig Kimbrel.
PawSox Notes: Tim Tebow And Vladimir Guerrero Jr. Highlight Early Season Stars Coming To Town
PawSox Slated To Host A Number Of Top Stars And Prospects To Start The 2019 Season Including Tim Tebow And Vladimir Guerrero Jr.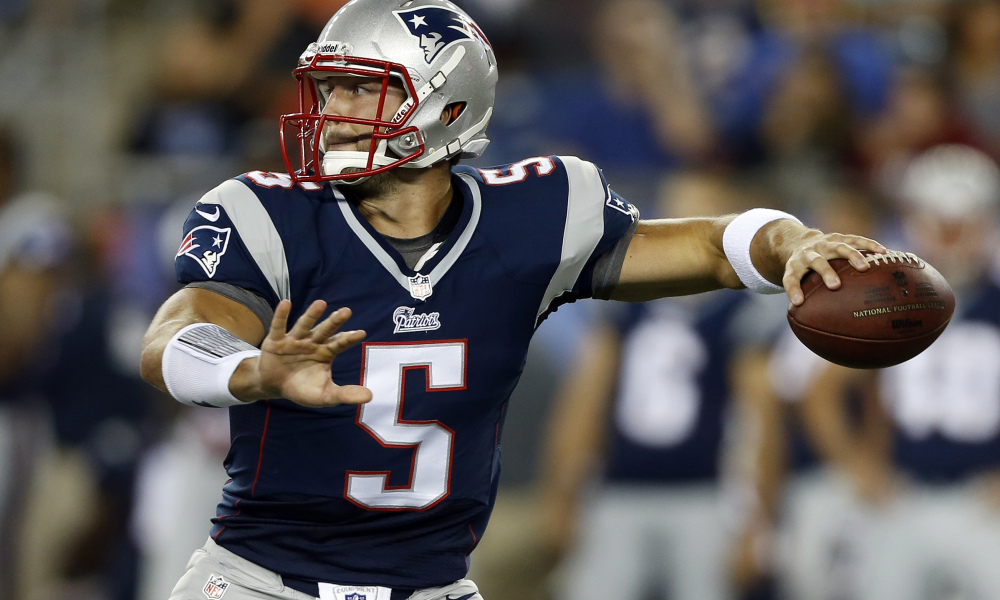 PawSox Slated To Host A Number Of Top Stars And Prospects To Start The 2019 Season Including Tim Tebow And Vladimir Guerrero Jr.
The Pawtucket Red Sox open their 2019 season at Syracuse on April 4th and coincidentally they host Syracuse on the 11th at their home opener at McCoy Stadium.
While looking at the full PawSox schedule may seem daunting to find the top games and series to look forward to their are a number of series to already circle on the calendar.
Big names are expected to roll through the door in 2019 to take on the PawSox at McCoy.
Names like Tim Tebow and Vladimir Guerrero Jr. are just some of the few that could be coming into McCoy.
Former Patriot Tim Tebow Visits McCoy
With Pawtucket taking on the Mets affiliate, Syracuse, they will likely face Tim Tebow.
Tebow a failed NFL QB and former New England Patriot is slated to be with Syracuse to start the year with the Mets organization doing everything in their power to push Tebow along to the Major League level.
Tebow now 31-years-old batted .273 in double-a in 2018 in 271 at-bats will be at McCoy from April 11th to April 14th.
Vlad Guerrero Jr. Coming Into Town In Mid-April
In Spring Training a report came out that Vladimir Guerrero Jr. of the Toronto Blue Jays organization would be in Triple-A as long as it takes to not burn another year of eligibility. 
While the system in baseball is broken that means that Vlad will be with the Buffalo Bisons when they visit McCoy on April 15th to the 17th.
The 19-year-old slugger had a batting average of .381 between double and triple a in 2018 and hit 20 home runs while driving in 78 RBIs. 
This series will be a great opportunity for Red Sox fans to look at one of the top prospects in baseball. 
There is another top player with Buffalo who may be going under the radar with Vlad stealing the spotlight. 
Bo Bichette, considered a top ten prospect in baseball in his own right is 21-years-old and played the 2018 season in AA. The shortstop took a step back in terms of production but is viewed as a powerful offensive threat. 
It is unclear if Bichette will be with Buffalo or Toronto to start the season but it appears he needs some more time in the minor leagues and could be with Guerrero on the April 15-17 series at McCoy. 
Others To Come But Too Far Out
There will certainly be other big names and top prospects to come through McCoy Stadium in 2019 but with so many variables and moving parts the exact list is very unclear.
In 2018 we saw the likes of Ronald Acuna and Justus Sheffield so more to come on this front.
Red Sox To Start Mike Shawaryn Against Northeastern To Start Spring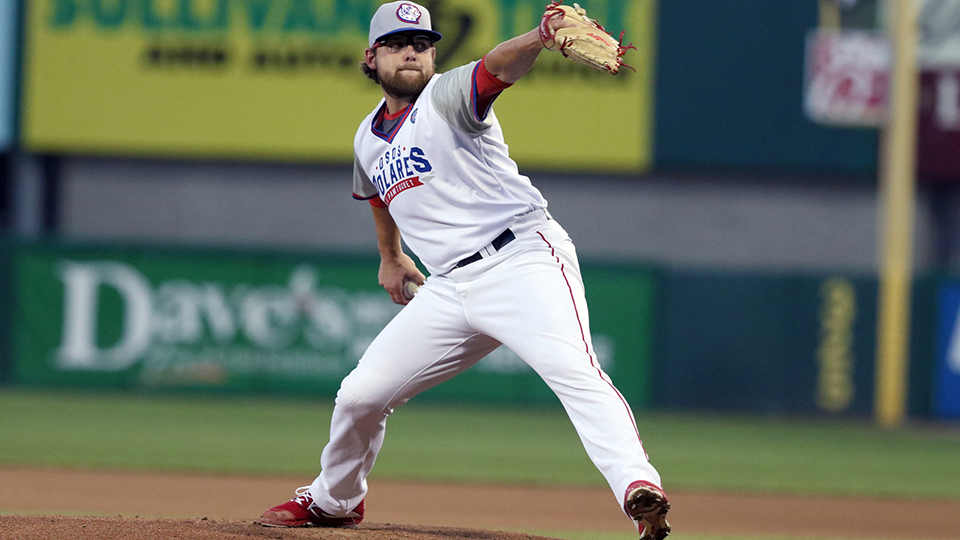 Photo Credit: Pawtucket Red Sox
Boston Red Sox To Start PawSox Pitcher Mike Shawaryn Against Northeastern To Start Spring Training
On Monday the Boston Red Sox announced that Mike Shawaryn would be their starting pitcher on Friday to take on the Northeastern Huskies to start their 2019 Spring Training campaign.
The 24-year-old started last season in AA Portland going 6-8 in 19 starts with a 3.28 ERA in 112.2 innings pitched striking out 99 batters and tossing a complete game. Shawaryn, from New Jersey, was called up to Triple-A Pawtucket on July 5th and made 7 appearances, 6 starts, a 3-2 record, and a complete game pitched.
The righty posted a 3.93 ERA with the PawSox striking out 33 batters in 36.2 innings pitched and held opposing batters to a .221 batting average. Shawaryn was drafted by Boston in the 5th round of the 2016 MLB draft and is the systems 9th ranked prospect.
Shawaryn is expected to be slotted into the PawSox starting rotation come April.
PawSox To Hold Open Auditions For National Anthem Singers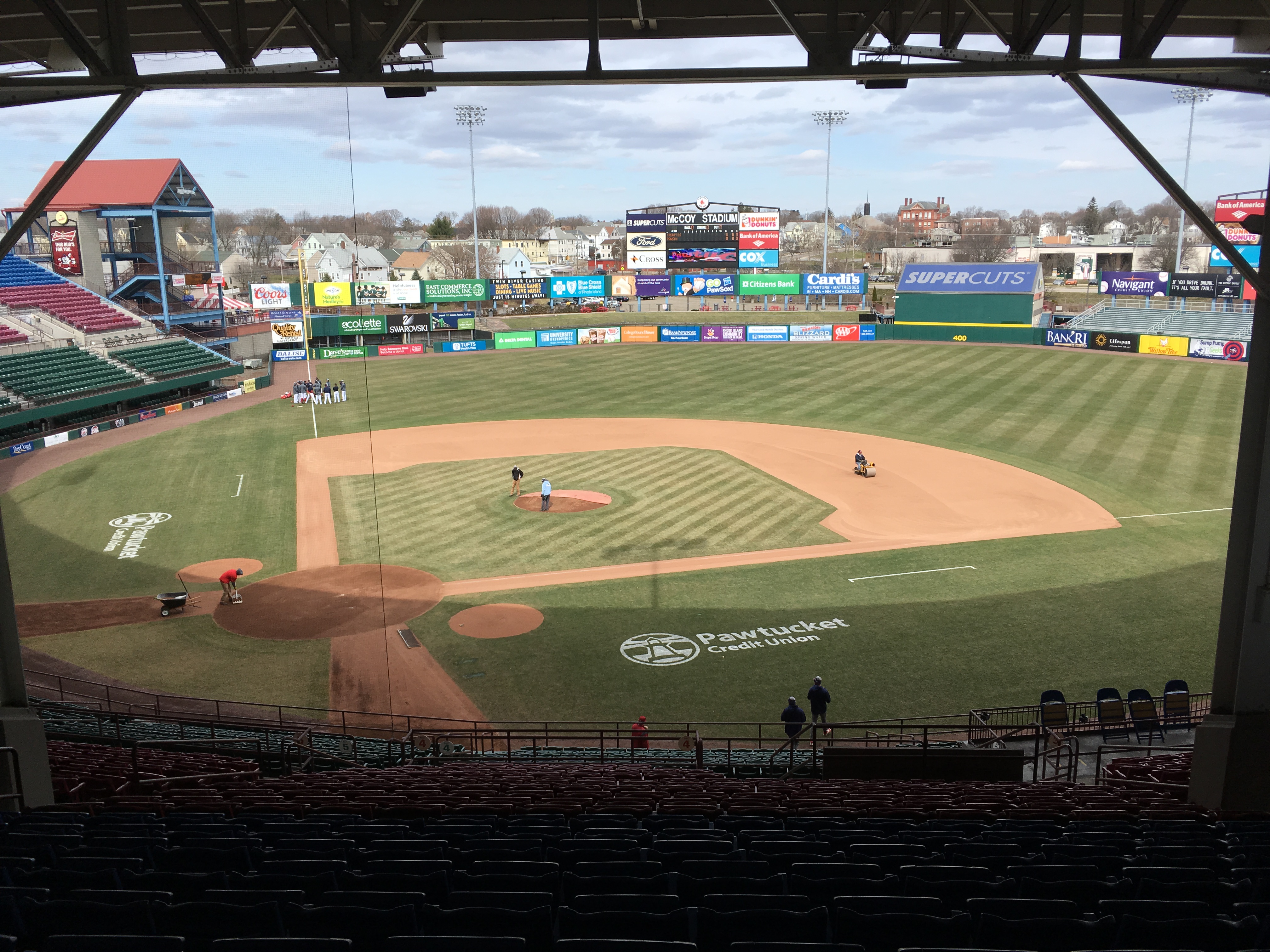 PawSox To Hold Open Auditions For National Anthem Singers At The Warwick Mall On Sunday, March 3rd
On Thursday the Pawtucket Red Sox announced that they would be once again hosting National Anthem auditions for fans who want the chance to sing the National Anthem prior to PawSox games at McCoy Stadium during the 2019 season.
Auditions are slated to take place on Sunday, March 3rd from 12 noon until 4 pm at the Warwick Mall on 400 Bald Hill Road located in Warwick, RI.
Individuals or groups can register upon arrival at the event with it being a first-come, first served run program. Pawtucket asks that any questions should be directed to Jackie Dempsey who coordinates the singers and performances at the games.
Singers will have just two minutes to perform the National Anthem or any other relevant song and will do so in front of some local judges.
The team does have a few examples of songs that performers could use during their auditions.
God Bless America, America the Beautiful, Take Me Out to The Ballgame, Sweet Caroline, and of course, PawSox Baseball, the song that the PawSox march onto the field too prior to every first pitch at McCoy.
"Baseball games have a soundtrack," said PawSox President Dr. Charles Steinberg, "And the blend of patriotic music and popular traditions contribute to that musical backdrop.  Live performances by soloists, singing groups, and musicians enhance the cohesiveness of our community, and we welcome all who would like to share their talents."
The local judges that are going to be presiding over the event are Nick Coit, Sports Director over at ABC6, Brian Mulhern of Cat Country's morning program, and former winner of New England's Got Talent, Lexi Lanni.
Pawtucket encourages all ages to try out with their being 70 home games during the 2019 home season that need National Anthem singers.