Should Celtics Fans Be Worried About Irving's All-Star Appearance?
Do you believe in curses? If so you might want to start advocating for Boston Celtics star Kyrie Irving to back out of his all-star appearance. Now that might seem ridiculous but recent injuries for team LeBron does provide some reason to be concerned.
This season the all-star teams were drafted from those who were voted in by the fans. The two team captains? LeBron James and Stephen Curry. But the team that has been taking L's already is Team James.
LeBron's team was Demarcus Cousins, Anthony Davis, Bradley Beal, Kyrie Irving, Kevin Love, Kevin Durant, LaMarcus Aldridge, Victor Oladipo, Kristaps Porzingis, John Wall, and Russell Westbrook.
Of these players, the starters for Team James was supposed to be LBJ, Kyrie, Davis, Boogie, and KD. But Team James and the starting five has already been shaken up ahead of the all-star game.
Cousins, Wall, and Love are all out now with major injuries that will keep them sidelined for weeks with various injuries. Obviously, this is likely a giant coincidence, but seeing Irving bang up his knee against the Nuggets on Monday does poise the age-old question would/should a superstar sit out an All-Star game to rest up?
Being an all-star is a great honor for any player but for Irving, this is the usual. He has been there before and is already a world-renowned superstar. Irving's knee issues are nothing new but given his meaning to this years Celtics team the need to keep him well rested as the season progresses is paramount for their long-term success and chances to win their 18th NBA Championship.
I personally do not think James has a "cursed" team. But it is hard to deny that LeBron and the Cleveland Cavaliers have had bad mojo all season long and has created immense turmoil in Cleveland.Irving will never willingly sit out or back out of the all-star weekend. In the NBA the all-star weekend is an actual fun event that happens to be a big deal unlike many of the other major sports leagues.
So Irving will be there barring injury.
Celtics Injury Talk: Al Horford Lingering Knee Soreness Could Lead To Bigger Troubles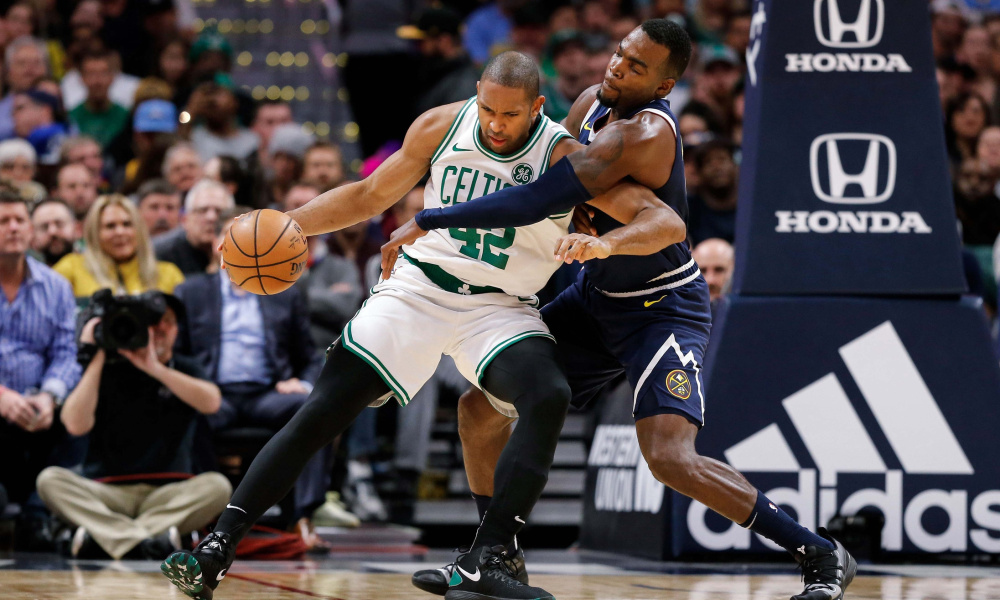 Celtics Injury Talk: Al Horford Lingering Knee Soreness Could Lead To Bigger Troubles In Boston
On Saturday ahead of their game with the Chicago Bulls the Boston Celtics downgraded big man Al Horford to questionable with left knee soreness. The question with Horford is his lingering knee soreness something to worry about long-term for Boston or is it simply just to give him as much rest as possible?
#NEBHInjuryReport update:

Al Horford (left knee soreness) has been downgraded to questionable. https://t.co/Ob8g1sxErv

— Boston Celtics (@celtics) December 8, 2018
At this point it is hardly something to get to worried about but it is certainly something to keep an eye on going forward. If Boston is without Horford for any extended period of time they could be in some pretty big trouble. Sure they could piece something together and they certainly have enough talent to overcome it, but Horford has the ability to not only stretch out a defense but to also go in and pound down low for a Boston team full of wings.
So far this season Horford has missed games against Cleveland and Atlanta, and if he misses Saturday night against Chicago, well it will look like Brad Stevens is picking his spots to keep the veteran out of action.
In today's NBA resting players especially core guys who are on the back end of their career is sort of the norm with the goal being to get the most out of them when they are out on the court and to preserve them for the inevitable playoffs that this Boston team is destined to be in.
Not a real concern at this moment, but if Horford's knee is really an issue it should be something to keep an eye on especially with Aron Baynes now missing some time with an ankle injury.
Horford has played in 22 games this season averaging 30 minutes, 12.4 points, 6.4 rebounds, and 3.4 assists per game. The minutes are a career low for the 32-year-old so it has been clear that Stevens is trying to keep Horford fresh for the entirety of the season.
Boston will take on Chicago on Saturday night with or without Al Horford.
Boston Celtics Retain Marcus Smart Locking Him Up To Massive Deal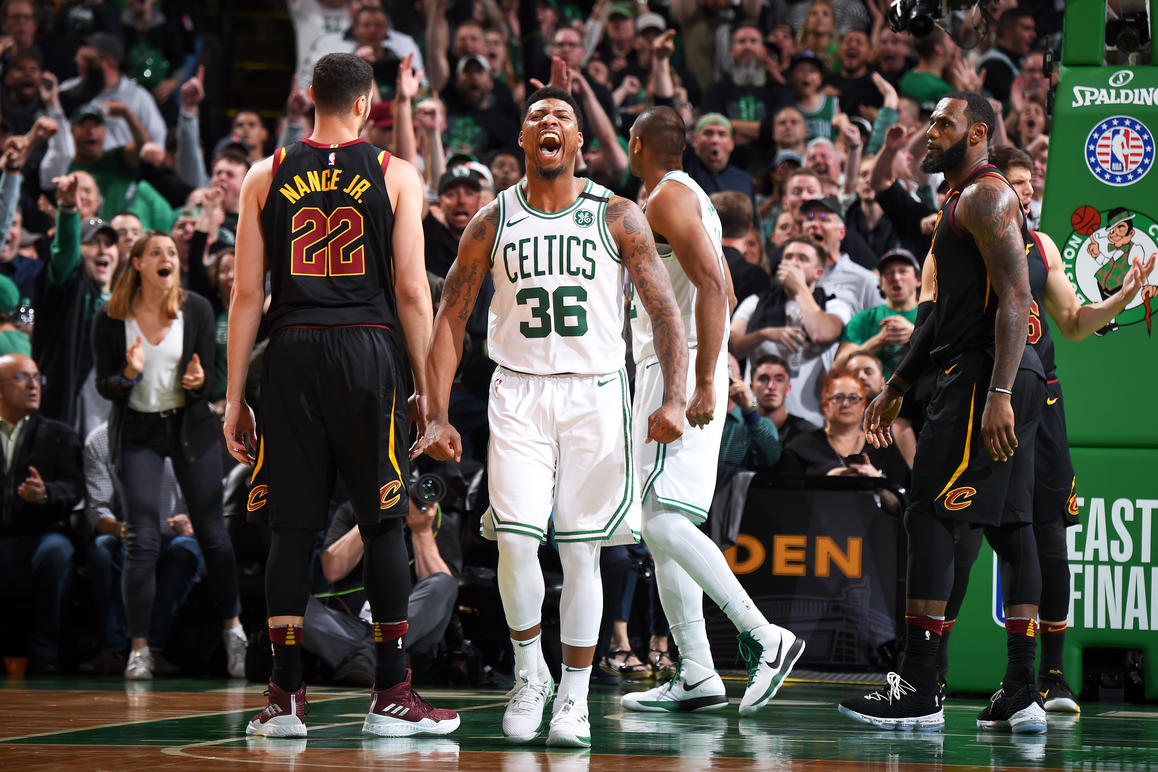 Boston Celtics Retain Marcus Smart Locking Him Up To Massive Deal To Ensure The Game Changing Defender Remain's In Green
On Thursday the stand-off between the Boston Celtics and restricted free agent Marcus Smart finally ended.
Early in the morning a confirmed meeting between Boston and Smart's camp was leaked with the goal being to lock down the numbers and get the deal done. And the two groups accomplished just that.
Just two hours after the meeting report came out another report came out saying that Smart and the C's had agreed to a four-year deal worth $52 million.
The Boston Celtics confirmed the news early Thursday afternoon but did not disclose the terms of the contract despite the numbers already being vastly reported by multiple media outlets.
"Keeping Marcus in a Celtics uniform was a top priority, and we're excited to have accomplished that," said Celtics President of Basketball Operations Danny Ainge. "His intensity is unmatched, and the level of toughness that he brings to the team throughout the course of the entire season is second to none."
"This is where I want to be, and I'm ready to put a green jersey back on and get to work," said Smart. "I'm determined to help my teammates bring another championship to the best fans in the world."
The 24-year-old has built roots in the Boston area holding multiple charity events and has become on the beloved players on the team by the fans due to his grittiness of play and his willingness to put his body on the line for his team.
Smart only played in 54 games in 2017 but managed to average 29.9 mpg, 10.2 ppg, and a career high 4.8 apg. What he brings that can't be told by simply stats though is a real toughness and the ability to be a true game changer at the defensive end of the floor. That is something the Celtics desperately needed to keep given the fact that the team no longer has Avery Bradley who was traded to Detroit prior to last season to acquire Marcus Morris.
Locking up Smart is by far the biggest move of Boston's offseason given the fact that the team that made it to the Eastern Conference Finals is essentially adding two all-stars back into the fold who didn't play a single minute in the playoffs in Kyrie Irving and Gordon Hayward.
It is unclear if Boston has any other moves up their sleeves but given the fact that Hayward is being added, and Irving is going to be healthy, paired with the growth of young players like Jayson Tatum and Jaylen Brown the Celtics didn't need to do much to remain the team to beat in the East with LeBron James taking his talents to La La Land.
Boston Celtics Rumors: Showing Interest In Dwight Howard
Boston Celtics Rumors: Celtics Showing Interest In Dwight Howard According To A Report
With the Brooklyn Nets reportedly buying out recently acquired center Dwight Howard, it appears the Boston Celtics might have some interest.
According to ASherrod Blakely of NBC Sports Boston, the Celtics are among the teams that could be interested in Howard.
This wouldn't be the first time that Danny Ainge has expressed interest in Howard, and with the price low, why not try and sign the rim protector? Boston has both Greg Monroe and Aron Baynes as unrestricted free agents and if one or both leaves there is going to be a need for a rebounder and a shot blocker, a spot that Howard fits.
The question will be if Howard is willing to accept a role off of the bench and take a back seat on offense.
For the Celtics adding a potential chemistry virus in Howard might not be worth the upside that he can bring.